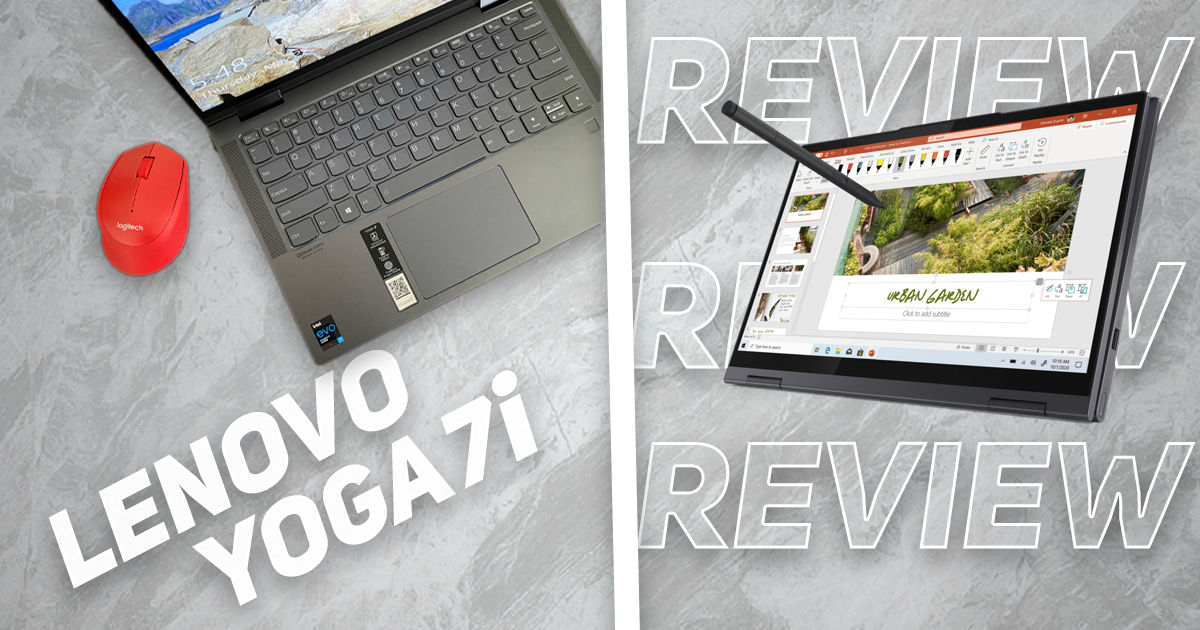 The thin and light ultrabooks have been gaining ground in India for quite some time. They are becoming more affordable over time, but the underlying promise of portability and long battery life has been improving every year. So much so, that the Ultrabook standard created by Intel has now given way to the Intel Evo standard, which makes it more stringent for OEMs to pass. But the Lenovo Yoga 7i that we reviewed manages to meet expectations and becomes a poster boy of sorts of the Evo platform. Here's our review —
Lenovo Yoga 7i: Specs and Features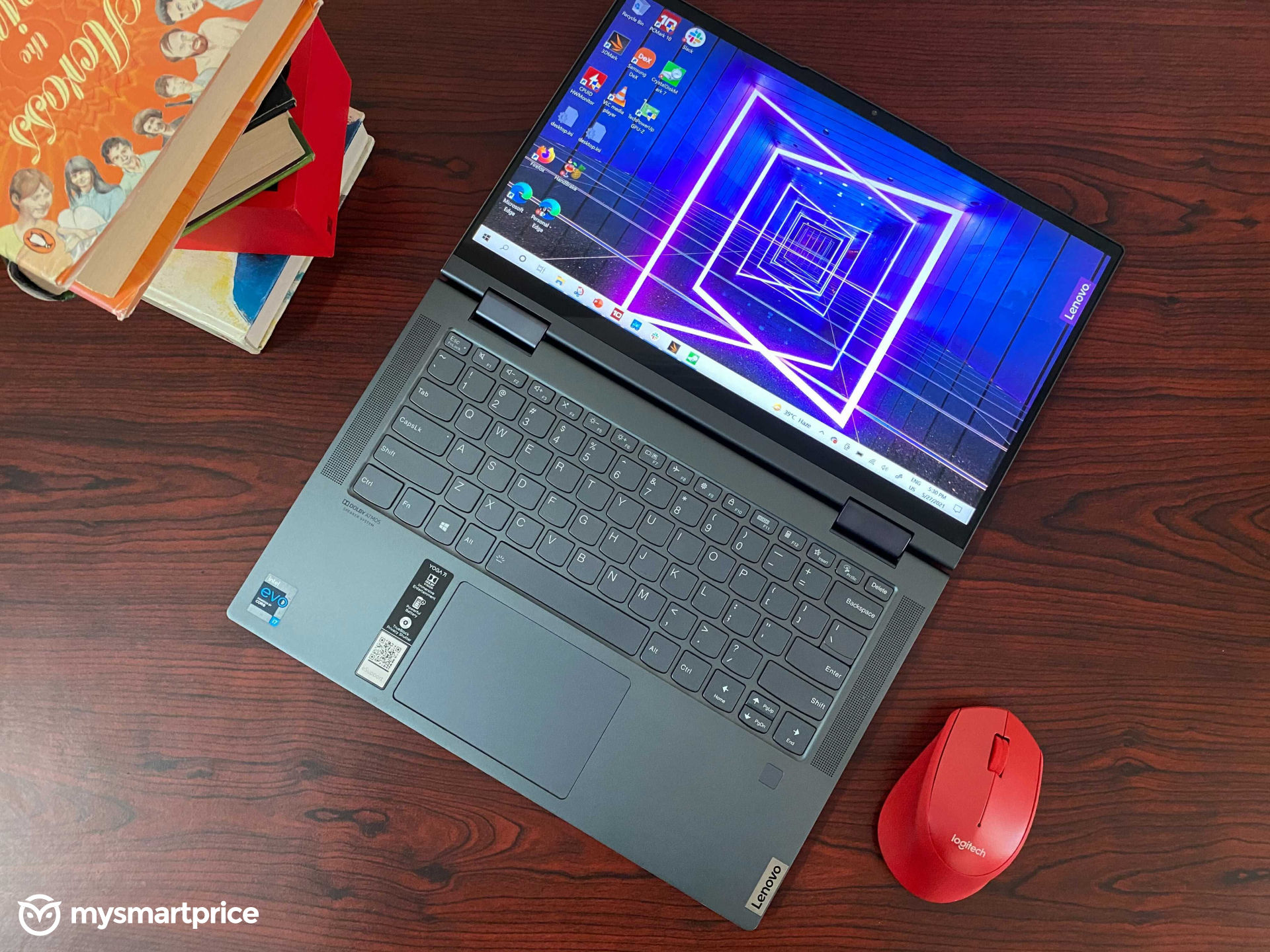 To meet the Evo standard, laptops have to boot up in less than a second, which the Yoga 7i does. Evo Laptops need to offer at least 9 hours of video playback on a single charge. The Yoga 7i does that. They need to have Thunderbolt ports and support for fast charging, slim bezels, WiFi 6 and 11th Gen Intel processors with integrated Iris Xe graphics. Spoiler alert, the Yoga 7i ticks all those boxes. The laptop even goes the extra mile and adds the 2-in-1 form factor on top of a slim profile,a stylus out of the box, along with loud speakers and a gorgeous 14-inch Dolby Vision display. Lenovo also takes it a step further and offers three years of warranty on the product.
You get three variants of the laptop in the market. It starts with an 11th Gen Intel Core i5-1135G7 processor and goes up to an i7 with 16GB RAM and 512GB M.2 SSD. We received the maxed out variant for review with the Core i7 1165G7, which is priced at Rs 98,990 on Lenovo India's website. Here's the specs at a glance —
| | |
| --- | --- |
| Processor | 11th Generation Intel Core i5-1135G7/ Core i7-1165G7 |
| Memory | 8 GB DDR4 3200MHz/ 16 GB Soldered DDR4 3200MHz |
| Graphics | Integrated Intel Iris Xe Graphics |
| Storage | 256 GB/512 GB  M.2 2242 SSD |
| Display Type | 35.56cms (14.0) FHD (1920×1080) IPS 300nits Glossy, 72% NTSC, AGC Dragontrail glass |
| I/O | 1xUSB 3.2 Gen 1, 2xThunderbolt™ 4 / USB4™ 40Gbps, Headphone / microphone combo jack (3.5mm) |
| Battery | 4 cell, 71Wh |
| Weight | 1.4 Kgs |
| Audio | Stereo Dolby Atmos |
| Wireless | Intel Wi-Fi 6 AX201 (2×2 AX) & Bluetooth® 5.0 |
| Additional Info | Webcam with Privacy Shutter, Fingerprint Reader, Active Pen (out of the box), Backlit Keyboard |
Display and Audio: Dolby Vision meets Dolby Atmos
The Lenovo Yoga 7i is a premium offering which is instantly made obvious with the Dolby Vision certification of the display. And the difference is striking. As compared to my regular Mi Laptop 14 Horizon Edition, far brighter and punchier, and you can easily notice a higher range in highlights and shadows when streaming HDR content on Amazon Prime and Netflix.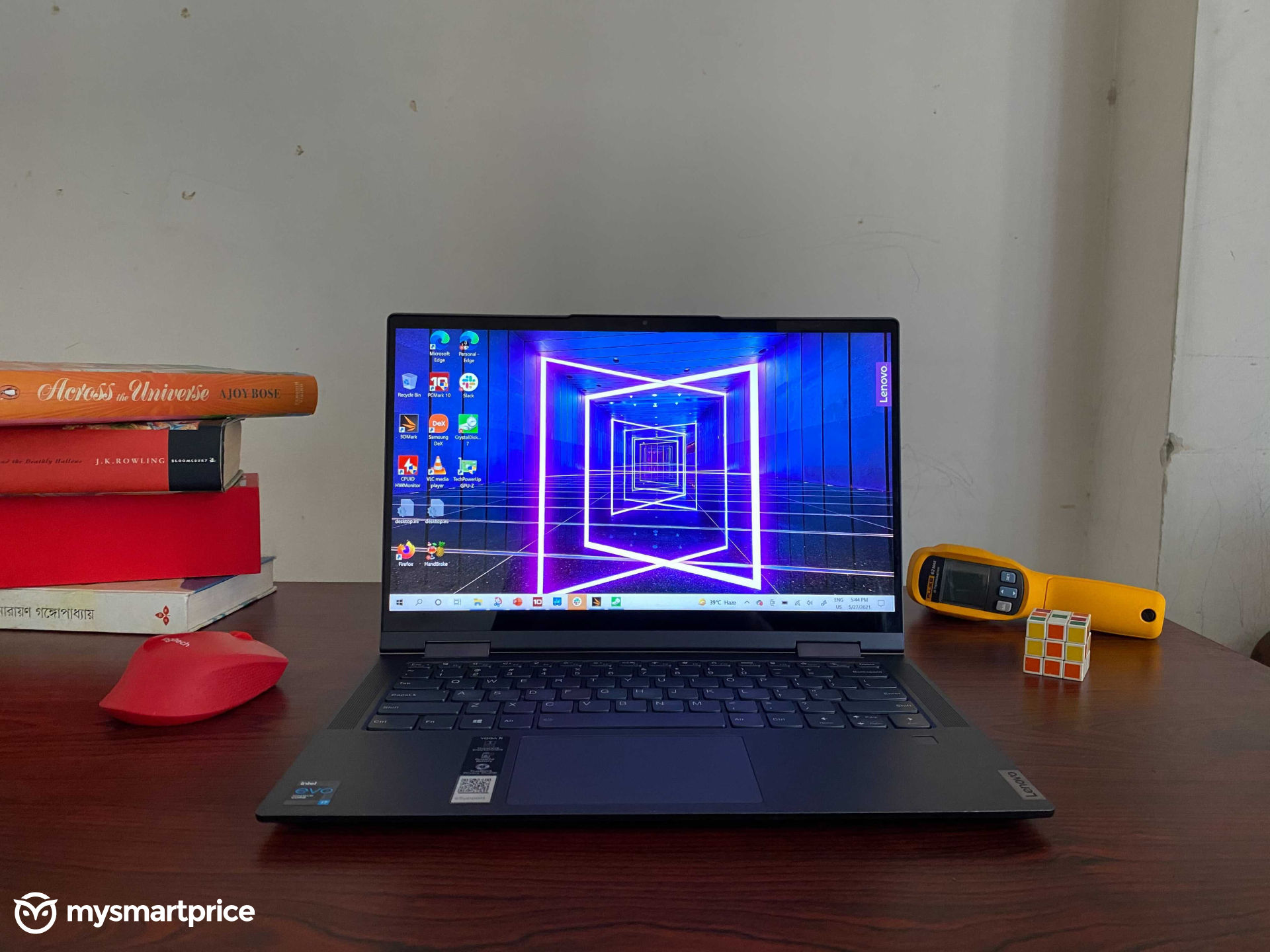 Combined with loud stereo speakers, the content watching experience is actually better than most ultrabooks in this range. For one, the volume is loud enough to be discernible even when the fan's on inside the room. And being a 2-in-1, you can easily rotate the screen outwards and watch without distraction. Only, since the speakers are beside the keyboard, the sound gets muffled when you are watching something in this orientation.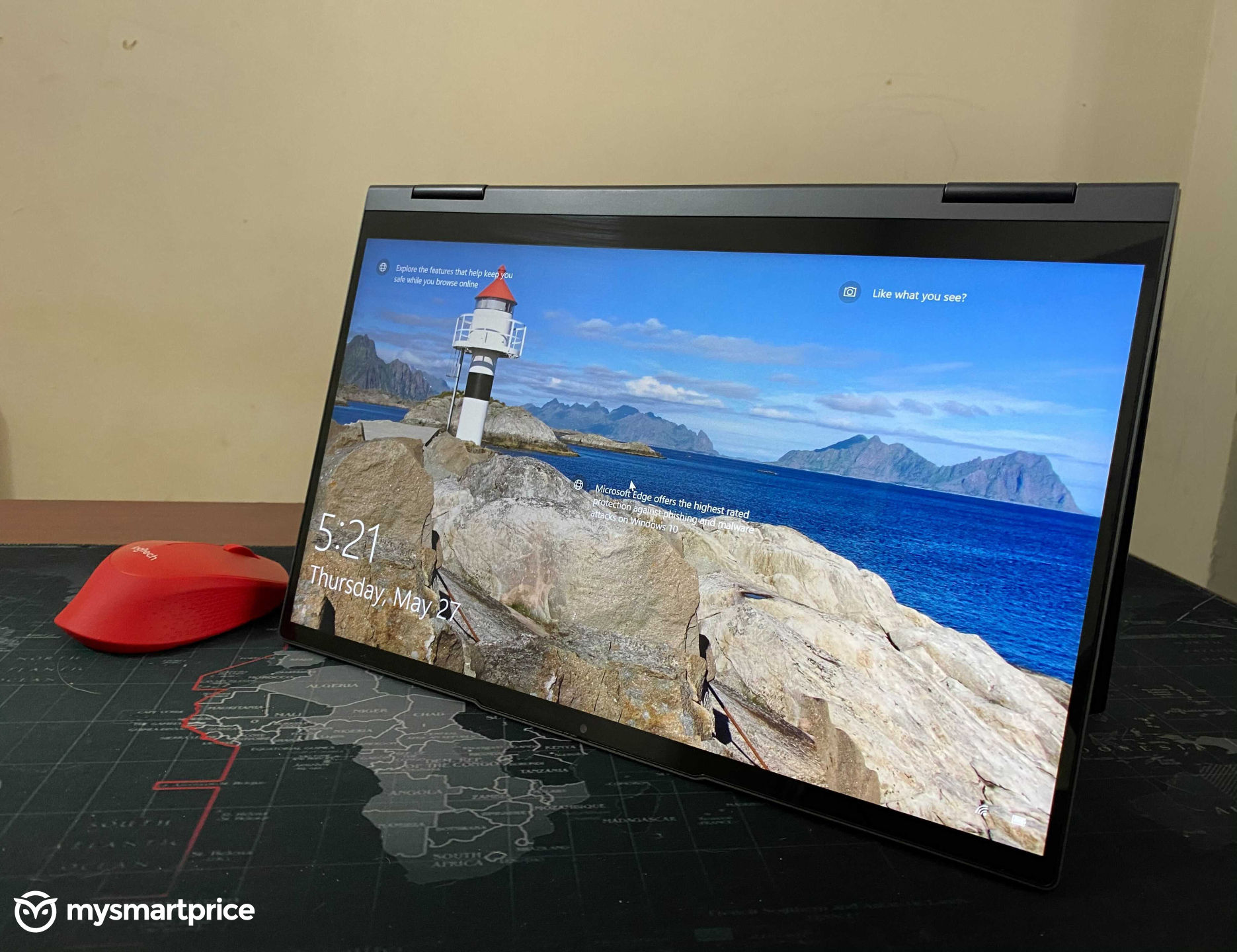 If you ask me, the tablet mode of the Yoga 7i is more suitable for doodlers and artists. The Yoga 7i supports Touchscreen and Windows Inkspace with an Active Stylus out of the box. And you can use it to paint, annotate, sign and draw, and here the tablet mode feels a lot more intuitive than having to jump over the keyboard to draw something on the screen. But that's essentially as far as you can go with the tablet mode. Anything else, like reading a book, or carrying around making notes feels too cumbersome, as the weight distribution is far from that of an iPad.
Build and Design: Blends In With The Crowd
The Yoga 7i comes in a stealthy slate grey colour that's uniform across the body, allowing it to just blend in everywhere. It's super sleek but not quite lightweight owing to the 2-in-1 form factor and the sturdy aluminum chassis. The chassis is made out of sandblasted anodised aluminum which is a grade above what the cheaper mainstream laptops use, and results in zero flex in the body. The 360-degree free flowing hinge is equally sturdy and you can quickly switch to tablet mode without a hitch.
The Evo standard requires thin bezels and the Yoga 7i meets it with razor thin bezels on the sides and the top with a nifty wedge to house the webcam. There's a thick bottom bezel however, which could have been reduced, but it acts as a nice palmrest when using the stylus in tablet mode.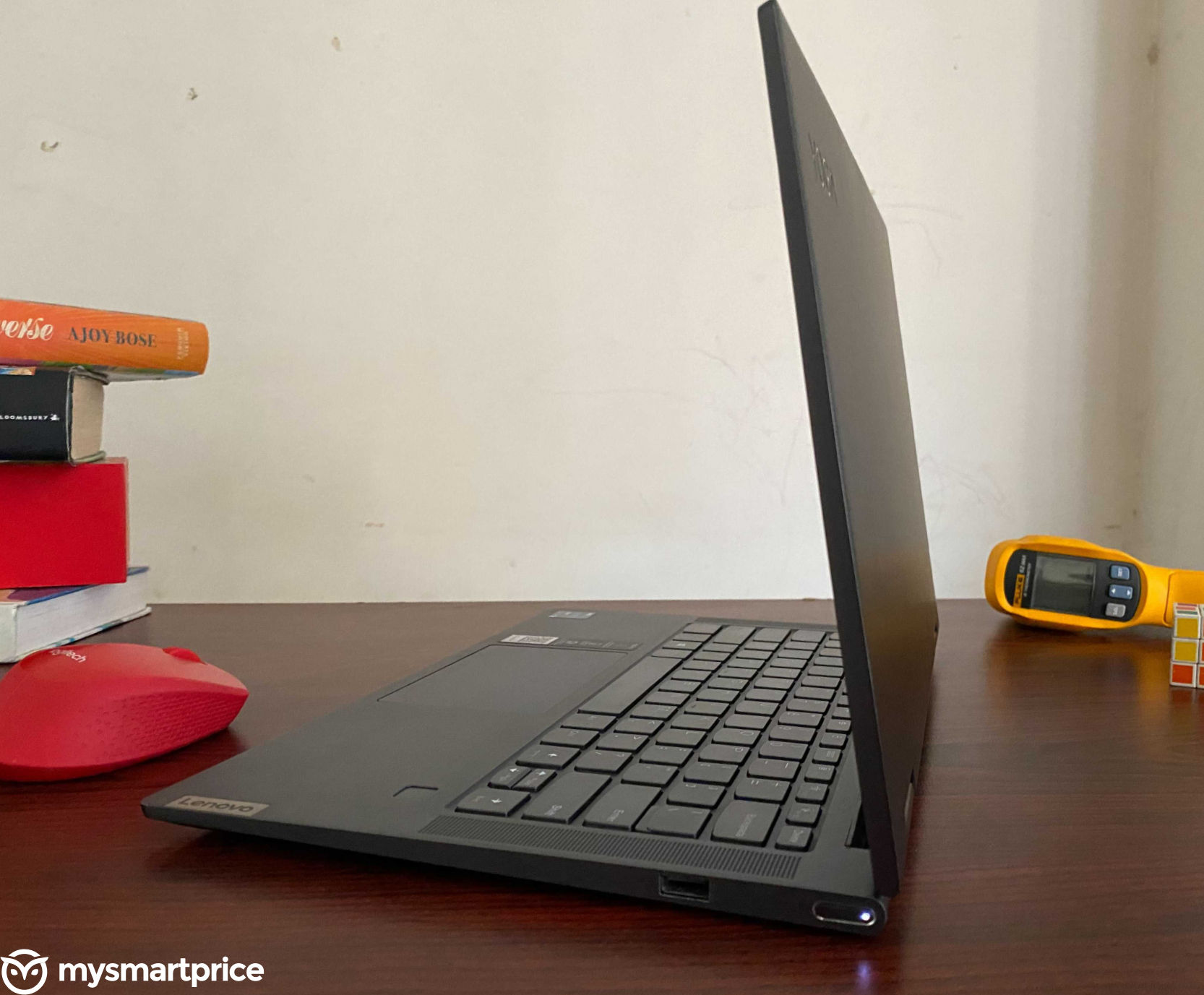 Being a thin and light laptop, it skips on a wide range of ports and cooling vents. There's an intake vent at the bottom and an exhaust in between the hinge, under the display. Inside the chassis, there is a large single fan with two heat pipes over the board. There isn't anything to upgrade either. The RAM is soldered to the board and the SSD has a thick thermal fabric covering it.
Now with a 28W CPU and an integrated GPU, the cooling solution feels adequate. You can manually max out the fan by selecting the Extreme Performance profile, but it doesn't make much noise, and neither did the surface ever get too hot to use. The surface heating is mainly concentrated around the hinge where your fingers will hardly go unless you want to switch to tablet mode, which I rarely did.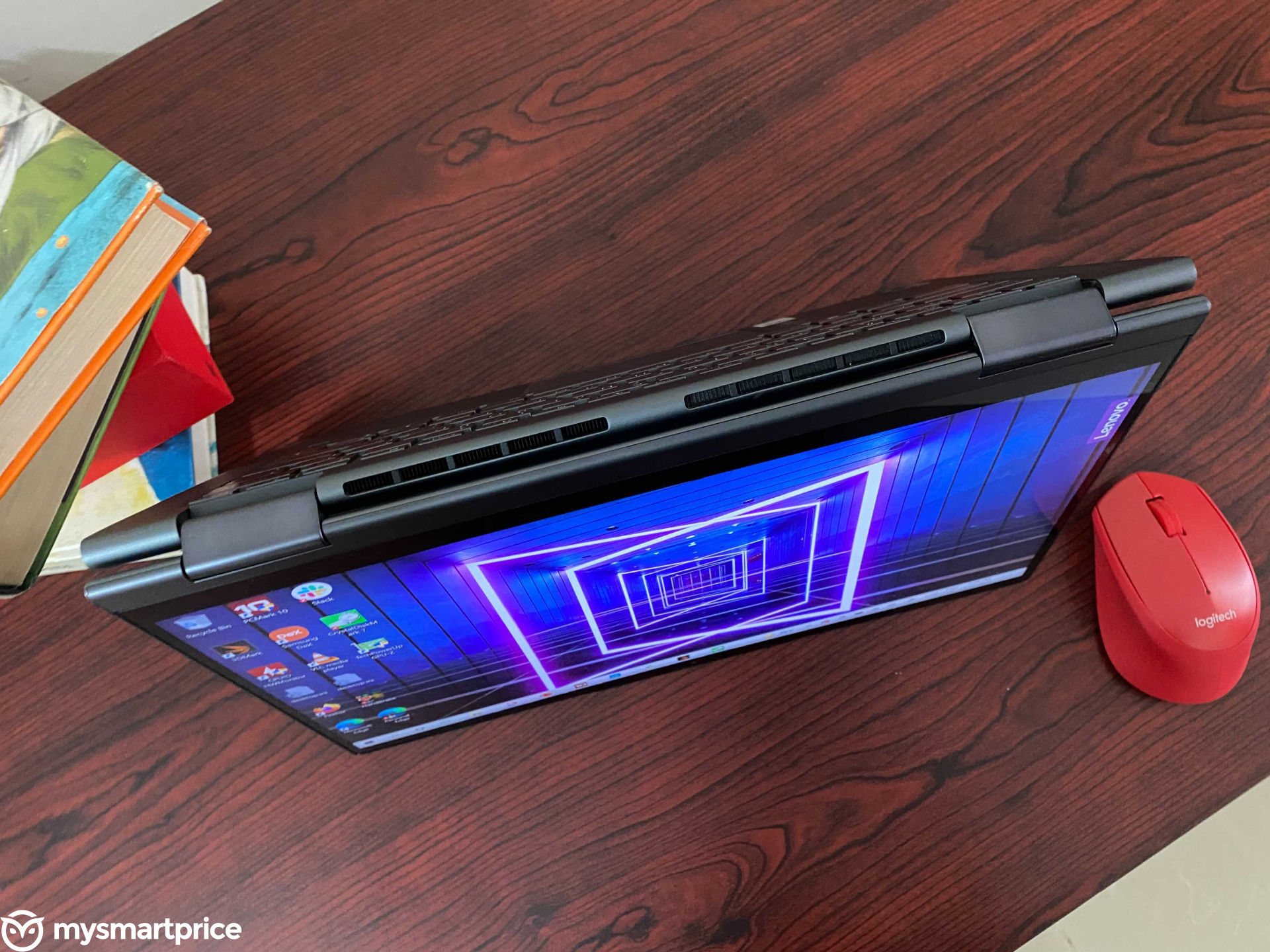 You only feel the heat if you keep the laptop running on your things, when doing something intensive. The WASD keys, the palmrest and the center of the keyboard never felt overly warm though, so you can comfortably type your heart away. This one's a cool cat. 
Performance: Effortless Multitasking
The Intel Core i7 1165G7 processor is the brains behind this machine, coupled with an integrated Iris Xe GPU and 16GB DDR4 RAM. And while the name is different, this is now Intel's low-power offering for thin and light machines. This also marks a big jump for Intel (although not as big as AMD) in adopting a 10nm SuperFin lithography process that allowed a boost in clock speeds, and as a result, offer better performance. The CPU integrates 4 Willow Cove cores with 8 threads with a max Turbo frequency of 4.7GHz with a TDP of 28W, both of which are a big jump from last year's Core i7 for ultrabooks. The architectural gains directly translate to better performance on the Yoga 7i.
What's important to note here is that despite being a Core i7 laptop, this is not powerful enough to handle video editing or AAA gaming. Instead, the Yoga 7i aims for that sweet spot of mainstream users who primarily use a laptop for work, watching content, taking notes and surfing the web. That's what a vast majority of PC users do, and the Yoga 7i feels perfect for that.
The 16GB soldered DDR4 RAM is enough for keeping more than 30 tabs open on Firefox (yes, I absolutely detest Google Chrome for PCs). I had messages incoming on Slack and Spotify running in the background. You can't upgrade it, and you don't need to if you stick to your use case for years to come. The 512GB M.2 SSD is fast and responsive, and is partially responsive for the fast and smooth operations on this laptop. Copying files, launching apps and folders all happen in an instant. More importantly, the SSD also helps in waking the laptop up from sleep in less than a second.
No review is complete without talking about synthetic benchmarks, and since we are only starting out with laptop reviews here, we don't have much to compare the laptops against. After reviewing a couple more laptops in each segment, we will have a better picture of how the performance is, relative to one another.
Instead, I studied how the hardware was behaving during the benchmark runs, which are designed to be hardware intensive. During the PCMark 10 run, where the laptop scored 5120 overall, there was a noticeable drop in CPU clock speeds every time the temperature went above 90 degrees. And 90 degrees is HOT for a laptop CPU.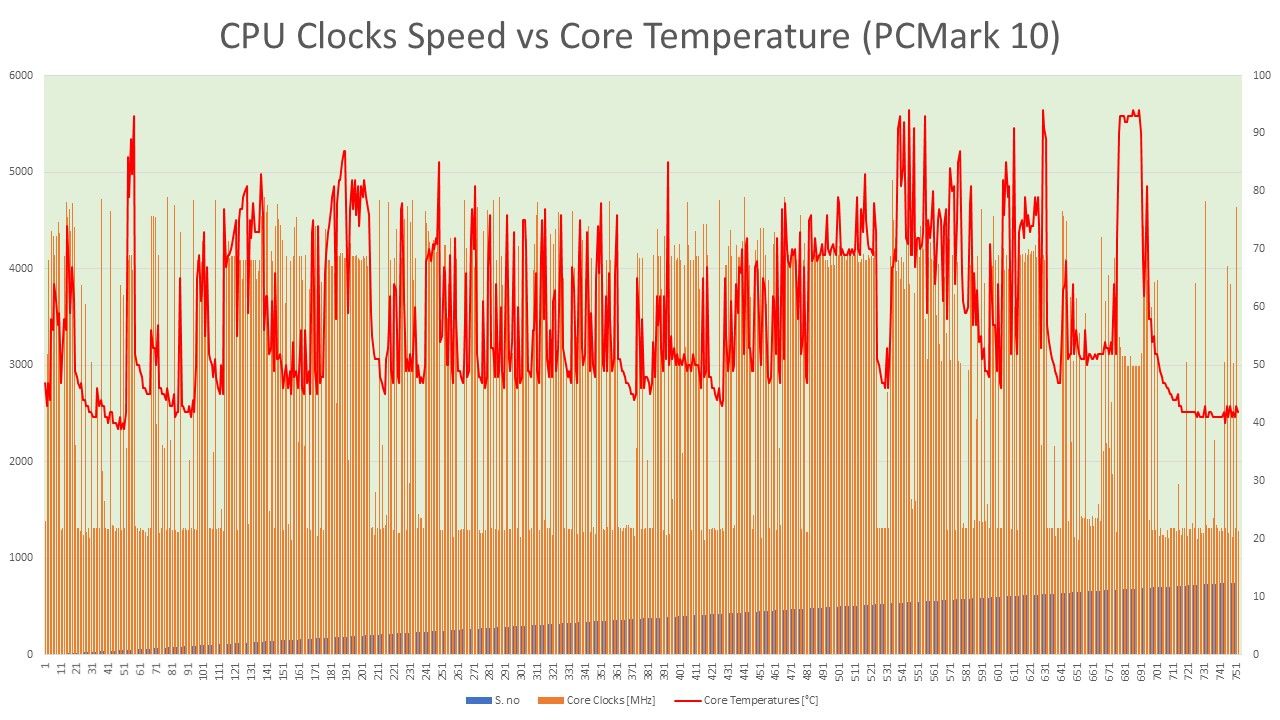 On the GPU side of things, there wasn't too much throttling, as the chart below demonstrates. An increase in GPU temperature doesn't impact the clock speeds at all. Instead, the temperature drops as the clock speeds go down, as it should happen. Then again, the Iris Xe is an integrated GPU which isn't powerful enough for high-end gaming or digital content creation.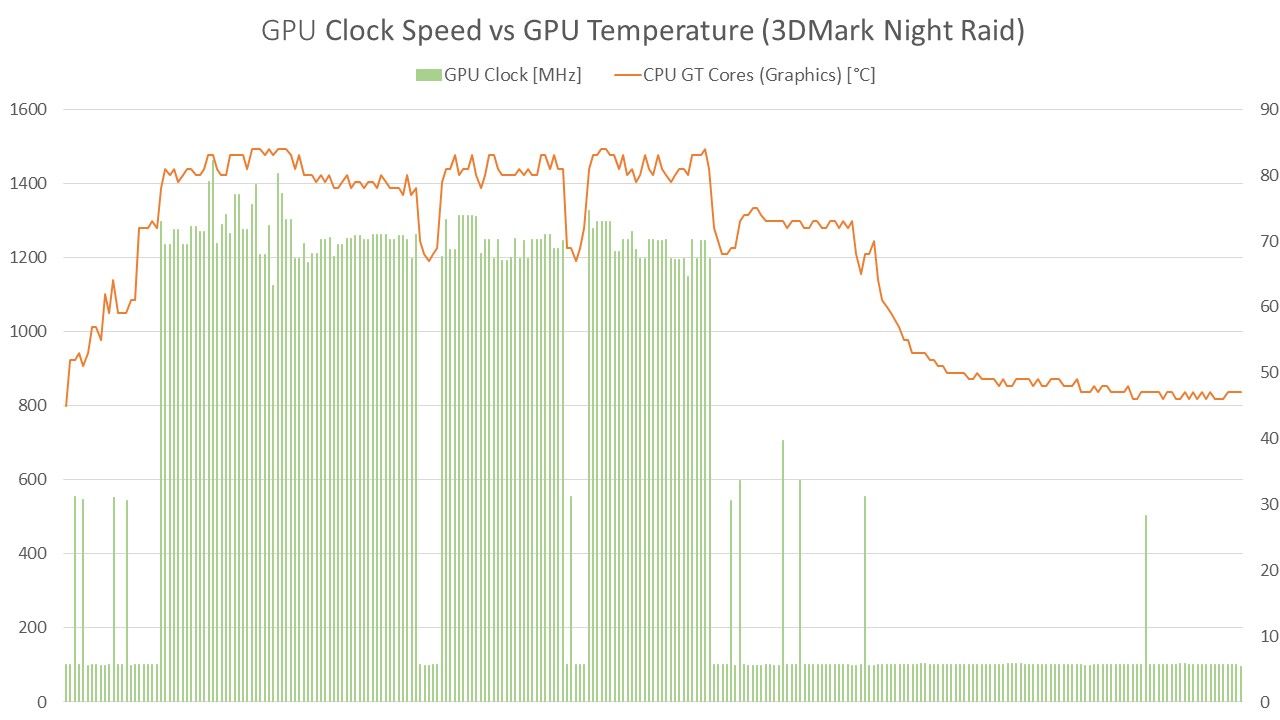 Outside of benchmarks, there was really no complaints in daily usage. I used the Yoga 7i as my primary workstation for a few weeks and I was coloured impressed. Not only does it not lag or hang when there's too many windows and browser tabs open, it turns on instantly from sleep and you can launch an app the moment you log in from a cold boot. Ultrabooks, purely for their low-power architecture would struggle with the launch speeds, but the 512 GB M.2 SSD makes this almost as fast as a MacBook.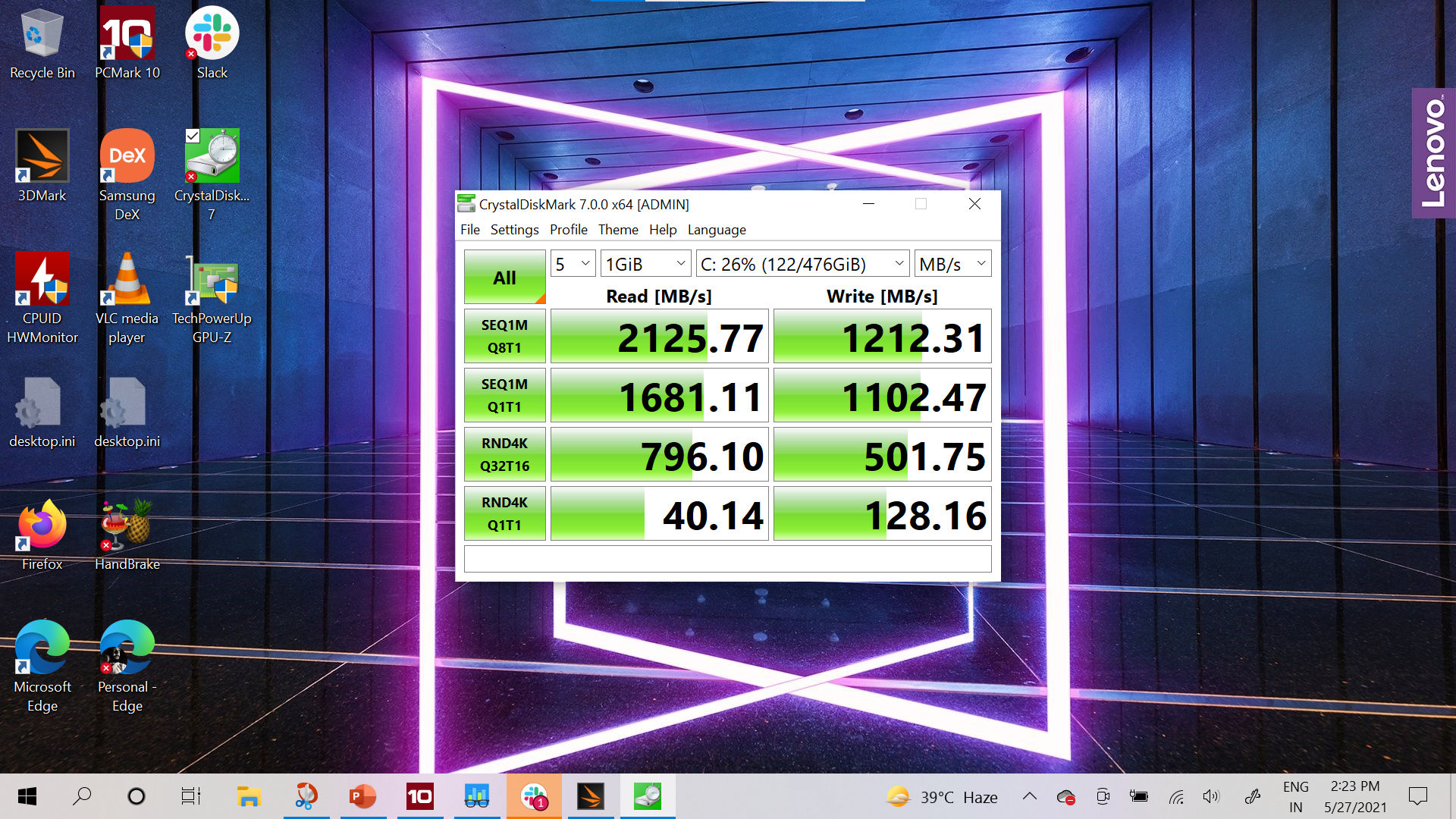 Keyboard and Trackpad: Clickity Clackity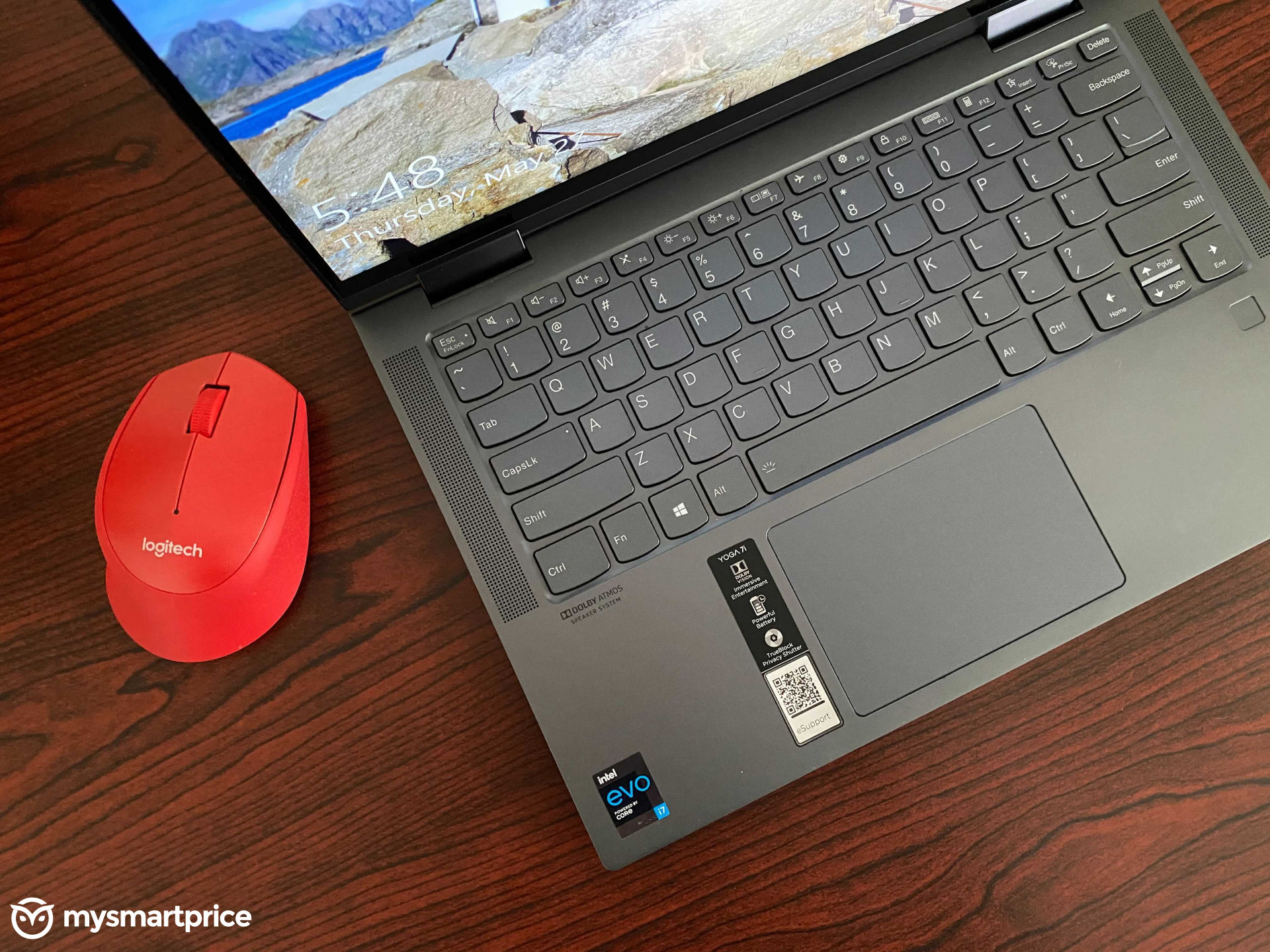 This one's a typist's laptop. With large individual keys, typing on the Lenovo Yoga 7i is one of the best feeling ever. The keys travel quite a bit but spring back instantly with a satisfying click offering excellent feedback while typing. The keys are well spaced out, with a nice stack of shortcuts in the function keys which can be accessed directly without having to press the Fn button.
The trackpad is another highlight of this laptop. It doesn't wobble at all, and supports Windows Precision Drivers for gestures. It's also fairly responsive and you won't really miss a mouse if you are only using it for mainstream tasks.
I/O: The New Normal
While the Yoga 7i goes after that sleek form factor, it had to leave the full sized USB ports back at the chopping table. It comes with only one full sized USB 3.0 port, along with two ThunderBolt 4 USB-C ports and a 3.5mm headphone jack. So while it's great for hooking up a 4K monitor, along with high-speed storage, there's no ethernet port, or an HDMI port for use. If you have to use them, you need to buy a USB-C dock. I'd recommend getting this one.
Battery and Charging: Reliably longlasting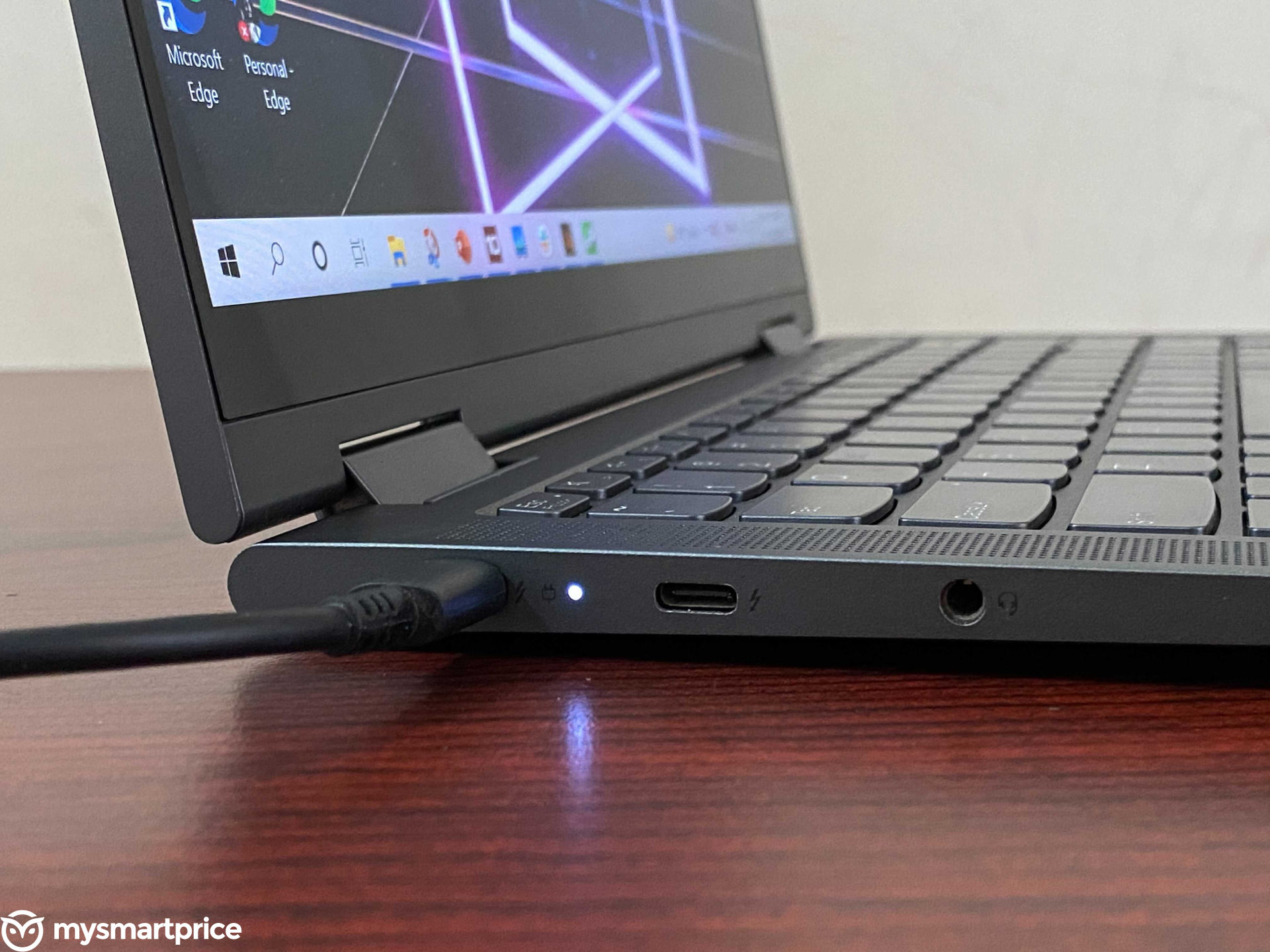 Battery life is clearly the most difficult test to pass for a laptop be Evo certified by Intel. Intel demands a 9 hour battery life on offline 4K video playback from these new-gen ultrabooks, which should roughly translate to about 4-5 hours of active usage. And during my time of using the Yoga 7i as my primary workstation, I regularly got upwards of 5 hours of battery life, even with multiple Firefox tabs open, music playing from the loudspeakers, and multitasking from one app to another. You can increase the battery life, at the cost of high performance, from the Power Settings and that will give you a good 60 minutes boost.
The good thing is that the Lenovo Yoga 7i supports 65W fast charging on USB Power Delivery. You don't just get a fast charger out of the box, but you can also purchase the more reliable GaN chargers to top up the machine faster. With the in-box charger, the Yoga 7i gets tops up lightning fast in under an hour.
Should You Buy The Lenovo Yoga 7i?
Looking at the overall package, it seems Lenovo can do nothing wrong with the Yoga 7i. If you leave aside the CPU throttling issues, which could be due to optimisations in place to give preference to battery life over performance, the Yoga 7i is nearly flawless. It makes a strong case for itself amidst new entrants like the Microsoft Surface Laptop 4 (Rs 99,990) and the Acer Swift 5 (Rs 97,990). This price range is also the territory of entry-level gaming laptops, but that's aimed at a whole different user base.
The Yoga 7i offers one of the most premium designs and the technologies to complement it. Being Evo rated also instantly instills a lot of confidence in the machine, and if you are a working professional looking to upgrade to a machine that also doubles up as a portable entertainment station, you can't go wrong with the Yoga 7i.
Keyboard and Trackpad
9.5/10
What Is Good?
Dolby Vision Display
Excellent typing experience
Loud, discernible audio
Stylus support
What Is Bad?
CPU throttles at high temperatures
Lacks adequate I/O ports