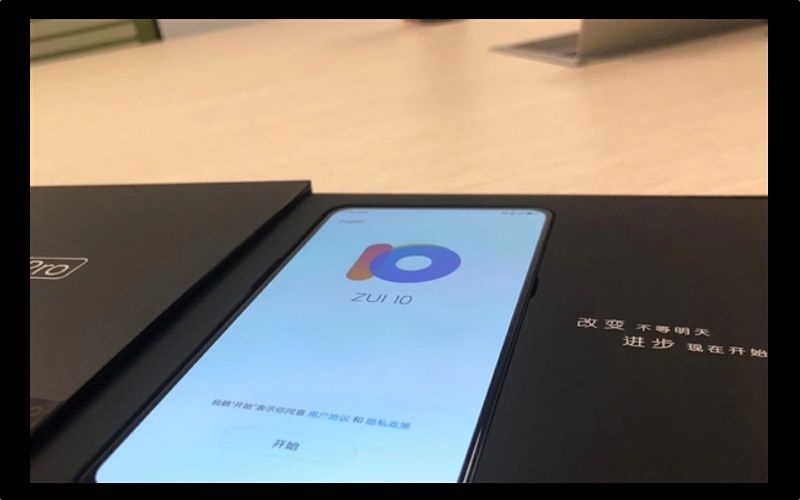 The upcoming flagship handset by Lenovo, called the Lenovo Z5 Pro, has been bared through real-life images just a day ahead of its official launch. The big unveil is set for tomorrow, November 1, and a Weibo user has today leaked clear images that reveal the handset from all angles. The new Lenovo Z5 Pro seems to challenge the newly launched Xiaomi flagship Mi Mix 3, with a slider mechanism, that claims is better than the Xiaomi one.
Not just the sliding full screen, but dual front and rear cameras, AI abilities, in-display fingerprint technology and a new operating system called ZUI 10 will give the Lenovo flagship the edge it needs to compete with Chinese flagship devices that come feature-packed. Read on for more details.
Key Features of Lenovo Z5 Pro As We Know
The Lenovo Z5 Pro is set for its launch tomorrow, but you never know. Lenovo had claimed that the handset will be unveiled on October 1, but could not follow through with it. However, the October launch was claimed by a Lenovo executive, not an official spokesperson, while the launch date this time was given by Lenovo Vice-president, Chang Cheng himself, so we have confidence that we will get to see the handset tomorrow after all.
Cheng has also released several teasers on Weibo, the Chinese Twitter (so to say), and those have given us a glimpse into what the strengths of the upcoming flagship handset might be. One such strength is a 24MP+16MP rear dual camera setup with AI features such as AI Video and AI Super Night Mode. The front camera will most likely have two sensors, but we do not know the actual specifications yet.
The slider mechanism of the Lenovo Z5 Pro seems to be similar to the Mi Mix 3 in appearance, but Lenovo has made some mighty claims about it, positioning its slider mechanism at the top. Lenovo is flaunting the fact that the new handset will have a dual-screw, six-position guidance technology for its display slider, unlike the Mi Mix 3 which uses a simple mechanical magnetic slider. Also, according to some Chinese news websites, Lenovo has said that it has tested the slider 300,000 times to make sure that it is dependable.
The fullscreen display of the handset, as you can see in the leaked images, is quite sleek. The display slides down on the body of the handset, like the Mi Mix 3, but we will have to wait and see which one of these do a better job at the sliding. As far as bezels are concerned, there seem to be none.
Lenovo is also calling its in-display fingerprint sensor the most expensive ever. What this means and how it translates into performance, dependability or speed of the sensor is yet to be seen. A ZUI 10 operating system based on Android 8.1 Oreo, and a new 4D U-Touch technology have also been teased officially by Lenovo, but details of these features have not been given. What is revealed is that the ZUI 10 OS is designed to work with fullscreen display phones, and will be a great improvement over previous ZUI systems; offering intuitive and AI-based new-age features.
Leaked Specs of the Lenovo Z5 Pro
Rumors suggest the handset will come with a 6.5-inch Quad HD+ display, with 6GB and 8GB RAM options to choose from, but there is no official confirmation about this bit yet.