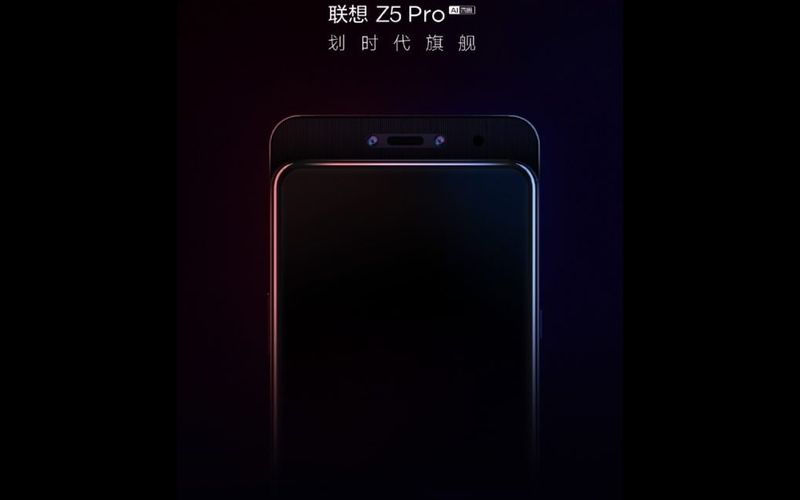 Xiaomi, which is currently among the most popular Chinese Android smartphone makers globally, launched its latest flagship smartphone in China earlier this week. Dubbed Mi MIX 3, the latest Xiaomi flagship smartphone is arguably its most impressive smartphone yet, boasting a 93.4% screen-to-body ratio and impressive 12MP + 12MP dual cameras on the back. Lenovo, however, does not appear to be impressed with the latest Xiaomi flagship. It has put up quite a few posts on its Weibo page, dissing the new Mi MIX 3. Taking a dig at the Xiaomi flagship, Lenovo Vice President put up a post on his Weibo post claiming the company's Z5 Pro will be the ultimate flagship smartphone with a 100% full-screen design and the "world's best in-display fingerprint sensor".
Lenovo Z5 Pro to Take on Xiaomi Mi MIX 3?
Soon after Xiaomi launched the Mi MIX 3 in China, Lenovo Vice President Chang Cheng published a few new Z5 Pro posters on his Weibo page, revealing that the smartphone will be officially launched in China on November 1. While Lenovo took on the Redmi Note 5 in China with the Z5, it appears that the company is gunning for the Mi MIX 3 with the Z5 Pro. While Cheng's posts do suggest that he is quite confident, we should not forget that he had similar tall claims before the launch of the Z5 in China earlier this year. It was touted as featuring a true bezel-less front with a near 100% screen-to-body ratio, 4TB of onboard storage, and phenomenal battery life. When it was finally made official, the Z5 turned out to be a budget Android smartphone rivaling the Xiaomi Redmi Note 5 in China.
The latest Lenovo Z5 Pro posters shared on Weibo show a device with no notch, clearly hinting at the presence of a slider mechanism. It also highlights an in-display fingerprint sensor, which, if Cheng is to be believed, the most expensive on a smartphone yet. While Lenovo has not shared any details yet, there is a small possibility that the upcoming Z5 Pro could be the first smartphone to feature an ultrasonic in-display fingerprint. So far, all smartphones announced with an in-display fingerprint sensor use optical sensors, which are slower and less accurate when compared an ultrasonic in-display fingerprint sensor. Since the Mi MIX 3 does not feature an in-display fingerprint sensor, Lenovo even asked Xiaomi to go back to the drawing board in a post published on Weibo.
Lenovo Z5 Pro Rumored Specs
Apart from the slide-out camera design and an in-display fingerprint sensor, there is very little that we know about the Lenovo Z5 Pro currently. Since Lenovo is teasing the Z5 Pro as a Mi MIX 3 rival, there is a possibility that it might run on Qualcomm's flagship Snapdragon 845 octa-core processor under the hood. Rumors suggest the smartphone will be available in multiple memory configurations. While the base variant will have 6GB of RAM along with 64GB of internal storage, the top-end Z5 Pro version is expected to pack 8GB of RAM and 256GB of internal storage. In terms of optics, the smartphone is rumored to come with a 20MP + 16MP dual-camera setup at the rear with some interesting new software enhancements. The rest of the smartphone's spec sheet, however, remains a complete mystery at this point.