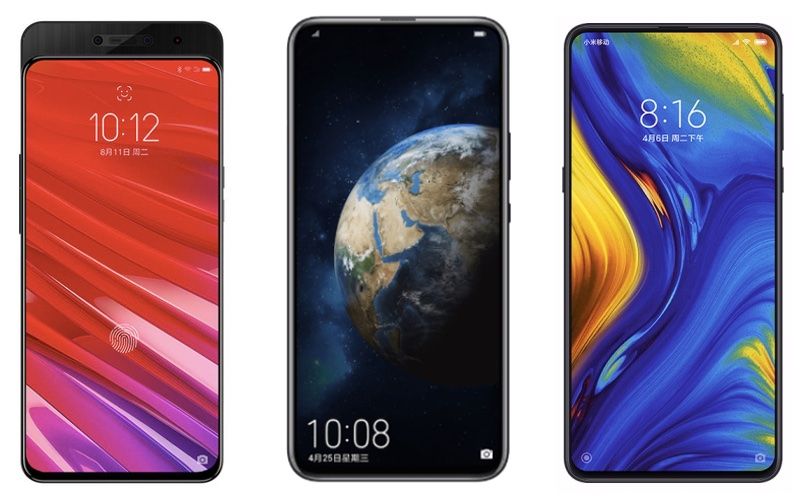 With Chinese companies announcing their all-screen smartphones, the last couple of weeks were certainly great for the smartphone industries. First Xiaomi announced its next-gen Mi Mix 3, then Honor took a jab at it by launching Magic 2. Following these two, Lenovo finally unveiled its latest Z5 Pro. Unlike Z5, Lenovo was able to live up to our expectation with its pro variant. All these three smartphones share similar design ideology, offering amazing screen-to-body-ratio to the consumer. These brands were able to achieve this with the help of camera slider in their devices. If you're confused in these three smartphones, then bear with us because in this article we're kicking off a massive comparison.
Honor Magic 2 price starts from Rs 40,300 for the base variant and it goes up to Rs. 50,000 for the topmost option. Lenovo Z5 Pro is on the budget side with an affordable price tag of Rs 21,400 for base variant and Rs 24,000 for a high-end storage option. Xiaomi Mi Mix 3, on the other hand, falls in the middle with a price tag of Rs 34,000.
Lenovo Z5 Pro vs Honor Magic 2 vs Xiaomi Mi Mix 3: Design, Display Features
In terms of screen size, there is not much of a difference between these devices. All the devices feature a large 6.3-inch display with a resolution of 1080 x 2340 pixels, 19.5:9 ratio aspect ratio and 403 ppi pixel density. The thing which decides the winner among them in this aspect is the screen-to-body ratio and type of panel. Lenovo Z5 Pro comes with a Super AMOLED display with 95.06% ratio. Xiaomi Mi Mix 3 and Honor Magic 2, on the other hand, sports an AMOLED panel with 84.8% and 91.5% ratio respectively. Lenovo clearly takes a lead thanks to the high ratio and Super AMOLED panel on front.
Coming to the build quality, all the smartphone comes with a glass back. Honor Magic 2 is the slimmest and lightest of the three. Although, you'll not see that much of a difference in reality. Even though all the three devices feature a glass back, but only the Mi Mix 3 packs a wireless charging in it.
Lenovo Z5 Pro vs Honor Magic 2 vs Xiaomi Mi Mix 3: Hardware, Performance
When it comes to performance, Honor Magic 2 packs a flagship Kirin 980 processor which is fabricated over a 7nm process. Xiaomi Mi Mix3 also packs a flagship Qualcomm Snapdragon 845 chipset which is fabricated over a 10nm process. Lenovo Z5 Pro, on the other hand, features a budget Snapdragon 710 processor. Both the Xiaomi and Lenovo will deliver somewhat similar performance. Xiaomi Mi Mix 3 also comes with a massive 10GB of RAM while the Magic 2 top variant packs 8GB of RAM. Don't let these numbers fool you. Even 6GB in Lenovo Z5 Pro will be enough for heavy tasks.
Lenovo Z5 Pro vs Honor Magic 2 vs Xiaomi Mi Mix 3: Software
Lenovo Z5 Pro runs on the recent Android 8.1 Oreo operating system while the remaining two runs on the latest Android 9.0 Pie. Coming to the updates, the brands didn't promise any future Android version update as of now. All the three smartphone runs on their custom skin – Lenovo Z5 Pro on ZUI 10, Honor Magic 2 on EMUI 9.0 and Xiaomi Mi Mix 3 on MIUI 10. When it comes to software, every user has its own preference meaning you might like MIUI more than the other skins or vice versa.
Lenovo Z5 Pro vs Honor Magic 2 vs Xiaomi Mi Mix 3: Camera
Lenovo Z5 Pro and Mi Mix 3 comes with a dual camera setup at the back having 16MP + 24MP and 12MP + 12MP camera sensors respectively. Honor Magic 2, on the other hand, packs triple camera setup – 2x16MP + 24MP sensors. Coming to the selfie cameras, all the smartphone has mechanical camera slider housing front cameras and sensors in some cases. Lenovo Z5 Pro has 16MP primary sensor and 8MP secondary sensor on the slider while the Xiaomi Mi Mix 3 houses 24MP and 2MP selfie snapper. Honor Magic 2, like the rear, has three cameras on the front – 16MP + 2x 2MP. In total, the device has six cameras which are pretty impressive. The figures clearly tell us who is the winner. Honor Magic 2 takes the lead when it comes to cameras.
Lenovo Z5 Pro vs Honor Magic 2 vs Xiaomi Mi Mix 3: Battery Life, Connectivity
All the three smartphones are powered by a somewhat identical battery capacity with a slight difference in each of them. Lenovo Z5 Pro and Honor Magic 2 has 3350 mAh and 3500 mAh battery capacity. Xiaomi Mi Mix 3, on the other hand, packs a 3200 mAh battery capacity. Battery life largely depends on the software optimizations so we really can not select a winner in this category as of now. Looking at the figures, Honor Magic 2 seems to get a slightly higher battery life but again the difference is not that major.
Lenovo Z5 Pro vs Honor Magic 2 vs Xiaomi Mi Mix 3: Conclusion
Lenovo Z5 Pro, even though is a budget device, manages to offer impressive screen-to-body ratio, camera slider, and competitive features. If you're tight on the budget and still wants to taste the negligible bezels on the screen, Lenovo Z5 Pro is a device you should be looking at. On the other hand, you'll get everything in the Honor Magic 2. From performance to cameras, this device is hiding some impressive stuff inside it. No doubt, the six cameras will do an excellent job. Xiaomi Mi Mix 3 also sits in a sweet spot with flagship hardware and budget price tag.