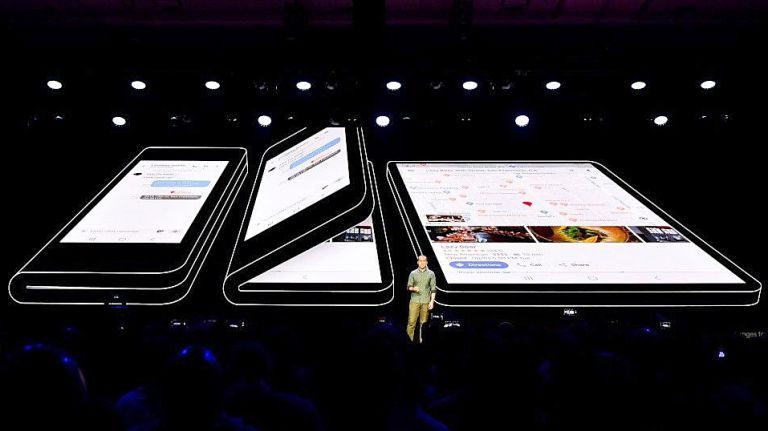 Foldable smartphones are slowly becoming a trend which every phone maker wants to a be a part of. A couple of months ago, we were living with the leaked rendered images and concept videos of a foldable phone. Samsung earlier this month showed us what an actual device might look like by revealing its Infinity Flex display. Samsung isn't the only company in the fray though. Huawei recently joined the league by announcing its own foldable smartphone. LG, which has been a big player in the OLED display market, is finally stepping up in heated foldable smartphone space. The brand recently trademarked four names which include Flex, Foldi, Duplex and Bendi.
LG Foldable Phone might feature a Full-Screen Double Display design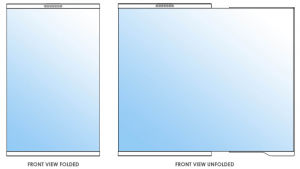 The South-Korea based company has been granted a new design patent for its foldable smartphone. It is worth noting that this patent shows a similar foldable smartphone which was leaked earlier this year. The company submitted this patent to KIPO (Korean Intellectual Property Office) which was published on October 23, 2018. This time, the patent reveals a foldable device boasting a complete borderless design. Apart from a borderless design, the patent shows a device with a fullscreen flexible display. Basically, it is bent around the entire housing giving it a double display design. The patent gives us the sketched images of the design and sadly, no comprehensive description.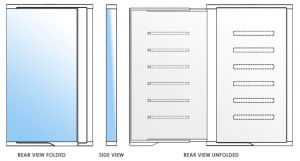 As you can see in the images, there is a borderless smartphone where the display folds around the side of the phone. The chassis of the phone seems to be a singular unit and doesn't open up, unlike the Samsung foldable phone which opens up like a book. Instead, it looks like just the screen detaches from one side. It may be attached magnetically and opens up like a flap in order to present a screen as large as a tablet. This is what makes LG's design significantly different from that of Samsung and Royole. For those who're unaware, Royole is the first company to actually launch a working foldable smartphone.
LG Foldable Phone Could Be Unveiled at CES 2019
As mentioned earlier, this patent is granted by KIPO in Korea. To get published in the WIPO (World Intellectual Property Organization) database, the smartphone maker will have to wait for a year via the regular route. This suggests that the particular design will not see an official unveiling anytime soon. There's a high chance that the company will first launch a foldable smartphone with bezels and then might introduce this borderless double display design as a second iteration. If previous rumors are to be believed, LG is planning to showcase its first foldable smartphone at CES 2019. This might make LG the first smartphone company to launch a foldable device in the market. Sadly, we don't know anything else about LG's upcoming foldable device. Huawei is also supposed to unveil its first foldable phone next year, specifically at MWC 2019. Huawei's foldable device will fall under Mate phablet lineup.
Coming to the pricing, LG Foldable Phone will no doubt carry a "burn in your pocket" price tag. Huawei's foldable device is expected to hit the USD 1,500 price point while the Samsung Galaxy F's top-end variant will reportedly carry a USD 2,000 price tag. We will see the similar pricing from LG too.