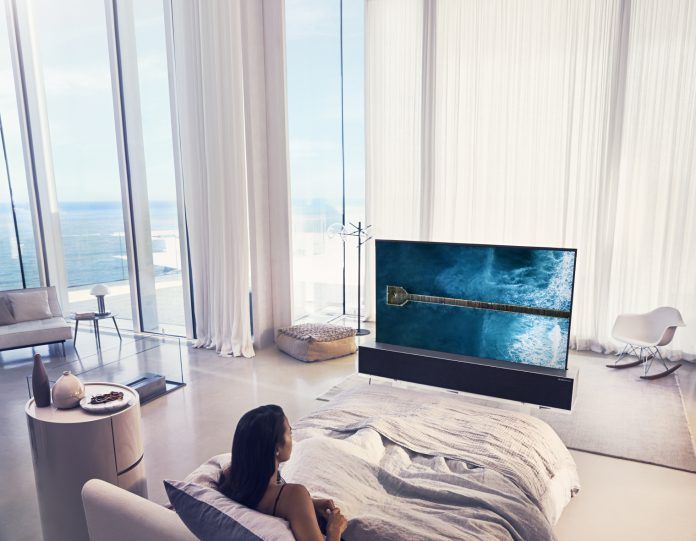 LG showcases one of the biggest product lineups every year at CES. This year, the South Korean brand showcased 4K rollable OLED TVs, 8K LCD and OLED TVs, two ultra-wide monitors, a 4K laser projector, a bunch of speakers, service robots, stylers, washing machines, and a partnership with Microsoft to build autonomous vehicles technology and in-car infotainment systems.
The company's most important unveiling at CES 2019 in Las Vegas was its rollable OLED TV. Dubbed SIGNATURE OLED TV R, the 65-inch OLED TV can roll itself into an aluminum case when it is not being used. Apart from this head-turning TV, the company also showcased the 88-inch Z9 OLED TV and the SM99 8K LCD TV at the event. Other TV models include the Z9, W9, E9 and C9 series.
All the new LG TVs are powered by the company's second-generation α9 processor and run the latest version of webOS software. These TVs also feature Apple AirPlay 2, iTunes Movies & TV Shows app and Google Assistant. LG's all new OLED and NanoCell LCD TVs feature HDMI 2.1 (for 8K transmission and 120fps high-frame rate) ports and eARC (enhanced audio return channel). They also come with VRR (variable refresh rate) and ALLM (automatic low latency mode) which enhance gaming by eliminating screen tearing.
LG SIGNATURE OLED TV R
LG has been showcasing rollable TVs at tech exhibitions for quite some time, but 2019 is the year when consumers would be able to actually buy them. The LG Signature OLED TV R (Model 65R9) is a 65-inch OLED TV that can roll back into its brushed aluminum base.
The company hasn't revealed any information about the TV's panel brightness or other specifications, but we do know that it has 4K resolution and HDR (HDR10 and Dolby Vision). The LG Signature OLED TV R uses the second-generation α9 processing chipset. The panel is secured by two metal arms at the rear when it is rolled out of the base. The base of the TV also doubles up as a 100W Dolby Atmos-compatible soundbar. The TV also supports Apple's AirPlay 2 and Google Assistant.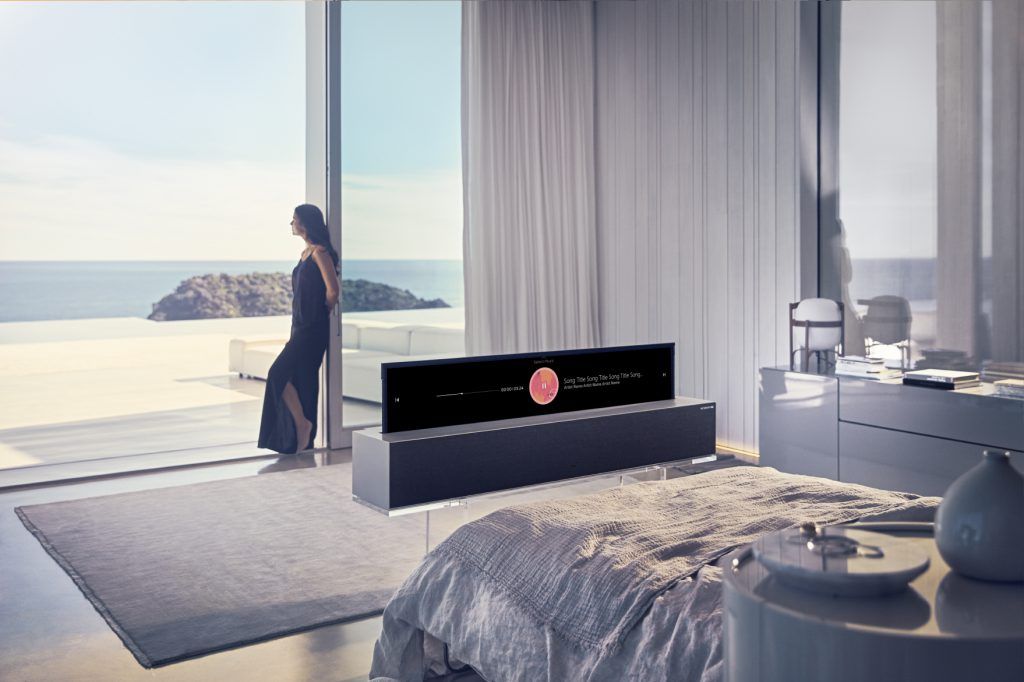 The TV features three modes: Full View, Line View, and Zero View. Full View is when the TV is fully rolled out. Line View is used when the TV partially rolled out so it can't be used to watch video content but to showcase attractive graphics/digital pattern, family images or display information such as time, weather, mood, music information, and smart home dashboard. In Zero View mode, the TV acts as a standalone soundbar which can be used to playback music or audio from connected devices.
LG Z9, W9, E9 & C9 OLED TVs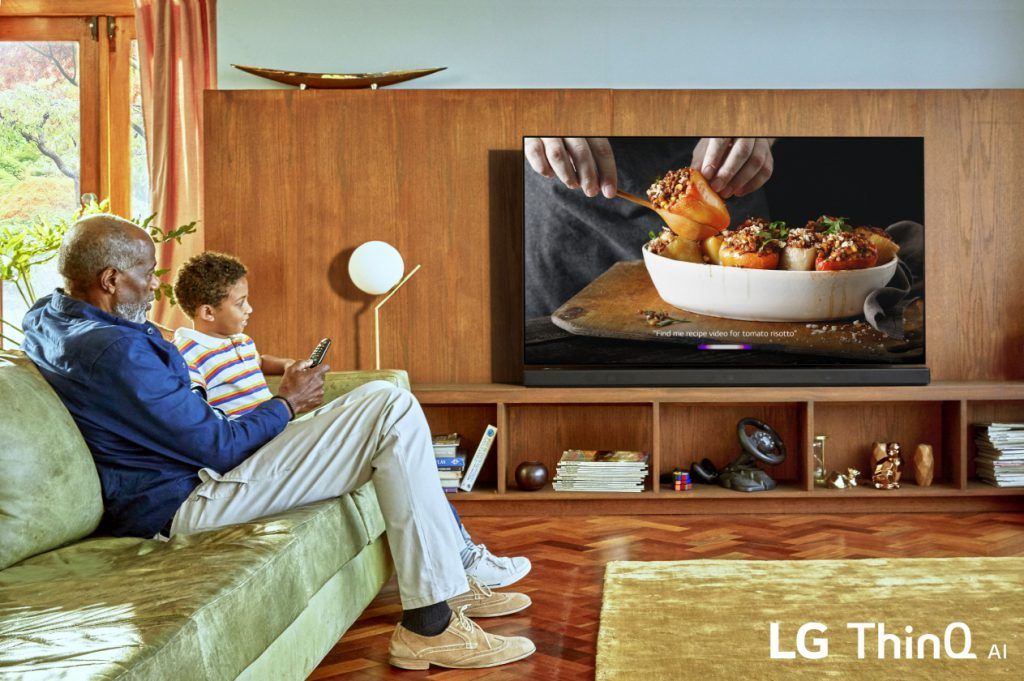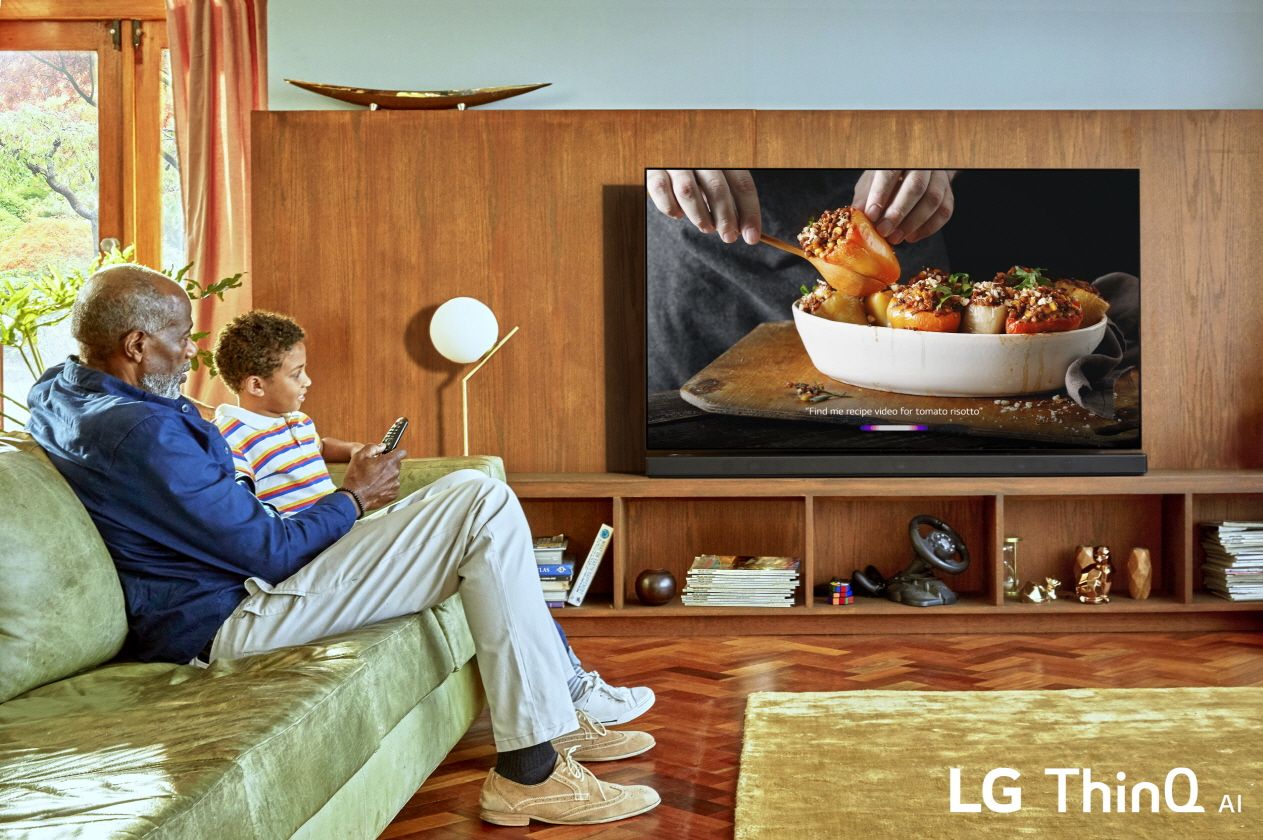 The second-generation α9 (Alpha 9) processor is also used in LG's Z9, W9, E9 and C9 series of OLED TVs. The LG Z9 is an 88-inch 8K OLED TV and has the same webOS software with AirPlay 2, Alexa and Google Assistant compatibility for media streaming, finding information, and controlling compatible smart home products.
LG NanoCell LCD TVs
LG's new LCD TV's, which will now be marketed under the NanoCell branding, also use the α9 (Alpha 9) processor for 4K to 8K upscaling (deep learning) and HDR refinement. They feature AirPlay 2, Alexa and Google Assistant integration as well. LG's 2019 flagship LCD TV will be the SM99 with a 75-inch 8K LCD screen. Other premium LCD TVs lineups include the LG SM9X series and the LG SM8X series.
LG UltraGear & Ultrawide Monitors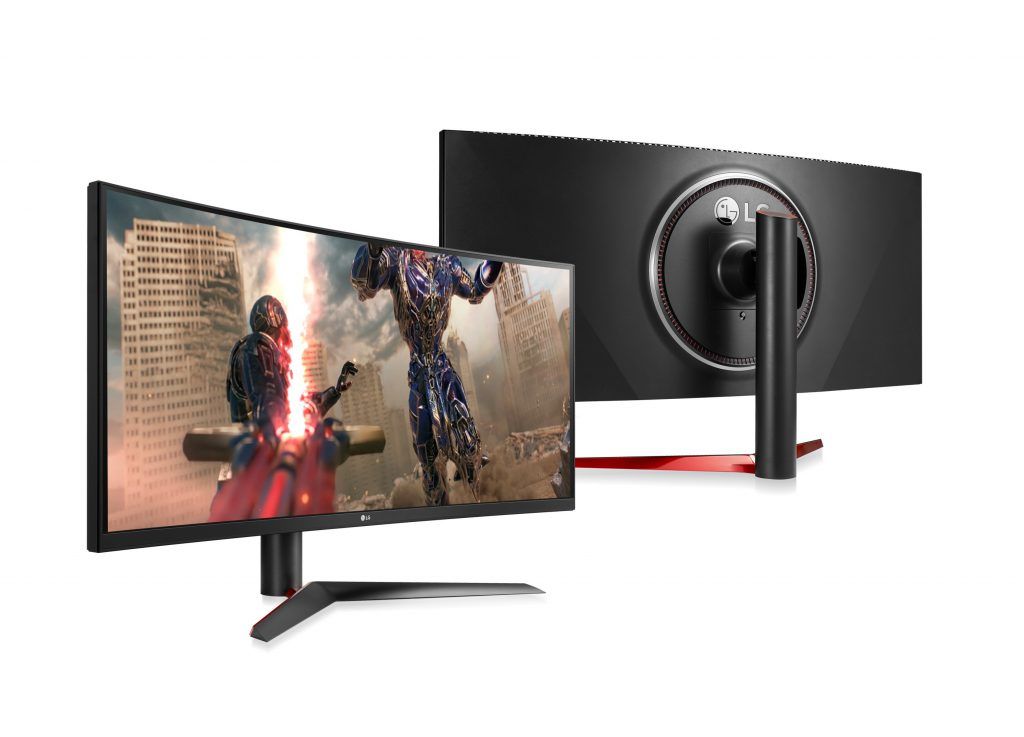 LG also showcased a 38-inch ultrawide monitor for PC gamers and a 49-inch ultrawide monitor for professionals. The 2019 LG UltraGear Gaming Monitor (38GL950G) has a 38-inch Nano IPS LCD curved screen with 3800×1600 pixels resolution, 21:9 ultrawide aspect ratio, 450 nits brightness, 144Hz refresh rate, 2ms response time, 98% DCI-P3 color gamut coverage. It also features Nvidia G-Sync support to eliminate screen tearing. It has one HDMI port, one DisplayPort, and a USB 3.0 hub (one upstream, two downstream). It has height and tilt adjustment settings as well as software features for gamers such as crosshair.
LG 49WL95 UltraWide Monitor
The 49-inch LG UltraWide Monitor (49WL95) has a 49-inch IPS LCD curved screen with 32:9 aspect ratio, 5120×1440 resolution, 99% sRGB color space coverage, 350 nits brightness, HDR10 certification, picture-in-picture and picture-beside-picture modes, an ambient light sensor, and dual-10W speakers. It has a stand that offers height, tilt and swivel adjustments and the monitor has 100×100 VESA mount. The monitor also features a USB Type-C port (with 85W USB-PD charging), two HDMI ports, one DisplayPort, and a USB 3.0 hub (one upstream, two downstream).
LG CineBeam HU85L 4K Laser Projector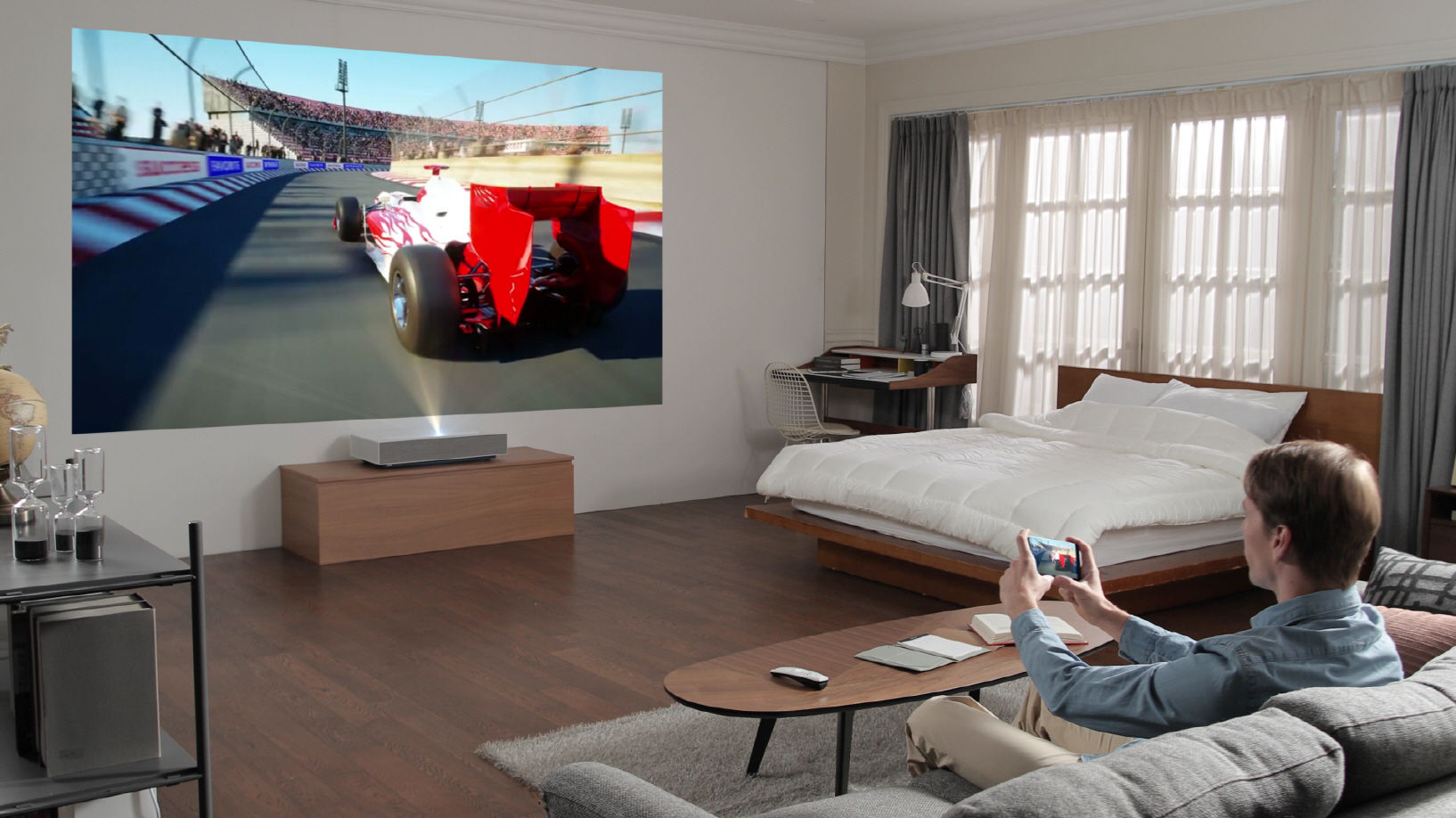 The South Korean consumer electronics brand also revealed its new 4K projector: LG CineBeam HU85L. It's an ultra-short-throw (UST) 4K laser projector that can project 4K content on a wall, ceiling or a floor. It can be placed as close as 2 inches from a flat surface to project 90-inch diagonal image with up to 2500 ANSI lumens brightness. It can be extended to 120 inches when it is placed 7 inches away from the surface.
It runs webOS 4.5 which gives access to Hulu, Netflix, YouTube, and other 4K video streaming services. The projector also understands voice commands and is capable of natural voice processing, thanks to LG's ThinQ AI software. The LG CineBeam 4K laser projector also features Ethernet, HDMI and USB ports as well as Wi-Fi and Bluetooth wireless connectivity.
LG XBOOM Speakers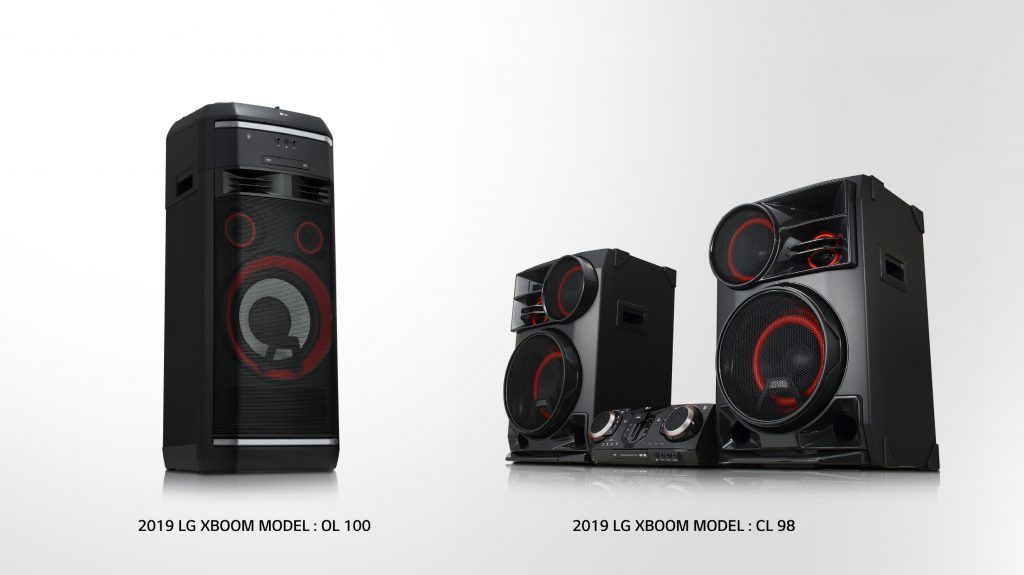 LG's XBOOM speakers lineup has also been renewed for 2019. At CES 2019, the company unveiled all-in-one speakers, mini components, XBOOM Go portable Bluetooth speakers, and XBOOM AI ThinQ smart speakers, so no matter where the party is and how large or small, LG has an audio solution for every occasion or social gathering.
The LG XBOOM CL 98 mini component delivers 3500W of audio output, Compression Horns for crisper and detailed high-frequency audio. The high-end LG XBOOM OL 100 model is a high-end speaker with 2000W audio output, LG's proprietary Blast Horn (a folded air duct behind the driver that is designed to create acoustic sound pressure by directing air through an amplifying duct), and a Grab & Move handle for easier handling. The OL 100 also features Meridian Mode, which has been created in collaboration with British firm Meridian Audio, to clearer vocals and more responsive bass. The LG XBOOM RK7 and the LG XBOOM RL4 freestyle wireless Bluetooth speakers have an X Grip handle so that they can be handled and transported easily. They can also be placed horizontally and vertically.
LG XBOOM Speakers 2019 Lineup
These new XBOOM speakers also feature aptX HD codec compatibility so wireless audio streams are near lossless. The upgraded Wireless Party Link feature allows users to combine multiple speakers. The LG DJ Star app allows users to channel their inner DJ through features such as Cross Fader, DJ Loop, Karaoke Star, and Scratch Mixing. These speakers also have a synchronized Multi-Color Lighting feature to add style to your parties.
LG claims that its new XBOOM Go PK series portable Bluetooth speakers can reproduce "excellent high-fidelity sound" in spite of their compact size and they have aptX HD codecs. The company also showcased the recently released XBOOM AI ThinQ speaker which features Meridian Audio tuning as well as Google Assistant.
LG Soundbars With Google Assistant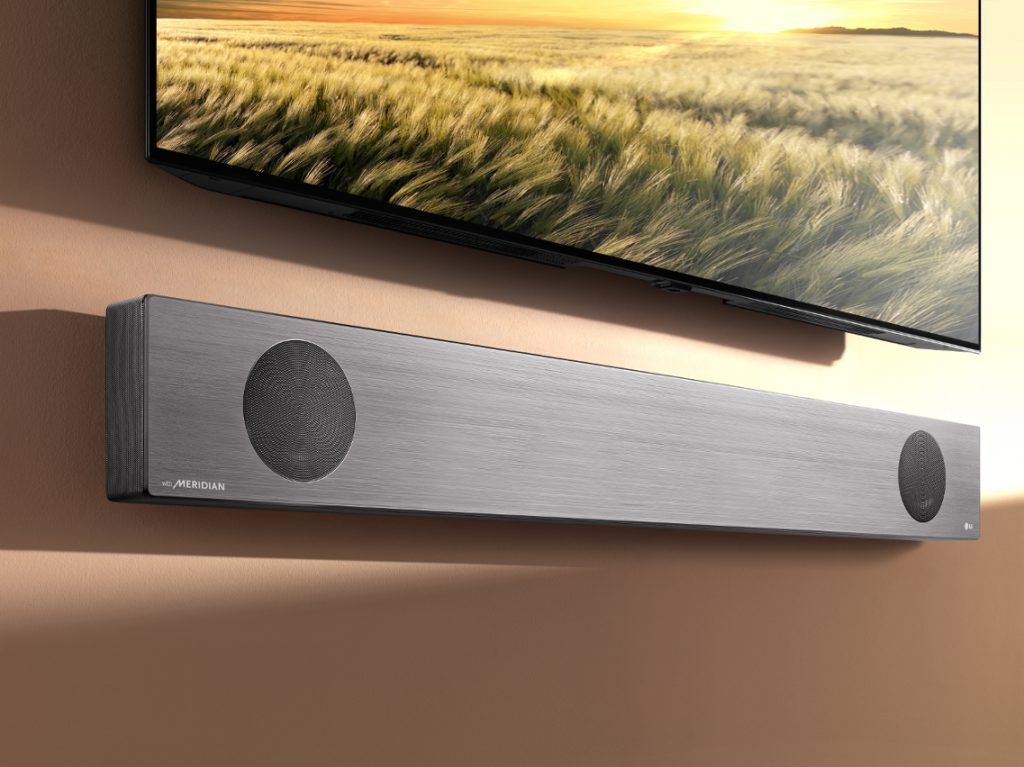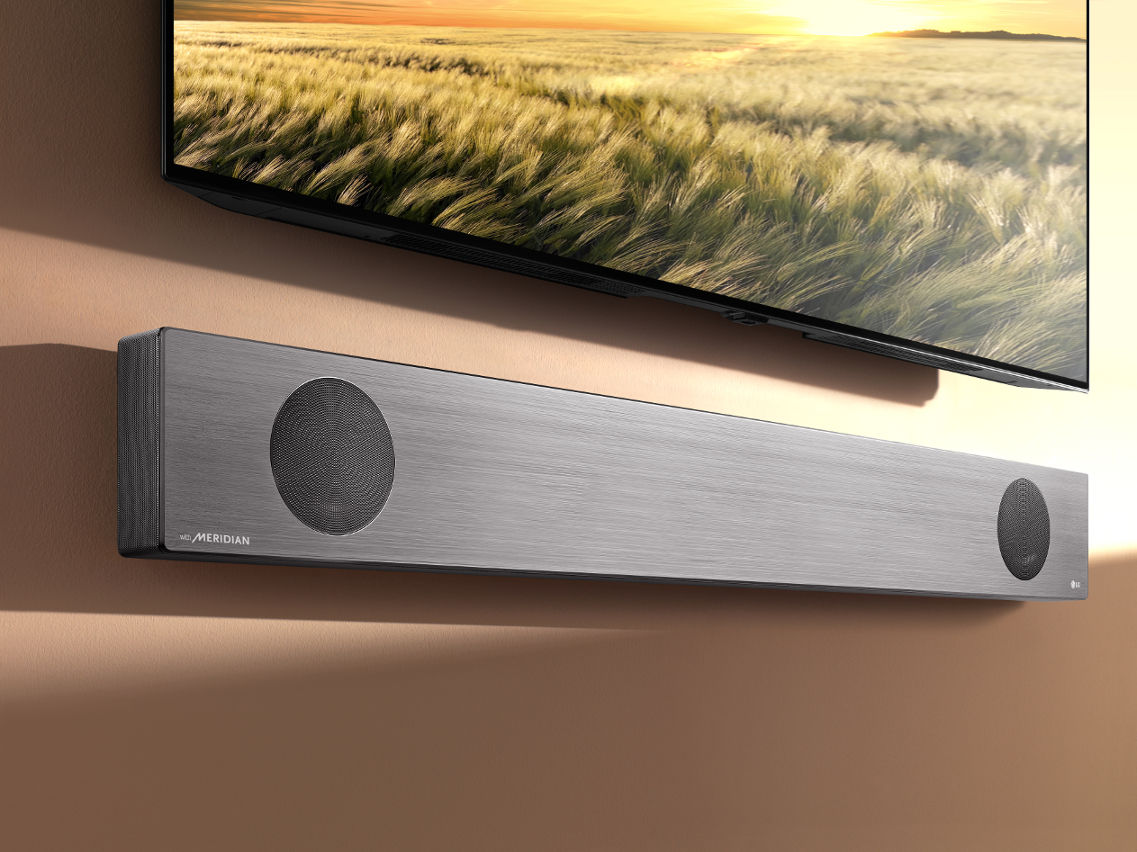 The latest soundbars from LG—SL8YG, SL9YG, SL10YG—feature Meridian Audio's Bass & Space technology, audio tuning, Dolby Atmos and DTS:X. They also feature Google Assistant so that users can give voice commands to turn on/off, control volume, change inputs, ask for information and control Google Assistant-compatible smart home products.
LG Gram 14 & LG Gram 17 Laptops (2019)
Two new ultra-thin and ultra-lightweight laptops were unveiled by LG during CES 2019. The LG Gram 14 (14T990) is the company's latest 2-in-1 laptop that transforms into a touchscreen tablet, thanks to its 360-degree hinge. The laptop also meets the MIL-STD-810G standard for enhanced durability. It comes with a 14-inch IPS LCD touchscreen, Corning Gorilla Glass 5 protection, Wacom AES 2.0 Pen (with 4,096 pressure levels and tilt detection). The company claims that its 72Wh battery can last up to 21 hours on a single charge.
In terms of hardware, the LG Gram 14 comes with an Intel Core i7 8565U processor, 16GB DDR4 RAM, and 512GB SATA 3 M.2 SSD. There's a fingerprint reader, a glass multitouch trackpad, a backlit keyboard, stereo speakers, Wi-Fi ac/b/g/n, Bluetooth 5.0, HDMI port, three USB 3.1 Type-A ports, a USB Type-C Thunderbolt 3 port, and a headphone jack with DTS Headphone X audio.
The LG Gram 17 (17Z990) is a thin and light laptop but with performance to boot. It has a 17-inch QHD IPS LCD touchscreen within a 15.6-inch laptop-class body. It weighs just 1.3kg in spite of having such a large screen. Its 72Wh battery can last up to 19 hours on a single charge, at least that's what LG claims. Similar to the LG Gram 14, the LG Gram 17 also features a MIL-STD-810G compliant metal alloy body. In terms of hardware, the laptop comes with an 8th Gen. Intel Core i7-8565U processor, up to 16GB DDR4 RAM, 256GB SSD, a space for an additional SSD, a USB Type-C Thunderbolt 3 port, three USB 3.0 Type-A ports, Bluetooth 5.0, Ethernet port adapter, a glass touchpad, backlit keyboard, a fingerprint reader, microSD card slot, HD webcam, dual-1.5W stereo speaker setup and DTS Headphone X audio feature. It runs Windows 10 Home operating system.
LG TWINWash Washer & Dryer Set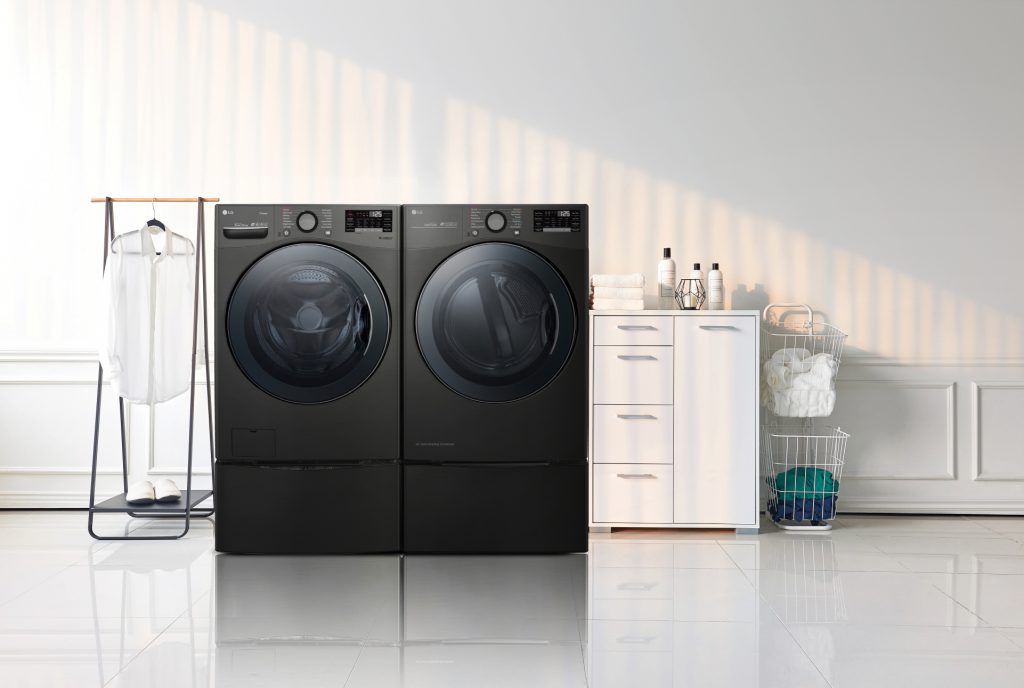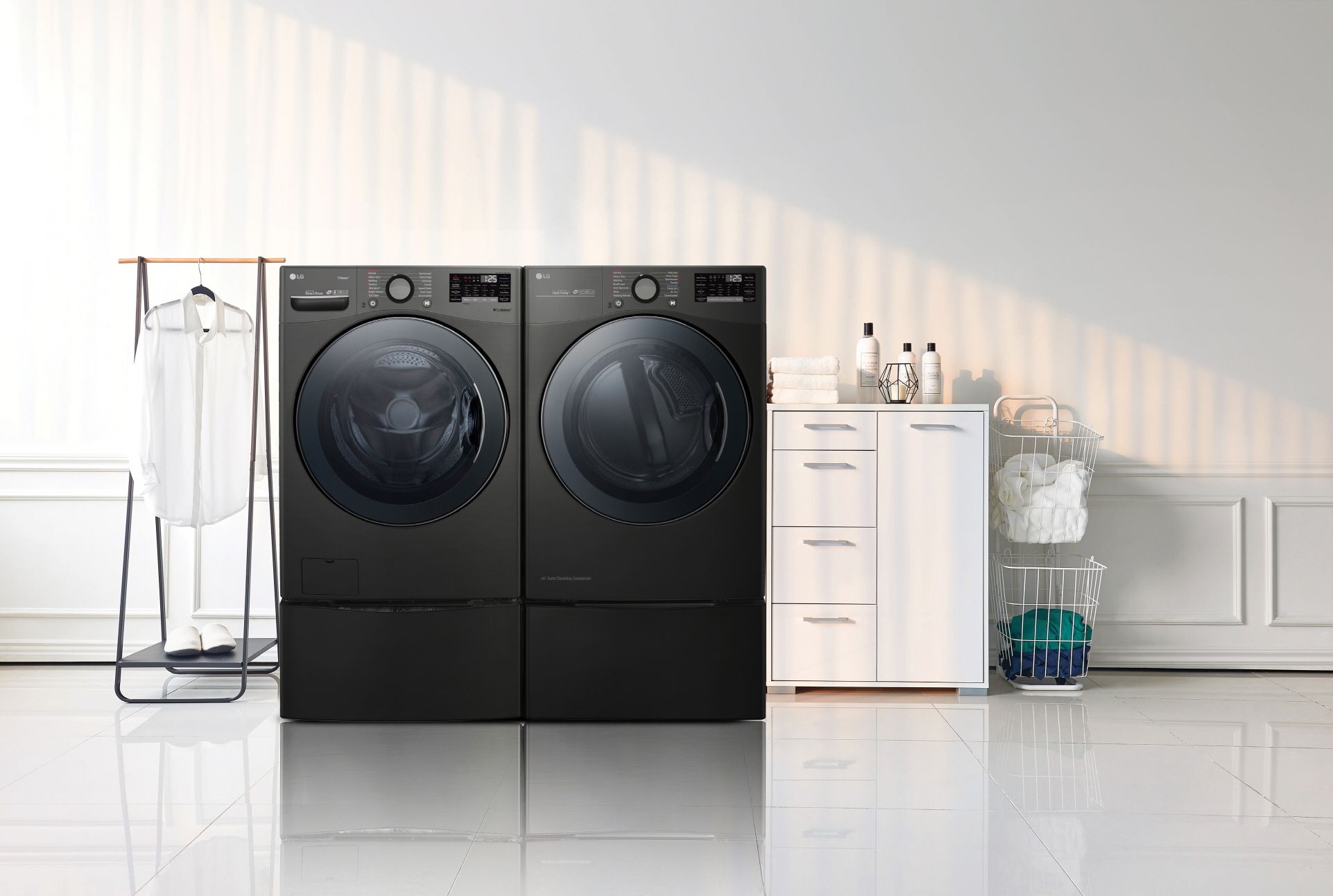 The new LG TWINWash washer and dryer set that was showcased at CES 2019 features and ultra-large capacity washer, SideKick pedestal washer, and a dual-inverter heat pump dryer. The bigger washer can be used for large loads while the SideKick washer can be used for smaller wash loads. It also features Wi-Fi and LG's AI ThinQ technology for Amazon Alexa and Google Assistant compatibility. It can be turned on/off, start/pause load, monitor a wash cycle status using Alexa, Google Assistant, and the LG app.
Everything Else That LG Showcased At CES 2019: CLOi Robots & Suitbots, ThinQ AI, Partnership With Microsoft For Autonomous & Connected Cars, LG OLED Falls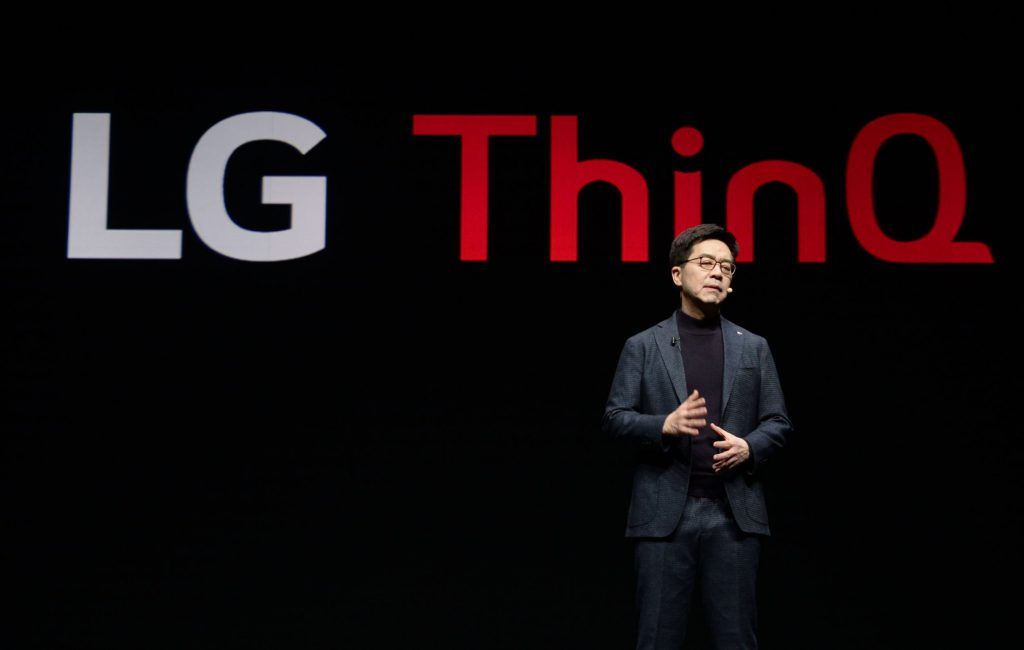 The company's LG CLOi GuideBot became the first robot to help in keynote press conference delivery and shared the spotlight with LG Electronics President and CTO Dr. I.P. Park. Dr. Park explained at the keynote that LG things three important factors will help in transforming every aspect of life using AI: Evolve, Connect and Open. The company has already integrated its ThinQ AI technologies into webOS as well as its other smart home products and smartphones. LG unveiled three robots—PorterBot, ServeBot, and CartBot—as well as LG CLOi Suitbot that helps humans in lifting heavy weights and bending so that the risk of fatigue and injury is greatly reduced.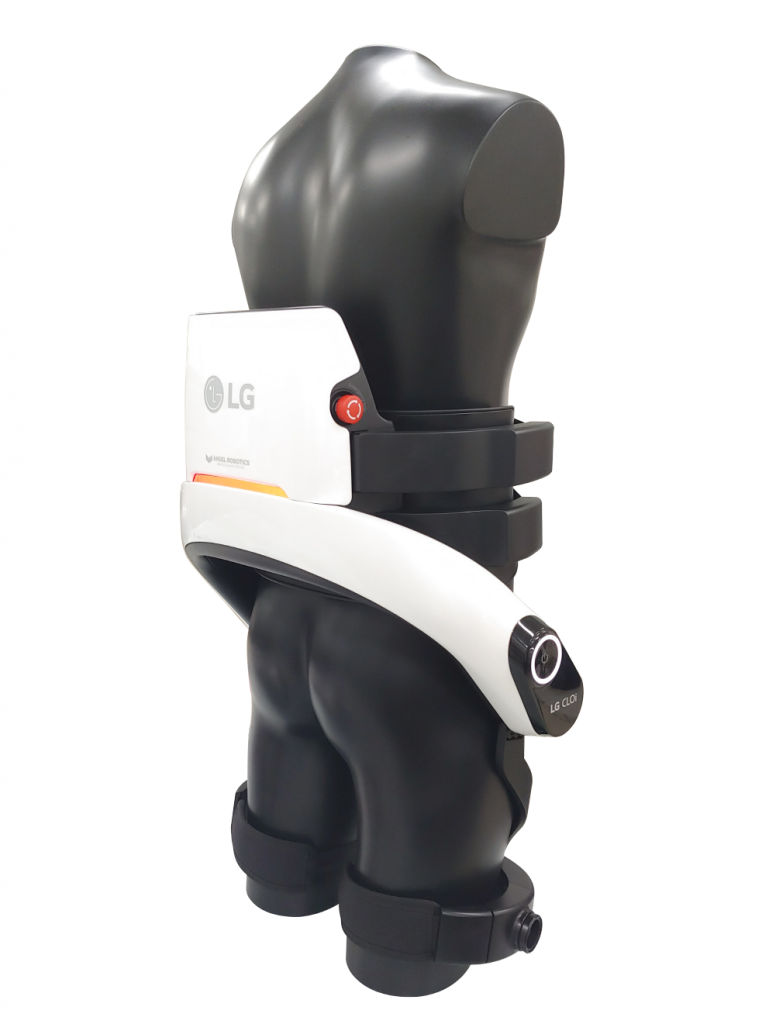 Dr. Park said. "But I want to talk about more than just improvements. Our ambition is to go way beyond LG's current role as a leading manufacturer of consumer electronics and to become a lifestyle innovator that serves a truly intelligent way of living."
The company announced a partnership with Microsoft. As a part of this partnership, LG will use Microsoft's Azure cloud computing and AI technology in combination with its own future software development for the autonomous and connected vehicle industry. It will also create infotainment systems for vehicles.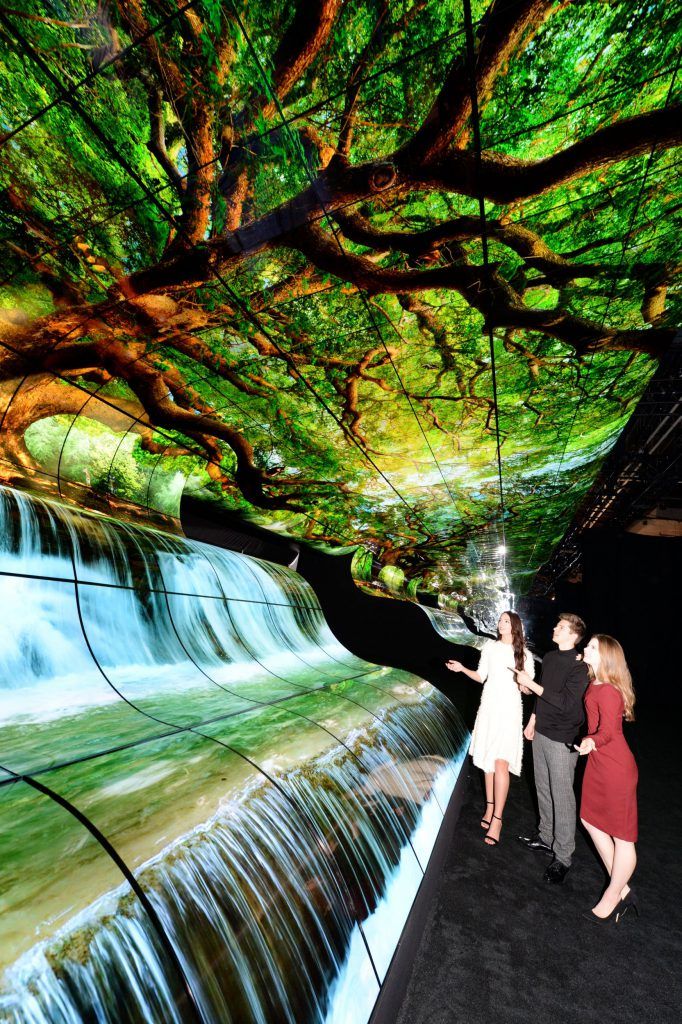 The company also showcased a jaw-dropping art installation at its booth. The installation is called LG OLED Falls and it was created using 260 LG OLED Digital Signage curved HDR-compatible screens.
Thanks for reading till the end of this article. For more such informative and exclusive tech content, like our Facebook page