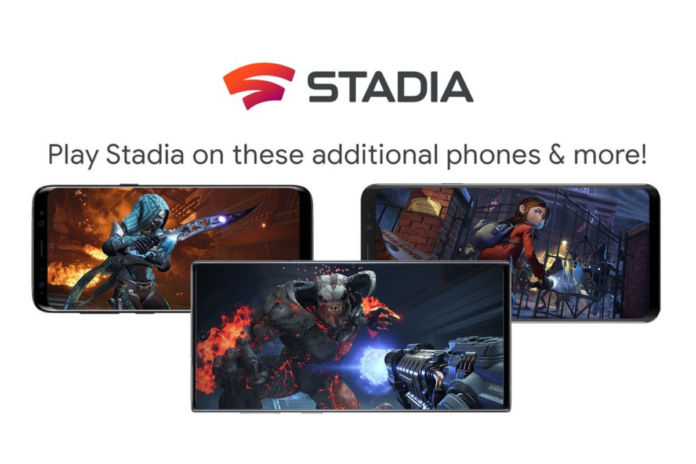 Stadia, the cloud gaming platform from Google, was launched back in November. However, since its launch, Stadia has been limited to Pixel smartphones, Chromecast, Chrome (Web browser) and devices running Chrome OS. Well, Google has announced today that it is extending the compatibility of Stadia to a number of smartphones from Asus, Samsung, and Razer. Here is a list of the devices that the brand has listed in its announcement blog post.
List of Asus, Samsung, Razer Smartphone Supporting Google Stadia
ASUS ROG Phone
ASUS ROG Phone II
Razer Phone
Razer Phone 2
Samsung Galaxy S8
Samsung Galaxy S8+
Samsung Galaxy S8 Active
Samsung Galaxy Note8
Samsung Galaxy S9
Samsung Galaxy S9+
Samsung Galaxy Note9
Samsung Galaxy S10
Samsung Galaxy S10E
Samsung Galaxy S10+
Samsung Galaxy Note10
Samsung Galaxy Note10+
Samsung Galaxy S20
Samsung Galaxy S20+
Samsung Galaxy S20 Ultra
What is Cloud Gaming?
In the cloud gaming concept, a cloud gaming service provider, such as Google Stadia or GeForce Now, runs games on a remote server and streams the gameplay directly to your device. It could be a smartphone, tablet, laptop, or any such gadget. In this way, you don't have to install different games on your device to be able to play them. You'll just have to install one cloud gaming application (for the platform you are using) on your device and select the game of your choice to play it.
More importantly, since the games are processed on a cloud server, your device doesn't need to have a high graphics processing power. This enables you to play even high-end PC games on devices such as mobile that don't have enough graphics processing power to run PC and gaming console games. The cloud gaming platforms usually have monthly subscription pricing. Therefore, you can play any number of games without paying for them separately.
Unfortunately, there is no cloud gaming service available in the Indian market yet. And that is mainly because cloud gaming requires high-speed and low-latency internet, which isn't accessible to a majority of the people in the country.
Thanks for reading till the end of this article. For more such informative and exclusive tech content, like our Facebook page