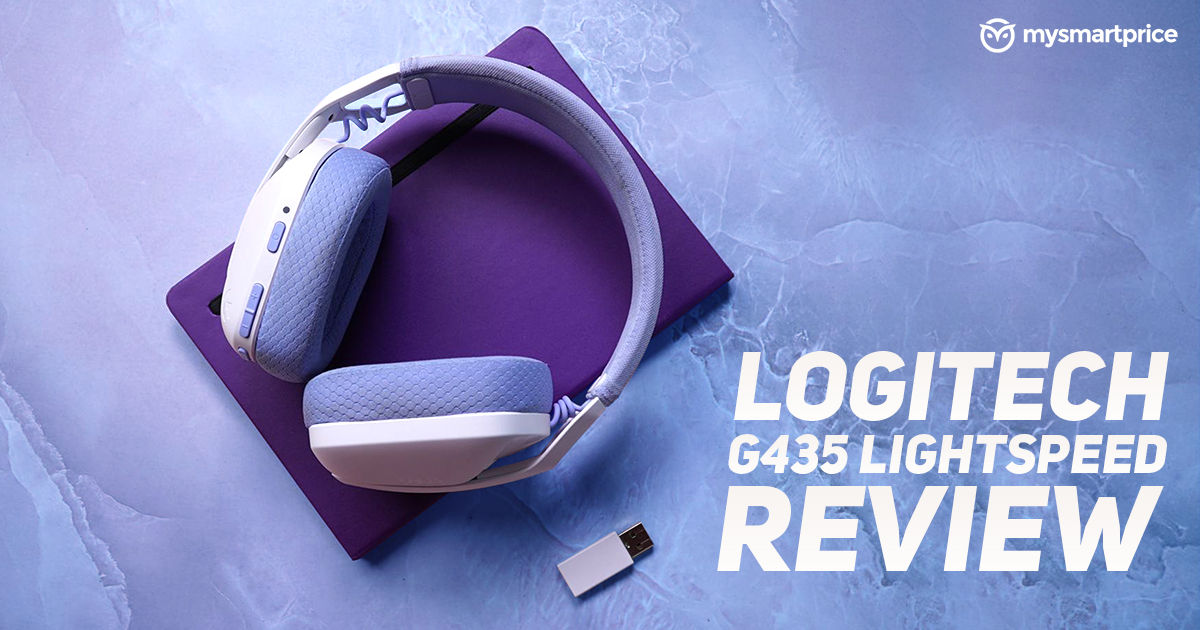 Gaming as a hobby has never seen a greater surge since the past two years, and apart from new gen consoles, gaming phones and more and more gaming laptops, the gaming accessories ecosystem has also seen a surge in demand. Gaming mice, keyboards and headset brands have expanded their product lineup to absorb all the new entrants in the ecosystem.
One such example is the Logitech G435 Lightspeed Wireless headphone. Logitech's gaming headphones have a fairly good reputation amidst pros, especially the Logitech G Pro X. But with a typical all-black, bulky design, it seems off-putting for the GenZ gamers that like to express themselves in as many bright colour combinations. Hence, the Logitech G435.
Just a look at the headphone is enough to know who the target audience is. The G435 is come in a bunch of funky colours — Black and Neon Yellow, Blue and Raspberry, and Off-White and Lilac, which is what our review unit was. These are fairly lightweight cans that's blessed with Logitech's Lightspeed wireless technology, and is priced Rs 7,495. Should this be in your gaming arsenal? Read our review to find out —
Build and Comfort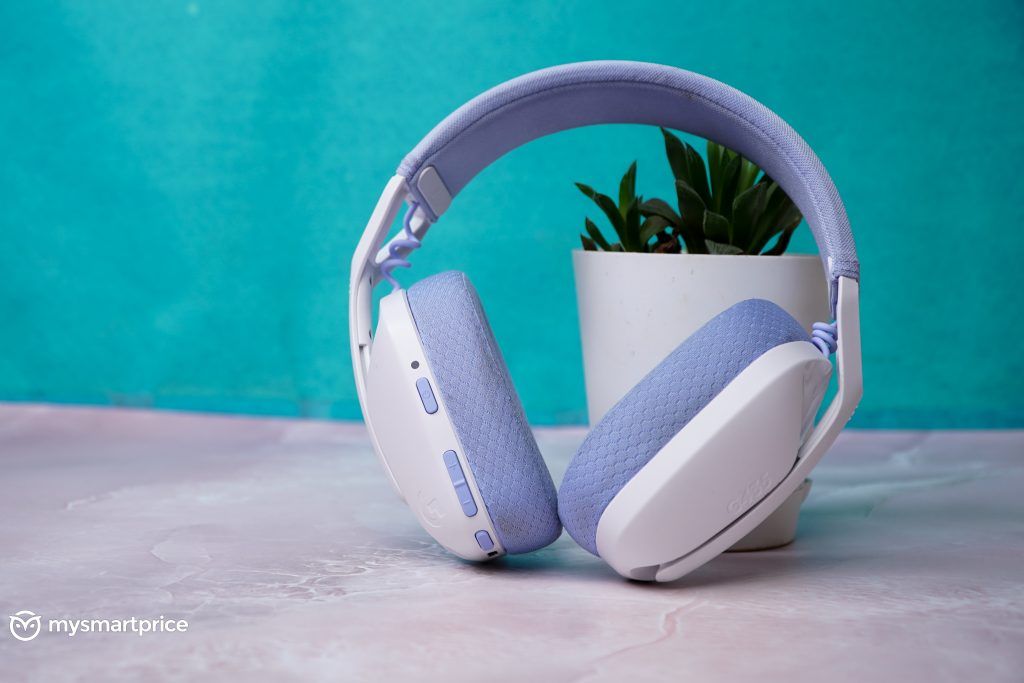 The Logitech G435 Lightspeed is built out of recycled plastic and is certified carbon neutral. Right down from the packaging to some of the materials used to make the headphones, the G435 is made sustainably. As a result, using the G435 will reduce your carbon footprint to a little extent, even as you burn electricity overnight to power your gaming PC. But more than that, the plastic build makes the G435 almost weightless, and it feels comfortable to wear for long hours. I spent most of my weekends with the headphones mounted, engrossed in gaming, and I never felt my ears get tired.
The earcups are soft and comfortable, but you can't rotate them. The memory foam fabric Logitech uses for the ear cups also prevents your ears from sweating. It weighs just 163 grams, lighter than most gaming headsets you'll find in the market, and looks perfectly in line with what kids are flaunting these days. But in case you wish for RGB on your headphones, this will disappoint you.
However, there's no fabric covering on the plastic inside the cups, behind which the drivers are housed. There are a few large perforations on the body, so it's best to be careful not to let dirt or liquid enter inside. The headband lacks any sort of cushioning. It's only covered by a loose fabric, but since this one's extremely lightweight, the lack of cushioning doesn't impact usability adversely.
Connectivity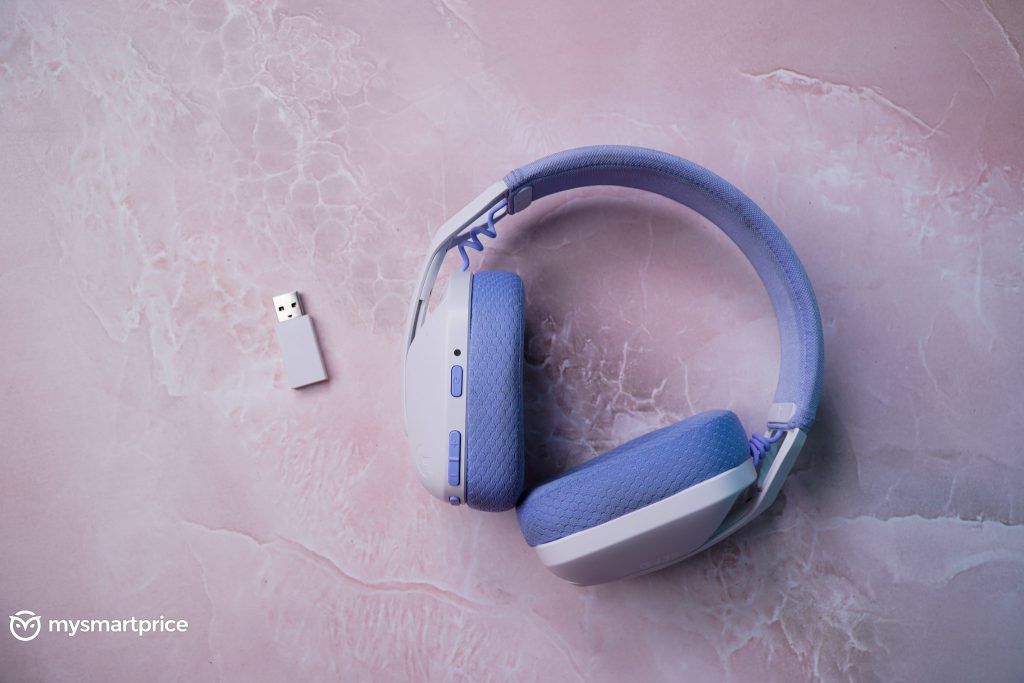 There is no boom mic on the headset. Instead, Logitech opted for dual beam-forming mics on the left arm. All headset controls are placed on the left arm, placed near the back of your head when you're wearing it, helping you reach them easily. The buttons include the Power Button, Mute Control, and volume rockers, but both the power and mute button have multiple functions, making the operations a little confusing. There's also no voice prompt, making things even harder.
Long pressing the Power button turns it on or off, and pressing it shows the battery indicator. A green light means there's enough charge, if it's red, the battery is between 15-30%, and if it's blinking red, you should put it on charge. Further, long pressing the mute button switches between Lightspeed and Bluetooth. When the light is cyan, it's in Lightspeed mode, and when the light is navy blue, it's in Bluetooth mode. Pressing the mute and Bluetooth button together puts it to pairing mode.
Internalise this, and you'll become a ninja at controlling this headphone. Although, truth be told, I mostly found myself using with the Lightspeed Dongle, which greatly reduces the latency. It's Logitech's own wireless technology that's made to reduce audio lag while gaming, making wireless headphones useful for gaming. The Bluetooth mode comes handy when pairing to a phone, or a Mac.
The headphone also features a volume limiter, that caps the output to either 85db or 100db. This is enabled by long pressing Mute+volume Up/down buttons. It's a great feature to have, especially if you're playing for long hours. The limiter keeps the volume from rising too high, preventing long term hearing damage. This makes it a great headphone for kids, since they are susceptible to hearing loss from volumes beyond 85db.
Sadly, you can't pair and switch between multiple devices. This is meant to be used with just one device. You can't even maintain a Lightspeed and Bluetooth connection simultaneously, neither can you convert it to a wired headset. It does support AAC and SBC codecs, so high-quality streaming is available on both Android and iOS devices.
Audio and Microphone Performance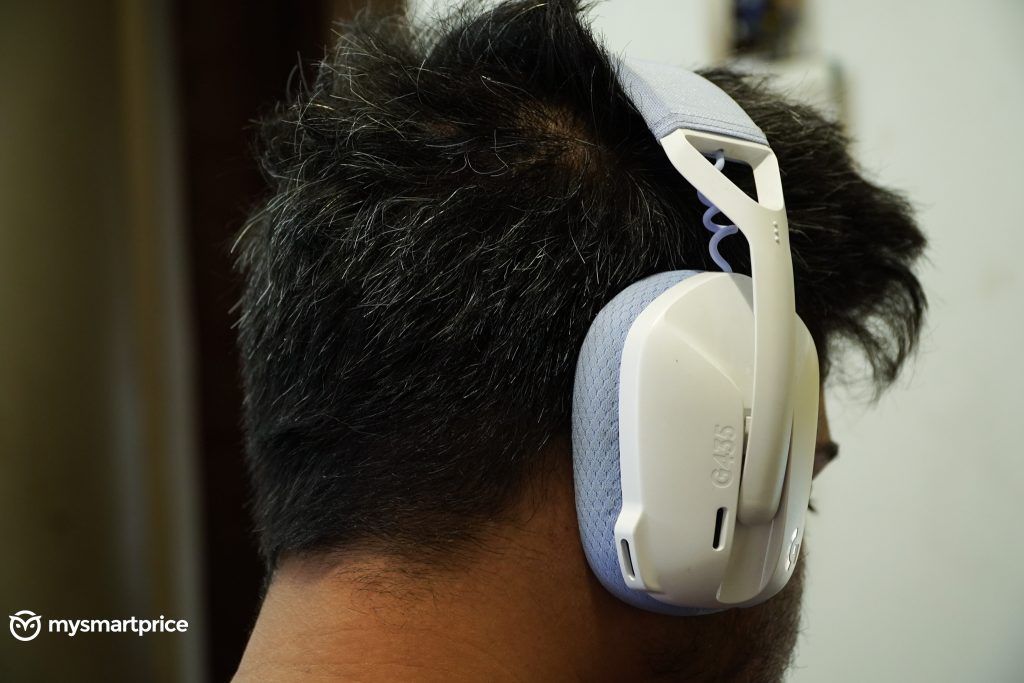 So how does it sound? I tested the G435 with multiplayer games like Valorant and CS:GO, as well as a few AAA titles like Cyberpunk 2077 and Halo: Infinite. The output was pretty good. Never too loud, but with enough punch and decent highs and lows. These won't blow your mind, but will give you the comfort of using it for long hours without your ears feeling tired.
The G435's soundstage is perfect for first-person shooters. I could easily detect the footsteps and other audio cues in CS:GO and Valorant, and where they were coming from. It was easy to figure out where the action was happening in the map.
Games like Cyberpunk 2077, on the other hand, felt a bit flat on the ears. The game is made with so many different audio streams coming at the same time, and the G435 couldn't output it with as much gusto as I'd have preferred. I believe the issue is that the sound seems to be coming from a bit further away in the ear, and with the volume not too loud, immersive AAA titles feels not as dynamic.
Funnily enough, the headphone also leaks sound with the volume above 80 percent, which could potentially be detrimental in LAN parties if your opponent is sitting near you. It also lacks any sort of active noise cancellation, and the ear cups do a poor job at keeping ambient sounds at bay.
Basically, the sound is good enough for eSports, but not so much for immersive gaming. I'd have liked it a little more vibrant, and not so flat. Sadly, the G435 is not supported by Logitech's G-Hub software, which is used to tweak settings for Logitech devices. On more expensive headphones, you can tinker around with the equalizer, enable bass boost, and other settings.
As for the mics, not having a boom arm is sort of a setback. It did pick up my audio with clarity, but it also picked up my heaves and sighs while gaming, which I'm sure the person on the other end didn't appreciate as much.
Battery Life
Logitech claims an 18 hour battery life on the G435, and the real-world results do come pretty close to that. I used the headphones at around 85% volume and got around 15-16 hours of battery life, You can charge the headphone while using, and it doesn't come in the way. Logitech also bundles a rather large USB-C cable for charging. It took around two hours to fully charge.
Should you buy the Logitech G435?
The Logitech G435 is a decent, entry-level option that doesn't for gamers. The Lightspeed support makes it great for eSports as there's little to no latency. It's also super lightweight, and can be worn for hours without hurting your ears. The Logitech G435 falters in the audio output where it could have been a little more dynamic, and the microphone could have been on a boom arm but there are a lot of things the G435 gets right, including the sustainable design, long battery life, and low latency audio.
Logitech G435 Lightspeed Wireless Headphones
Rs 7,495