Highlights
MediaTek Dimensity 9300, the company's flagship processor launched.
It will be available by the end of 2023.
The processor could power the Vivo X100 series smartphones.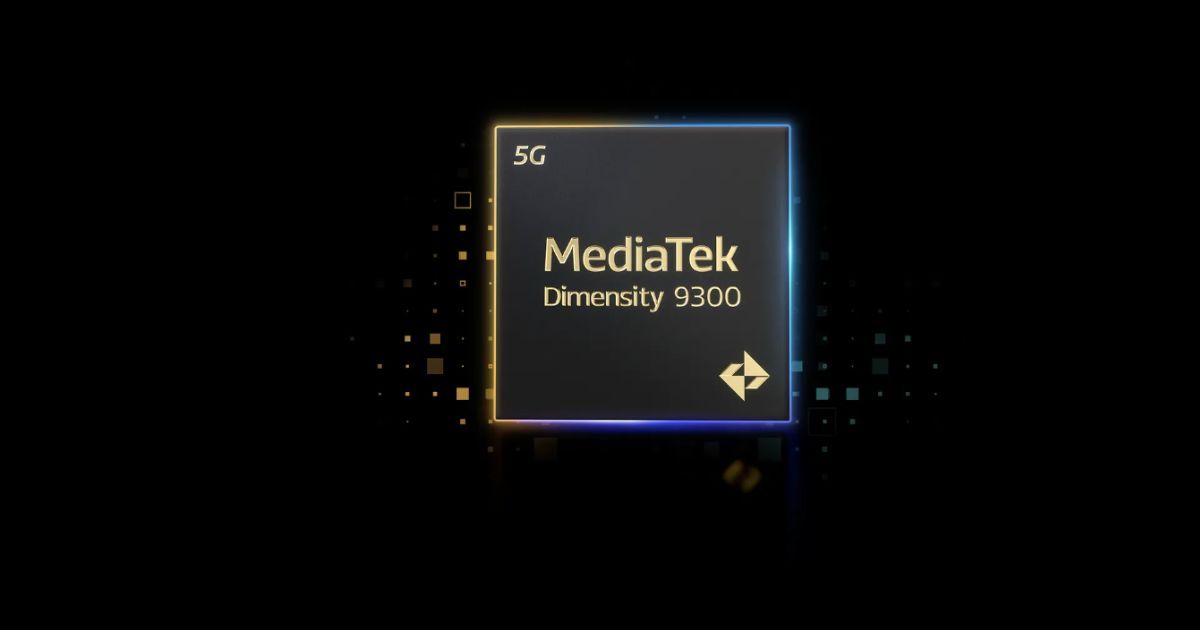 MediaTek Dimensity 9300, which is the company's latest flagship processor has been officially launched. The processor will offer several improvements over its predecessor, Dimensity 9200, which powers smartphones like the Vivo X90 series and Oppo Find N3 Flip.
MediaTek Dimensity 9300 will compete against Qualcomm's flagship SoC for 2023, which is the Snapdragon 8 Gen 3. Based on TSMC's second-generation 4nm process, the Snapdragon 8 Gen 3 was made official at an event in October.
The first smartphones with MediaTek Dimensity 9300 are expected to launch by the end of 2023, which suggests that the Vivo X100 smartphones, which are set to launch on November 13 in China could come with the processor. 
MediaTek Dimensity 9300 SoC Features
The Dimensity 9300 sports what the company calls a one-of-a-kind All Big Core design. It is an octa-core processor, based on TSMC's third-generation 4nm process. The processor comes with four Arm Cortex X4 cores and four Cortex-A720 cores. As for the clock speeds, the four Arm Cortex-X4 cores will offer a maximum clock speed of 3.25GHz in addition to four Cortex-A720 cores with a clock speed of up to 2.0GHz.
In comparison, the Snapdragon Snapdragon 8 Gen 3 SoC has a prime CPU core with a maximum clock speed of 3.19GHz. Further, it also includes five cores with a clock speed of 2.96GHz in addition to two cores capped at 2.27GHz.
New Arm Immortalis G720 GPU
MediaTek Dimensity 9300 comes coupled with Arm Immortalis G720 GPU for enhanced gaming experiences. The company says that users will experience a 46 percent boost in GPU performance with the Arm Immortalis G720. Compared to Dimensity 9200, the new SoC will offer a 40 percent reduction in GPU power consumption, without compromising on the performance level.
When it comes to the smartphone gaming experience, the chipset will provide console-level global illumination effects at 60 FPS, as per the company.
Generative AI Features
It comes integrated with an APU 790 AI processor to improve the generative AI and energy efficiency of the SoC. The APU 790 is said to reduce power consumption by 45 percent while being 8 times faster than its predecessor.  It comes with support for NeuroPilot Fusion memory hardware compression.
The Dimensity 9300 will support a number of large language models (LLM) for generative AI experiences. These include the Meta Llama 2, Baichuan 2, Baidu AI LLM, and more.
Photography Upgrades
The chipset enables shooting 4K resolution videos at 60 frames per second (fps). A new Ultra HDR format has been introduced in Android 14, which will be supported by MediaTek Dimensity 9300. The chipset also comes with ambient light adaptive HDR recovery technology, which takes advantage of AI to detect primary objects and background images in real time. The MiraVision Picture Quality (PQ) engine helps in enhancing the overall image dynamically by adjusting the optimal contrast, sharpness, and colour.
More features supported are 4K at 30 fps cinematic mode with real-time bokeh tracking, 4K AI Noise Reduction (AI-NR) and AI processing on RAW photos and videos.
In terms of connectivity, MediaTek's Dimensity 9300 will support Wi-Fi 7 speeds up to 6.5 Gbps. It comes integrated with the company's Xtra Range Technology, which enables better long-range connectivity and Multi-Link Hotspot technology to improve smartphone tethering speeds by up to 3X.
Connectivity And Other Features
Thanks to the 5G R16 modem, users can expect support for  4CC-CA Sub-6GHz and 8CC-CA mmWave. It is coupled with the company's UltraSave 3.0+ technology for improved power efficiency. The Dimensity 9300 also supports LPDDR5T 9600Mbps memory, which is a first on any chipset.
The display speeds on smartphones are said to improve as the chipset comes with support for WQHD at 180Hz and 4K up to 120Hz. Dual active display for foldable form factors is supported as well.
MediaTek Dimensity ships with several privacy features. For instance, the Arm's Memory Tagging Extension (MTE) technology makes it easier for developers to find memory-related bugs.