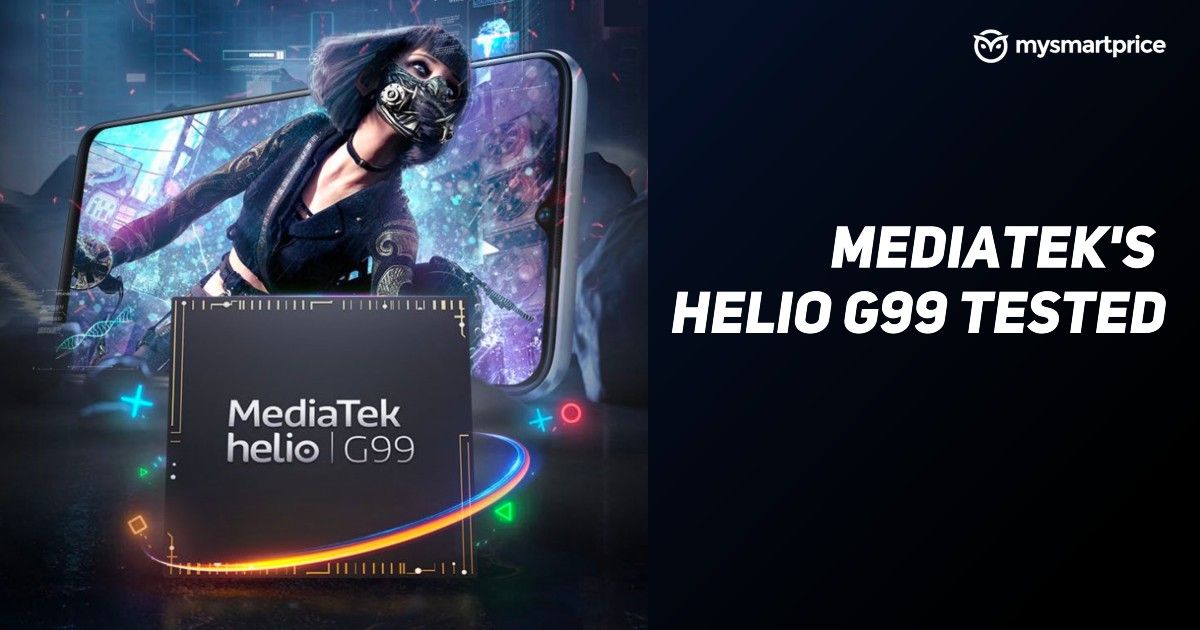 MediaTek's G series mobile chipsets have been somewhat of a revelation in the Indian smartphone market. Earlier, MediaTek chipsets were considered to be technically inferior to their Snapdragon counterparts. But with the introduction of the Helio G90T on the Redmi Note 8 Pro (Nov. 2019), MediaTek delivered a processor that could not only match its closest Qualcomm competitor, the Snapdragon 712 but also deliver much better GPU/gaming performance.
In fact, for the next few months, the Helio G90T was an undisputed gaming champ for smartphones under Rs 20K segment and was the only chipset capable of running PUBG Mobile at 60fps. MediaTek built on this success by launching the Helio G70, which we first saw on the Realme C3 in Jan 2020. That chip easily beat the Snapdragon 665 becoming the most powerful chipset on phones under Rs 10K and it's no surprise that it still continues to power phones in the INR 8-12K price segment.
MediaTek cashed in on this new-found success by launching a barrage of new G-series chipsets. However, these weren't actually 'new' per se: the Helio G80, G85, and G88 were all just overclocked versions of the G70. Meanwhile, the G96 could actually be considered a downgrade (at best a side-grade) over the Helio G95 and G90T, with MediaTek taking away the real USP of the G90T: its flagship-grade Mali G76 GPU. An even bigger downside to this strategy was that all these G-series chipsets were still using the inefficient 12nm fabrication process, while Qualcomm's entry-level chipsets had already upgraded to 7nm or even 6nm processes.
Cut to 2022, we finally have the first couple of phones rocking the brand-new Helio G99 chipset. But is it actually new or just another re-brand? How does it compare against the G96, and more importantly, can it compete with the latest processors from Qualcomm? Here's our detailed in-depth analysis of the MediaTek Helio G99.
Helio G99 Specs Comparison
Before getting to the real-world testing, let's take a quick look at the on-paper specifications of the Helio G99 and how it compares against some of the popular chipsets in the Rs 10-15K price segment:
Helio G99 (4G)
Helio G96 (4G)
Dimensity 700 (5G)
Snapdragon 680 (4G)
Snapdragon 4 Gen1 (5G)

Fabrication Process

6nm

12nm

7nm

6nm

6nm

CPU config.

2x 2.2 GHz Cortex-A76

6x 2 GHz Cortex-A55

2x 2.05 GHz Cortex-A76

6x 2 GHz Cortex-A55

2x 2.2 GHz Cortex-A76

6x 2 GHz Cortex-A55

4x 2.4 GHz Cortex-A73

4x 1.9 GHz Cortex-A53

2x 2.0 GHz Cortex-A78

6x 1.8 GHz Cortex-A55

GPU

Mali G57

MC2

Mali G57

MC2

Mali G57

MC2

Adreno 610

Adreno 619
As you can see from the spec-sheet, the Helio G99 shares a lot of similarities with the G96 and Dimensity 700. As a matter of fact, the G99 has the exact same CPU/GPU configuration as the Dimensity 700, with just a newer fabrication process (6nm vs 7nm), slightly slower GPU clock speed and the lack of 5G connectivity. Compared to the G96, the biggest upgrade in the G99 is the newer 6nm process which should theoretically help in improving power efficiency and battery drain.
Compared to its Snapdragon contemporaries, the G99 easily beats the Snapdragon 680 in every aspect, which comes as no surprise because the SD680 is yet another disappointing 6-series processor from Qualcomm, after the SD665 and SD662. That being said, we just got our hands on the first-ever phone with the Snapdragon 4 Gen 1 chipset, and while we are yet to put it through its paces, the on-paper specs make it seem like a really strong contender for becoming the most preferred chipset for phones under 15 this year.
But that's just the specs. Here's how the Helio G99 fared in our real-world tests.
Helio G99 Benchmark Tests
At the time of publishing this story, Infinix Note 12 Pro and Poco M5 are the only two phones running on Helio G99 in India. We did our in-depth performance testing on both these devices, simultaneously testing the Poco M4 Pro 4G and Infinix Note 12 Turbo as well, both of which use the Helio G96. Along with these 4 phones, we have also tested out a plethora of phones in the Rs 10-15K segment and we pulled out some of the best performers from our archives for this test. Please note that the numbers below have been compiled by running these benchmarks on multiple phones with these chipsets and picking the best scores out of them for every chipset. Here's a list of phones we used for our tests:
Snapdragon 680: Redmi Note 11, Realme 9 4G, Vivo T1x
Snapdragon 695: Redmi Note 11 Pro+, Moto G62, Poco X4 Pro
Dimensity 700: Realme 8 5G, Poco M3 Pro 5G
Benchmark

Scores

Helio G99
Helio G96
Dimensity 700
Snapdragon 680
Snapdragon 695
Geekbench Single-Core
543
518
575
386
693
Geekbench Multi-Core
1805
1854
1771
1684
1852

AnTuTu v9

375204

322925

366675

290725

376667
As you can see from the table above, the G99 outputs much better benchmark numbers than the SD680, and somewhat improved numbers than the G96. What's more promising is that the G99 phones didn't heat up as much as the G96 ones while these benchmarks were running. That must be the new 6nm fab process showing its superior efficiency.
Furthermore, the G99 scores are almost at par with the benchmark performance of Dimensity 700 and just slightly behind SD695. That's a very impressive showing for a chipset considering the Snapdragon 695 and Dimensity 700-powered phones cost much more than the ones with G99.
Next up, we tried the CPU Throttling test and the results were positive again. Both phones with the Helio G96 showed heavy throttling with their performances dropping by more than 40%. The G99 on the Infinix Note 12 Pro did slightly better with about 35% throttling and the Poco M5 emerged as the clear winner with only 20% throttling. Notably, the Helio G96 phones were again much hotter than both G99 phones at the end of the test.
Helio G99 Gaming Test
Running synthetic GPU benchmarks didn't show us any significant differences between the G96 and G99, which is to be expected as they share the same GPU. Naturally, the gaming power on offer also stays the same here with the Helio G99 also offering only 30fps gameplay in COD mobile. In comparison, even some older Snapdragon chipsets like the SD720G and SD732G offered higher graphics support for heavy games. Although the actual gaming experience with the G99 is definitely an upgrade over the G96. The G96 had a tendency to heat up under sustained gaming loads and that leads to performance throttling and frame drops. Both the phones with G99 were able to maintain much cooler temperatures during an hour-long gaming session in our testing and that helped in an overall smoother, more consistent gaming experience.
Lastly, we also conducted a video rendering test but the results here were mostly inconclusive. We exported the same 1080p 60fps video from all 4 phones but the render timings of both the G99 phones were too far apart for us to draw any solid inferences from it.
Poco M5

(Helio G99)

Infinix Note 12 Pro

(Helio G99)

Poco M4 Pro

(Helio G96)

Infinix Note 12 Turbo

(Helio G96)
Render Time
~12 minutes
~20 minutes
~15 minutes
~16 minutes
Conclusion
So, what did we learn from all this testing? Well firstly, the G99 is essentially the most powerful 4G chipset in its segment right now. I doubt if that's going to be challenged anytime soon because Qualcomm's major focus seems to be on 5G chipsets now. The real upgrade in the G99 is the 6nm fabrication process which so far seems to be helping it deliver better-sustained performances with lower throttling and heating. That does make the G99 a better bet for users who want to play long sessions of graphics-intensive games on their phones.
The iQOO Z6 Lite just made its India debut, and with it debuted the Snapdragon 4 Gen 1, the latest budget chipset from Qualcomm. Compared to the Helio G99, The SD4Gen1 comes with newer Cortex A78 cores, and features the Adreno 619 GPU, the same GPU we saw on last year's Snapdragon 7-series chipsets. Plus, it has the advantage of being a 5G chipset. With multiple telecom operators confirming their plans to launch 5G services in India before 2022 ends, 4G-only phones with Helio G99 might prove to be a tough sell, especially if they are priced high. We already have 5G phones selling for Rs 12-13K, which means that either the G99-powered phones will have to sell at strictly under Rs 12K, or the G99 might just end up being an upgrade that was too little, too late.