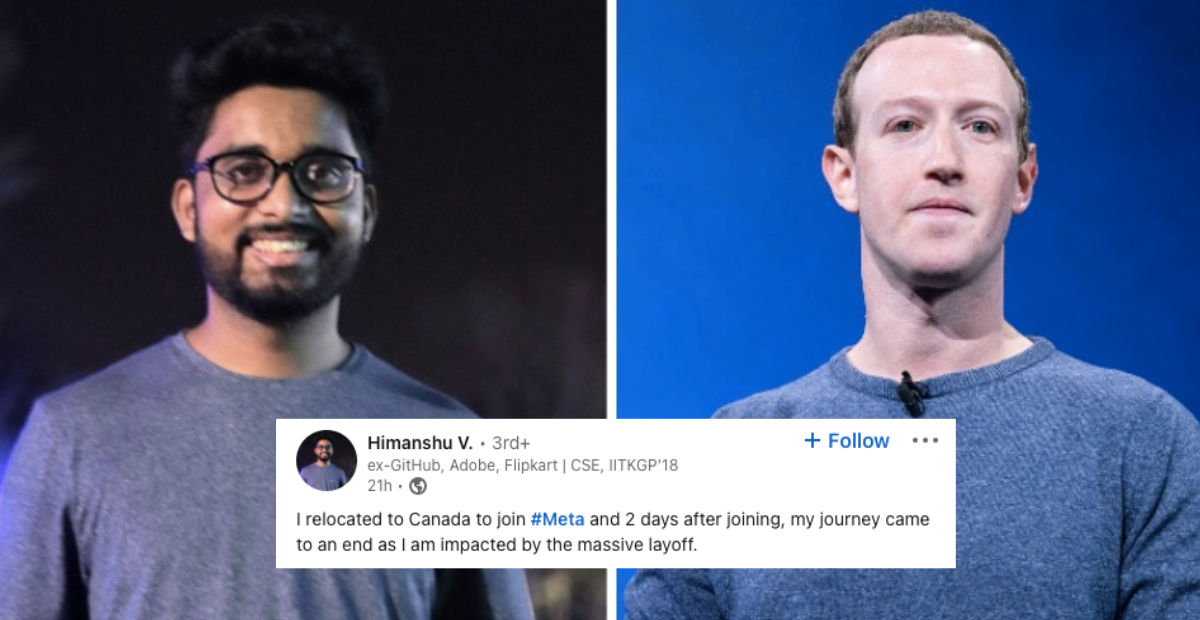 Meta laid off 11,000 employees, about 13% of its workforce on November 9 as a part of its cost cutting plan. Many Meta employees from around the world were affected by the sudden layoffs. It now appears that many Indians have been affected by Zuckerberg's actions. They expressed their disappointment on Linkedin or on any other social media handle after Meta laid them off. Many Indians who just joined have been removed from the company just two or three days after joining. The ex-employees alleged that they had just shifted to Canada or some other countries from India to join Meta. Some of them graduated from prestige IIT colleges.
Indians Fired from Meta After 2-3 Days of Joining
Many people expressed their feelings on Linkedin after getting laid off from Meta. A person named Himanshu V. had just relocated to Canada from India when he got to know that he was fired from the company just after two days after joining.
Himanshu writes, "I relocated to Canada to join Meta and 2 days after joining, my journey came to an end as I am impacted by the massive layoff. My heart goes out to everyone facing a difficult situation right now". Himanshu says he doesn't know what he will do next and has requested new opportunities. He was a graduate of IIT Kharagpur, one of India's top colleges.
Another user that goes by the name Vishwajeet Jha said that he joined Meta three days back after going through a long visa process.
He writes, "Yesterday morning I found out that I am one of the 11000 employees impacted by the Meta layoff. I joined Meta three days back, after waiting for a long visa process. Thanks to all the folks who made that transition smooth. Really sad that this happened, my heart goes out to everyone who is affected by the layoffs."
A Linkedin user named Neelima Agarwal who has worked with Microsoft, Adobe, and ZS recently joined Meta just to know that she was laid off just two after joining. Neelima had just relocated to Canada a week back after going through a long visa process.
She writes, " Unfortunately got laid off by Meta today. Relocated to Canada from India just a week back and joined meta 2 days ago after going through such a long visa process. But the unfortunate sad day has come and I got laid off. Feeling heartbreaking at the situation right now. My heart goes out for everyone impacted by this."
What's Next for Meta Laid off Employees?
As of now, Meta's ex-employees in Canada will have sufficient time to find new job until their visa expires. However, those on H1-B visas need to find a job in the next 60 days or they will be deported to India back.
Mark Zuckerberg in a letter to fired employees assured them a severance package, which pays 16 weeks of base pay plus two additional weeks for every year of service. The company will continue to cover the cost of healthcare for people and their families for six months. Meta will also provide three months of career support with an external vendor, including early access to unpublished job leads.