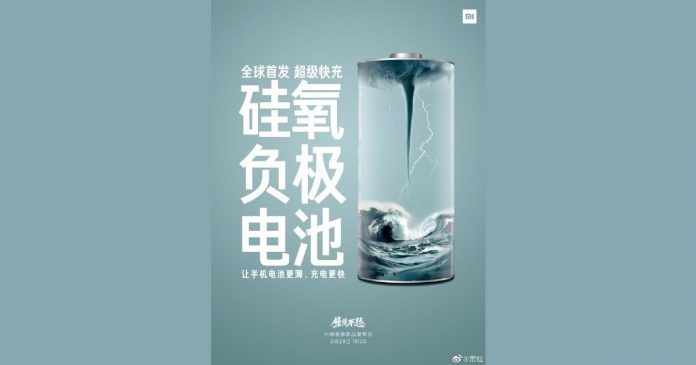 The Mi 11 Ultra is reportedly set to be unveiled at a launch event in China on March 29, or some time early next week. Now, days ahead of its purported launch, a teaser poster of the Mi 11 Ultra has surfaced online. The post, made by Mukul Sharma on Twitter, reveals what is seemingly a part of the teaser campaign of the Mi 11 Ultra. It highlights a battery feature, where Xiaomi claims to be moving to a new technology bearing a silicon-oxygen anode. This new technology, as Sharma claimed on Twitter, will apparently make way for battery cells that are much slimmer and also offer significantly faster charging speed than what the present crop of lithium-polymer batteries are capable of.
Mi 11 Ultra: How the Si-O2 battery might work
The silicon-oxygen anode battery is a technology that is fairly nascent, and has been in the news in academic circuit for its viability of producing commercial, high density batteries. To employ this battery manufacturing process, a fibrous silicon anode is first set up. This anode is then 'lithiated', or enforced with lithium ions in front of a lithium foil, to add to 'cyclability' or mobility of the silicon ions. This is then combined with an oxygen cathode (the positive electrode of the battery), which when initiated with an electric charge, leads to the formation of Si-O2 ions that have superior mobility, hence leading to faster flow of charge between the two electrodes of the battery.
#Mi11Ultra features a new super fast-charging silicon-oxygen anode battery. Core benefits, thinner and faster charging.
This is similar to electric vehicles, adding nano-scale silicon materials to the negative electrode to increase theoretical gram capacity 10x vs graphite. pic.twitter.com/tydYYXjaX5

— Daniel D (@Daniel_in_HD) March 26, 2021
Xiaomi global spokesperson Daniel D. also posted about the new battery tech on Twitter, adding that the addition of silicon ions to the anode instead of the typical lithium-ion architecture allows battery manufacturers to improve "theoretical gram capacity" by up to 10x, in comparison to the standard graphite electrolyte material that is found in standard lithium-ion batteries. In other words, Daniel most likely refers to the per-gram charge capacity of the silicon-oxygen battery, which is said to be up to 10x higher than a standard battery and is therefore much denser. In consumer space, this should ideally lead to the creation of batteries that can offer the same charge capacity at a much slimmer size.
If the size of such batteries are increased, then we may potentially be looking at a battery than can offer never seen before capacities in smartphone batteries, which would also come with even faster charging standards. However, while the theoretical proposal of such silicon-oxygen batteries have been around in scientific forums for long, it is not yet known if they have proved viable in the commercial bulk manufacturing space. With the Xiaomi Mi 11 Ultra now slated to feature this new battery tech, it appears that Xiaomi may have found a solution to this debacle.
Thanks for reading till the end of this article. For more such informative and exclusive tech content, like our Facebook page