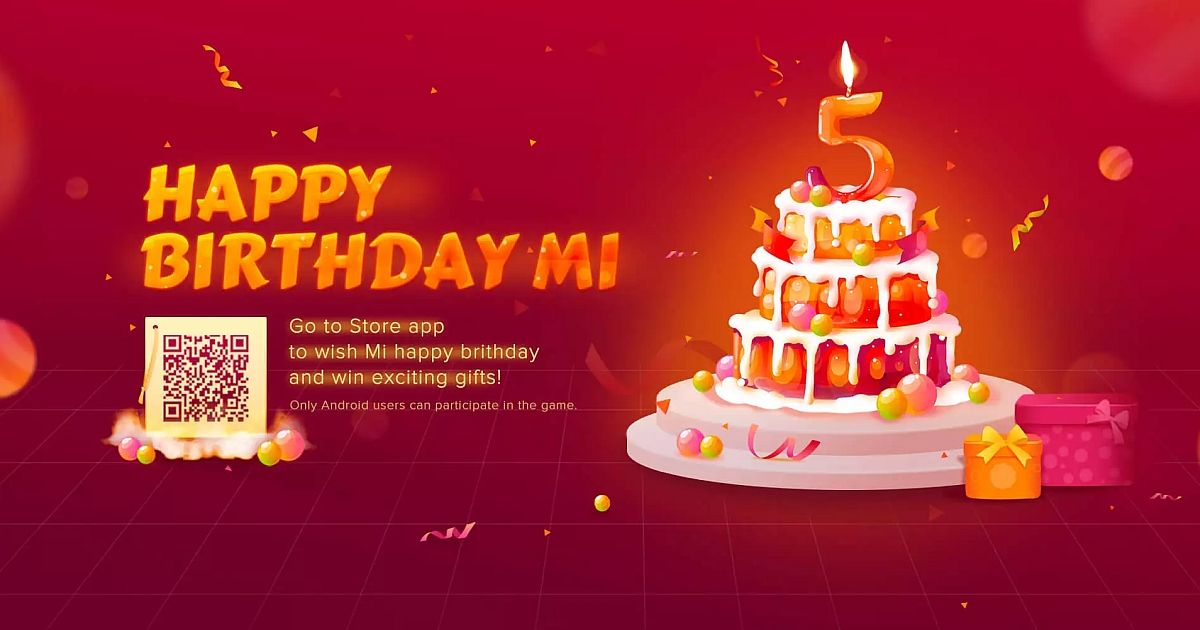 Xiaomi is celebrating its 5th anniversary in India, and with it arrives a plethora of discounts and deals for fans. Perhaps the most glamorous of these is the INR 5 Flash sale where a lucky few will be able to grab Xiaomi smartphones and TVs for just five bucks. The products up for grabs during this sale are the Redmi Note 7 Pro (review), Redmi Y3 (review) and the Mi TV LED 4A Pro 32-inch.
Xiaomi's Mi Turns 5 sale commences today, July 23, and will last until July 25. In partnership with SBI Bank, Xiaomi will be offering 5-percent off on transaction made over on using SBI Credit Cards over on Mi.com. This discount is applicable for both EMI and non-EMI transactions. Furthermore, Xiaomi is offering Express delivery options where your order will be delivered on the same day of purchase. Lastly, Xiaomi has partnered up with Paytm to offer an INR 555 cashback deal on flight bookings.
Mi Turns 5: ₹5 Flash Sale
For the duration of the Xiaomi Turns 5 sale, the brand will also be hosting a few flash sale deals. The first of these is the ₹5 Flash Sale at 4 PM and 6 PM that was conducted today. Today's 4 PM sale offered the Redmi Note 7 Pro and Mi Luggage at INR 5 only. Meanwhile, the 6 PM sale gave fans the chance to buy the Redmi Y3, and Mi TV LED 4A Pro 32-inch.
Mi Turns 5: Small=Big sale
Besides the ₹ 5 flash sale, Xiaomi will also be conducting a Small=Big sale on day two at 4PM and 6PM. At 4PM, Xiaomi will be offering the Redmi Go + 10,000mAh Power Bank combo for INR 699, while a Mi Luggage 20 + Mi Band HRX Combo Will be up for grabs at INR 1,299. Then at 6PM you will be able to grab the Mi Home Security Camera 260-degree + Mi Led Bulb combo for INR 1,299 along with a Mi Casual Backpack + Mi Basic Earphones combo for INR 349.
Mi Turns 5: Half Price Sale
On day three (July 25), Xiaomi shall conduct a Half Price sale again at 4Pm and 6PM. The 4PM sale will offer the Redmi Y3 for INR 4999.50, alongside the Mi Business Casual Backpack for INR 499.50. At the time of writing, the day three 6MP flash sale details hadn't been disclosed yet.
Mi Turns 5: Other Sales, Offer and Deals
You will also stand a chance to win free gifts by wishing Mi a Happy birthday. Every day from July 23 to July 25, you can head on over to the Mi Store app on your Android phone and participate in this game. All you need to do is login to the Mi app, head on over to the "Wish Mi a Happy Birthday" page and blow out a candle by literally blowing into your smartphone's microphone. You only get one try per day, so head on back the next day if you don't win something on your first attempt.
Xiaomi will also be conducting a flash sale for the Redmi 7A every day at 12PM during this three-day festive period. The phone will be up for grabs at INR 5,799. Meanwhile, the POCO F1 (review) which now comes at a starting price of INR 17,999 will be offered with an additional discount or INR 2,000 with Mi Exchange. A similar offer can be availed on the Xiaomi Mi A2 (review) which retails for as low as INR 9,999 where up to INR 3,000 more can be discounted by exchanging an older phone.