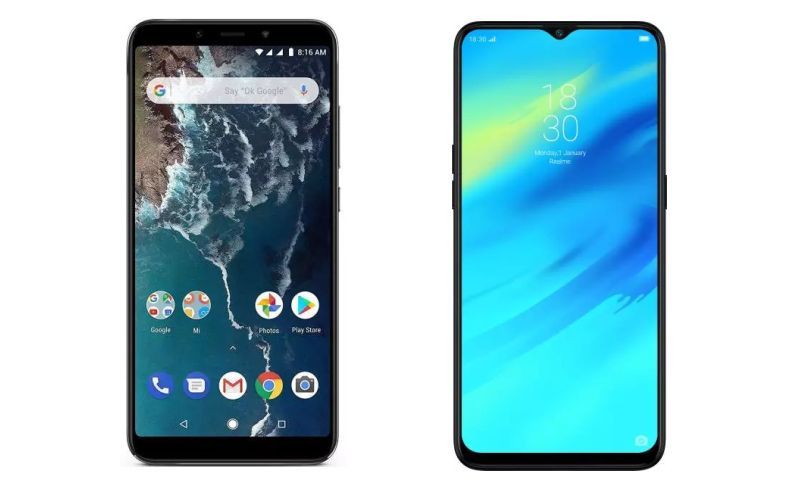 We have compared the Xiaomi Mi A2 against the Realme 2 Pro many times over the past few months. Based on how the two phones have been priced at their respective launches, we have always had a hard time recommending the Xiaomi smartphone. However, this Android One smartphone has recently received a massive price cut which implores us to take a second look at how it now stands in the market. Thus, it is time for us to go down this road again and see which smartphone out of the two offers a better overall deal.
Xiaomi Mi A2 vs Realme 2 Pro: Price in India
On 7th January 2019, Xiaomi announced it would be permanently cutting down the price of the Mi A2 (review) by INR 4,500. This effectively brings down the smartphone's 4GB RAM + 64GB storage model's price down to INR 13,999. Furthermore, its 6GB RAM + 128GB storage model's price also comes down to INR 15,999.
If we take a look at the Realme 2 Pro, its base variant with 4GB RAM and 64GB storage costs INR 13,990. An upgrade to 6GB of RAM costs 15,990. Lastly, we have the smartphones 8GB RAM + 128GB storage configuration which is priced at INR 17,990.
The new pricing lets you enjoy more storage on the Mi A2 for a relatively more affordable price.
Xiaomi Mi A2 vs Realme 2 Pro: Design, Display
The change in price doesn't change the fact that the Realme 2 Pro is aesthetically superior to the Mi A2. The former has a more premium-looking glossy finish on its back and features a near bezel-less display with a waterdrop notch at the top. This helps the Realme 2 Pro's 6.3-inch LCD achieve a much better screen-to-body-ratio. The Mi A2, on the other hand, features an aluminum exterior shell and a more conventional 5.99-inch LCD at the front with sizeable bezels. Another downside here is that the latter misses out on the 3.5mm headphone jack.
Xiaomi Mi A2 vs Realme 2 Pro: Performance, Software
In terms of raw performance, both these smartphones are evenly matched as they feature the same Snapdragon 660 SoC. However, the Mi A2 is part of the Android One family, meaning it comes with a stock Android experience. This not only ensures a bloatware-free system but also ensures the phone will receive timely software updates. The proof is in the pudding as they say, as the Mi A2 has already received the update to Android 9.0 Pie while the Realme 2 Pro is still on an Oreo build with its ColorOS 5.2 skin on top.
Xiaomi Mi A2 vs Realme 2 Pro: Camera
The Mi A2 also shines in the imaging department thanks to its 12MP + 20MP rear setup fine-tuned to capture detailed images even in low-light scenarios. The front camera is also quite good with its 20MP sensor which is accompanied by an LED flash. The Realme 2 Pro, on the other hand, offers a 16MP + 2MP rear camera configuration, while a 16MP sensor is housed in the front notch.
Xiaomi Mi A2 vs Realme 2 Pro: Battery
The Xiaomi Mi A2 ships with a 3000mAh battery, while the Realme 2 Pro comes with a 3500mAh battery. Even though the latter is capable of providing marginally longer standby, it does not feature any form of fast charging. Meanwhile, the Xiaomi handset ships with a Quick Charge 3.0-capable charging brick, with the phone even supporting Quick Charge 4.0 standard. The cherry on top is that the Mi A2 charges over a USB Type-C port, while the Realme 2 Pro still offers the outdated microUSB port for charging.
Xiaomi Mi A2 vs Realme 2 Pro: Verdict
If a bezel-less screen, exterior looks, and 3.5mm headphone jack are your primary concerns, then you will be better off with the Realme 2 Pro. However, if you desire a clean software experience with quick updates, a better overall imaging system, and superior charging tech, the Xiaomi Mi A2 will tick all those boxes.