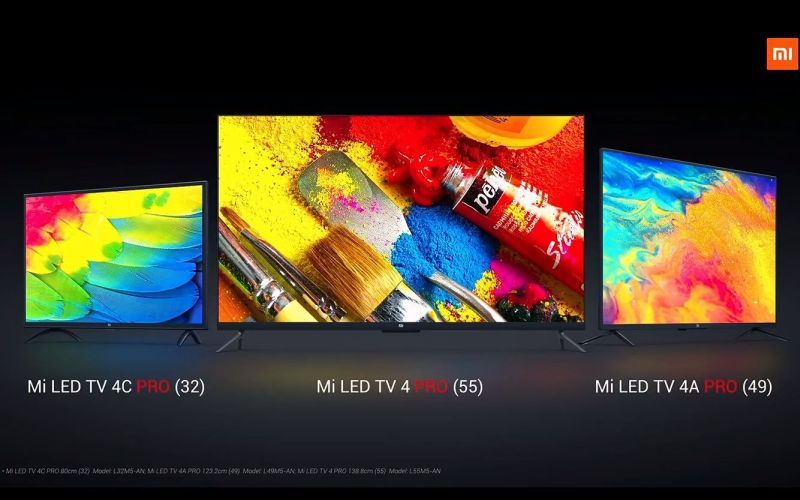 Two television models from the newly launched Mi TV Pro series will go on sale at Amazon today itself, while all the three TVs in the series will be made available for sale tomorrow, i.e. October 10, albeit not in one place. We had covered the Xiaomi launch event in Bengaluru with live updates and had reported in detail about all the seven products that were unveiled at the Mi Smart Living launch event, including the three television sets Mi TV 4C Pro, Mi TV 4A Pro and Mi TV 4 Pro, which come in 32-inch, 49-inch and 55-inch display sizes respectively.
The new Xiaomi television sets include two Pro variants of existing Mi TVs that were launched earlier this year, Mi TV 4 and Mi TV 4A, while the Mi TV 4C Pro is a completely new product, marking the beginning of a new C series of Mi TV sets. Read on for details of the sales and the television sets.
Mi TV 4A Pro, Mi TV 4C Pro First Sale Today
Two of the three new Mi TVs will go on open sale from tomorrow at Amazon, and the largest (55-inch) model will sell on Flipkart. Amazon Prime members, however, get to buy the Mi TV 4A Pro Mi TV 4C Pro from 9 pm tonight (October 9) in a special Amazon Prime Early Sale. The Mi TV 4C Pro model comes in a 32-inch size and the 4A Pro in a 49-inch size. The Mi TV 4 Pro, the largest and slimmest one in the series, can be purchased from 12 pm (noon hour) tomorrow, exclusively on Flipkart.
Note that Amazon Prime membership is easy and simple to purchase, with a payment of Rs 999 per year unlocking several special shopping features such as early sales, express two-hour deliveries, free Prime Music Prime Video subscription and so on. If you have not bought a Prime membership yet, you can do so now too, and go for the early sale of the Mi TVs.
Mi TV 4A Pro, Mi TV 4C Pro Key Features
The new Mi TV sets are all LED and Smart type, which means you barely have to add anything once you purchase them. They all come with an upgraded Patchwall that is Xiaomi's Smart TV OS. It provides about 700,000 hours on entertainment content, with Xiaomi promising to keep it updated. The Mi TV 4A Pro and Mi TV 4C Pro do not get 4K support, but get nearly everything else that you would pay for in the Mi TV 4 Pro. For instance, all of these TV sets come with the same 12-button Bluetooth remote for voice search, with the voice-recognition assistant being Google's software.
The remote works 360 degrees, so you do not need to point it at the TV. The new Mi TVs are also Android TVs with the Patchwall being based on Android 8.1 Oreo. It comes with Chromecast, Android TV and YouTube built in, and both the Mi TV 4A Pro and Mi TV 4C Pro get 20W DTS-HD sound output. The difference, apart from the obvious one in size, is the display resolution, with the larger TV getting a Full HD+ display and the Mi TV 4C Pro coming with a 32-inch HD display.
The Mi TV 4C Pro will sell at Rs 14,999 and the 49-inch Mi TV 4A Pro at Rs 29,999. Beginning October 10, 12 pm, the 55-inch Mi TV 4 Pro will sell at Rs 49,999, but that will sell on Flipkart while these two will sell at Amazon.in.
Are you excited about the Mi TVs, the most budget-friendly Smart TVs you can buy in India today? Have you used a Mi TV yet? Let us know in the comments section below, and if you would like to read our detailed expert review of the Mi TV 4, click here. Additionally, you can also check out Xiaomi's official video for the Mi TV 4C Pro.