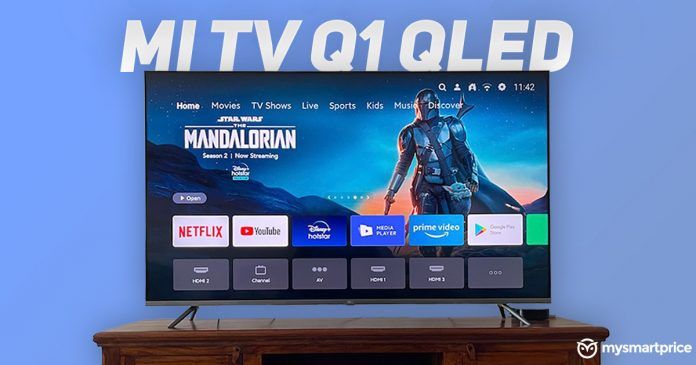 Whenever any Xiaomi representative used to ask me: what should the company introduce next? I'd almost always say, a QLED or an OLED TV without flinching. It feels like a logical progression for a company that has managed to disrupt the LED TV market in India. No? Also because, QLED TVs, according to industry insiders, make up only about 0.5% of the entire TV market share in the country. That's a pittance. 
And therefore, it is no wonder that Xiaomi has finally introduced the new Mi TV Q1 QLED 4K TV in India. Yup, that's some lazy unoriginal naming indeed, since even OnePlus' QLED TV is called Q1. 
Anyway, considering most of us are spending most of our time inside our homes now, it makes more sense than ever to buy/upgrade to a premium TV. Should it be the Mi TV Q1? For that you have to wait for my full review on the 20th. For now, here are my first impressions.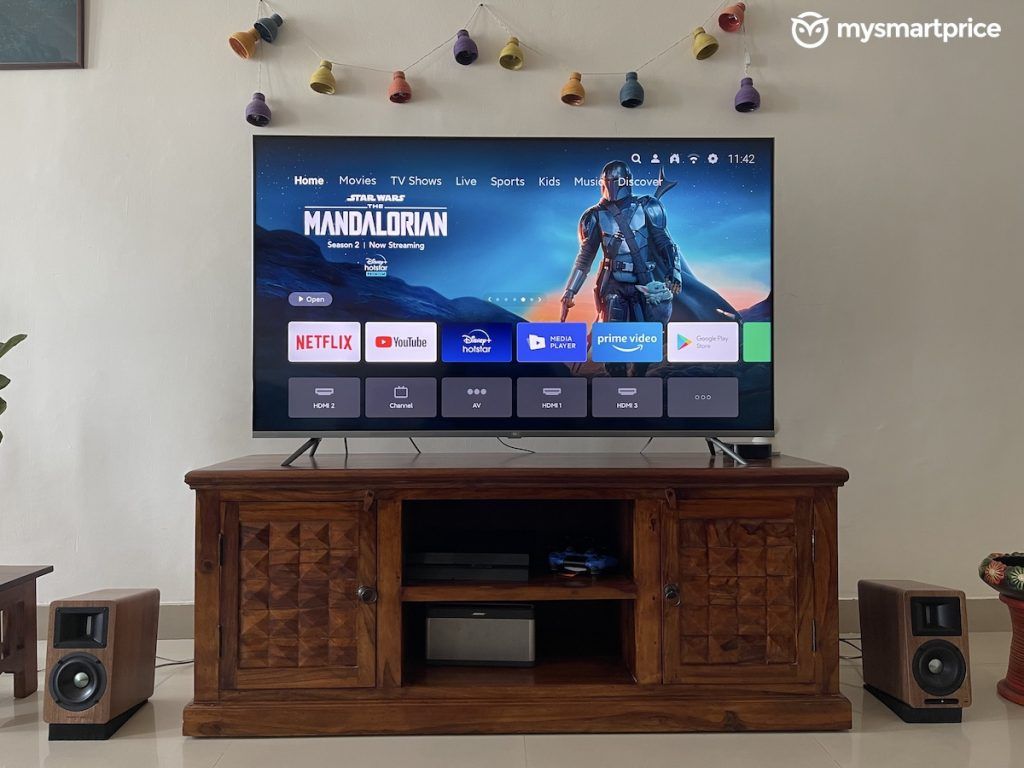 Mi TV Q1 4K QLED: Design 
The Mi TV Q1 comes with a 55-inch QLED panel on the front, with extremely slim bezels on the sides. This gives you a 96% screen to body ratio. Even the bottom bezel, is slimmer than many other TVs out there. 
By the way, the entire frame and the stands are made of hard metal. This inspires a lot of confidence in the build quality. But note that the two metal stands sit wide apart. And, if you are going to table top your TV like I generally do, you will need a wide base. By the way, the design is not extraordinary or anything. And, you get your regular plastic panel on the rear. Plus, it is not a slim TV like the OnePlus U1 or even the Q1 for that matter. Also, I did miss the stowaway power cord cable loop from the Realme SLED TV.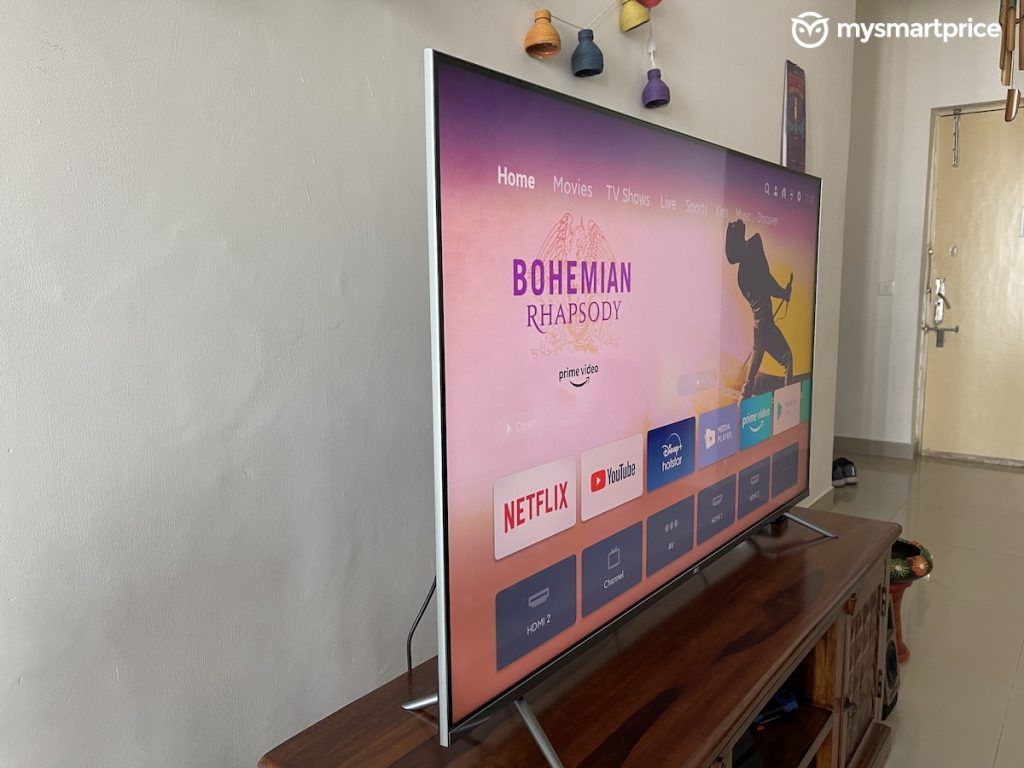 As for the ports situation, you get three HDMI 2.1 ports with eARC support as well. There are also a couple of USB 2.0 ports. I feel Xiaomi, could've added at least a single USB 3.0 port here. Finally you get a port each for the ethernet, optical out and 3.5mm audio jack. I think, this should be sufficient for most folks.
Also read: Realme Smart TV SLED 4K 55-inch Review – In Pursuit of Good Picture
Mi TV Q1 4K QLED: Display 
I've had the TV for only about a couple of days and need more time with it to make up my mind on the picture quality. But, for now, I can tell you that the 4K QLED panel with 60Hz refresh rate does try its best to impress. It is a VA panel so you get super deep blacks and punchy colours with the option to enjoy content in Dolby Vision, HDR, HDR 10+, and HLG. In fact, if you are watching content in Dolby Vision or HDR 10+, you get special picture modes for these settings as well. Talking about picture modes, Xiaomi has gone all out with the tweaking options available. Heck, you get the option to fix flesh tones as per your preference!
Plus, there's added support for MEMC and you can control the level of motion smoothing, as per your preference. And, as a motion pictures aficionado, I absolutely loathe MEMC and the soap opera effect it creates but hey…whatever floats your boat. 
Let me quickly state, the VA panel does hinder viewing angles and I could see discolouration if I went slightly off-axis. So, you'd need to look directly into the TV. And, the brightness levels are good enough but it doesn't get too bright either.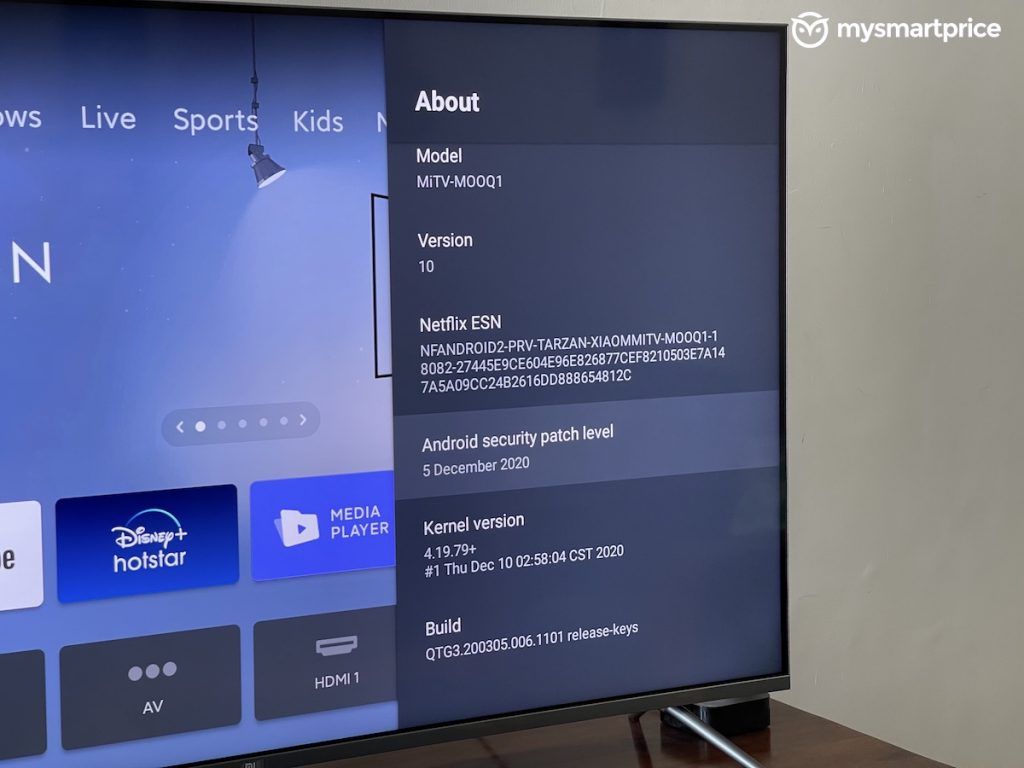 More about the colour reproduction, white point accuracy, HDR performance and just the overall screen quality in my review. 
Mi TV Q1 4K QLED: Sound and Remote
The Mi TV Q1 has a 6 speakers – 4 full range speakers and 2 tweeters – to produce 30 watts of total power. Interestingly, Xiaomi has managed to achieve the frequency range to extend as low as 60Hz. Not a lot of TVs with in-built speakers can do that today. These speakers do sound fuller than most other Mi TVs I have tested in the past. 
I am not impressed by TV speakers, in general, but must appreciate Xiaomi's attempt here. However, Dolby Atmos support is missing here, which is a let down. You get support for Dolby Audio and DTS-HD, though.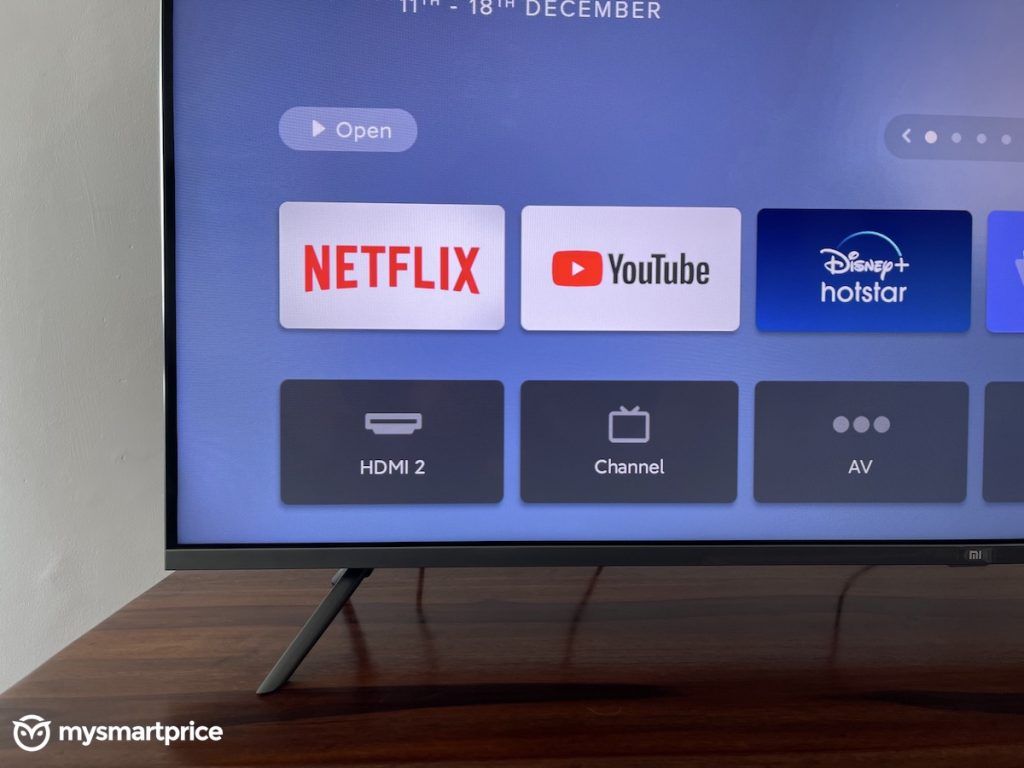 As for the remote, it is still the same plastic piece of hardware. But, I really like the clicky feel and the responsiveness of the tactile buttons. Also, double tapping the volume down button can mute the sound. Yay! Furthermore, long pressing the Mi button brings up Picture and Sound settings from any page. Another welcome addition, surely. All steps in the right direction, I must say. 
Mi TV Q1 4K QLED: Performance and Software 
Xiaomi has finally moved away from the underpowered Amlogic chipsets to a custom-built Mediatek 9611 TV SoC for its premium Q1 TV. This chip has a quad-core A55 CPU setup and a Mali G52 MP2 GPU. There's 2 gigs of RAM and 32GB of storage. Although, I feel at least 3GB of RAM would've been a nice addition. Anyway, I could immediately sense that the TV was blazing fast to navigate around the new Android 10 OS and Patchwall. 
By the way, I am coming back to Patchwall after a long time and boy, oh, boy! It is fantastic. Yes, it could use some more finess in the actual design but the UI is well-laid out. I like the individual rows dedicated to my favourite apps, different inputs (HDMI, USB etc), Netflix, Prime, Live TV, Editorial Picks, and more. It is very, very well done. The special Kids mode is also a neat touch. I can't believe I am saying this but I don't think I am going back to Android 10, which obviously, feels far limiting in comparison. Excellent job, Xiaomi.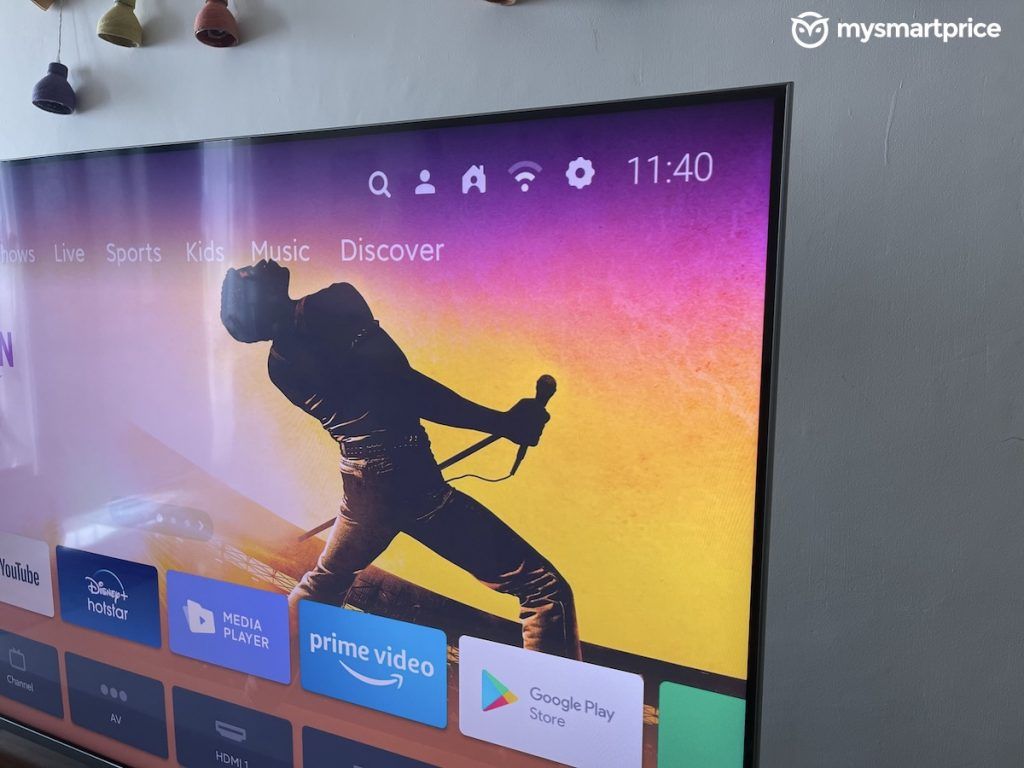 Closing thoughts on the Mi TV Q1 4K QLED
I am reserving a lot of my thoughts for my full review. At Rs 54,999, the Q1 doesn't necessarily disrupt the market but it does stand out as a competent option. It is still one of the most affordable 55-inch 4K QLED panels out there. 
However, I do like Xiaomi's approach with the Q1: a proper premium QLED TV from the Mi stables was a long time coming and I am glad it is here…finally. Democratisation of premium tech is like a child's play for Xiaomi's product strategy team now. 
Do you guys like it? What are all the questions you'd want me to answer in my full review? Do let me know in the comments section below so I can help you out.
Thanks for reading till the end of this article. For more such informative and exclusive tech content, like our Facebook page