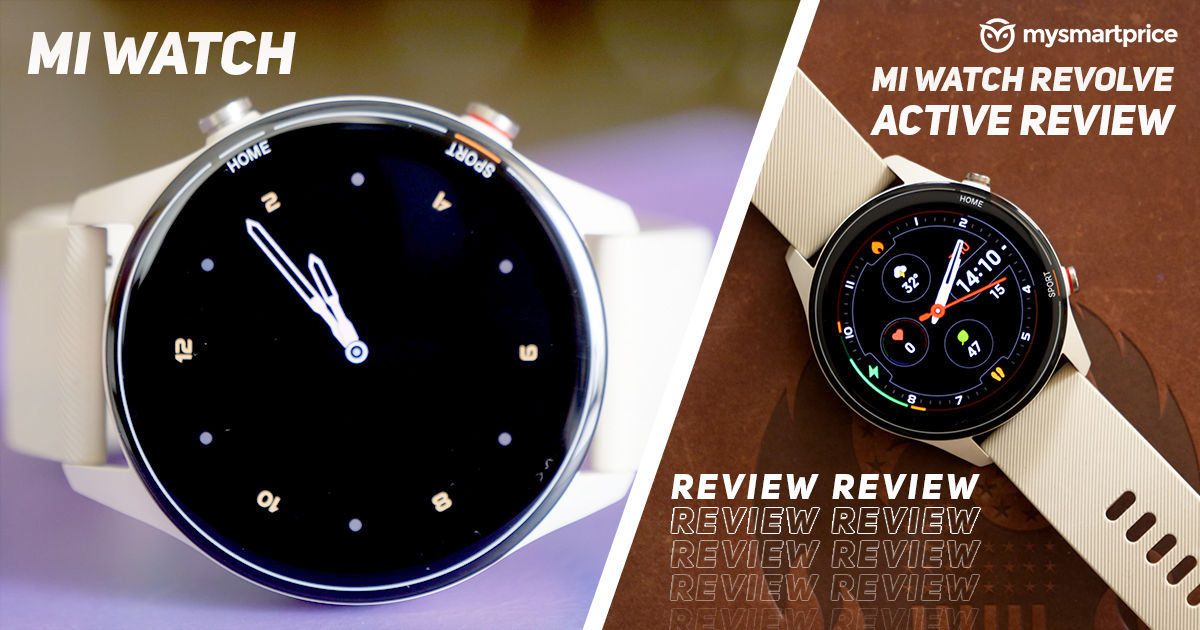 Xiaomi launched the Mi Watch Revolve in September last year and last month we were introduced to the Mi Watch Revolve Active. Both of these watches sell for Rs 9,999 and share a lot of similarities. The Active variant comes with SpO2 (Blood Oxygen) monitoring, and 100+ sport modes, while the standard variant misses out on SpO2, has only 10 sport modes, but it also offers a more premium metallic build, while the active variant has to make do with a plastic polymer. With that out of the way, let's get on to my experience of using the Mi Watch Active Revolve for over a month now, and why you should/shouldn't buy it for yourself.
Mi Watch Revolve Active
9,999
Software Experience
8.0/10
What Is Good?
Bright AMOLED Display
100+ Sports Modes
Smooth Performance
Refined App Experience
In-built GPS
What Is Bad?
No Continous SpO2 Monitoring
Average Battery life With AOD
Basic Smart Functionalities
Limited Alexa Features
Design & Build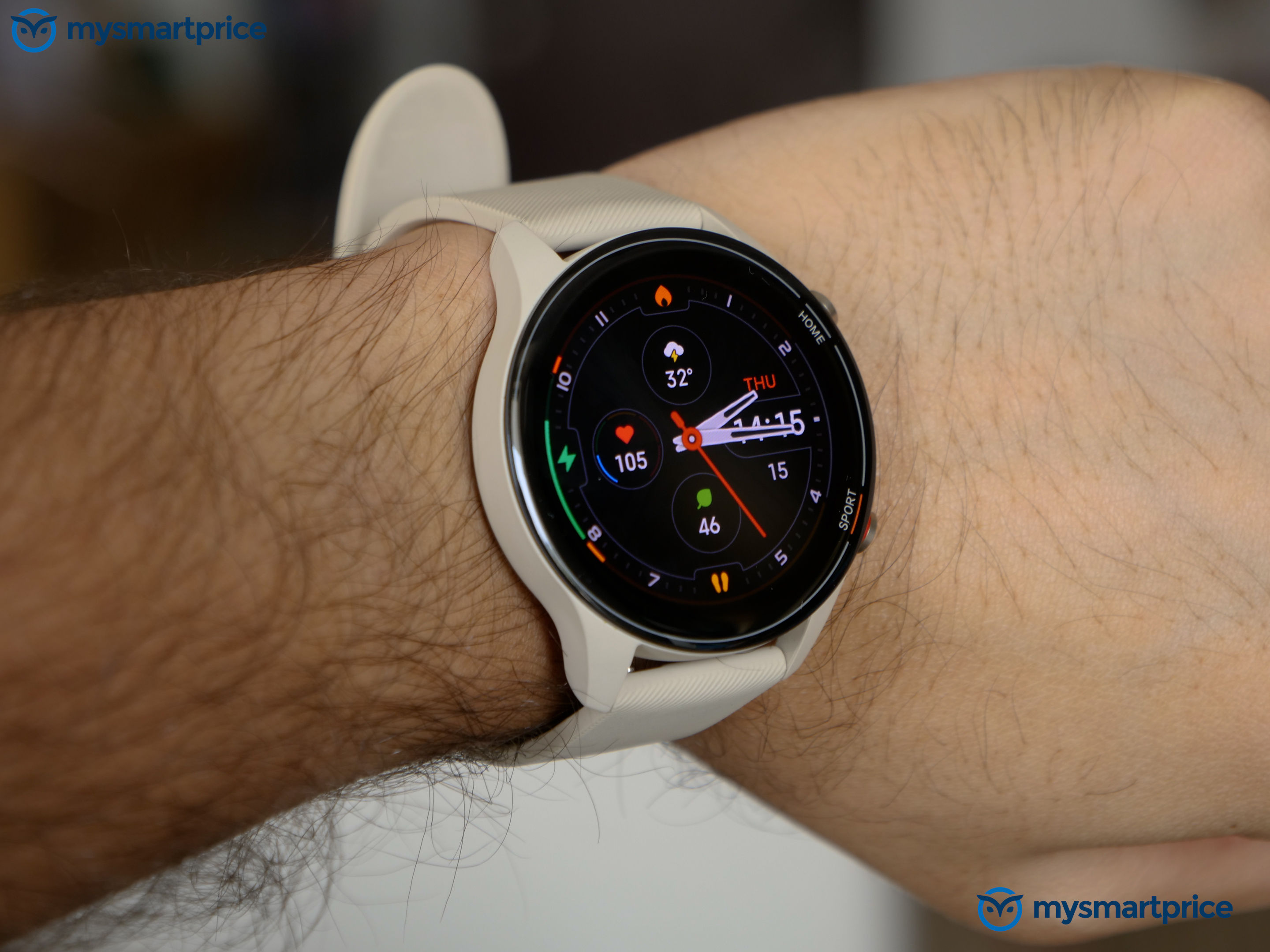 Like I already mentioned, the Watch Active differs from the original Mi Watch by opting for a polycarbonate body instead of metal. This means that the central module of Watch Active weighs just 32 grams, a good 20% reduction from the 40 grams of the Watch Revolve. It's still a 46mm circular body, with standard TPU straps that can be easily swapped thanks to the quick-release style pins.
Mi Watch Revolve Active Design
I've got the Ivory color variant with me, which looks classy, although I feel I would have loved one of the darker colors more. It's a comfortable watch to wear, there's not much going on aesthetically but it sure feels solidly built. I have been wearing it to bed for the last whole month and never really needed to take it off, thanks in part to the 5ATM waterproof rating too.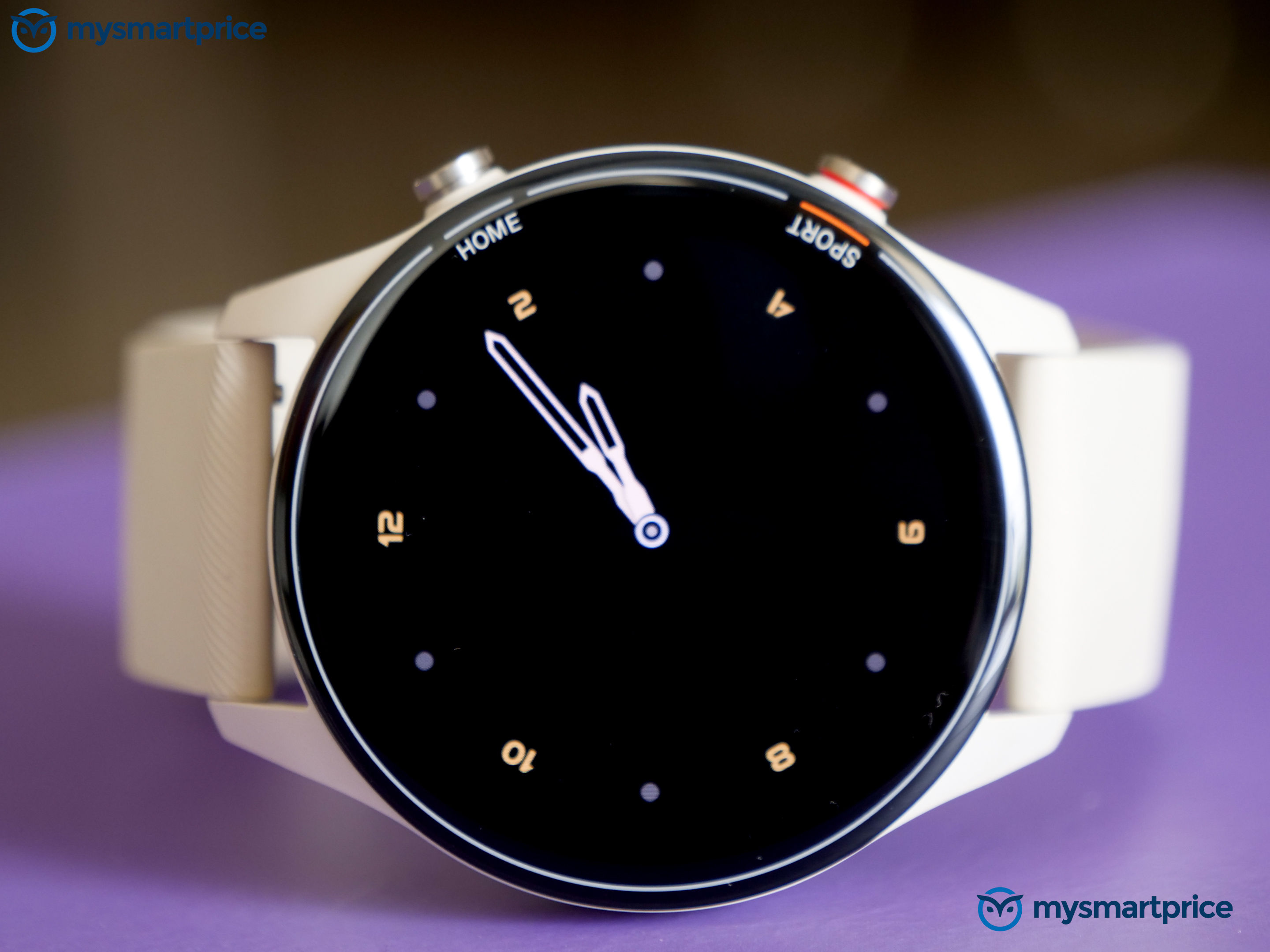 The only complaint that I could have with the overall design and build of the watch is that the screen glass itself is raised slightly above the shell of the watch, thus making it the first thing that comes in contact, in case your hand bangs into something. This might potentially increase the risk of the watch glass getting scratched or shattered. To be fair though, it hasn't happened so far.
Display & UI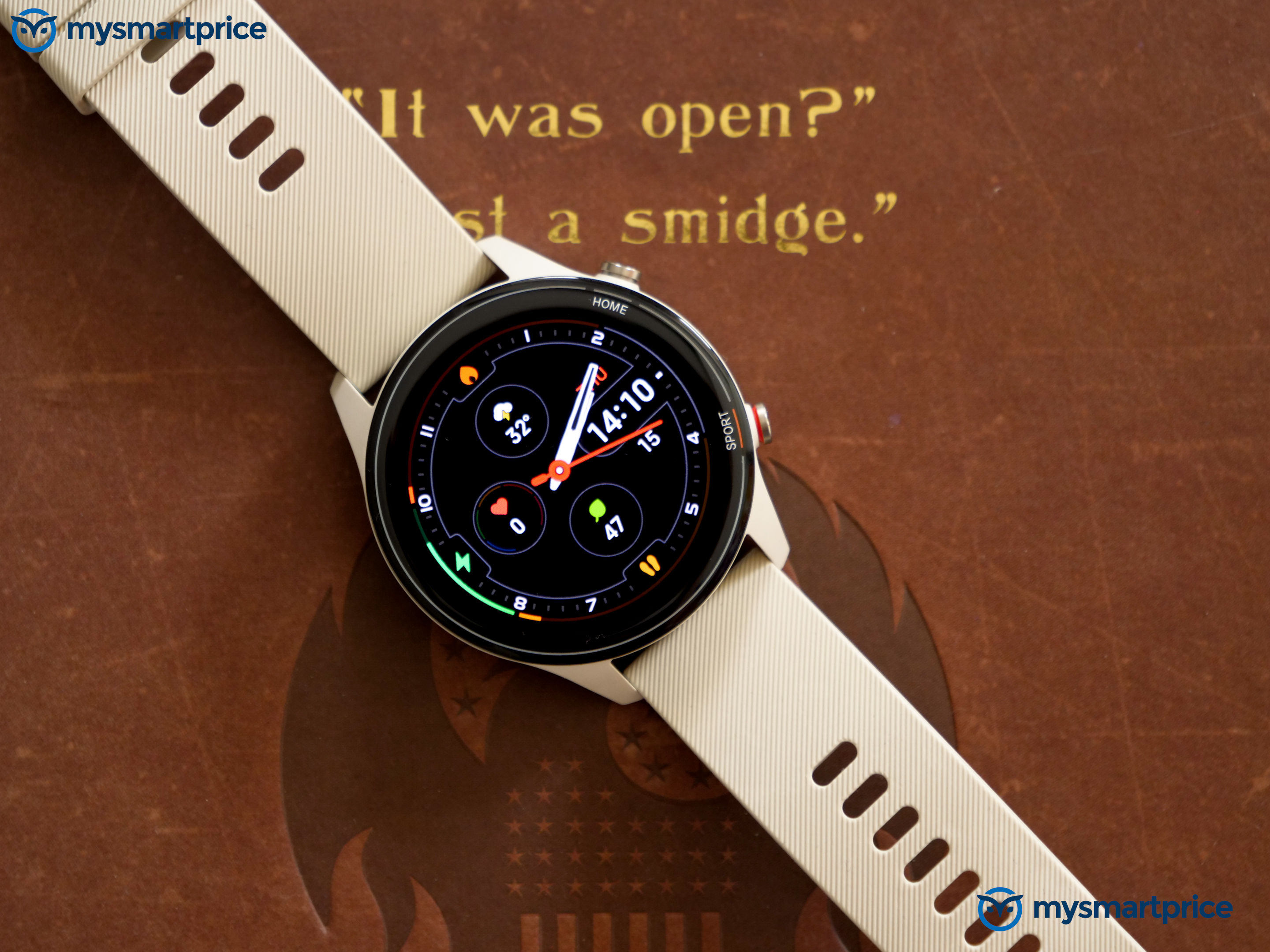 The Watch Active features the same 1.39 inch AMOLED display that we saw on the Watch Revolve. It gets bright enough to use outdoors even on a sunny day, and also comes with Auto Brightness feature. I found it to be a little too strict, and generally preferred to keep the brightness manually set at 80% of maximum. The resolution here is 454×454 which makes text and graphics look super crisp. Plus the viewing angles and punchiness of the AMOLED panel, makes the display experience a great one. Xiaomi Wear App lets you choose from hundreds of fancy watch faces, and all of them look great on this screen.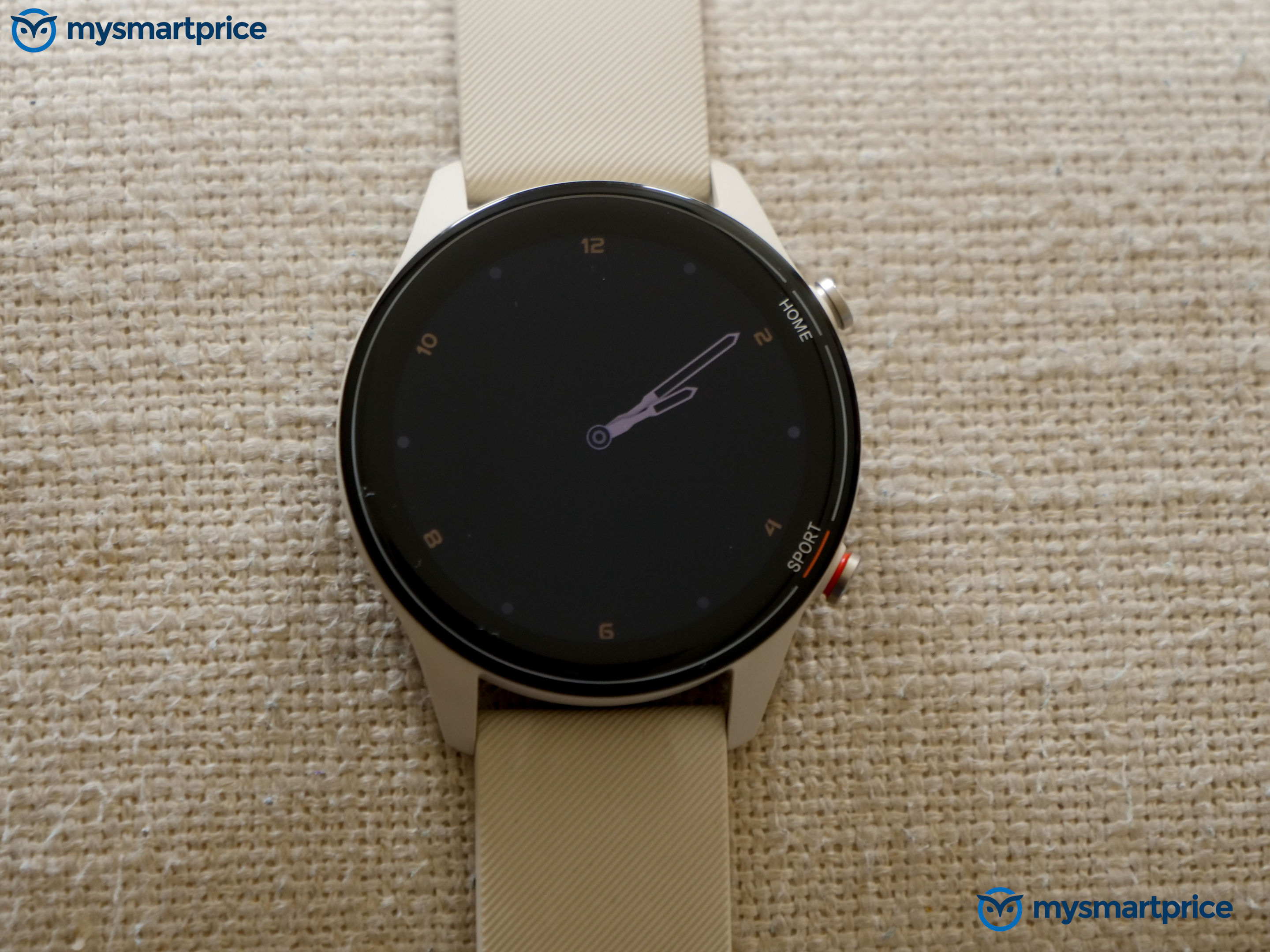 There's Always-On Display functionality present here, and you get half a dozen options to choose from. I would have loved to get the option for the AOD to just follow whatever watch face is active on the watch. Also, the AOD brightness level isn't adjustable separately. Another thing that could have been better is the ability to schedule the AOD. Right now, it stays on continuously even when you're in bed, and that is both needlessly distracting and battery consuming.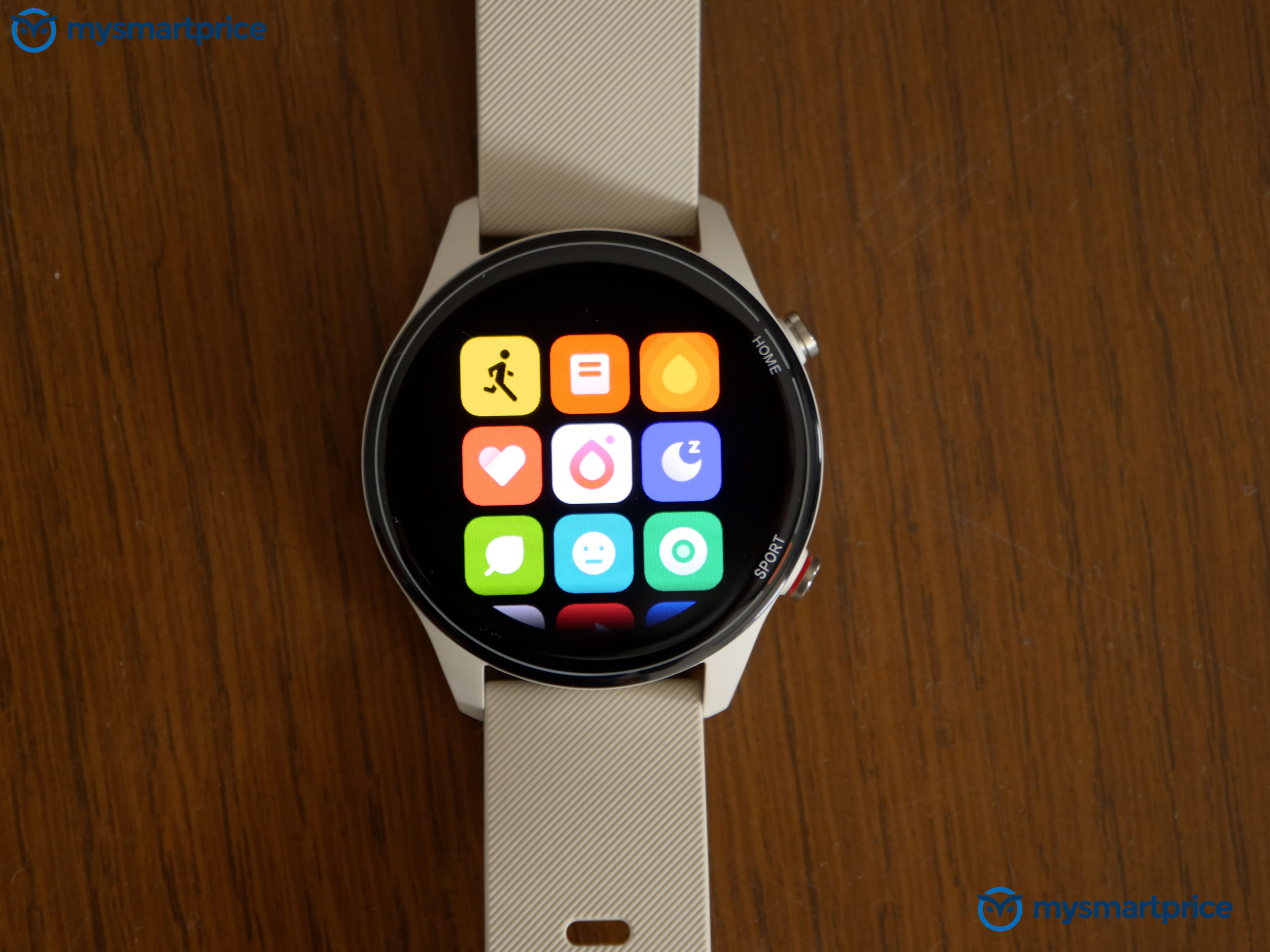 The UI itself is pretty similar to what we saw on the Redmi Watch. It's still using a RTOS UI, but unlike the Redmi watch here it's a smooth scrolling one. The animations look smooth enough and I didn't face any major lags or stuttering issues here. Swiping Left or Right from the watch face cycles through some basic tiles containing your activity data, heart rate, weather info, SpO2 etc. I really liked this design choice as every important feature is accessible directly, without having to jump into any menus.
Mi Watch Revolve Active UI
Swiping Up and Down opens the notification panel and quick settings menus. The top physical button opens the app drawer when pressed inside the main watch face, and acts as the Home button otherwise. The bottom physical button takes you right into workout options. You get a lot more features inside the app drawer like Timer, Stopwatch, Alarms, Breathing Exercises etc. One good thing about this UI is that you can check a lot of detailed information on the watch itself e.g. your sleep data, past workout history etc.
Fitness Tracking & App Experience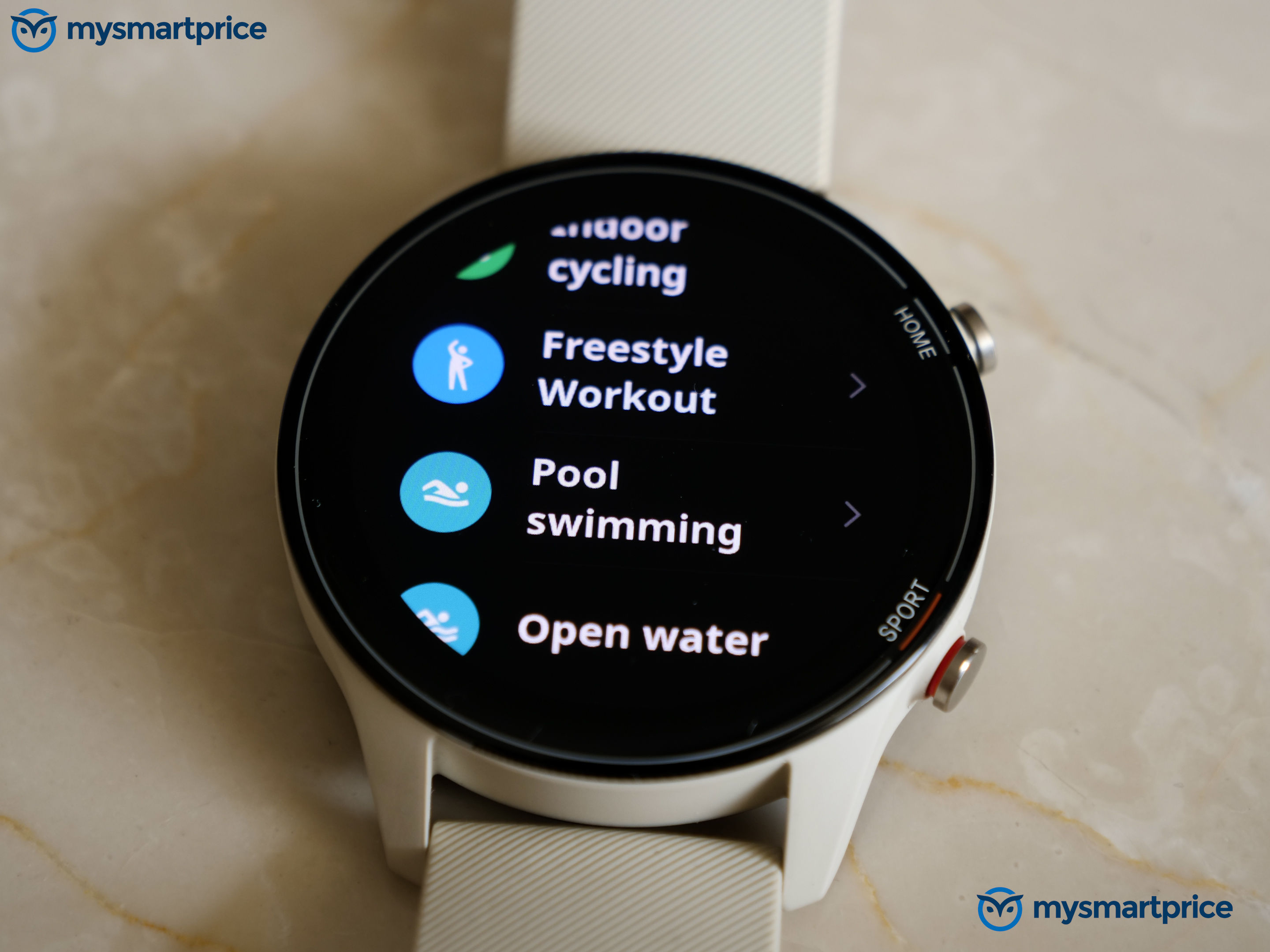 Let's talk about the main reasons why you'll buy this watch. The Watch Active supports activity tracking for 117 sports modes. Most of these 117 however will only give you basic data like steps, calories, heart rate etc. So don't expect this watch to give you detailed insights into your cricketing abilities or so. The tracking otherwise, felt mostly accurate. Besides that, you get continuous heart rate monitoring, manual SpO2 monitoring and night time sleep tracking. Two things that I missed having here is continuous blood oxygen monitoring and the ability to track daytime naps.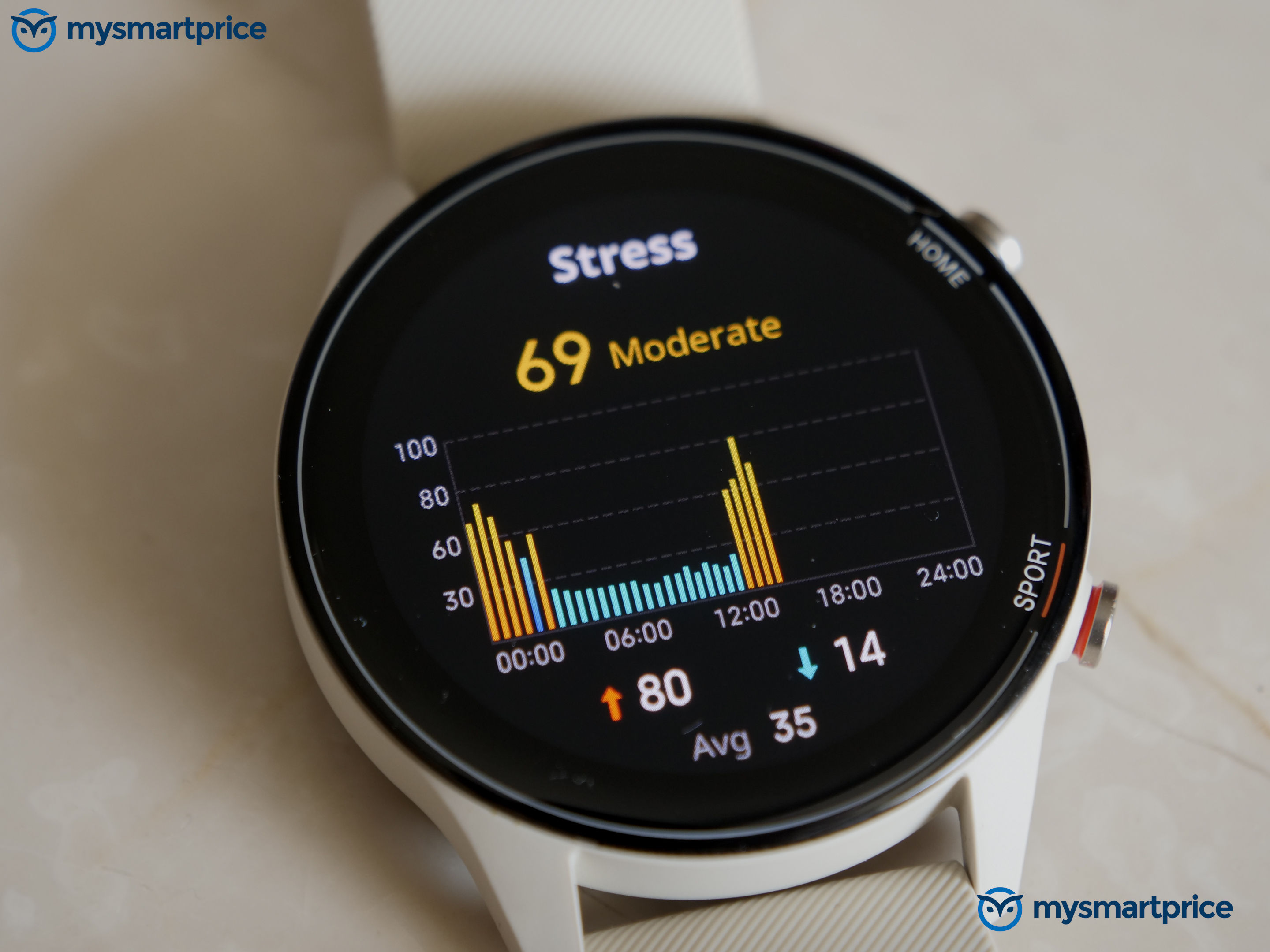 You also get Stress Monitoring and a Body Energy meter, but these are inaccurate at best, and mostly just felt random. The good thing about Watch Active is that it comes with built-in GPS so you don't necessarily have to carry your phone for outdoor workouts. Another thoughtful addition is the ability to use music controls even within an active workout, something which most smartwatch/smartband makers surprisingly omit.
The Xiaomi Wear App is available on both Android and iOS phones. It's a new app but still feels quite refined. I love the fact that it keeps all my historical data intact under my account, across fitness trackers and phones. You get detailed charts for all your tracking data, and the overall representation and insights are quite good, although I'd still side with the Huawei Health app in terms of overall experience. The app also lets you tweak some device settings, setting up notification alerts (which you can't reply to by the way), and also to change and install new watch faces.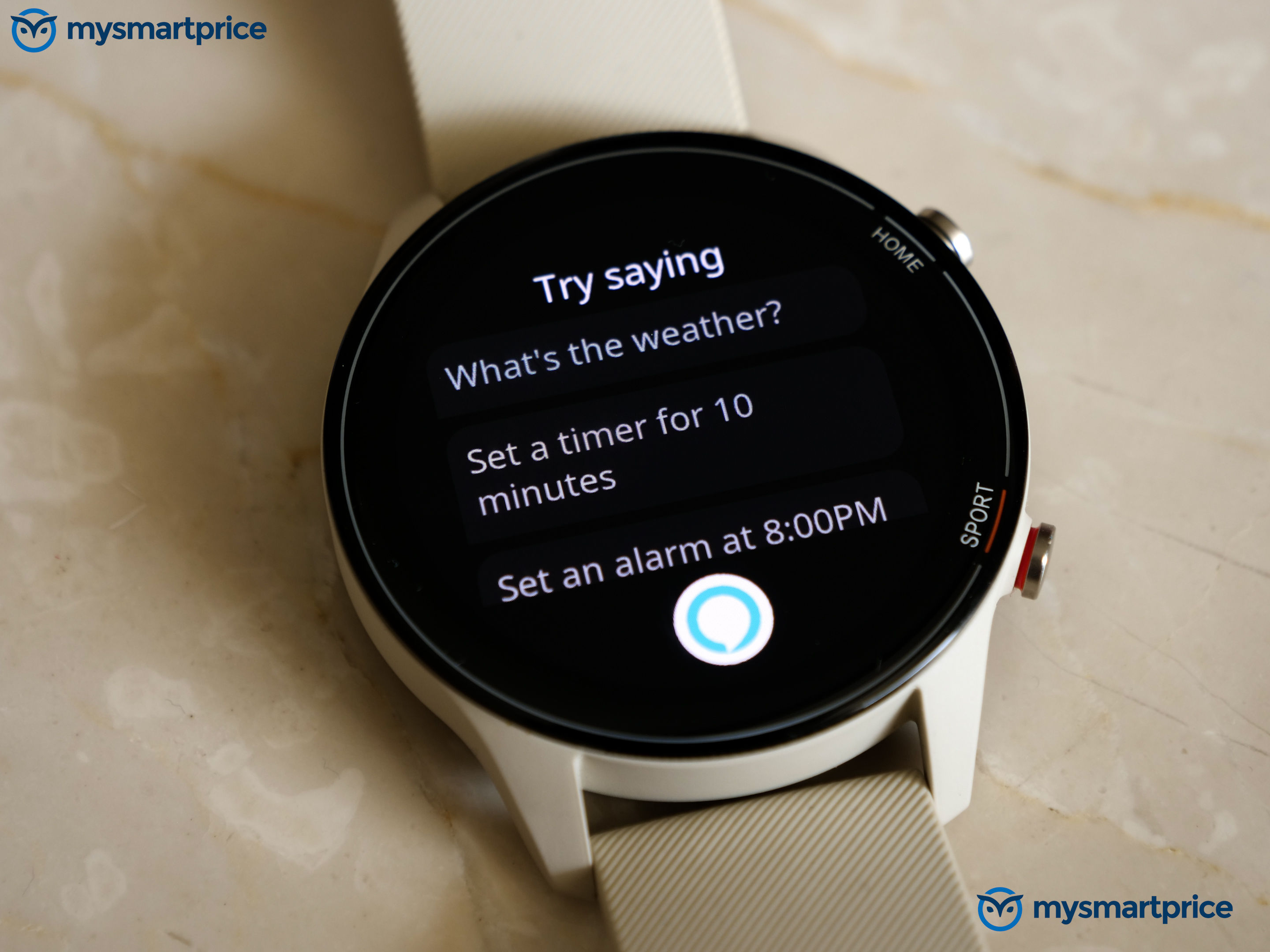 Since it's a basic smartwatch, you can't take calls through it directly, nor can you reply to messages or install any third party apps. What this watch does support is Alexa integration, so you can use some basic voice commands like checking the weather, setting an alarm etc. But in my use, the commands took a lil too long to process, making the process feel counterintuitive.
Battery Life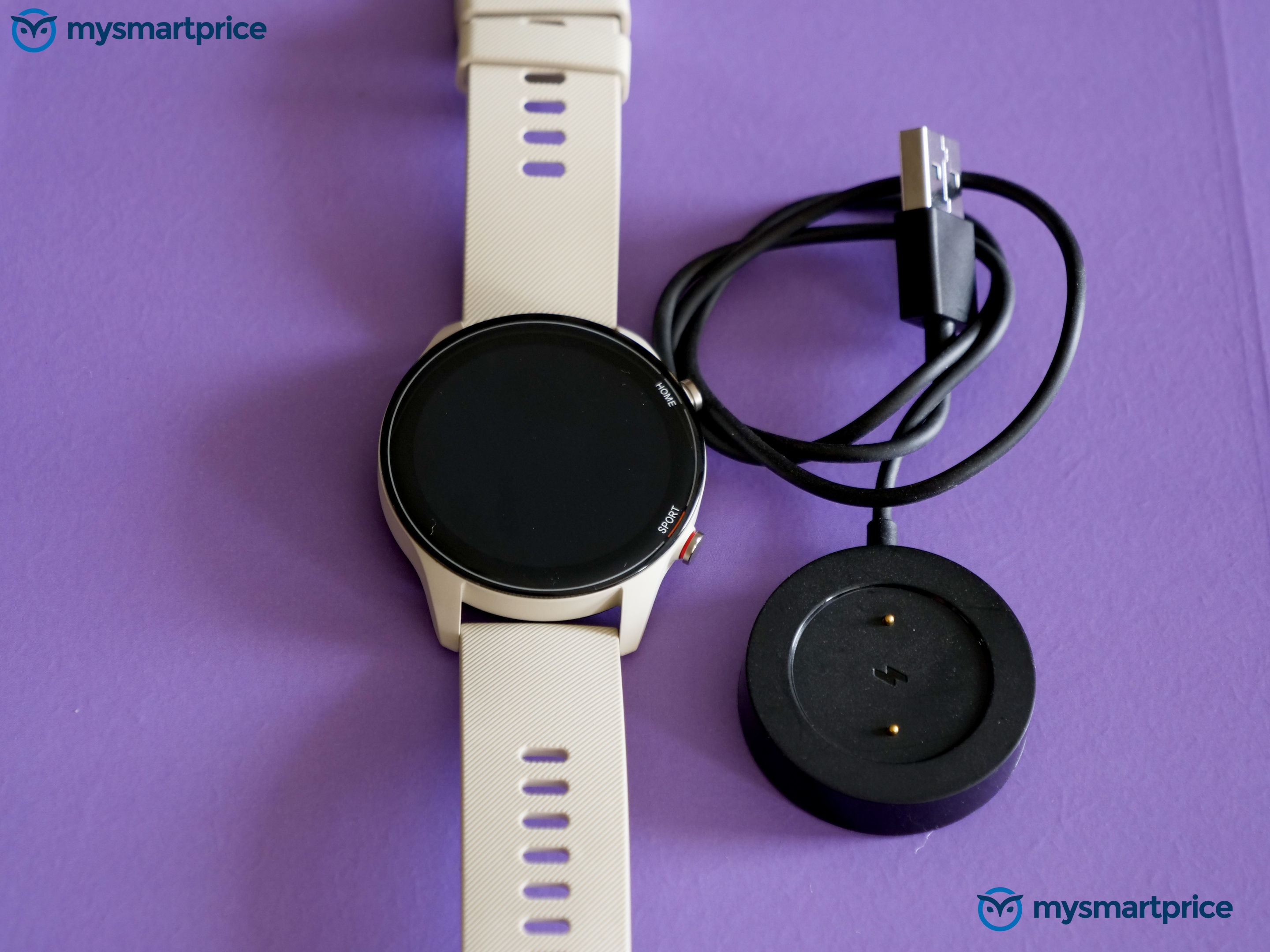 The Mi Watch Revolve Active officially claims to deliver 2 weeks of battery life. In my usage, I found the watch to run for about 10-11 days, with continuous heart rate monitoring, sleep tracking, and maybe 2-3 workouts during the whole time. This is definitely good battery life, but the situation changes drastically if you turn on Always-ON Display. With AOD on, I had to charge the watch every 4th day, which is slightly on the lower side. Maybe if Xiaomi lets us schedule the AOD, or makes it turn off automatically as soon as we sleep, a 7-day battery life with AOD would be possible.
Charging happens via a circular magnetic puck, which comes with a standard USB head so you can plug it into your phone charger or any USB port.
Pricing & Verdict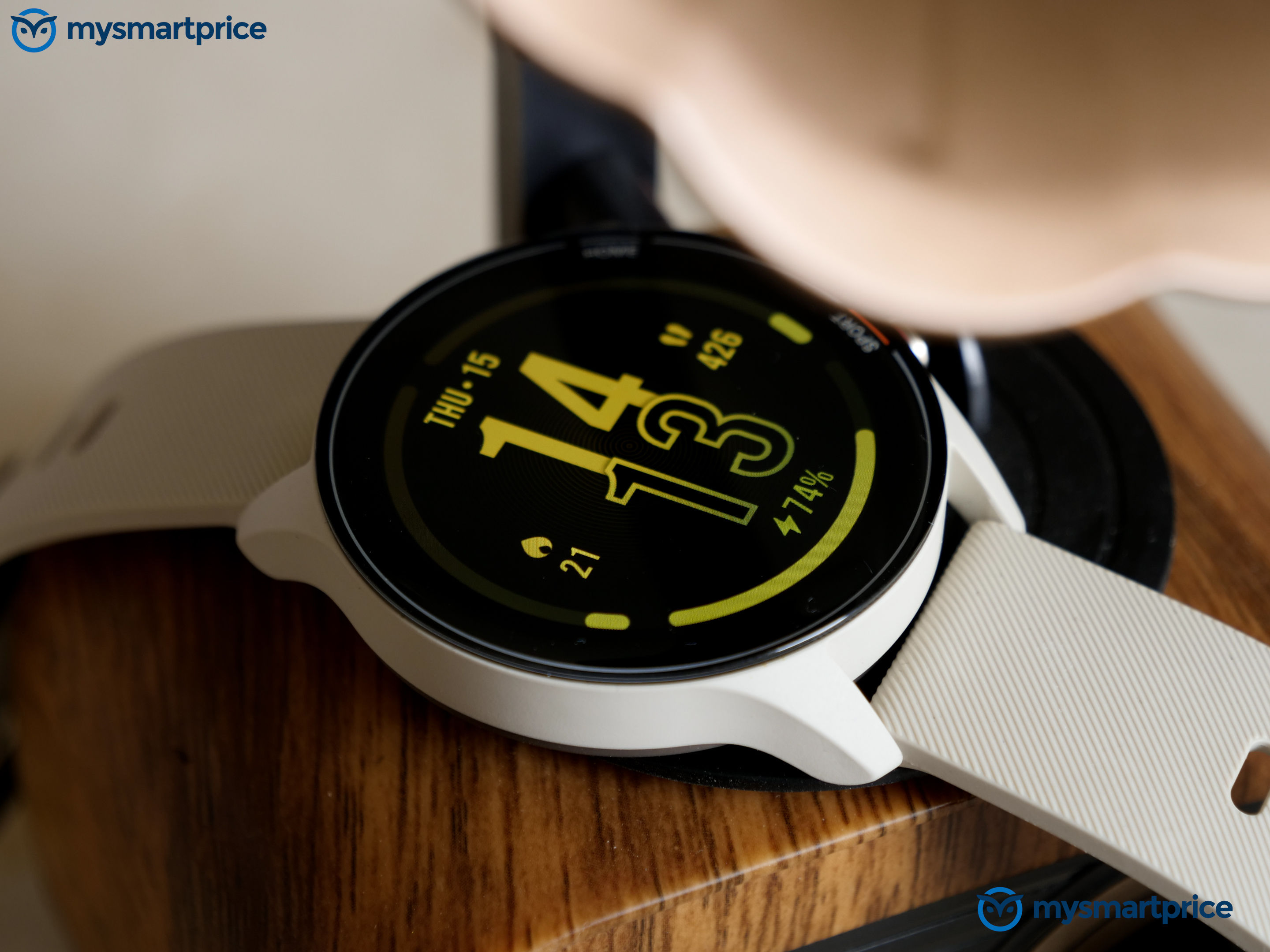 The Mi Watch Revolve Active gets a lot right. It has a gorgeous AMOLED display, it has all the bells and whistles needed for a fitness tracker, and the Xiaomi Wear app experience is definitely a plus as well. What could have been better here is support for Always-On Blood Oxygen monitoring, slightly better battery life with AOD, and maybe some more smart functionalities like the ability to send quick replies or take calls via Bluetooth. But that's the state most of the current crop of basic smartwatches are in. The closest competition to the Watch Active is Realme's Watch S Pro and Amazfit's GTS 2 series. All these options offer pretty much the same experience, with the functionalities of a fitness band inside the form factor of a classic watch.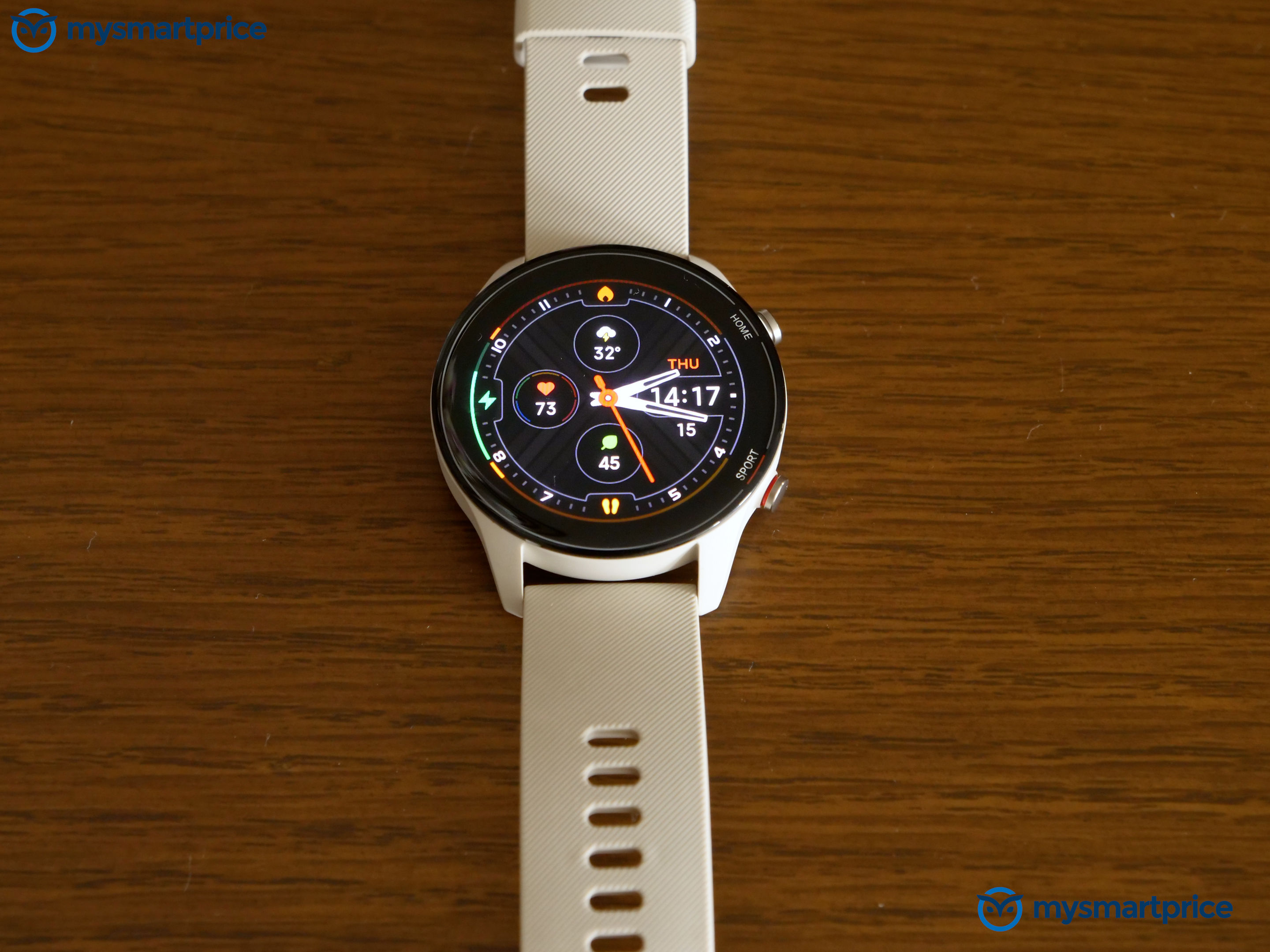 Between these options, you can really just go with what your heart desires or choose one based on the ecosystem you are most associated with. If you're looking for something more from your smartwatch, like the ability to take calls, store music, reply to messages etc, you'll have to look at Galaxy Watches, OPPO Watch, or a Fitbit Versa. If you're just looking for a reliable fitness tracker with great battery life, you can also take a look at the Huawei Band 6 (review), which does everything the Mi Watch Revolve Active does at half the price. What's your take on this whole Smartwatch vs Smartband debate? Let us know in the comments below.