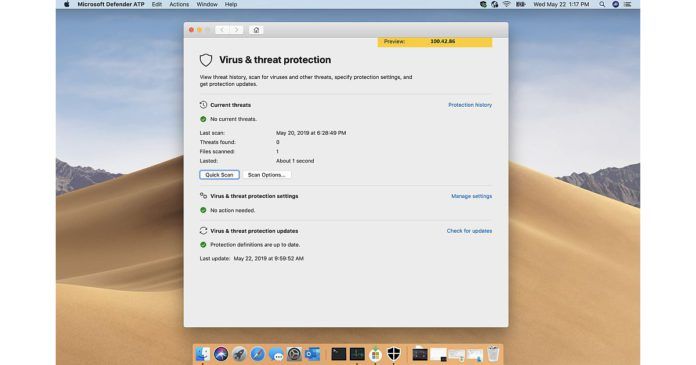 Microsoft first announced the release of its Defender Advanced Threat Protection for Mac back in March of this year. After following through with internal testing and a private preview phase, the Microsoft Defender ATP for Mac public preview has now been released. To be clear, this service is more for businesses and IT professionals so that they can manage Mac and Windows devices simultaneously. This is a pre-release version that requires a Microsoft Defender ATP subscription. Security teams can go ahead and try Microsoft Defender for Mac by enabling preview features via the onboarding section on Microsoft Defender Security Center.
Microsoft Defender ATP for Mac endpoint client can be installed on devices running macOS Mojave, macOS High Sierra, or macOS Sierra. During this preview period, users will be able to use Microsoft Defender ATP for Mac will be able to carry out all essential security task such as running full malware scans, review detected threats, and take actions on these threats (such as quarantine, remove, or allow).
Some of the more advanced options provided in this service include the ability to disable or enable real-time protection, cloud-delivered protection, and automatic sample submission. End-users can also add exclusions for specific files and paths. When threats are found, notifications are pushed to admins, and admins have control over how these notifications are sent out. There is also the ability to manually check for security intelligence updates.
After going through the private preview and gathering customer feedback, Microsoft added a plethora of new features. Microsoft Defender ATP for Mac now offers enhanced accessibility and improved overall performance. Users have support for up to 37 languages. Client product health monitoring has also been improved alongside anti-tampering protections. The interface now allows for feedback and samples to be submitted easily. Lastly, cloud preferences can be set for any location and not just the US.
This is just one of the many services Microsoft is gradually bringing over to Apple's ecosystem. The Chromium-based Edge web browser recently debuted for Windows, and its Canary builds can even be downloaded on Macs. Meanwhile, Microsoft Office 365 has been available on Apple's Mac App Store for a few months now.