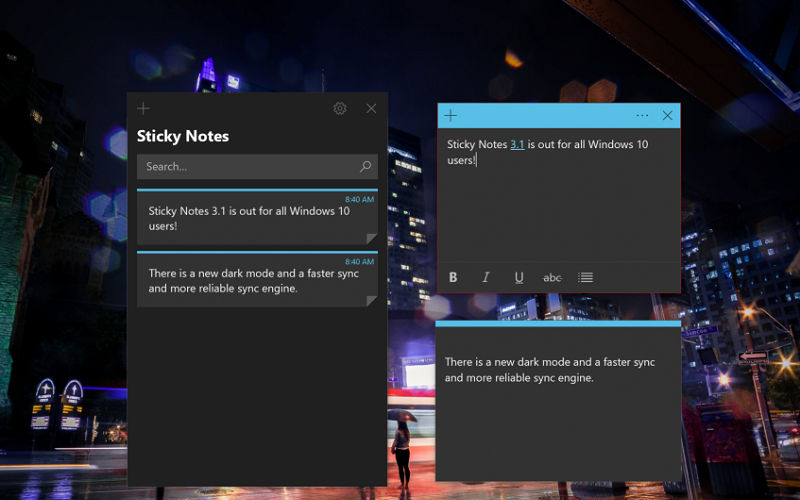 Microsoft is steadily adopting the dark theme or dark mode and applying the cosmetic treatment to its applications and platforms. Interestingly, the latest version of the simplistic note-taking and reminder platform Sticky Notes goes one step ahead. As Microsoft calls it, the Stick Notes gets a new 'Full-On Dark Mode'. The visual impact of the new color treatment is quite effective and appears to improve the usability of the application.
Microsoft Sticky Notes For Windows 10 Users Gets Update With Full-On Dark Mode
Microsoft released a new updated version of the Sticky Notes, a simple virtual small note taking and reminder application that works quite similar to the physical version that goes by the same name. While the physical version of the Sticky Notes is available in several shapes and forms, the color scheme and behavior of the small pieces of paper cannot be altered.
The virtual version of Sticky Notes improves upon the shortcomings of the physical version, and has become quite popular for developers and coders who like to leave small reminder notes. However, several users have regularly requested a dark theme or dark mode for several apps, applications and platforms that Microsoft develops.
Sticky Notes v3.1 is available now on #Windows10 v1803+.
Release notes: https://t.co/RhyMuobnr3

— Sticky Notes (@stickynotes) November 30, 2018
It appears Microsoft is listening. With the latest version of Sticky Notes, the company has started offering, what it calls, a full-on Dark Mode. Microsoft has just released Sticky Notes version 3.1 on Windows 10 version 1803 or higher. It is supposed to be a major update because of the extensive cosmetic treatment. The new Dark Mode applies a dark grey background color to the notes and the app's home hub. Essentially, apart from the thin strip that identifies the start of every note, everything else either has a grey or black background. Users can certainly change the theme or drop the dark mode for a material-design inspired colorful theme.
Want to help shape the future of Sticky Notes? Please follow this link and let us know how you use Sticky Notes. https://t.co/ASjll6mIxL pic.twitter.com/mC0aVlPhrC

— Sticky Notes (@stickynotes) November 23, 2018
In addition to the comprehensive dark mode, Microsoft has made some under the hood tweaks as well. The update brings a faster and more reliable sync engine. This ensures users can get to their latest notes even quicker.
Full On Dark Mode For Sticky Notes A Stepping Stone?
Microsoft had quietly introduced the version 3.1 of the Sticky Notes to participants of the Windows Insider program a few weeks ago. However, users faced a few bugs. Apparently there was a problem with the dark blue color that the app was using for certain words. The problem cropped up when users turned on 'Insights' in settings. Incidentally, Insights is a simple algorithm that allows quick creation of reminders from URLs and certain words like dates. Eventually the Sticky Notes development team opted for a lighter blue shade that is a lot easier to read. The 'actionable' words now appear in this lighter shade for quicker identification and conversion.
?? #WindowsInsiders, Sticky Notes 3.1 is heading to Skip Ahead ?
* We tested the waters with Charcoal Note and you all seemed keen to go even darker. Introducing full-on Dark Mode!
* Sync is even faster now, including to your phone via iOS and Android #OneNote, rolling out now! pic.twitter.com/66BxOnxwh4

— Sticky Notes (@stickynotes) October 24, 2018
Sticky Notes recently became available for a wider audience. Users can now access their Sticky Notes from the OneNote app on iOS and Android, as well as the latest Microsoft Launcher beta. Microsoft even offers a web-based app for the platform. The team even promised that users could soon add images to their Sticky Notes.