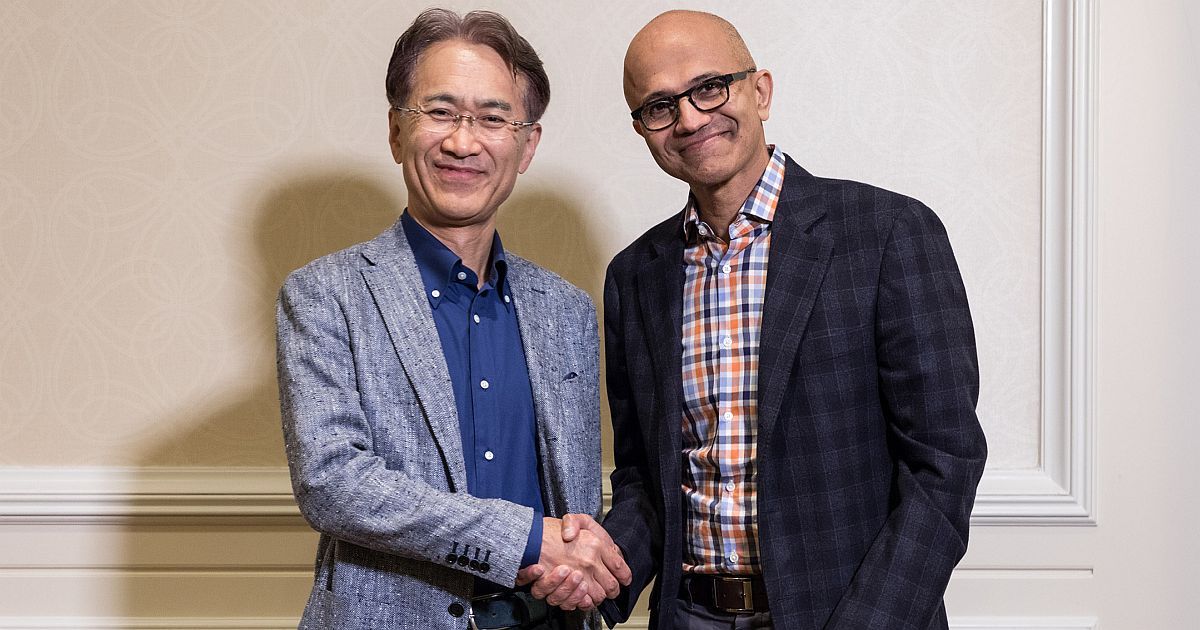 Sony and Microsoft have been rivals for as long as one can remember. In a surprising turn of event, it seems both console makers have set aside their differences and have agreed to a new partnership that aims to develop entertainment platforms and AI solutions. Essentially, the two tech giants will work together to build a cloud gaming platform for video game streaming. From what we gather, the deal is still in the early stages, and more details will emerge as more collaborative decisions are made.
The first goal of this partnership is to "develop future cloud solutions" for gaming and streaming using Microsoft's Azure platform. For now, Sony will look into using Microsoft's existing Azure datacenters to offer its cloud gaming service. Technically, Sony already has it PlayStation Now service, but the increasing demand for cloud game streaming means the platform needs to be expanded. As such, the joint venture will prove essential as the two companies are also planning on "building better development platforms" for content creators.
When it comes to cloud services, Amazon has been far ahead in the game with its AWS platform, and one would have assumed that this is where Sony would end up. Amazon is no stranger to the video game streaming market as it spent nearly $1 billion to acquire Twitch in 2014, and AWS remains integral to the platform. It seems Sony figured it was in its best interest to team up with Microsoft instead, helping Microsoft Azure to gain a competitive edge.
And how can we forget Google who is in the process of releasing its own game streaming service, Stadia. If all goes according to plan, Google will allow players to simply search for a game and be up and running within minutes. Perhaps the new partnership was a result of them realizing the potential threat and deciding to set aside their rivalry until they can deal with this intruder.
Excited about the opportunities ahead with @Sony for us to pursue our mutual gaming ambitions and delight players around the world. https://t.co/3vBuQiruiR

— Phil Spencer (@XboxP3) May 16, 2019
Sony And Microsoft Will Also Develop AI Camera Sensors
Other than gaming, the joint venture between Sony and Microsoft will help them build new camera chips. Basically, Sony will make use of Microsoft's Azure AI tech and build new camera sensors for enterprise customers. The two companies haven't specified how and where this tech will be used, but the potential possibilities are truly exciting. From practical aspects such as production line monitoring to futuristic avenues such as robotics and autonomous vehicles, the joint venture could help the two brands make their mark in previously untapped markets.
Sony obviously has the means to set up its own streaming services and develop its own AI based imaging systems. However, it is likely easier for the brand to use Azure services and help speed the process along. And for Microsoft, there is no reason to turn down such a big customer. As Sony's CEO Kenichiro Yoshida puts it, "I hope that in the areas of semiconductors and AI, leveraging each company's cutting-edge technology in a mutually complementary way will lead to the creation of new value for society."