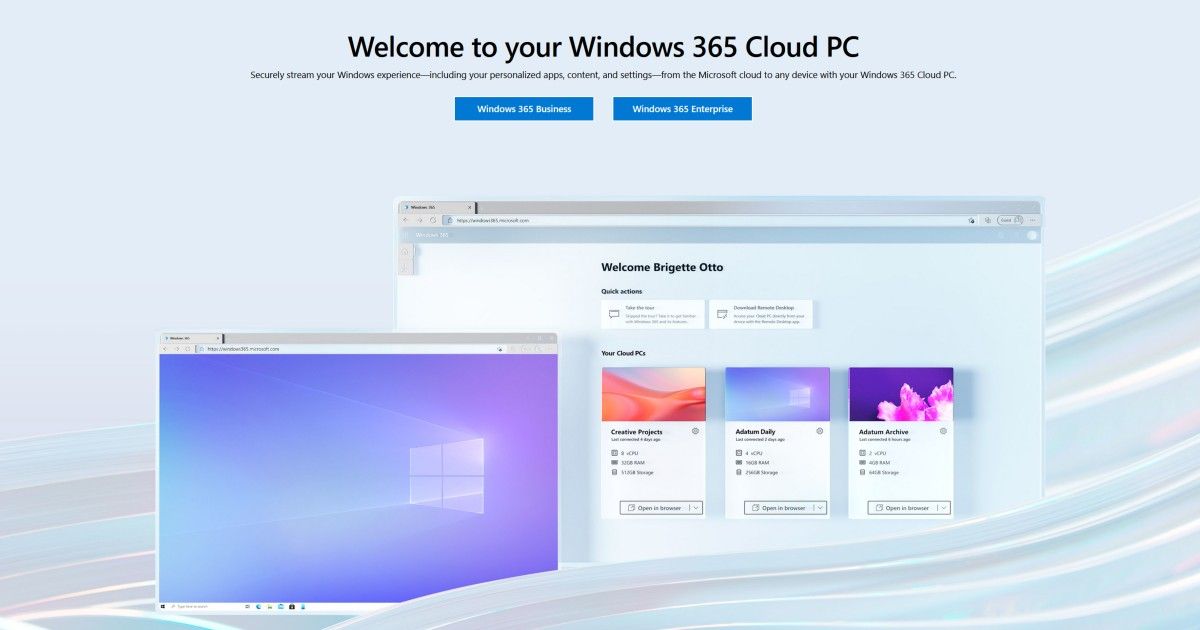 Microsoft Windows 365 is here, and it offers users a cloud PC platform that enables any user to get their hands on a smooth, polished Windows PC experience via a web browser. The move essentially relieves the need for companies to acquire new Windows PCs for new employees, and also allows more organisations the flexibility of remote work conditions. The cloud PCs offered through the Microsoft Windows 365 plans are divided into two types — Business and Enterprise, and range from $20 (approx. Rs 1,500) per month, to $162 (approx. Rs 12,000) per month for the most powerful configuration.
What does Microsoft Windows 365 bring to the table
The Microsoft Windows 365 cloud PC plans offer a total of 12 virtual PC configurations, ranging from the most basic ones with a single virtual CPU, 2GB RAM and a paltry 64GB of cloud storage, all the way up to eight virtual CPUs, 32GB memory and 512GB cloud storage. The plans can allow users of all needs and demands to login through their Enterprise or Business accounts to access the service, getting the benefits of a powerful Windows PC right through their browsers. This can help users work simultaneously on a cloud hosted virtual network of PCs, hence enabling seamless remote work at a time when out of office work scenarios have been increasingly normalised.
The two tiers of the Microsoft Windows 365 plans are meant for business users of varying sizes. The 'Business' plans are meant for companies with up to 300 employees. These plans can be purchased directly from the Microsoft site using just a credit card, without any prior requirement of holding a Microsoft Windows Enterprise client licence. The 365 Enterprise plans, meanwhile, allow companies to add unlimited users to the cloud PC structure, and require the company to be licence holders of Windows 10 Enterprise or Windows 11 Enterprise plans. While Business plan users can manage their virtual cloud PC networks online, Enterprise users will be required to manage their terminals through Microsoft Endpoint Manager.
Full list of Windows 365 plans
The entire set of Microsoft Windows 365 plans are mentioned below. Business plan subscribers will also be eligible for Windows Hybrid Benefit discount, which offers a lower pricing if the subscriber already holds a valid Windows 10 Pro device licence.
Business plans
| | |
| --- | --- |
| Price (per user per month) | Configuration |
| $24 (~Rs 1,780) | 1 CPU, 2GB RAM, 64GB storage |
| $32 (~Rs 2,380) | 2 CPU, 4GB RAM, 64GB storage |
| $35 (~Rs 2,600) | 2 CPU, 4GB RAM, 128GB storage |
| $44 (~Rs 3,300) | 2 CPU, 4GB RAM, 256GB storage |
| $45 (~Rs 3,340) | 2 CPU, 8GB RAM, 128GB storage |
| $54 (~Rs 4,010) | 2 CPU, 8GB RAM, 256GB storage |
| $70 (~Rs 5,200) | 4 CPU, 16GB RAM, 128GB storage |
| $79 (~Rs 5,860) | 4 CPU, 16GB RAM, 256GB storage |
| $105 (~Rs 7,800) | 4 CPU, 16GB RAM, 512GB storage |
| $127 (~Rs 9,430) | 8 CPU, 32GB RAM, 128GB storage |
| $136 (~Rs 10,100) | 8 CPU, 32GB RAM, 256GB storage |
| $162 (~Rs 12,030) | 8 CPU, 32GB RAM, 512GB storage |
Enterprise plans
| | |
| --- | --- |
| Price (per user per month) | Configuration |
| $20 (~Rs 1,480) | 1 CPU, 2GB RAM, 64GB storage |
| $28 (~Rs 2,080) | 2 CPU, 4GB RAM, 64GB storage |
| $31 (~Rs 2,300) | 2 CPU, 4GB RAM, 128GB storage |
| $40 (~Rs 2,970) | 2 CPU, 4GB RAM, 256GB storage |
| $41 (~Rs 3,040) | 2 CPU, 8GB RAM, 128GB storage |
| $50 (~Rs 3,700) | 2 CPU, 8GB RAM, 256GB storage |
| $66 (~Rs 4,900) | 4 CPU, 16GB RAM, 128GB storage |
| $75 (~Rs 5,570) | 4 CPU, 16GB RAM, 256GB storage |
| $101 (~Rs 7,500) | 4 CPU, 16GB RAM, 512GB storage |
| $123 (~Rs 9,130) | 8 CPU, 32GB RAM, 128GB storage |
| $132 (~Rs 9,800) | 8 CPU, 32GB RAM, 256GB storage |
| $158 (~Rs 11,730) | 8 CPU, 32GB RAM, 512GB storage |
Thanks for reading till the end of this article. For more such informative and exclusive tech content, like our Facebook page