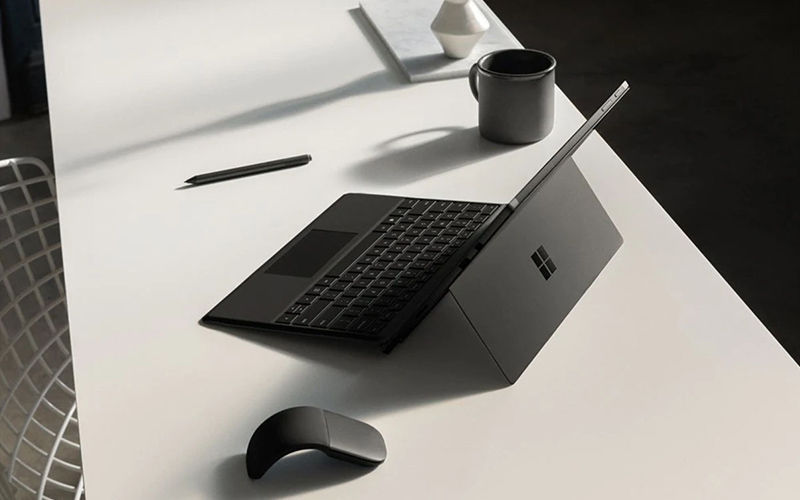 Microsoft has refreshed its Surface series with the new Surface Pro 6 which is a hybrid tablet/computer device underpinned by a quad-core CPU. The new high-end convertible device manages to remain lightweight whilst promising a long battery life. The device was unveiled in a dedicated press event in New York, alongside the Surface Studio 2 and Surface Laptop 2. The Surface Pro 6 offers up to 67 percent faster speed than the 5th-gen Surface Pro 2017, thanks to the new processor.
Better Innards, Same Aesthetics
Two variants of the Surface Pro 6 are available right now: one fueled by the Intel Core i5 processor, and the other powered by the Intel Core i7 chip. Colour options are limited to black and platinum grey right now, but hopefully, more colours will be available in the future. Microsoft has targeted the Intel Core i5 variant at the people whose work involves reports, videos, photographs, and presentations, and the other variant is geared towards power users and also bundles in Intel UHD graphics.
The maxed-out variant powered by the Intel Core i7 processor with 16GB of memory and 1TB of storage is pitched at Rs. 169,401, while on the other end of the spectrum, the Intel Core i5 driven model with 8GB of RAM and 128GB of storage costs Rs. 66,270. Both the devices come with the Surface Dial, which is a puck that can be used to control Windows.
The display is largely the same as that of the last year's Surface Pro, with Microsoft promising a better pixel density at 267ppi and its best ever contrast ratio. The device also has an 8.0MP HD camera on the back and a 5MP front camera for video calls and Windows Hello. The Surface Pro 6 runs Windows 10 Home or Windows 10 Pro, depending on whether you bought it for home use or enterprise use. Accessories include the Surface Pro Signature Type Cover and the Surface Pen.
Do More On The Go
With productivity taking center stage this year, the new Surface Pro 6 will enable you to work anywhere, thanks to its versatility, the long battery life of 13.5 hours, and lightweight body. There is no USB-C port, but that can be remedied with the Surface Dock or the Surface to USB-C adapter.
The Surface Pro 6 will start retailing from October 16, and the pre-orders have already started in UK, USA, Australia, Canada, Austria, Germany, Ireland, China, Japan, and New Zealand.
Check out the new powerful Surface Pro in the video below and let us know your thoughts about it: