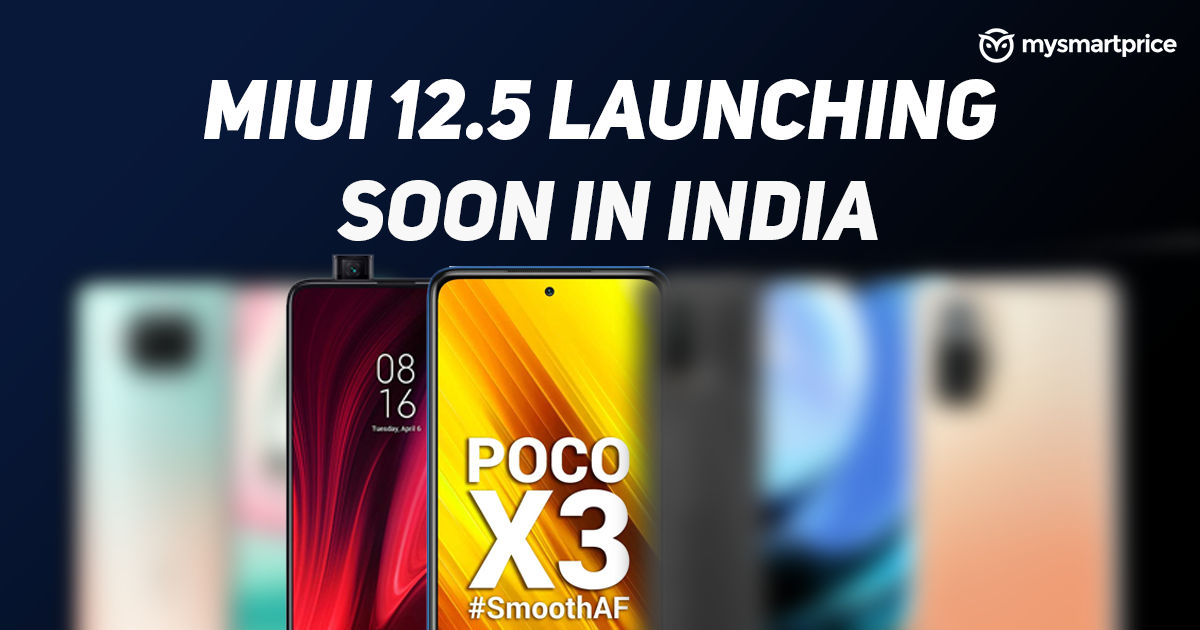 Chinese smartphone maker Xiaomi is preparing the next version of its custom operating system — MiUI. While MiUI 12.5 has been expected for a while, Xiaomi's India Head, Manu Kumar Jain, confirmed the same while talking to the company's fans on Facebook recently. Jain didn't give out exact dates for when the next version of MiUI will be launched, but he did say it's going to be the "cleanest", which has sparked speculations about Xiaomi dropping advertisements on its phones. We'd be surprised if it did though, given that advertising is one of the ways in which Xiaomi earns its money and keeps its devices cheap.
List of Mi phones in India that are eligible for MiUI 12.5
The company has been rolling out MiUI 12.5 in China for a while now, and reports say that it has put out beta testing forms for the India ROM of the interface too. Xiaomi's Mi Community India app was banned by the Indian government last year, meaning the company will have to find a new way to send out testing forms to its fans.
It's also worth noting that MiUI runs on Mi, Redmi and Poco devices, so here's the list of devices that will support it.
Mi:
Mi 10

Mi 10T Pro

Mi 10T

Mi 10i
Redmi:
Redmi K20 Pro

Redmi K20

Redmi Note 10 Pro Max

Redmi Note 10 Pro

Redmi Note 10

Redmi Note 9 Pro Max

Redmi Note 9 Pro

Redmi Note 9

Redmi 9 Power

Redmi 9 Prime

Redmi 9

Redmi 9i

Redmi 9A

Redmi Note 8 Pro

Redmi Note 8

Redmi 8

Redmi 8A Dual

Redmi 8A
Poco:
POCO X2

POCO X3

POCO M2 Pro

POCO M2

POCO M

POCO C3
What's the fuss about?
Here's the funny thing though, MiUI 12.5 is actually expected to be an incremental update, so we don't really know what the fuss is all about. It seems Jain's comment about it being the "cleanest" UI so far is what has raised everyone's hopes. But consider the fact that Xiaomi sells most of its smartphones at a 5% margin and you wonder why the company would stop pushing ads on its devices.
What's more likely though is that the company will rethink the apps it puts on the operating system. In fact, while Jain doesn't necessarily belong to the software community, "cleanest" often refers to how easy a UI is to get around and get used to. So, when Jain said MiUI 12.5 will be the cleanest, it's possible that he meant the UI will have less bloatware and a much smaller learning curve.
Xiaomi may also be reconsidering the number of apps it wants to preload on its phones because of regulations from the government. The Mi Community tool could easily be the first app the company gets banned in India. The current regime has shown that it's not afraid to ban Chinese apps in the country, so the more apps Xiaomi has, the more answerable it becomes to the government in the long run. Removing some could keep the company under the radar and outside the government's eyes.
Additionally, Jain may simply have been making a passing statement about MiUI when he said the 12.5 version will be the cleanest. Removing ads, removing apps that are important for itself, and more seem like big changes. And it's likely that the company would reserve it for a big UI launch, not a decimal version like MiUI 12.5.
For the uninitiated, a stable version of MiUI 13 is also expected later this year. Reports say Xiaomi will launch the next version in June this year.
Thanks for reading till the end of this article. For more such informative and exclusive tech content, like our Facebook page