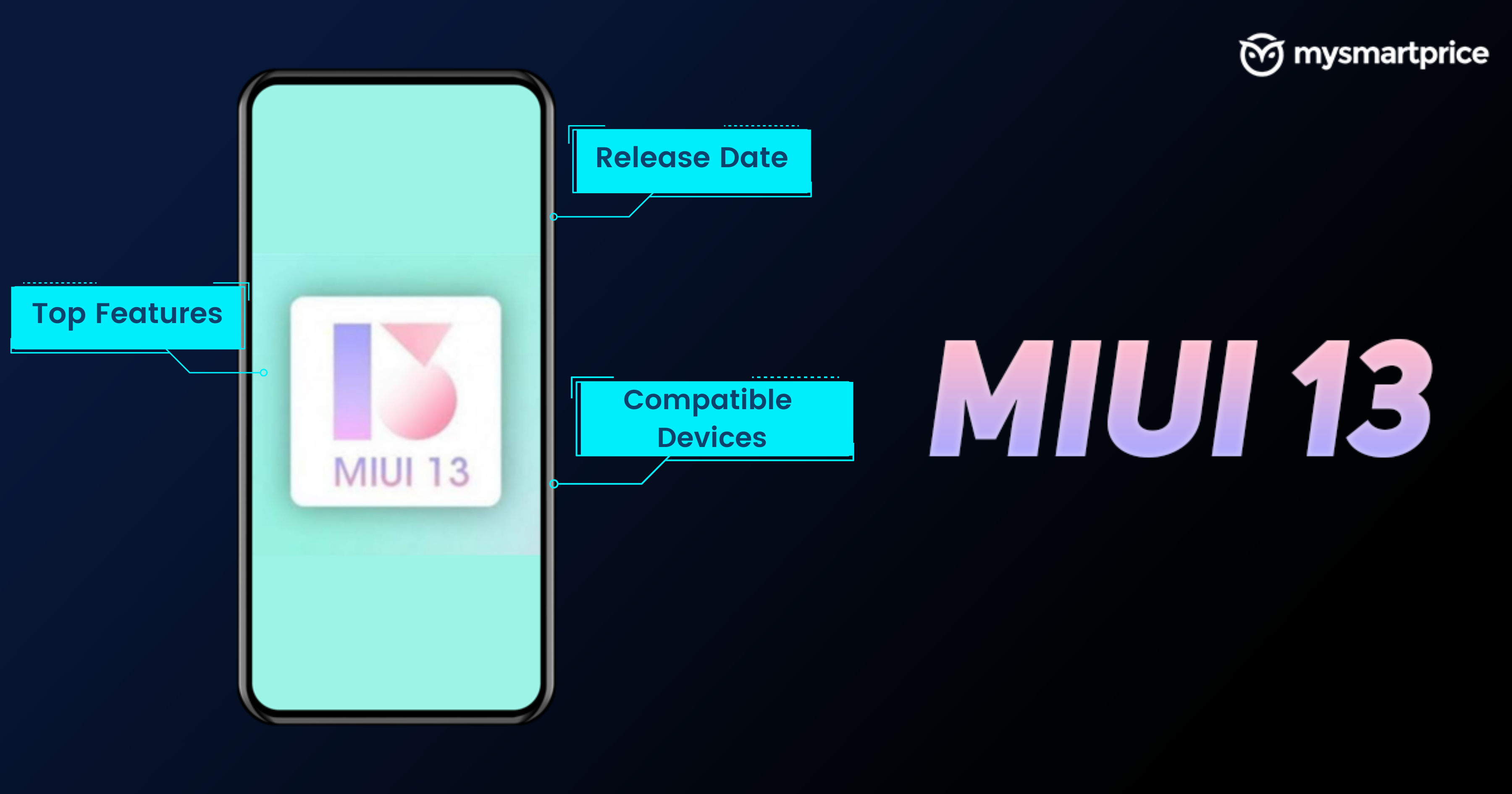 Xiaomi, known for the wide range of smartphones that it makes, is seemingly gearing up to roll out MIUI 13. The latest version of its custom interface for Android will this time run on Android 12, and as always, a number of customisations are expected to help make the interface stand out. MIUI has often been touted as one of the most notable and well heeled custom UIs for Android out in the market. While whether you like it or not will depend on what you feel about custom Android skins, MIUI 13 will be noteworthy to say the least. Here's everything to know about it.
Also Read: How to Hide Apps in Samsung, Vivo, OPPO, Realme and Xiaomi Android Mobile Phones?
MIUI 13 Update India Release Date
The MIUI 13 update India release date is currently not known at the moment. Recently, Xiaomi CEO Lei Jung said that the MIUI 13 will be launched by the end of this year. However, Xiaomi Indonesia GM Alvin Tse has revealed that in response to a query on Twitter the MIUI 13 release will not launch this year. The executive said that the upcoming version of MIUI 13 will be introduced next year. He further adds that this year the company is focusing on rolling out MIUI 12.5 Enhanced Edition.  That being said, there is still no confirmation whether it will be made available or not. Furthermore, one should expect it to be first available in China. Once it is rolled out there, Indian users will get to test the latest MIUI 13 operating system.
MIUI 13 Top Features
Xiaomi has spoken about quite a few features that are expected to be part of the upcoming MIUI 13. Here are some of the most rumoured upcoming features expected in MIUI 13:
New animations, icons and themes
One of the stronger rumours about MIUI 13 has been about "optimised animations" coming to the custom interface. While it isn't exactly clear as to what this means, MIUI 13 may get some of Android 12's goodness, including wallpaper-based themes. MIUI 13 may also bring along smoother, more natural animations to the entire interface, which may also include new designs for system icons, as well as new themes to go with these animations.
Also Read: How to Transfer Contacts from iPhone to Android Mobile Phone
Enhanced power management
One area where MIUI 13 may majorly improve on is power optimisation. Specifically, this feature would help Xiaomi introduce better low battery modes across all of its phones, which it can achieve by optimising the overall UI to consume lesser resources, and also offer multiple battery mode stages. The latter can also lead to an ultra power saving mode for extreme situations.
New always-on display
The MIUI always-on display is also expected to get an upgrade, and it is not yet clear if this would simply be a trickle-down effect of Android 12, or a general overhaul of MIUI itself. Not a lot is known about this yet, but enhancements may come in the form of how the AOD automatically adapts to various lighting situations, and how you may automate it to show or hide notifications based on what you are up to.
Also Read: WiFi Password Check: How to Check WiFi Password in Android, iOS Mobiles and Windows, macOS Laptops – MySmartPrice
App pinning on share screen
One feature that may sound marginal but can actually be of big help to many is app pinning on share screen. Here, users may get the ability to pin their most used apps to the window that opens every time you tap on the share button from anywhere in your phone. This can significantly improve the overall usage experience on MIUI, and may therefore be a key new feature of the new update.
Advanced privacy options
MIUI has at times faced criticism for serving ads within the interface, which does not inspire a lot of confidence on the privacy front. With MIUI 13, Xiaomi may add new settings and options to optimise and streamline your privacy settings on the device. This would also be in line with the new privacy dashboard that Google premiered with Android 12, and keep in times with the need of the hour.
Easier notifications management
The overall notifications management experience may also improve with MIUI 13. Although not clear how yet, the new version of MIUI may bring the ability for you to adjust your notification alerts based on more customisable factors. The notifications panel itself may bring more options to manage incoming alerts, and this may be further integrated into the slide-down menu and quick settings options on the new MIUI.
MIUI 13: List of Compatible Xiaomi Mi, Redmi and POCO Mobiles
Being one of the most anticipated custom OEM interfaces for Android, MIUI 13 is expected to be seen in a large number of phones across the Xiaomi family of Mi, Redmi and Poco phones. Here's looking at all the phones that we expect to see MIUI 13 on.
List of Xiaomi Phones
Mi 11 series: Mi 11 Ultra, Mi 11, Mi 11 Pro, Mi 11X, Mi 11X Pro, Mi 11 Lite
Mi 10 series: Mi 10T Pro, Mi 10T, Mi 10T Lite, Mi 10 5G, Mi 10 Ultra, Mi 10 Youth 5G, Mi 10 Lite 5G, Mi 10 Pro 5G
Mi Note 10 series: Mi Note 10 Lite, Mi Note 10, Mi Note 10 Pro
Mi 9 series: Mi 9 Pro 5G, Mi 9 Pro, Mi 9 Explorer Edition
Mi CC9 Pro
Mi Mix Alpha
List of Redmi Phones
Redmi K40 series: Redmi K40, Redmi K40 Pro, Redmi K40 Pro+, Redmi K40 Gaming Enhanced Edition
Redmi K30 series: Redmi K30 Ultra, Redmi K30i 5G, Redmi K30 5G Racing, Redmi K30 Pro Zoom, Redmi K30 Pro, Redmi K30, Redmi K30 5G
Redmi Note 9 series: Redmi Note 9 Pro, Redmi Note 9, Redmi Note 9S, Redmi Note 9 Pro Max
Redmi 9 series: Redmi 9 Prime, Redmi 9i, Redmi 9, Redmi 9A, Redmi 9C, Redmi 9
Redmi 10X series: Redmi 10X Pro 5G, Redmi 10X 5G, Redmi 10X 4G
Redmi K20 series: Redmi K20 Pro Premium, Redmi K20 Pro
List of POCO Phones
Poco X series: Poco X3 NFC, Poco X3, Poco X3 Pro, Poco X2 Pro (or F2 Pro), Poco X2
Poco M series: Poco M3, Poco M2 Pro, Poco M2
Poco C3
MIUI 13 Latest News
MIUI 13 Might Come with Memory Fusion Technology, Floating Game Windows, and More (July 21, 2021)
Key features of the upcoming MIUI 13 has been tipped online. As per a leaker on Weibo known as Bald Panda, the upcoming MIUI 13 will come with a new floating game window. This will allow the game to run in a small window mode. Apart from this, the MIUI 13 might also come with memory fusion technology, which could be similar to the Virtual RAM feature that is present in some OPPO and Vivo smartphones. Apart from this, one might get new animation fonts, new sound effects, and touch responses.
MIUI 13 Design Revealed in a New Leak (June 23, 2021)
As per multiple reports, the design of the upcoming MIUI 13 has been leaked online. The new design of the MIUI File Manager has been revealed which brings some new UI elements, animations, and redesigned Mi Drive page. That being said, there are no major changes between the old and new versions of MIUI File Manager application.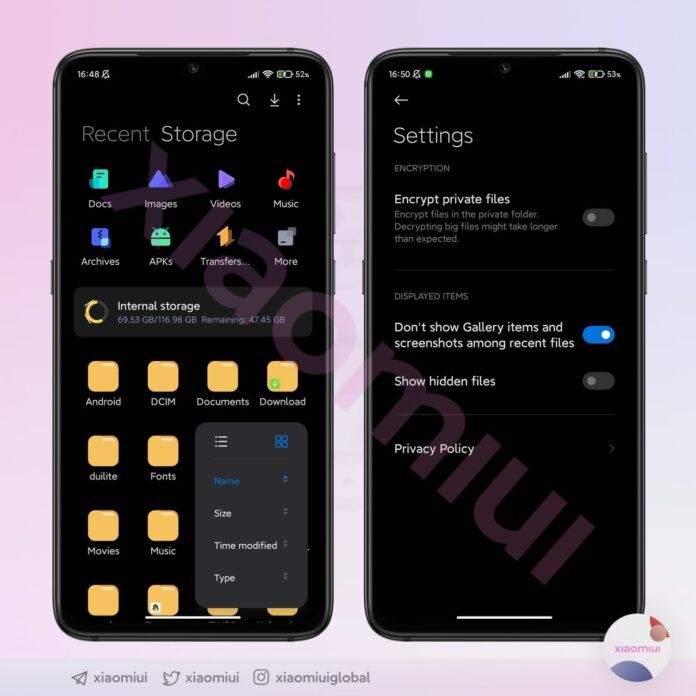 Xiaomi Mi MIX 4 Might Come With MIUI 13 (June 15, 2021)
Xiaomi is reportedly gearing up to launch a new smartphone in its Mi MIX series. The upcoming smartphone could be named Mi MIX 4 and the company is all set to bring the Mi MIX series. The leak further points out that the Mi MIX 4 might run on the latest MIUI 13 operating system. Furthermore, the phone might come with an under-display camera technology as well.
MIUI 13 is Coming Soon, Hints MIUI Cleaner beta App (June 8, 2021)
Xiaomi is all set to unveil its next-generation of MIUI 13 operating system for the masses. A new beta version of the MIUI cleaner application with version number V21.05.26.beta was spotted with a strange version of the application in the changelog. The changelog mentions that the company has added support for MIUI 13 floating windows. This means that the upcoming UI is under development.
Thanks for reading till the end of this article. For more such informative and exclusive tech content, head over to our Facebook page