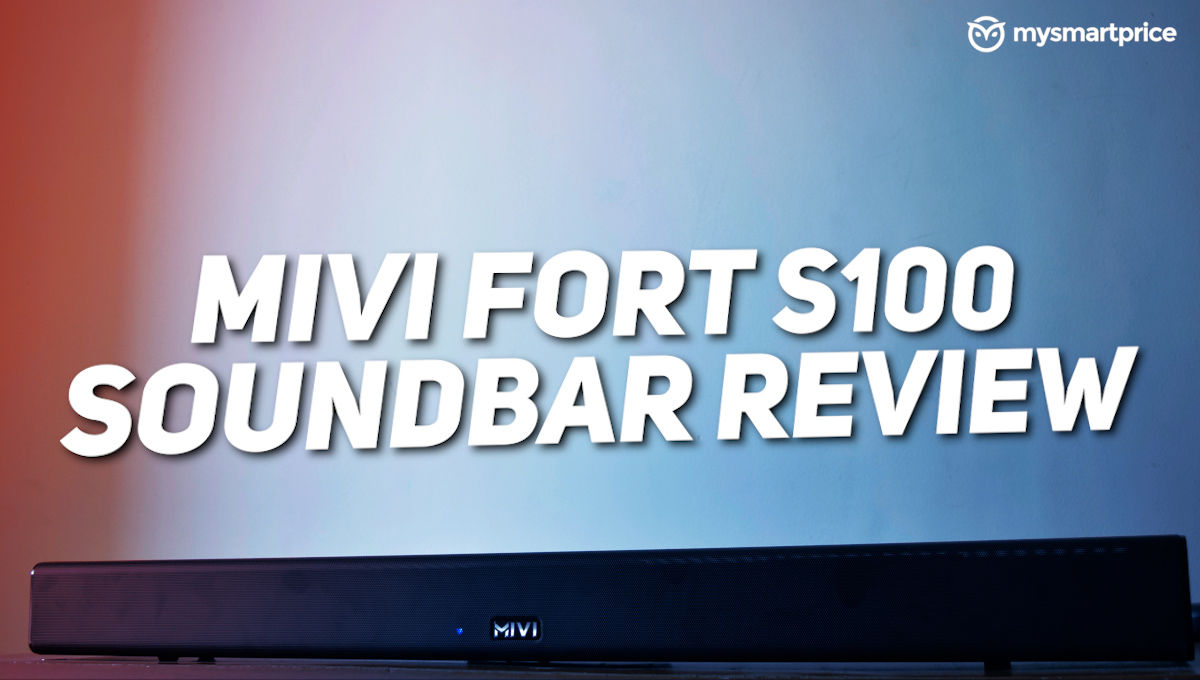 Buying a soundbar for your TV is becoming analogous to buying TWS earbuds for your smartphone – you're always unsure whether you really need them or not. But, Mivi's first attempt at making a soundbar is good enough that you can't help but consider it. Here's what it's got going for it: A total output of 100W, dual-woofers encased within the bar, a barrage of connectivity options and a price tag of Rs. 4,999. On the other hand, a soundbar of a similar configuration from the nearest competitor, Realme, comes in just a little under Rs. 7,000.
So, should you pair it up with your TV? We have spent more than a month with it, which is what we feel about it.
Mivi Fort S100 Soundbar Review: Design and build
The Fort S100 has a rounded rectangle form factor, and its size complements 43-inch TVs best. A mesh grille covers it on the front, top and bottom. The right and the left side of the soundbar have silver accents. The bottom has a plastic cover with a couple of stoppers.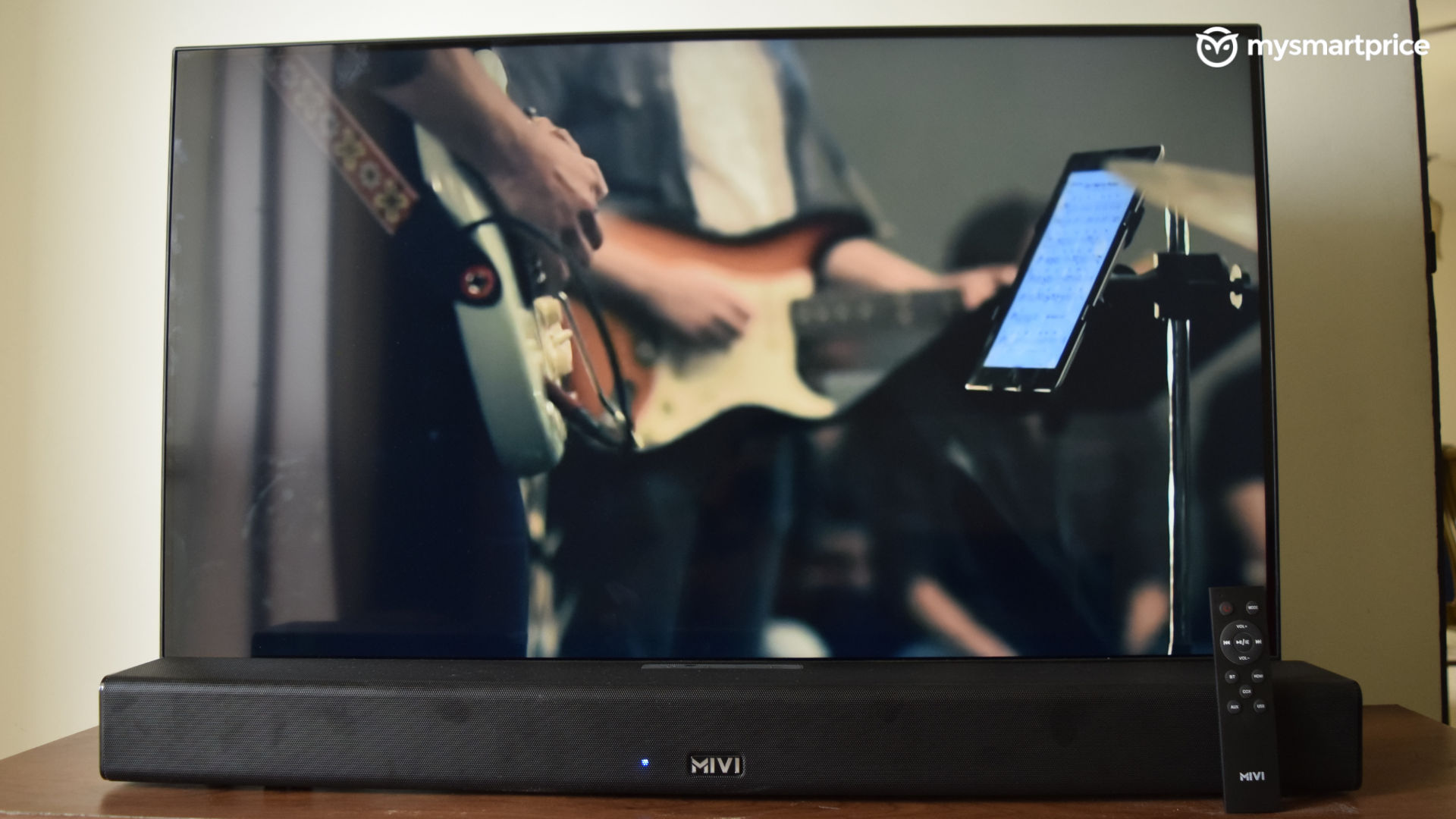 The rear side houses the 20V DC power supply, HDMI input, 3.5mm jack, USB and coaxial port. Do mind the fact that there's no RCA input here. To connect wirelessly, you have Bluetooth 5.0. There are also two wall mounting connectors on the rear.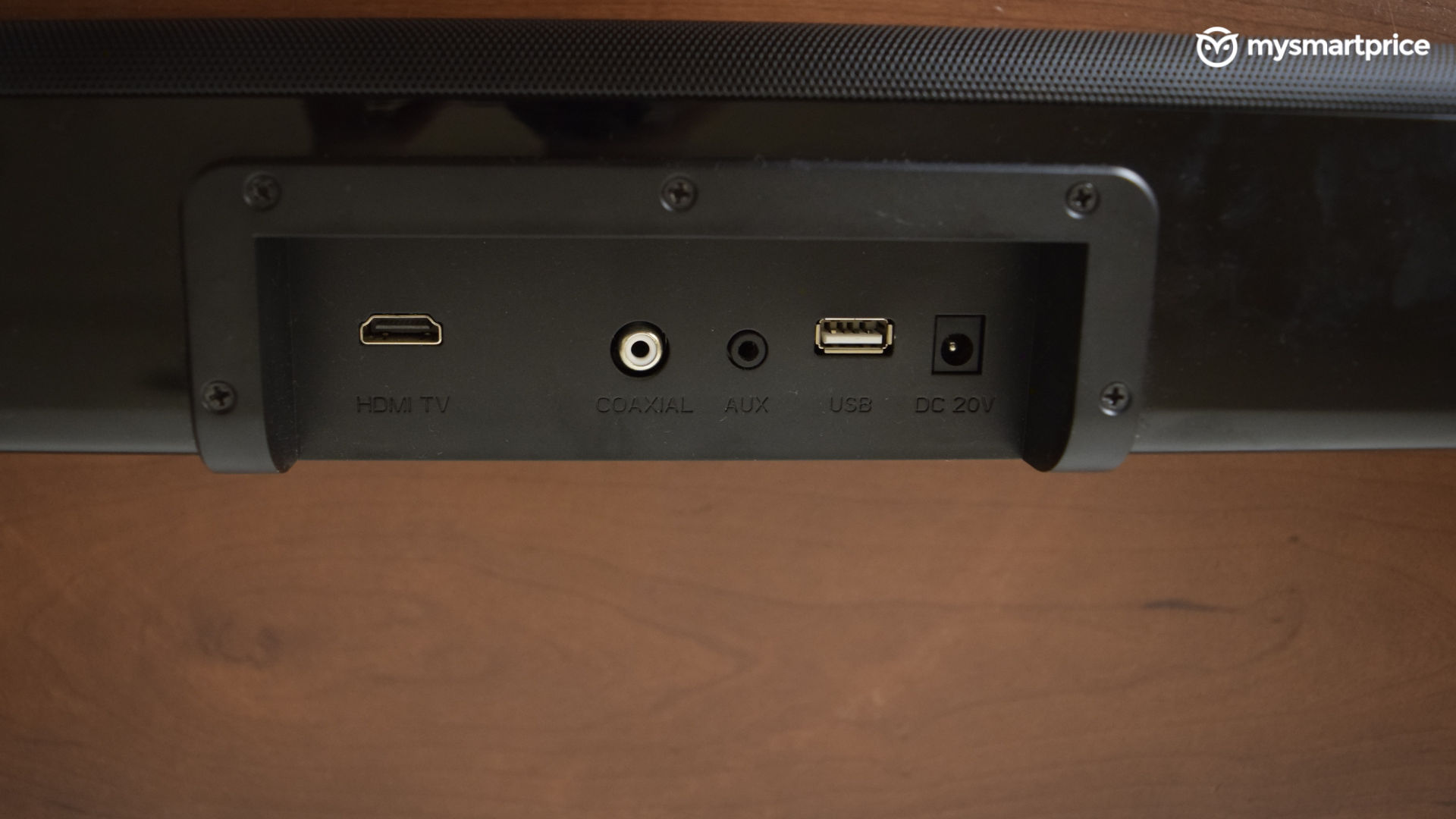 The top of the soundbar hosts the volume, source input and power buttons covered in rubber padding. The other way to interact with the soundbar is via the bundled remote.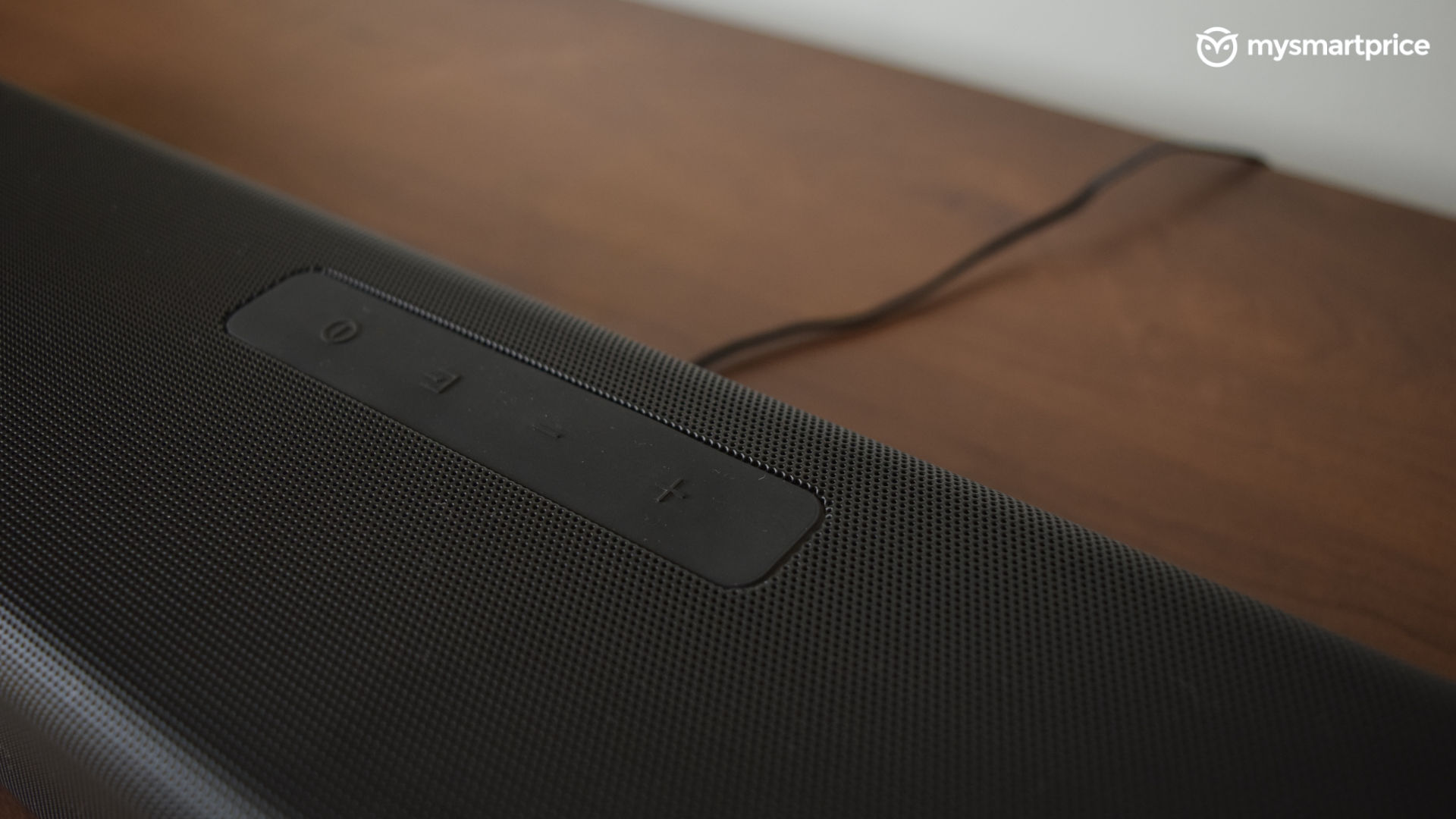 The soundbar has an understated design without too many colours or elements spoiling the look. It is also only so tall that its height reaches only the bottom of most TVs that rest with their stands, so it doesn't intrude into your viewing experience. In terms of design quirks, the mesh is quick to catch dust, so you'll need a microfibre cloth to maintain its looks. The Mivi logo at the front can also be visually loud to some.
Mivi Fort S100 Soundbar Review: Sound and day-to-day use
The Mivi Fort S100 features dual 58mm drivers as well as two dedicated 78mm woofers with a combined output of 100W. We have tested the Mivi Fort S100 with the Xiaomi Smart TV 5A 43-inches and various smartphones.
The sound leans towards the bass-ier side without a lot of compromise on vocals, which is an interesting sound profile for a soundbar. The highs aren't as hard-hitting, though. It does get plenty loud, though, enough to justify it as a companion to most smart TVs, but it tends to crackle above 85% volume. We also put it up directly against the 65-inch OnePlus TV Q-series, which has an excellent built-in soundbar, and just in terms of presence, the Mivi Fort S100 took a marginal victory simply because of its loudness.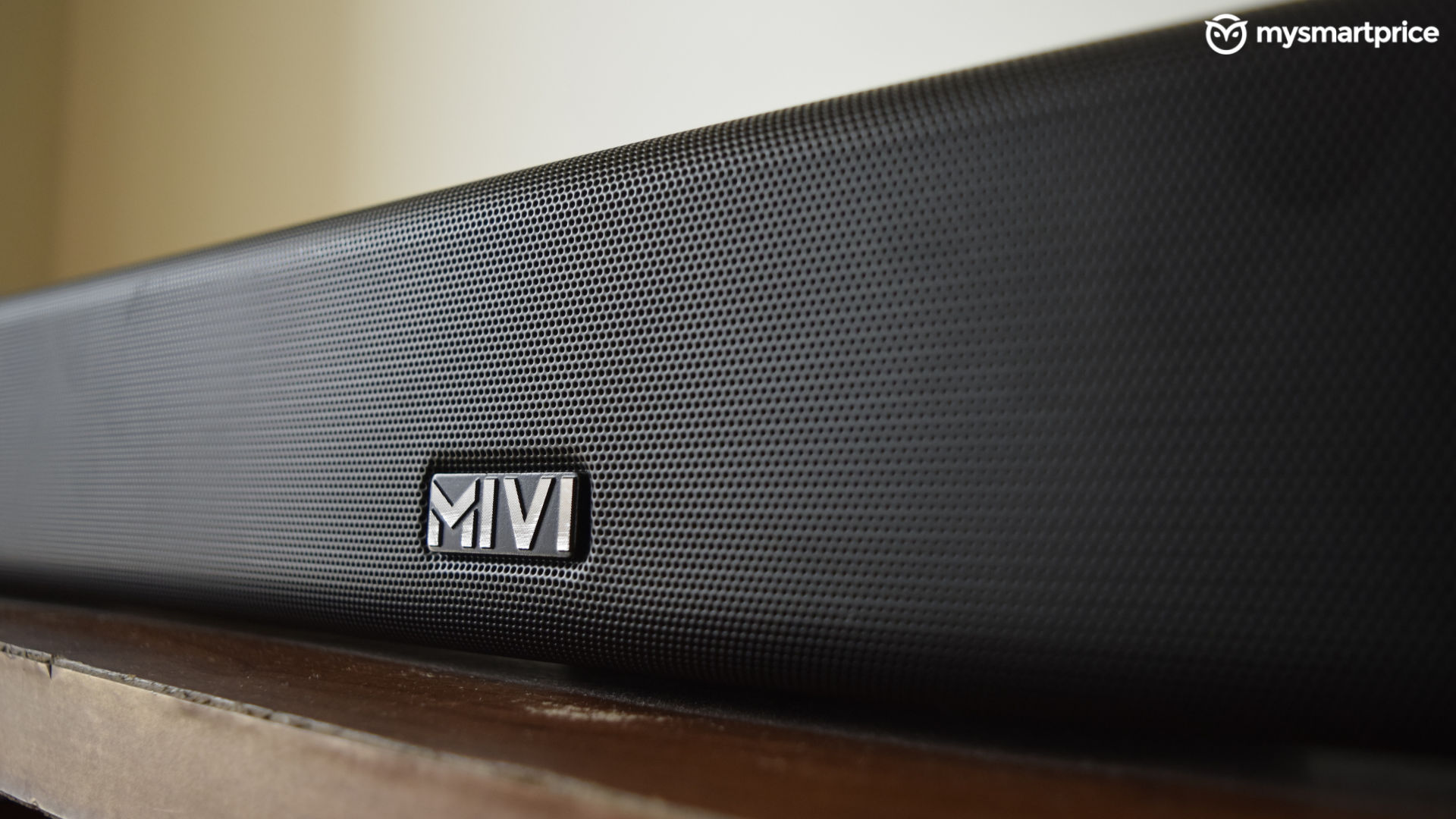 The soundbar is good at emphasising vocals in TV series and films without making the sound effects overwhelming or having any clipping, two things that are very commonly observed in built-in TV speakers.
We also made this our daily music listening speaker for a month, and we were satisfied with how it can tackle playing upbeat music, but don't get your hopes too high if the only thing you listen to is EDM. The lacklustre representation of high frequencies will leave you wanting more headroom. But then, you also have to remind yourself about the fact that this soundbar costs just Rs. 4,999.
We connected to the soundbar mostly using Bluetooth, and connecting to it is a pain-free, single-tap job that can be done effortlessly in a matter of seconds. We did observe some sync-out issues while watching content on TV, but it was pretty much spot on with a smartphone and with good range too. We could easily be connected to the soundbar two rooms away.
Mivi Fort S100 Soundbar Review: Oh, the quirks
While the Mivi Fort S100 is just a soundbar at the end of the day, there are some quirks we feel you should know about. The remote, for instance, can get really frustrating to use because of how slow the soundbar registers its inputs. While the volume controls can mainly be dealt with by a TV remote or a smartphone, changing the source takes at least 5-8 attempts before it registers. We confirmed this wasn't a battery issue because we tried this with three sets of fresh batteries.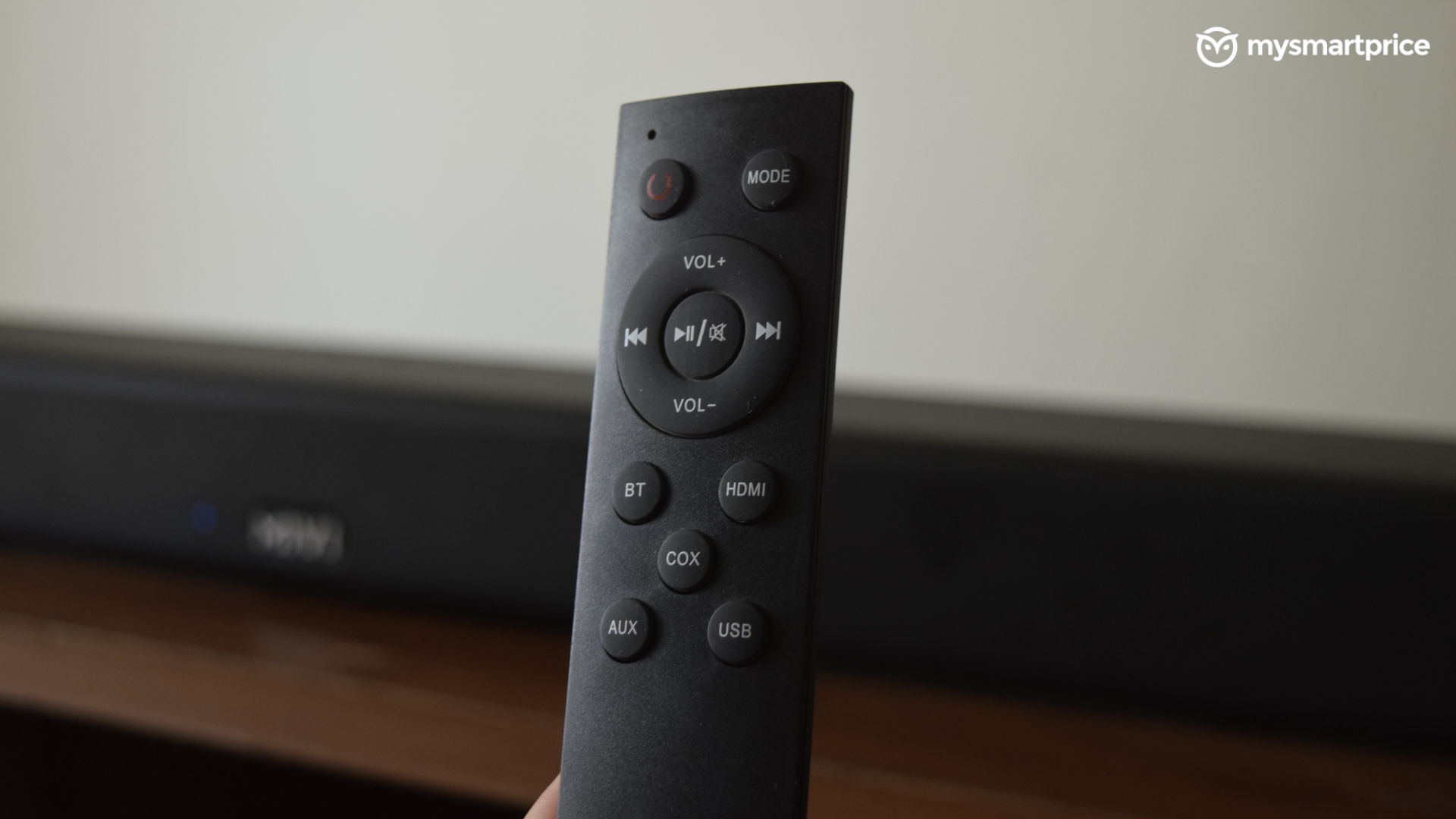 Further, changing the source using the soundbar's physical button is also annoying because there's just one button to cycle through the TV, aux and Bluetooth. We would have liked dedicated hotkeys for different inputs, and we are sure they wouldn't take up too much space.
The Mivi Fort S100 also doesn't allow you to fiddle with its EQ, has no auto-off functionality and doesn't retain the previous mode once it's turned off, something that can be unnerving if you live in an area with frequent electricity cuts. Instead, it always starts with the Bluetooth mode.
Mivi Fort S100 Soundbar Review: Verdict
The price of Rs. 4,999 makes the Mivi Fort S100 unique because the soundbars in this range have lower outputs, and the ones priced higher come with a dedicated woofer unit and a few more speakers.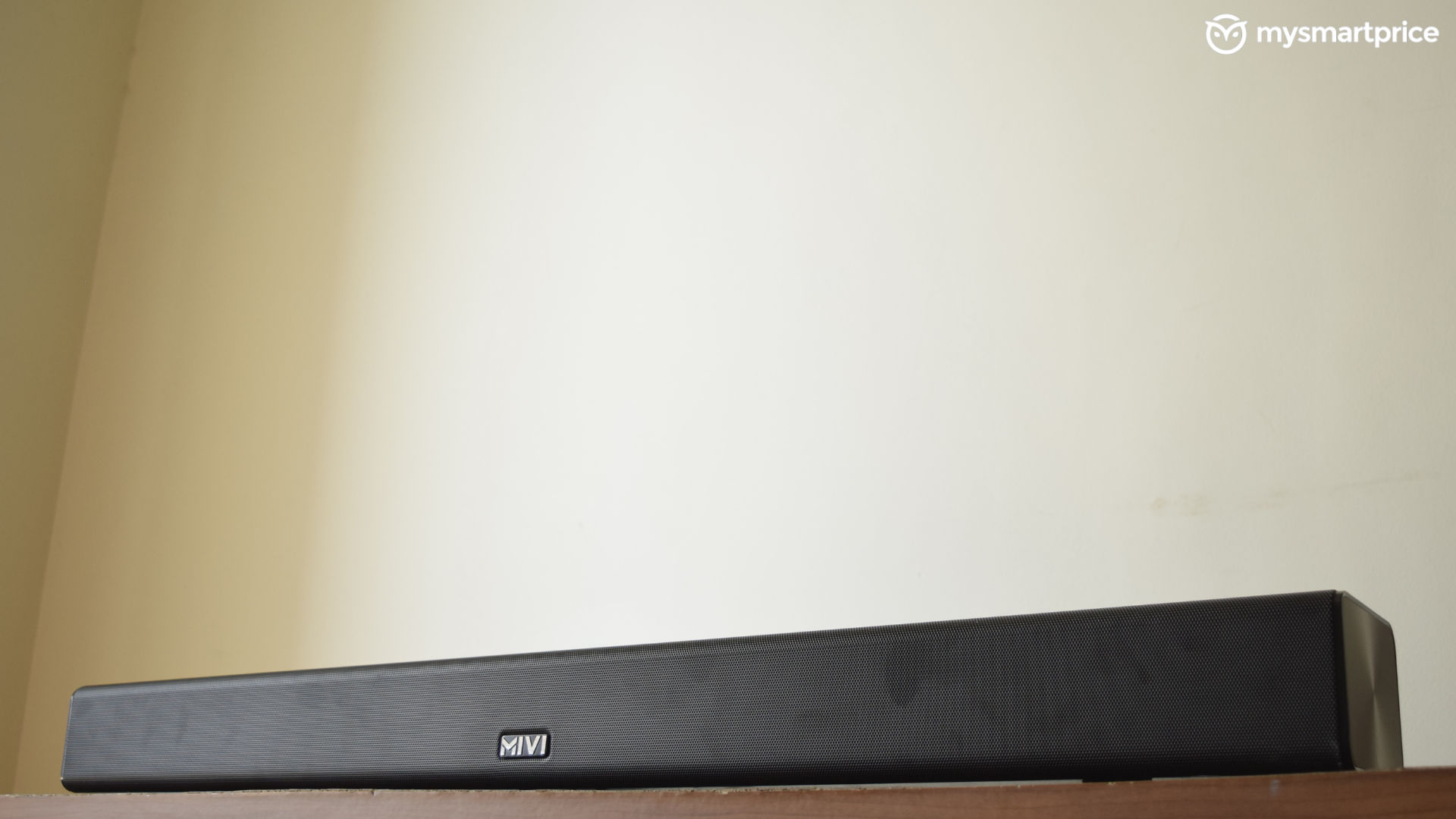 It is relatively compact, features an understated design that goes well with most TVs, and can even be wall-mounted. So if you have a constrained budget and are willing to live with its quirks, the Mivi Fort S100 can be a good pick for you. While it can't go toe-to-toe with higher-priced soundbars, its closest competitors would be Zebronics' Zeb Juke Bar, which offers a bit more bass and Dolby's Audio tuning.
The Realme Soundbar is another higher-priced option, but then it also comes with a standalone woofer.
CONNECTIVITY OPTIONS
7.5/10
What Is Good?
Clean, minimalist design
100W output
Built in subwoofer
Clear vocals
Value for money
What Is Bad?
Slow remote
No input memory
No EQ control