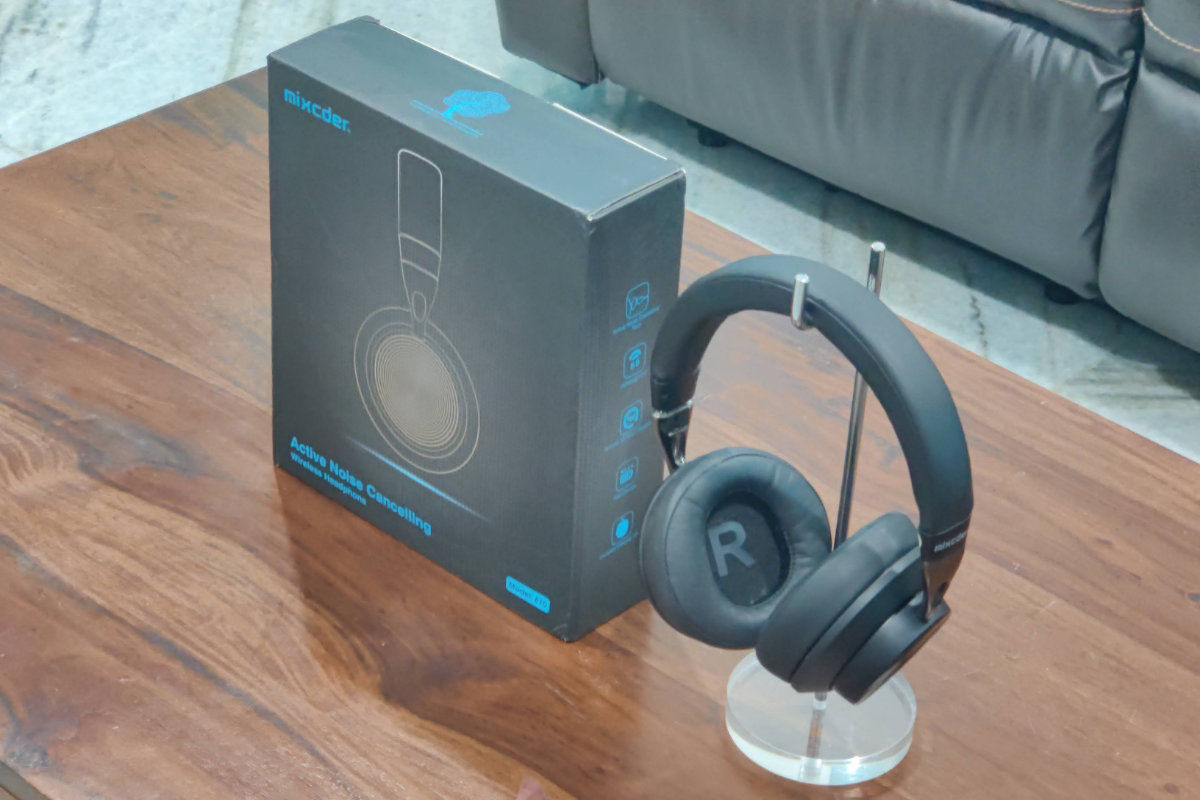 There are a lot of wireless headphones in the market, and the number of new headphones launching every year has dramatically increased ever since smartphone brands stopped offering 3.5mm headphone jacks on their high-end devices. No wonder, more people are forced to buy wireless earphones.
If you're looking to get yourself well-specced over-the-ear Bluetooth earphones without spending a bomb, you should look for these features: comfortable design with support for fold and swivel, preferably a Bluetooth 5.0 chip, support for high-resolution Bluetooth codecs (AAC and aptX), long battery life (at least 15 hours), USB Type-C port, fast charging, and a bundled carrying case. There are extremely rare cases of such headphones existing in the sub-$100 price segment.
Mixcder E10 offers almost all these features with an extremely competitive price tag of just $89.99. It misses out on a USB Type-C port but makes up for it with ANC (active noise cancellation). Very few headphones offer as many features as the Mixcder E10 in the same price segment. We had these for a few months now, and here's what we think about it.
Features, Specs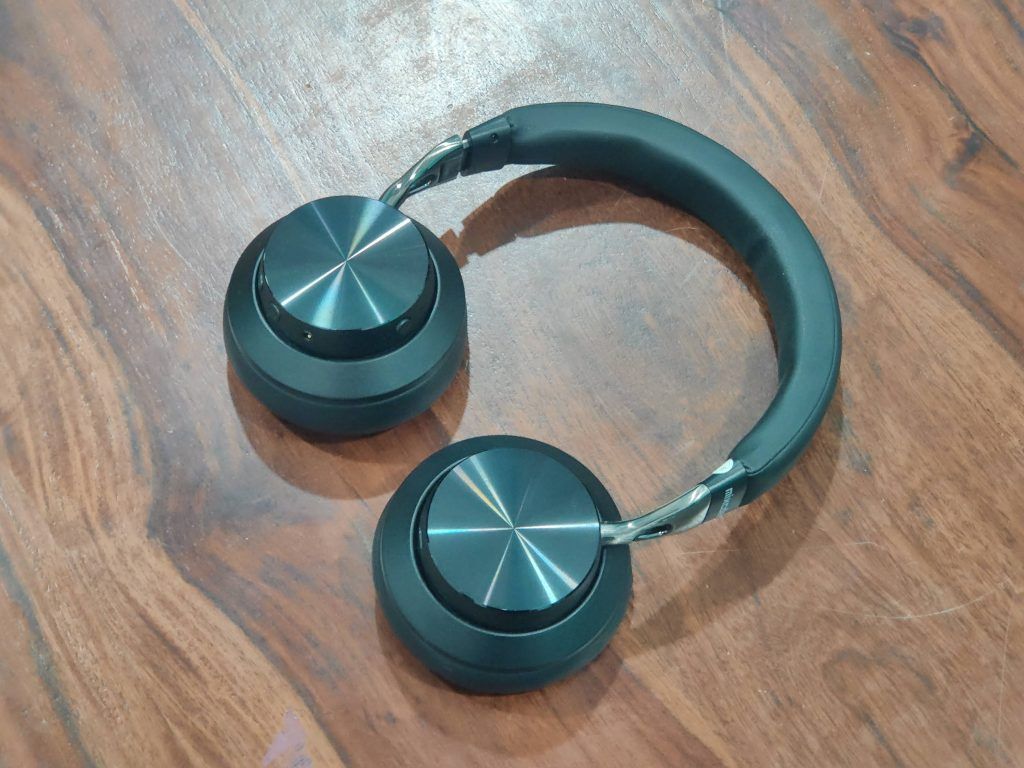 The Mixcder E10 is the company's highest-end headphones, but they are still priced really well. At $89.99 you get a lot of features and up-to-date specs. These headphones use a Bluetooth 5.0 chip from Qualcomm, which brings not only a longer range and more stable connection but also higher-resolution Bluetooth audio codecs: AAC, aptX, and more importantly, aptX LL (Low Latency). AAC is helpful if you have an iPhone, iPad, or Mac. If you have an Android phone or a Windows 10 PC, you would be able to use aptX. If you watch a lot of videos on your phone, aptX LL is of great help as it brings down the latency to as low as 40ms so that you don't notice the delay between audio and video. Very few headphones in this price range offer aptX LL.
These headphones also promise comfortable wear with plush memory foam earbuds and soft cushioning on the headband. They also offer rotatable ear cups and a foldable design. This means that you can carry them around in more compact places such as bags. Mixcder is also offering a hard carry case and an airplane adapter if you are someone who flies a lot and enjoys music and videos through in-flight entertainment systems. The Bluetooth pairing process is extremely simple (though not as simple as AirPods with iPhones). Press and hold the power button until the LED flashes in red and blue colors, and then you can find Mixcder E10 in your device's (smartphone, tablet, PC, or anything else) Bluetooth devices list. Just tap on the name of the headphones, and you're good to go.
Design
Mixcder E10 review: Design
These earphones are super comfortable. The memory foam pads on the earcups are extremely soft and plushy, so you can keep wearing them for hours without feeling pressure against your ears. The headband is covered with cushioning, too, so that the headphones feel comfortable on your head. The clamping pressure was just right. These headphones look and feel more premium than the price tag suggests. Moreover, since the earcups can rotate and swivel, they take up less space in your bag.
The only thing that pissed me off in terms of design was the position of the buttons. The placement is extremely unintuitive, and even after using them for weeks, I had to search for those buttons whenever I wanted to control music or turn ANC on/off. And the buttons feel tacky. This is one area where Mixcder might want to improve with its next-gen headphones.
Audio Quality & Active Noise Cancellation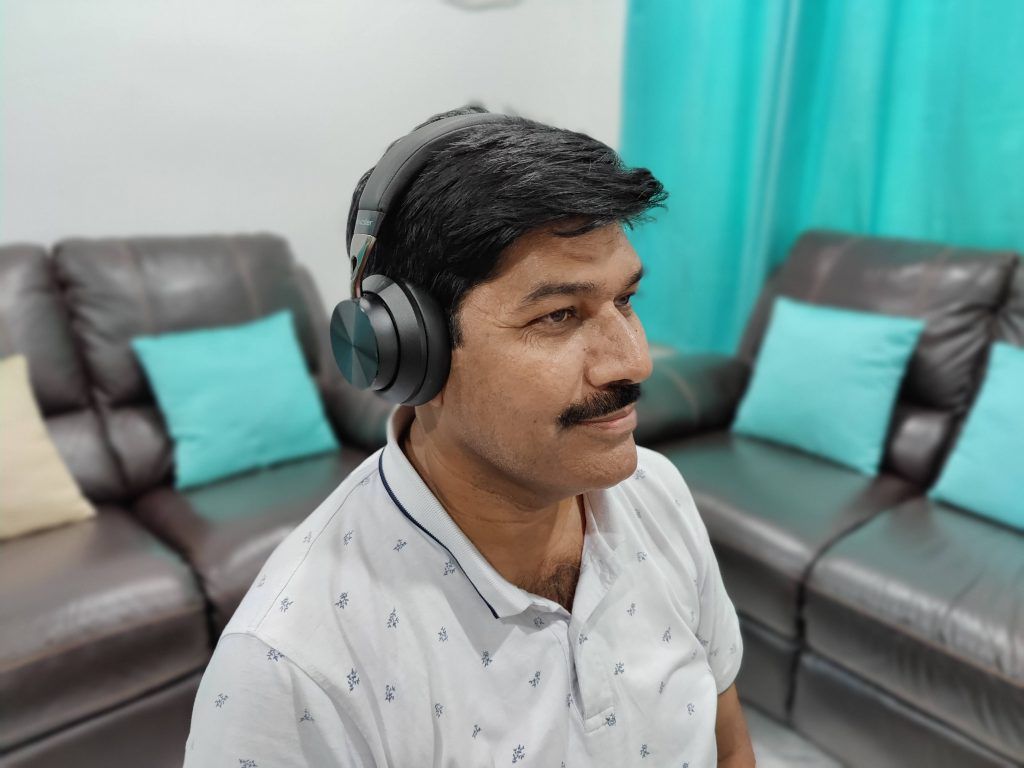 I listen to a lot of pop and Bollywood music, but there's a good amount of classical, electronica, and hip-hop music in my library. Most of the testing was done with the headphones connected to my Realme X2 Pro and the aptX codec enabled. I used Apple Music and Spotify most of the time to listen to 320kbps audio files. Since these headphones also have a 3.5mm port, you can listen to them in wired mode when they run out of battery charge.
The headphones sounded slightly warm. There was a hint of accentuated bass but it was nothing close to being uncomfortable. It was composed and not boomy, unlike most headphones in its price range. Vocals sounded clear and instrument separation is decent. Highs are just okay, though. Instead of sounding crisp, highs sound smooth and laidback, and if you're someone who likes smooth audio, you might like the Mixcder E10. Audio sounded full-bodied, too, at least for the price of the headphones.
The soundstage was quite average, and it wasn't anywhere close to pricey rivals like the Bose QC 35 or Sony WH-1000XM3 that I had tested earlier. These headphones might not sound audiophile-grade accurate, but most people buying these might not be looking for a flat sound signature. And the Mixcder E10 delivers just what they might be looking for: enjoyable audio with slightly emphasized bass and clear vocals. Moreover, if you watch a lot of videos, the aptX LL will come in really handy as it reduces latency by a huge margin, at least on Android devices that support aptX LL codec.
Thanks to the snuggly-fitting earcups, most of the outside noise is isolated even without ANC turned on. When you're indoors or in non-noisy environments, setting the volume to mid-level will drown out all outside noise. When you're in noisy environments like a busy street, a train, or a flight, you can turn on ANC through the dedicated button. With ANC turned on, outside noise like people talking or an engine's noise gets drowned out. However, sounds like a sudden clap or drop might be able to get through Mixcder E10's noise cancellation system.
In the ANC mode, sound profile changes, though. The headphones sound overly warm and the bass goes all boomy. This is where pricier ANC headphones like the Jabra 85H and Sony WH-1000XM3 shine. The audio quality of those headphones doesn't change as much when ANC is activated. You also start to feel a bit of pressure with the Mixcder E10 in the ANC mode. One more aspect of these headphones that bothered me was that there's no audio feedback to relay when ANC mode is turned on or off. You'll have to rely on the LED light to check if the ANC mode is activated or not. But who wants to remove headphones to check if ANC is active or inactive
Battery Life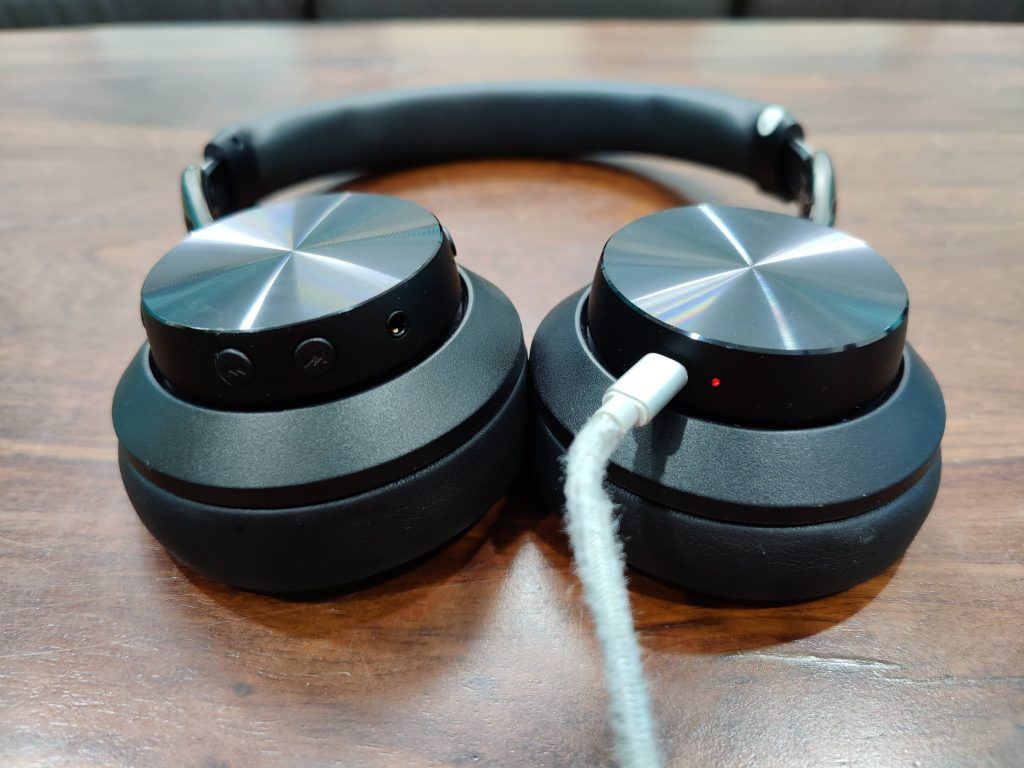 Mixcder promises a 30-hour battery life from the E10 with a single charge. There are headphones that offer even longer battery life, but those are usually priced much higher. I was able to listen to music hours on a stretch (usually 5-6 hours) while working, then keep them aside, and then continue listening to music the next day. And I was able to do that for 2-3 days on a single charge. I think that's good enough for most users.
The headphones take around a couple of hours to charge fully. I expected them to have a USB Type-C port since the headphones are so up-to-date on specs in other areas. However, it comes with the dated microUSB port, but a company representative told me that they are also working on a newer version with a Type-C port. The headphones also support some form of fast charging which the company calls MSC (Mixcder Super Charging).
Conclusion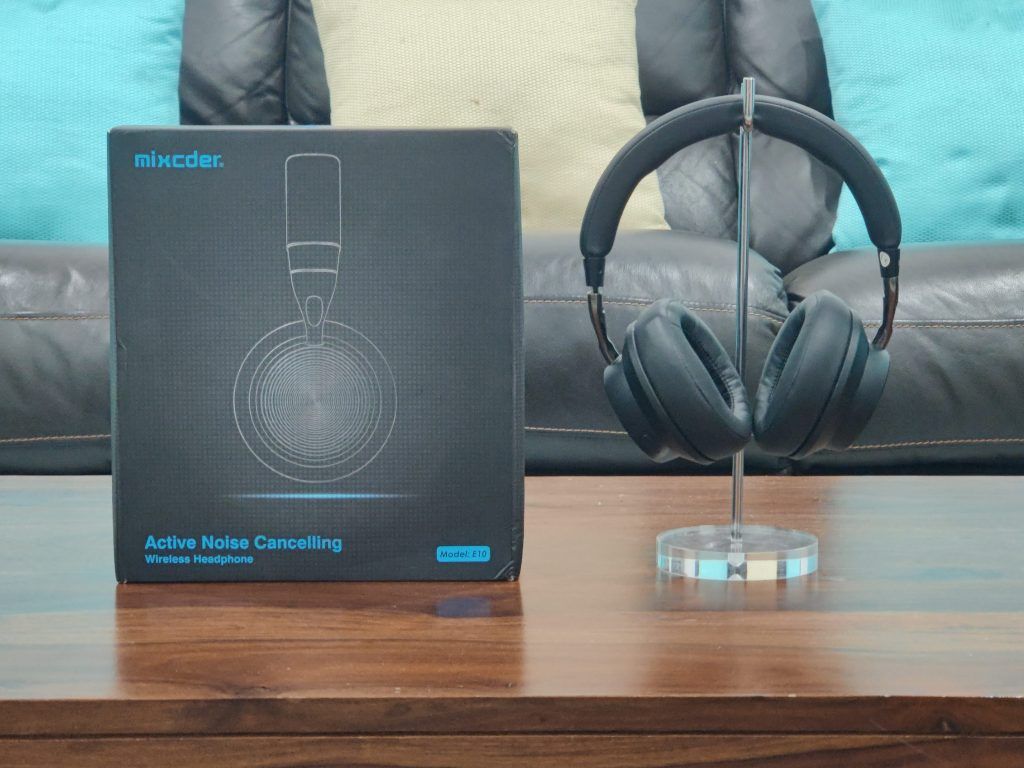 The Mixcder E10 offers great value for money. At just $89.99, you get Bluetooth 5.0 connectivity with high-quality Bluetooth audio codecs for a cleaner sound. They look and feel much more pricey than they really are, and you can wear them for hours on a stretch. They sound good too, at least with the ANC mode turned off. Mixcder's noise cancellation works well, but there's room for improvement.
I might be nitpicking comparing the ANC quality of the Mixcder E10 with the likes of the Jabra 85H or the Sony WH-1000XM3, but hey, someone needs to point out what you'll gain by spending more on premium ANC headphones, right? But kudos to Mixcder for offering so many features and decent audio quality in the sub-$100 price segment. Now, if they could only improve the button layout and offer a USB Type-C port in the next version, they would become even more recommendation worthy.
What Is Good?
Comfortable design and good build quality
Support for AAC, aptX, and aptX LL
ANC in this budget
Good battery life
Good packaging
What Is Bad?
Bloated bass in ANC mode
Lacking in quality of highs and mids
Confusing button placement
Uses the outdated microUSB port