Highlights
Mobile phones are now officially banned inside the Kedarnath temple.
No photography and videography will be allowed inside Kedarnath temple.
Kedarnath Temple Management Committee puts up posters outside the temple.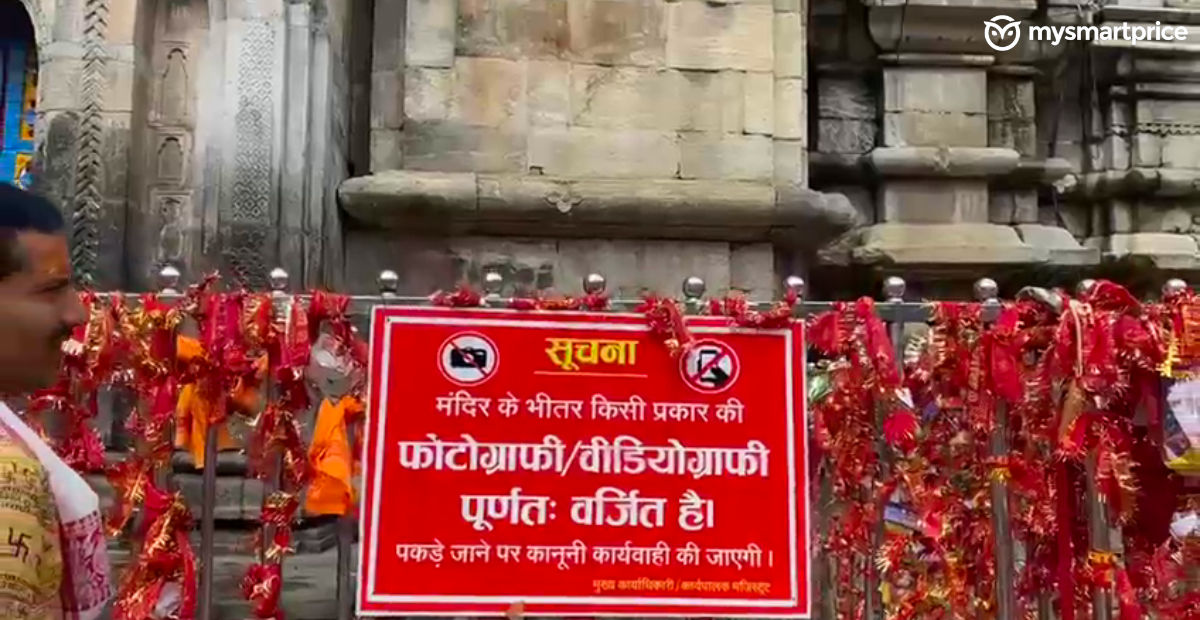 Kedarnath Temple Management Committee has finally banned the use of mobile phones inside the temple premises. This means that no photography or videography will be allowed inside Kedarnath Temple. The temple management made the ban official by issuing an official order and asking authorities to put up boards for the same.
The poster put up by Shri Badrinath-Kedarnath Temple Committee outside the temple says,
"Do not enter the temple premises with mobile phones; any kind of photography and videography is strictly prohibited inside the temple, and you are under the surveillance of CCTV cameras".
Another poster outside the temple premises read,
"Legal action will be taken if caught."
But why did it happen, and what events led to this? We explain in this story.
What Led to Photography and Videography Ban Inside Kedarnath Temple Premises
Kedarnath Temple has issued several new orders (Via PTI) that are effective today. The first is the smartphone ban inside temple premises. The temple committee has also asked devotees to wear decent clothes. Lastly, it has asked people to resist setting up tents or camps in the temple precincts. Do note that legal action will be taken for not following the orders.
Shri Badrinath-Kedarnath Temple Committee president Ajendra Ajay said a religious space follows a set of belief systems, and the devotees should respect the same.
Why Mobile Phones Banned Inside Kedarnath Temple?
Multiple travel bloggers and influencers post videos about the Kedarnath temple each year to let other people know about it. There were guides, travel vlogs, reels, and full-fledged YouTube videos, which helped user plan their travel event.
However, some videos have been highly criticised by people on social media, claiming they hurt religious sentiments.
The matter became controversial when a female blogger proposed to her partner inside the Kedarnath Temple premises earlier this month. The matter was big enough to divide the internet.
Here're some examples of people criticising the event.
One of the Reasons why Smartphones should be Banned from All Leading Temples & Shrines

Just a Basic Phone within 20 KMs from the Main Temple, Eliminates Unnecessary Crowd

PS – I'm writing this from Kedarnath 🛕

— Ravisutanjani (@Ravisutanjani) July 1, 2023
I do not find anything wrong in this video. Rather it's beautiful.

– Marriages do take place in temples across India.

– Absolutely fine if a couple takes marriage vows in the witness of Lord Shri Kedar himself.

– The couple in the video seems to be appropriately dressed as…

— Rahul (@rahulenlightens) July 2, 2023
Mandirs are abodes of Bhagwan Shri and spiritual places.These are not parks or tourist places. Such acts & Phones must be banned at all such places. There should be no such sacrileges or Beadbi. Why are Hindus not respecting their own Dharma? Degradation of the value system. https://t.co/yIyL7A3yLR

— Anindpat55 (@anindpat55) July 2, 2023
We ourself make the mockery of our Temples. https://t.co/6QC8gchqF4

— Sid Iyer (@SiddhuRaghavan) July 1, 2023
Last week, the Badrinath-Kedarnath Temple Committee asked the local Police to take action against such people in an open letter as they were hurting religious sentiments. The Police ensured that action would be taken against such people.
From now, the order about the mobile phone ban comes into effect.
What's Next?
If you are going to Kedarnath temple, make sure you don't use mobile phones inside the temple or take any photos or videos. Besides that, make sure you follow other orders like wearing decent clothes and avoiding setting up tents not to attract any unwanted attention.
At this point, it is not clear what legal action will be taken against those flouting the rules.