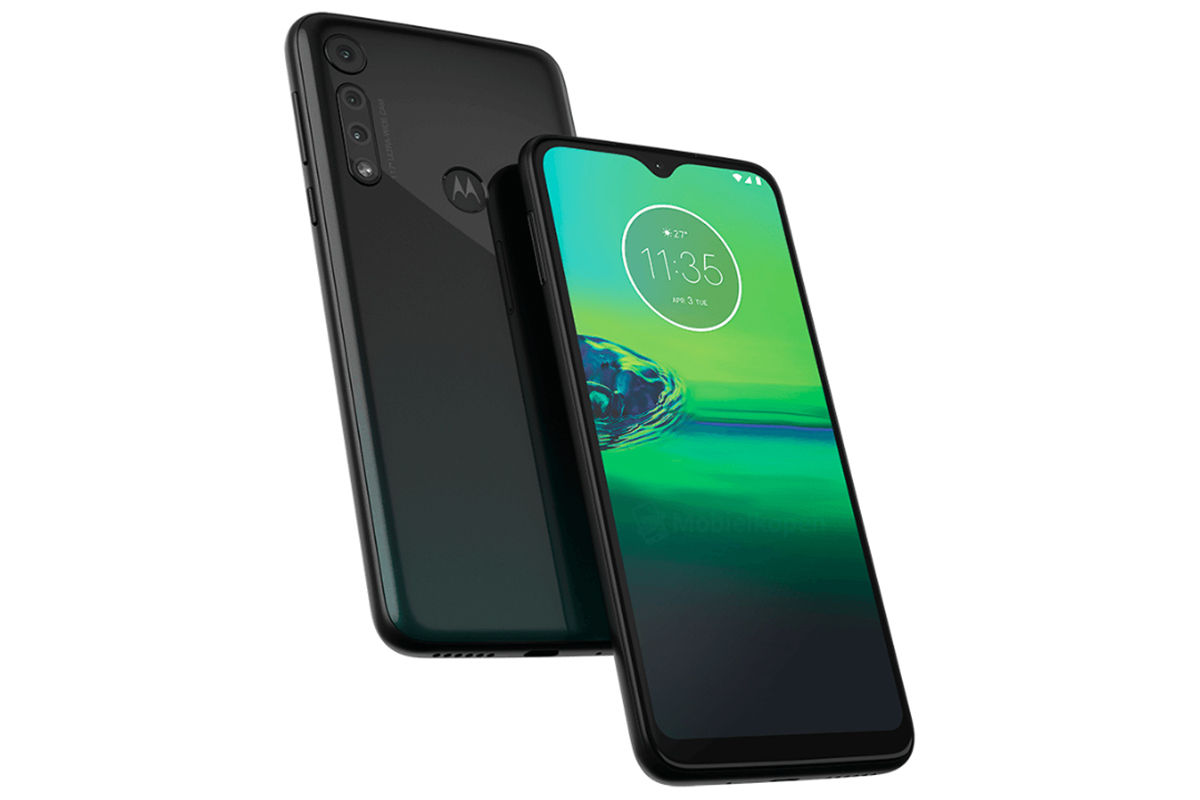 A couple of days ago, the allegedly upcoming Motorola Moto G8 Plus was leaked in purported official renders. And today, thanks to a Dutch tech publication, Mobielkopen, we have renders of another allegedly upcoming smartphone in the Moto G8 family – the Motorola Moto G8.
Motorola Moto G8 Leaked Renders
As you can see in these renders, the Moto G8 looks similar to the Moto G8 Plus. However, there are a few differences. For example, the Moto G8 misses out on a laser autofocus unit that is in the Moto G8 Plus, and the Moto G8 uses a V-shaped notch instead of a U-shaped notch that its sibling has.
Differences aside, these renders show that the Moto G8 has a triple-camera at the rear. Although the resolution of these cameras is unknown, one of them is an ultrawide camera, as the tagline beside the camera setup mentions. Considering that among the remaining two camera sensors, one would be a primary camera, the other could most probably a depth sensor. Beside the rear camera setup, there seems to be a fingerprint scanner that doubles up a Motorola logo.
If these renders are to be believed, the Moto G8 has a USB Type-C port, speaker, and a microphone at the bottom, power and volume buttons to the right-hand side of the device, and a 3.5mm audio jack at the top. Moreover, you can expect the device to come in black and red color variants, as shown in these renders.
What Should You Expect from Moto G8?
Unfortunately, there is no information regarding the display size, processor model, RAM capacity, internal storage, and the battery capacity of the Moto G8 yet. That being said, you can expect it to have a sub-6-inch IPS LCD with Full HD+ resolution, a Snapdragon 6xx or 7xx chipset, RAM capacity between 3GB to 6GB, internal storage between 32GB to 128GB, and battery capacity in the range of 3000mAh to 4000mAh.
Moto G8 Series Is Allegedly Launching On 24th October
Also, worth mentioning is that Mobielkopen isn't sure if this device is the Moto G8. According to them, the device in these renders could also be the Moto G8 Play. The brand is also said to launch to Moto G8 Power alongside the Moto G8, Moto G8 Plus, and Moto G8 Play. Speaking of, a leaked invite suggests that the Moto G8 series will be unveiled on 24th October in Brazil.