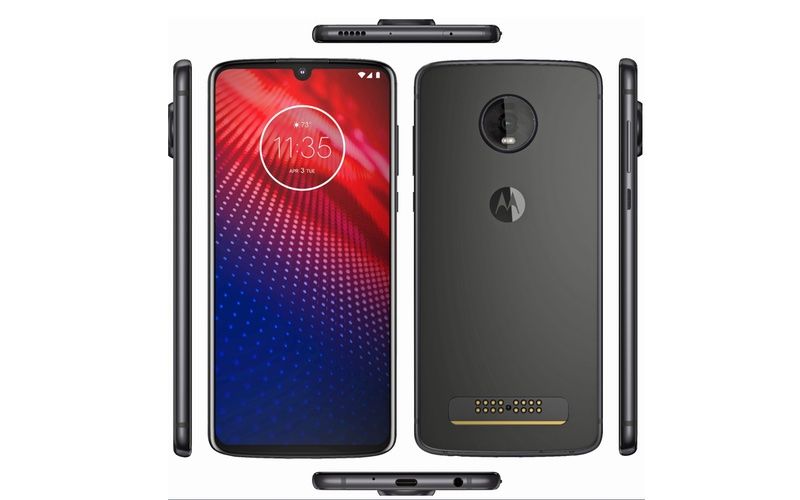 The release of a new Moto Z-series smartphone from Motorola has been under speculation for some time now. The infamous leakster Evan Blass gave us a good a look of the Moto Z4 in a recently leaked render. A few days earlier, the specification of this phone also leaked, but curiously, it stated that the Moto Z4 would run on a mid-range Snapdragon 675 SoC. Considering last year's Moto Z3 was a flagship phone that came with a Snapdragon 835 SoC, the decision to go with a mid-range processor on its successor was sounded preposterous, until now.
Andre Yatim, a leakster known for outing confidential information about unreleased Motorola smartphones, has disclosed that the phone maker will release two Z-series smartphones called the Moto Z4 and Moto Z4 Force. The leakster confirms that the Moto Z4 will bear mid-range specs, while the Moto Z4 Force is intended to be the successor to the flagship Moto Z3. As a response to a comment, the tipster also says that there will be "quite a few NEW mods!" launching alongside these phones.
Moto Z4 Leaked Specifications, Price
#motoZ4 is a $399, 6-128GB SD675 device with a FHD+, 6.4" OLED screen, 3632mAH battery, 48MP f1.6 SmartAI cam and a 24.8MP f1.9 selfie shooter. #motomods #IP67 pic.twitter.com/YQcHyeAVgi

— Andri Yatim (@HeyAndri) May 2, 2019
The newly leaked specifications of the Moto Z4 fall in line with previous reports. The phone is said to feature a 6.4-inch OLED screen that bears a Full HD+ resolution. There will be an in-screen fingerprint scanner on this phone, as well as a chassis that gets an IP67 rating. The back of the phone sports a single 48MP Smart AI camera with an f/1.6 aperture, while the front houses a 24.8MP f/1.9 aperture selfie camera in a waterdrop style notch. The smartphone will indeed be powered by a Snapdragon 675 chipset which will be paired with 6GB of RAM and 128GB of storage.
The Moto Z4 is said to carry a price tag of $399 that equates to about INR 27,500.
Moto Z4 Force Leaked Specifications, Price
Difference this time with the Z4 Force is the latter is SD8150, 8-128GB, 3230mAH and 48MP f1.6 + 13MP f1.8 + 8MP f2.0 telephoto.
Same 24.8MP f1.9 FFC.
Weird mix Of OmniVision and Sony lenses.
Both get in-display TouchID.
Z4F is $650. pic.twitter.com/81hywpwGa1

— Andri Yatim (@HeyAndri) May 2, 2019
Then we have the flagship Moto Z4 Force which will come powered by a Snapdragon 855 which will be paired with 8GB of RAM. Internal storage on this phone is said to measure in at 128GB. According to the leak, this phone will have a combination of OmniVision and Sony lenses. The back of the phone will sport a triple rear camera comprised of a 48MP f/1.6 aperture + 13MP f/1.8 aperture + 8MP f/2.0 aperture setup. Meanwhile, the front of the phone will bear the same 24.8-MP camera seen on the Moto Z4. The battery on this phone is said to measure 3230mAh. Just like the vanilla Moto Z4, this phone will feature an in-display fingerprint meanwhile scanner as well.
The fact that the Moto Z4 Force bears three cameras at the back suggests all the renders we have seen in the past belong to the vanilla Moto Z4, and that we are yet to see what the Z4 force looks like. The Z4 Force is said to be priced at $650 which equated to around INR 45,000.