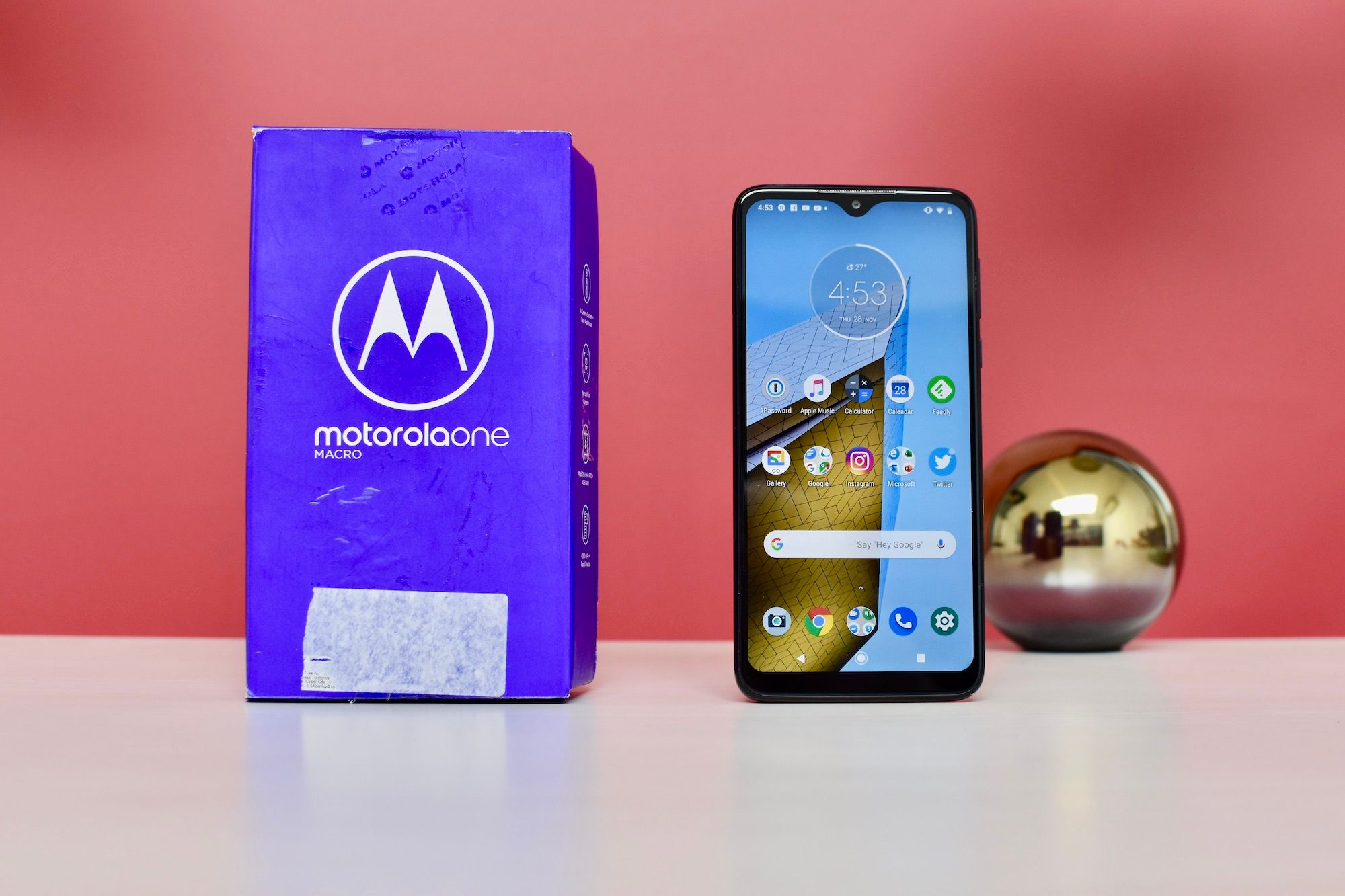 The Moto G series was once the go-to smartphone choice in the mid-range segment. However, it lost its sheen after the likes of ASUS, Honor and Xiaomi started launching impressive value-for-money phones with better specs.
Motorola One Macro
₹9,999
Design and Build Quality
6.5/10
What Is Good?
Fast fingerprint reader.
Quick performance.
Clean software.
Good battery life.
USB Type-C port.
What Is Bad?
HD+ resolution screen doesn't look sharp.
Cameras not up to the mark.
No quick charging.
No Wi-Fi ac or Bluetooth 5.0.
No fast charger in the box.
Motorola came back strongly last year with the Moto One Power (Review), thanks to its all-rounder approach. Moto One Vision (Review) and Moto One Action focus on camera-centric features, and they were released subsequently but did not reach the popularity of the One Power. Now, the Lenovo-owned brand has come up with Moto One Macro, an affordable smartphone with a dedicated macro lens as its differentiating factor.
Is it enough to save Motorola in the affordable smartphone segment? I don't think so. Let's find out why.
[P_REVIEW post_id=171176 visual='full']
Motorola One Macro Video Review
Motorola One Macro Box Contents
Motorola One Macro
10W Wall Charger With USB Type-A Port
USB Type-A To USB Type-C Cable
Quick Start Guides, Paperwork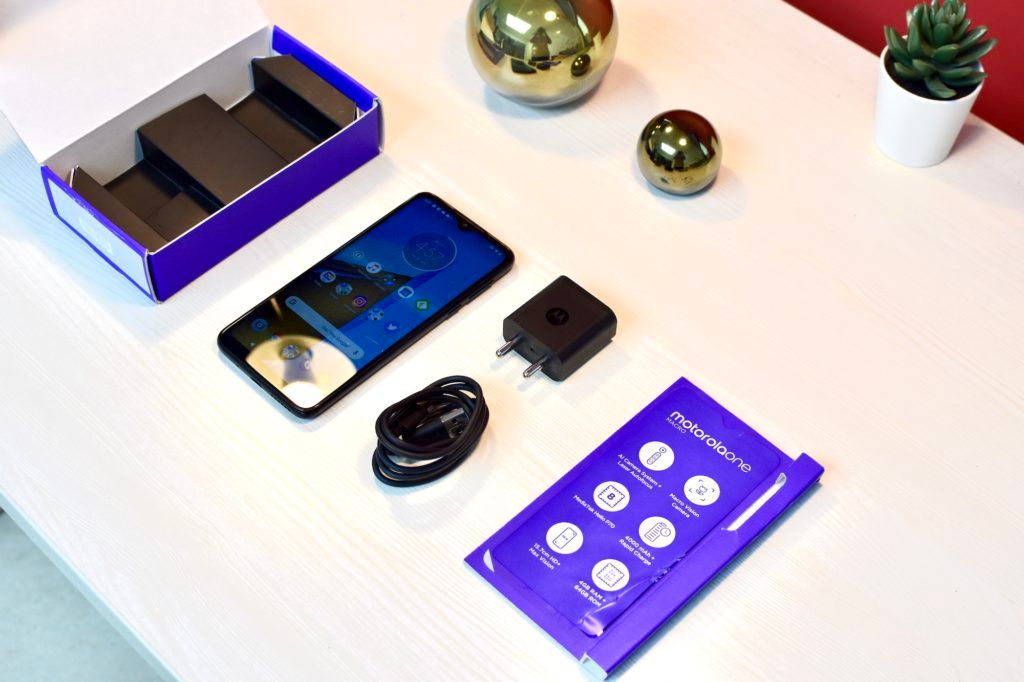 Motorola One Macro Design
Motorola One Macro Design
The One Macro's design follows the footsteps of the company's One Vision and One Action smartphones. There's a large screen at the front with a waterdrop-shaped notch, sizeable chin and thin side bezels. The plastic body has a glossy finish and a water splash-resistant build. There's a headphone jack at the top, which I think should've been at the bottom, but that's my personal preference.
The Motorola One Macro has a very simple design, with no glitter factor whatsoever. The glossy back picks up fingerprints and scratches easily. Volume buttons are hard to reach. Competing phones have much fitter and better-looking designs. At least, the fingerprint reader is at an optimal position. I think Motorola could have chosen a more attractive design considering that competing phones have a more glittery look and premium glass panels.
Motorola One Macro Display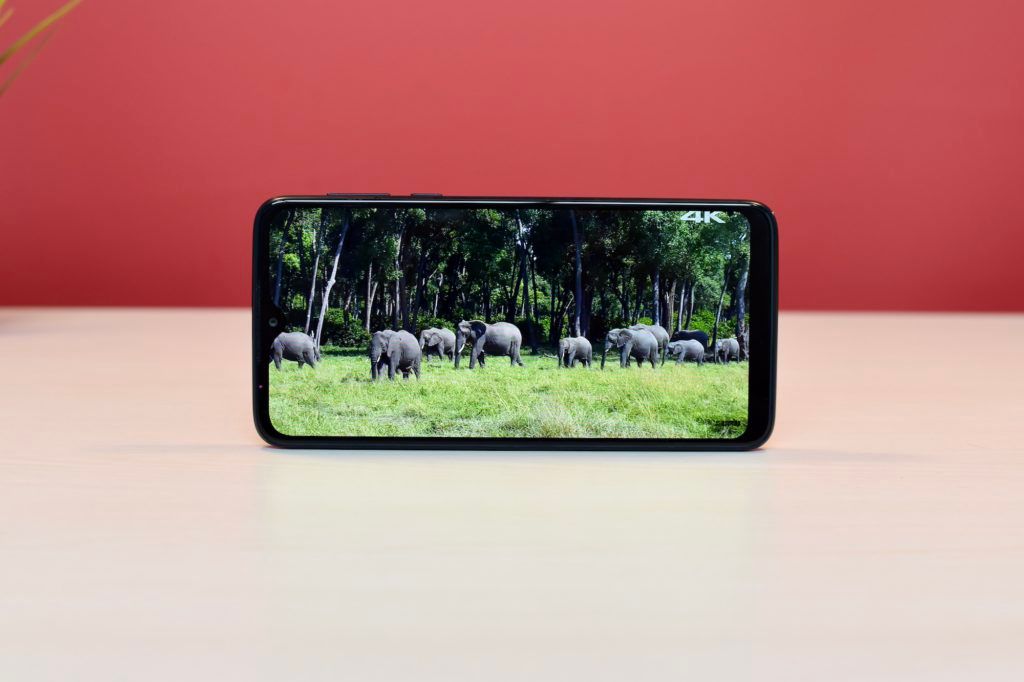 There is a 6.2-inch IPS LCD screen with HD+ resolution with thin bezels on all the sides and a waterdrop-shaped notch at the top. There are three colour modes: Natural, Boosted, and Saturated. There's Adaptive Brightness feature for fine-tuning automatic brightness behaviour of the phone. The Night Light mode makes the screen easier on the eyes by reducing blue colours.
Colour accuracy seemed decent to me, at least for its price. The screen is decently bright, but it appears slightly pixelated. Competing phones like the Redmi Note 8, Redmi Note 7S, and the Realme 3 Pro use Full HD+ screens. Most people might not notice individual pixels while watching images or videos, but it is noticeable while browsing the web or reading text. Moreover, I would've liked a little more contrast. Touchscreen accuracy and multitouch performance seemed good to me.
Motorola One Macro Cameras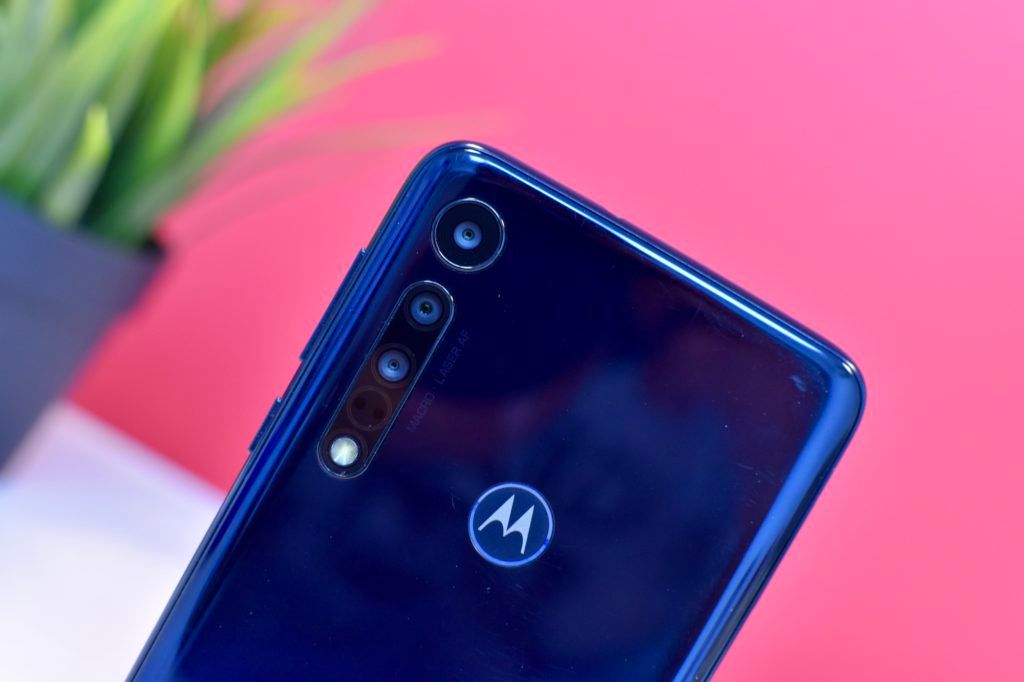 There are three cameras on the rear, a 13MP primary camera (1/3.1-inch sensor), a 2MP depth sensor, and a 2MP camera with a macro lens. The primary camera with F2.0 aperture, phase-detection autofocus, and laser autofocus. It can also record 1080p 60fps videos. The 2MP depth sensor is used for capturing portraits, while the 2MP macro camera can be used to capture extremely close objects.
The camera app is quite simple but filled with features. There are three main modes between which a user can switch: Photo, Video, and Macro. There are various other modes that are tucked away into a grid-shaped icon. Other still image capture modes include Cinemagraph, Cutout, Live Filter, Panorama, Portrait, and Spot Color. Video modes include Macro, Slow Motion, and Timelapse. There's a Manual mode, too, which lets you set exposure, focus, ISO, metering, and shutter speed. There are other "AI" tools, too, such as Auto Smile Capture and Smart Composition.
Motorola One Macro Primary Camera Samples - Daylight
To be honest, the main camera is below par in terms of image quality. Rival phones that sell for the same price as that of the One Macro use much larger sensors (48MP ½-inch) with wider apertures, offering images which are brighter, have more details and lower noise. Colours come out balanced, unlike many other phones, but that's the only thing that the phone gets right.
Motorola One Macro Camera Samples - Low Light
Even the dynamic range is limited compared to other phones in the price segment. Plus, there's no Night Mode to speak of, which means low-light images that are soft, filled with noise, and lack details.
Motorola One Action Macro Camera Samples
The dedicated macro camera can get quite close to objects, but a resolution of 2MP makes them utterly useless. Plus, images showcase softness towards corners. You can just click the image with the main camera and then crop it to get better details compared to the macro camera. That's true for most phones of this year which have dedicated macro cameras. The depth sensor allows capturing images with background blur effect, also known as portrait images. It messes up the hair and ears in most portrait images.
Motorola One Macro Selfie Camera Samples
The quality of 1080p 60fps videos recorded using the One Macro is quite average. There's a bit of focus hunting and narrow dynamic range. The selfie camera is average, too, and the problem is with higher than usual noise and limited dynamic range. In low-light conditions, selfies showcase a lot of noise.
Motorola One Macro Software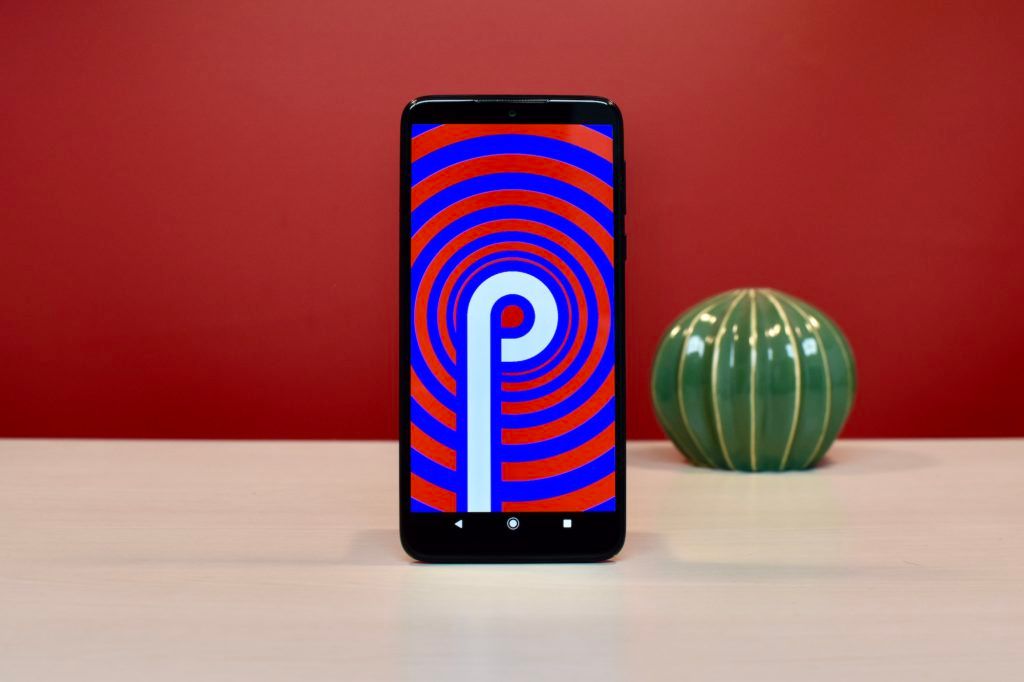 The One Macro's software is close to stock Android UI, with a sprinkle of Motorola's custom features such as Moto Actions and Moto Display. Motorola makes it a point in its marketing material that it offers relatively better software experience, so I was quite disappointed to see that the One Macro was running Android 9, and not Android 10.
Here are the Moto Actions features:
Quick Capture: Twist your wrist twice to open the camera. Twist the wrist twice once again for switching between front and rear-facing cameras.
Fast Flashlight: Chop the phone twice to turn on or off the flashlight.
One Button Navigation: A hybrid on-screen navigation system using a pill-shaped-button. Frankly, I found this better than Google's implementation in Android 9 Pie.
Three Finger Screenshot: Swipe down using three fingers on the screen to capture a screenshot.
Screenshot Editor: Edit a screenshot easily after a screenshot is captured.
Flip For DND: Flip the phone on its face to turn on Do Not Disturb mode.
Pick Up Silence: Pick the phone up when it is ringing to silence the ringtone.
Swipe To Shrink: Swipe from the middle of the screen to one of the bottom corners of the phone to shrink the display and make it more accessible.
Here are the two Moto Display features:
Peek Display: Interact with notifications when the screen is turned off and the phone is in sleep mode.
Attentive Display: Do not turn off the screen when the user is looking at the screen.
The UI is easy to use and feels very cohesive. There were no major stutter or frame drop issues that I noticed.
Motorola One Macro Performance
The Helio P70 chipset is quite potent, especially for HD resolution screens. It is paired with 4GB RAM in the Moto One Macro. There's 64GB of internal storage and an option to expand storage space using a microSD card slot.
I felt that the performance of the phone was satisfactory, and on par with other phones at the same price. Apps opened swiftly and the UI was responsive. There were mostly no stutters or UI frame drops to speak of. Even synthetic benchmark tests like 3DMark, AiTuTu, AnTuTu, GFXBench, Geekbench, and Androbench offered a positive outlook for the device's performance. GPU-related benchmarks showcased on-screen (HD+) and offscreen (1080p) test results to be on par with the Snapdragon 665 chipset used in other phones, which is a good outcome.
The cellular radio signal reception was adequate but I felt that the loudspeaker was quieter than usual. The Bluetooth version is 4.2, sadly, while competing phones using Snapdragon chipsets offer Bluetooth 5.0 connectivity. If you own Bluetooth earphones, especially the truly wireless ones, there's a good chance that you might experience better connectivity and reliability with phones that have Bluetooth 5.0.
Motorola One Macro Battery Life
The 4000mAh battery inside the One Macro supports up to 10W charging. The phone comes bundled with a 10W Turbo Charger, which takes more than 2 hours for a full charge. The phone has a USB Type-C port, which is good to see. With a full charge, the One Macro usually lasted a day and a half. Even with heavy use, the phone can easily last a day.
Is Motorola One Macro Worth Buying?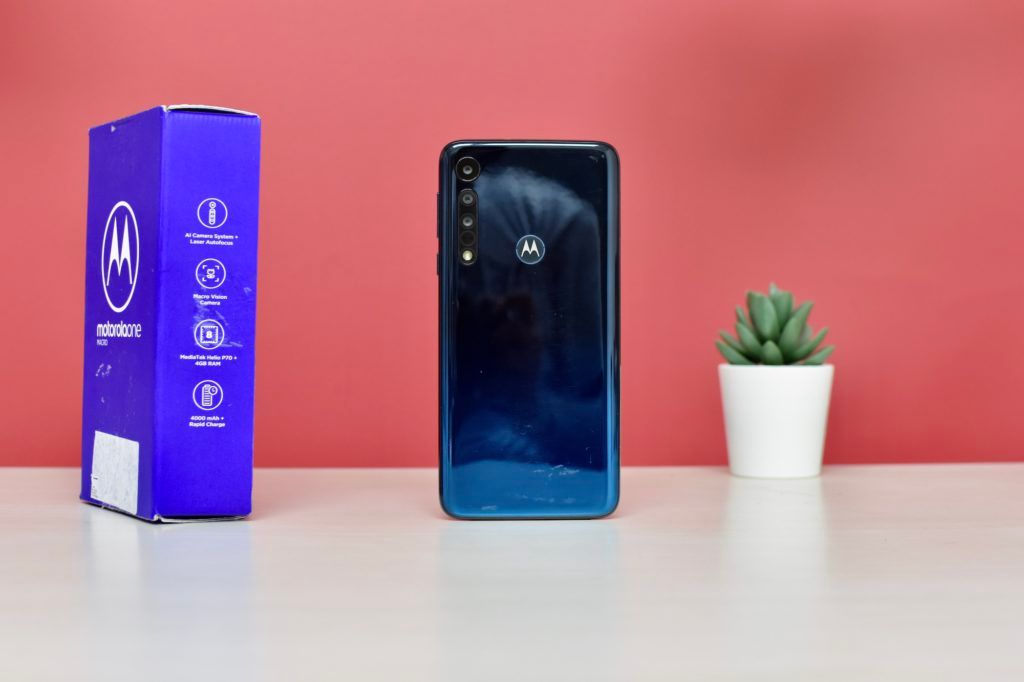 The Moto One Macro is a decent phone when viewed in isolation. It has a simple design, decent performance, clean software, and good battery life. However, competition has far more to offer. Devices like the Redmi Note 8 have far prettier designs, higher resolution screens, faster performance, more software features, longer battery life, and most importantly, much better cameras. Some of them also come bundled with fast chargers.
The macro camera, which Motorola thinks could be a differentiating factor, isn't. The largely useless feature is available in other phones in the segment, and we all know that 2MP macro cameras are not up to the mark when it comes to practicality. So, the One Macro just feels like a below-par effort from Motorola.