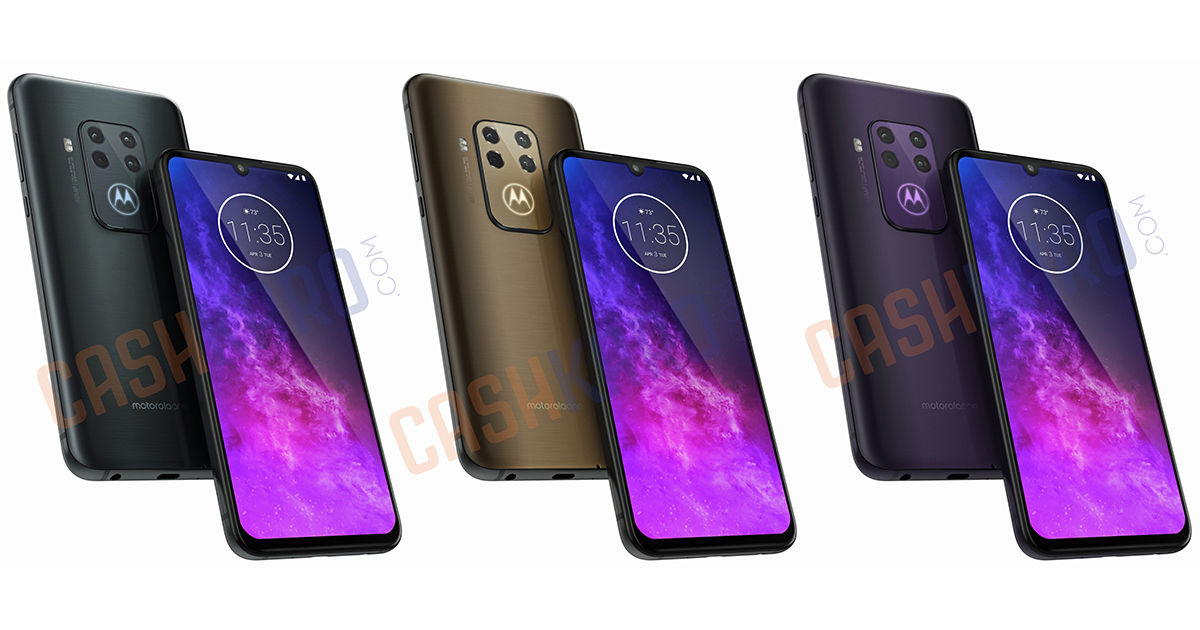 We first came to know about the Motorola One Pro last month, when CashKaro revealed 360-degree renders of the device. And today, CashKaro has revealed a few more renders of the device in three different color variants.
Motorola One Pro Leaked Renders
Just like the previously leaked renders, these renders reveal that the Motorola One Pro will have a quad-camera setup at the rear. There is still no information what these four cameras might be for. However, in my opinion, the quad-camera setup might include a conventional FoV camera, an ultrawide camera, a telephoto camera, and a depth sensor. As you can see in renders, the smartphone has a nearly-bezel design and a display with a notch in the center. The inclusion of a notch is quite surprising, because the One Pro is expected to be an advanced variant of the One Vision, and the One Vision has a punch-hole, not a notch. Maybe, the One Pro is not an advanced variant of the One Vision after all, but a different entity.
What we can also see in renders is that there is no evident fingerprint scanner at the back, which means that the One Pro will most probably have an in-display fingerprint scanner. And if our speculation is true, then the One Pro will most likely come with an AMOLED display, because it is not possible to put an in-display fingerprint scanner in LCD panels. Lastly, these renders once again confirm that the One Pro will have a USB Type-C port, 3.5mm audio jack, and a bottom-firing speaker. According to the recent leak, the One Pro will have a 6.2-inch screen, and it will measure 158.7 x 75 x 8.8mm. With the camera hump, the thickness is said to be 9.8mm
Motorola One Vision Will Launch in India Tomorrow
And while we are speaking about Motorola's One series smartphones, it is worth mentioning that Motorola is all set to launch the Motorola One Vision in India tomorrow at an event in New Delhi. The Motorola One Vision has already been launched in other countries, and its specifications are already out. You can read more about the specs here. The Motorola One Vision is expected to launch in India with a price tag of around INR 20,000.