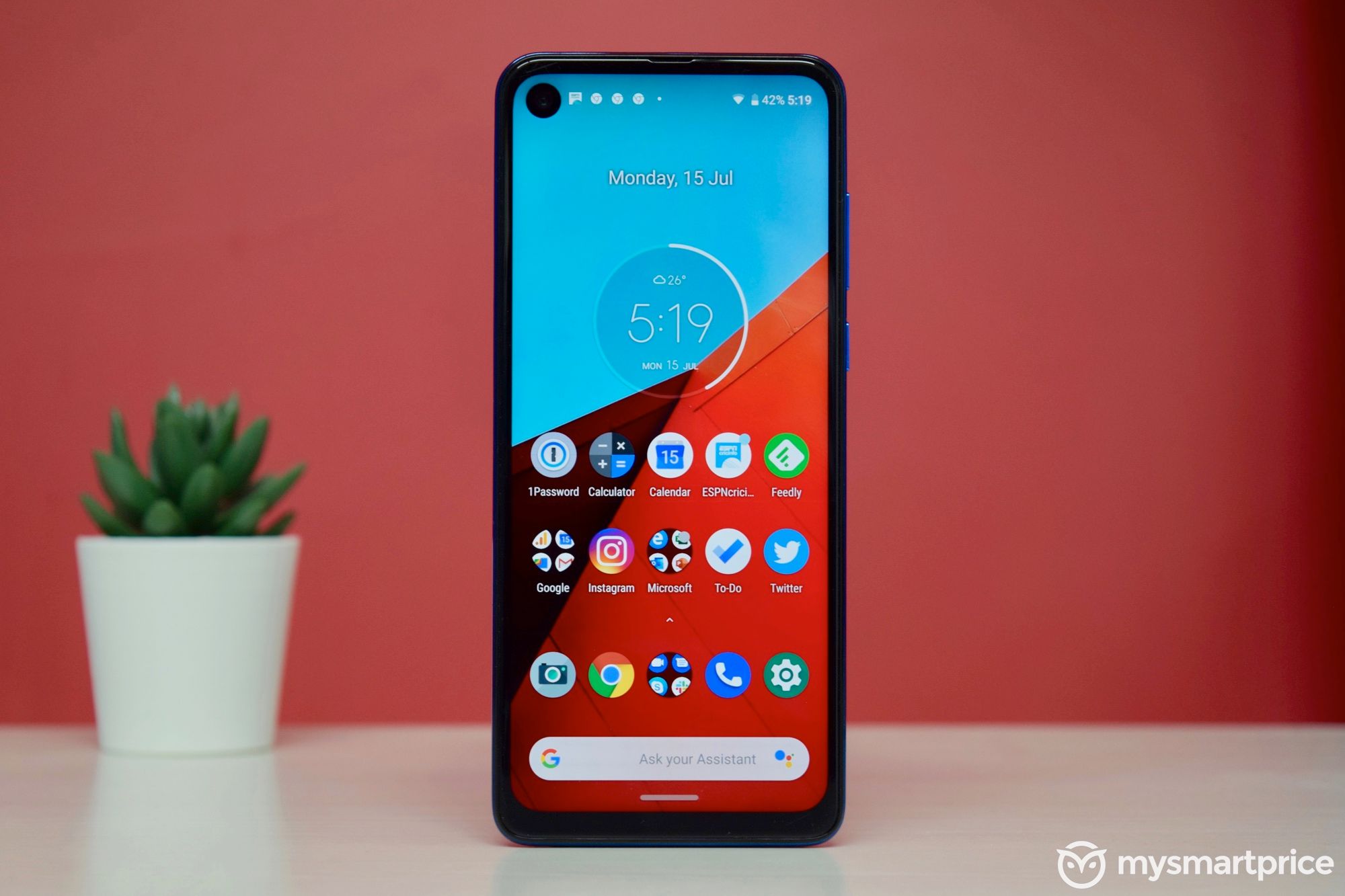 Motorola was once an American brand that was the king of the hill in the mid-range smartphone segment. The company's Moto G series phones used to be our top recommendation for a few years in a row to anyone who wanted a solid mid-range smartphone. However, after the entry of brands like Xiaomi and Realme, the Moto G series wasn't the best anymore. After a long time, the now Lenovo-owned company released the Moto One Power (Review), a phone that surprised us with its ultra-long battery life and good day-to-day performance. It was priced logically, too; no wonder it received extremely favorable ratings from us.
A few days ago, Motorola launched a higher mid-range phone, the Motorola One Vision, in India. It comes with an attractive design, a unique screen, and impressive cameras (at least on paper). However, at INR 19,990, it is priced much higher than similarly specced phones in the market. Can a 21:9 screen and 48MP OIS camera save the day for the One Vision? Let's find out in my review of the Motorola One Vision.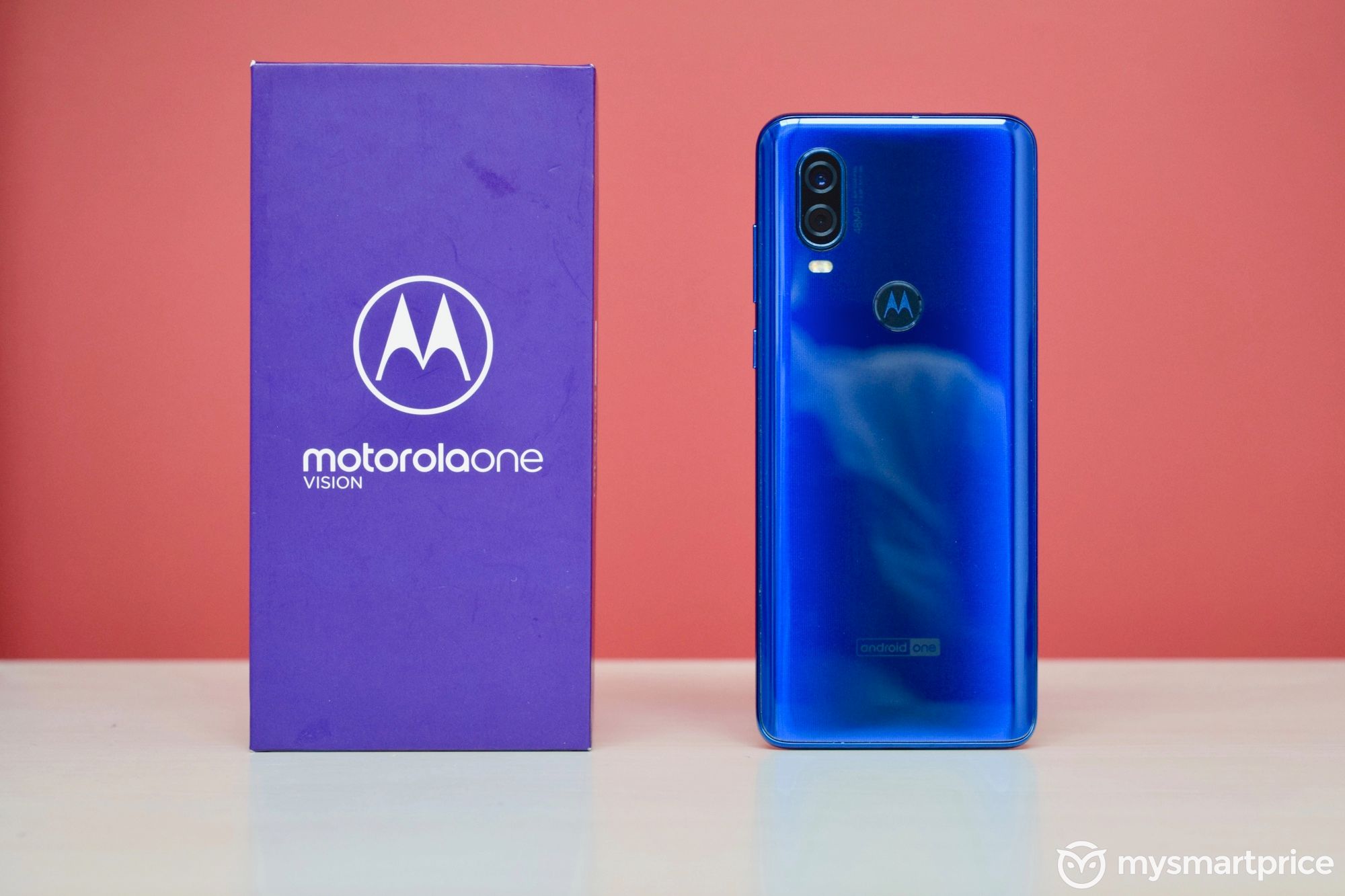 [P_REVIEW post_id=161995 visual='full']
Motorola One Vision Design
Motorola One Vision Design
One of the best things about the Motorola One Vision is its comfortable and handy design. It feels really nice in the hand, thanks to its narrow design, curved back, and smooth corners. Nothing feels out of place, except a hole in the screen (we'll talk about it later). The phone could've been lighter, though. The One Vision might not look as blingy as some other mid-range phones but it looks attractive nonetheless, at least in its Sapphire Gradient avatar. A glass material covers the front and the rear part of the phone for the premium feel, but the company hasn't mentioned if those glass panels are from Corning. The frame is made using plastic, but it still feels well-molded because it blends smoothly with front and rear glass panels.
The camera unit on the rear protrudes slightly from the rest of the phone's surface, making the phone wobble when its kept on a flat surface while using it. The capacitive fingerprint reader at the rear carries Motorola's M-shaped logo and it feels perfectly placed. There is a 3.5mm audio port as well as a USB Type-C port on the phone. The selfie camera is placed inside a hole in a screen that otherwise covers almost the whole front of the phone. The punch hole which is on the top-left corner of the screen and it is the biggest we've seen so far on a phone. The phone is IP52 certified for water splash resistance which is a good thing.
Motorola One Vision Display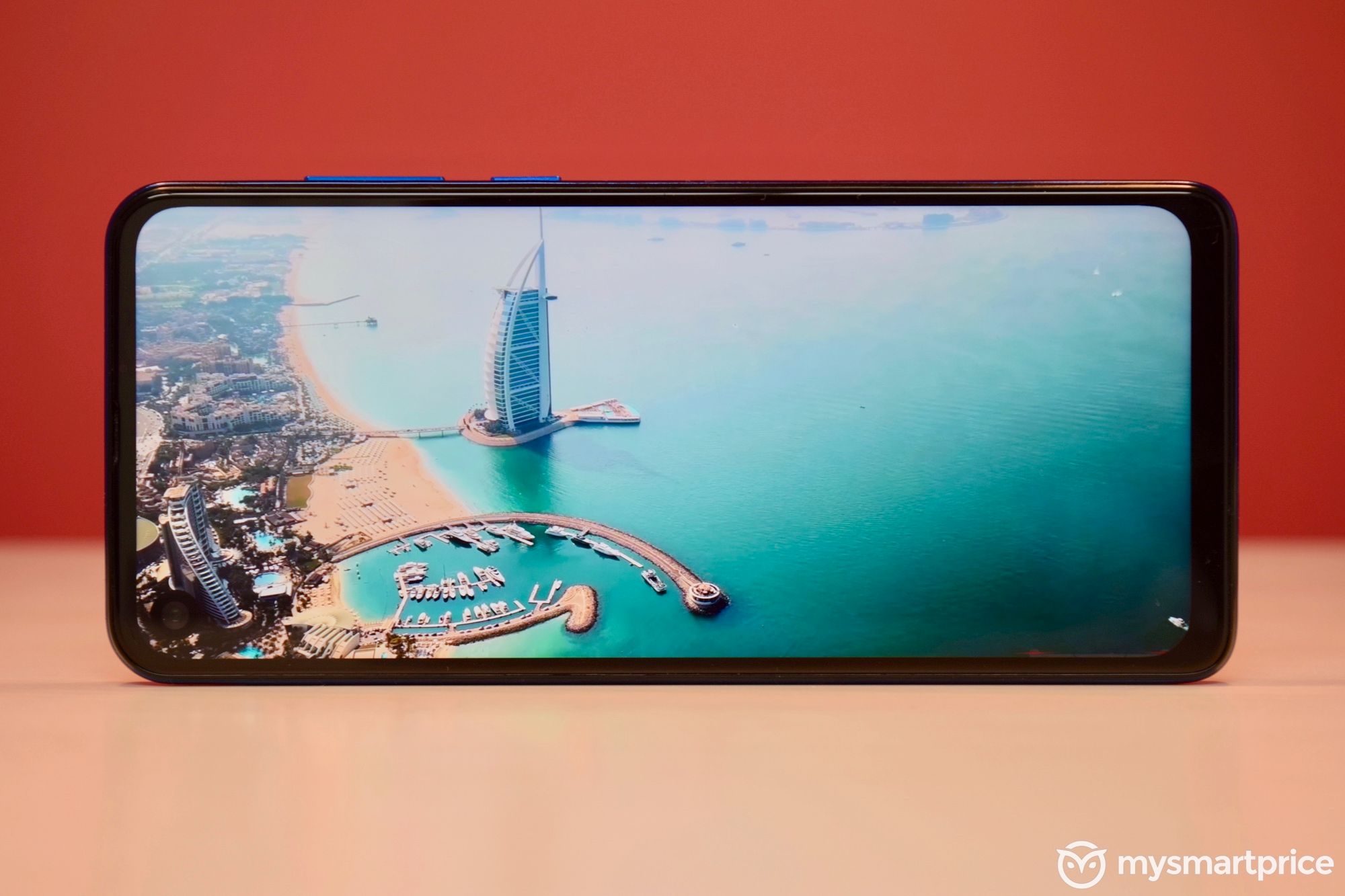 The 6.3-inch IPS LCD screen on the Motorola One Vision, which the company calls a CinemaVision display, has Full HD+ resolution with 21:9 aspect ratio. It is one of the phone's important selling points. Sure, the screen works well with movies and videos shot in 21:9 aspect ratio, but not all videos are shot in 21:9, which means you get to see a lot of vertical black bars while watching 16:9 videos. Also, the screen brightness is just okay and the contrast ratio could've been better, much better. Phones with a similar price tag come with brighter and more colorful OLED screens. Take the Galaxy A50 as an example, which features a Super AMOLED screen. Even the upcoming Realme X and the Redmi K20, which will both be priced below INR 20,000, have OLED screens.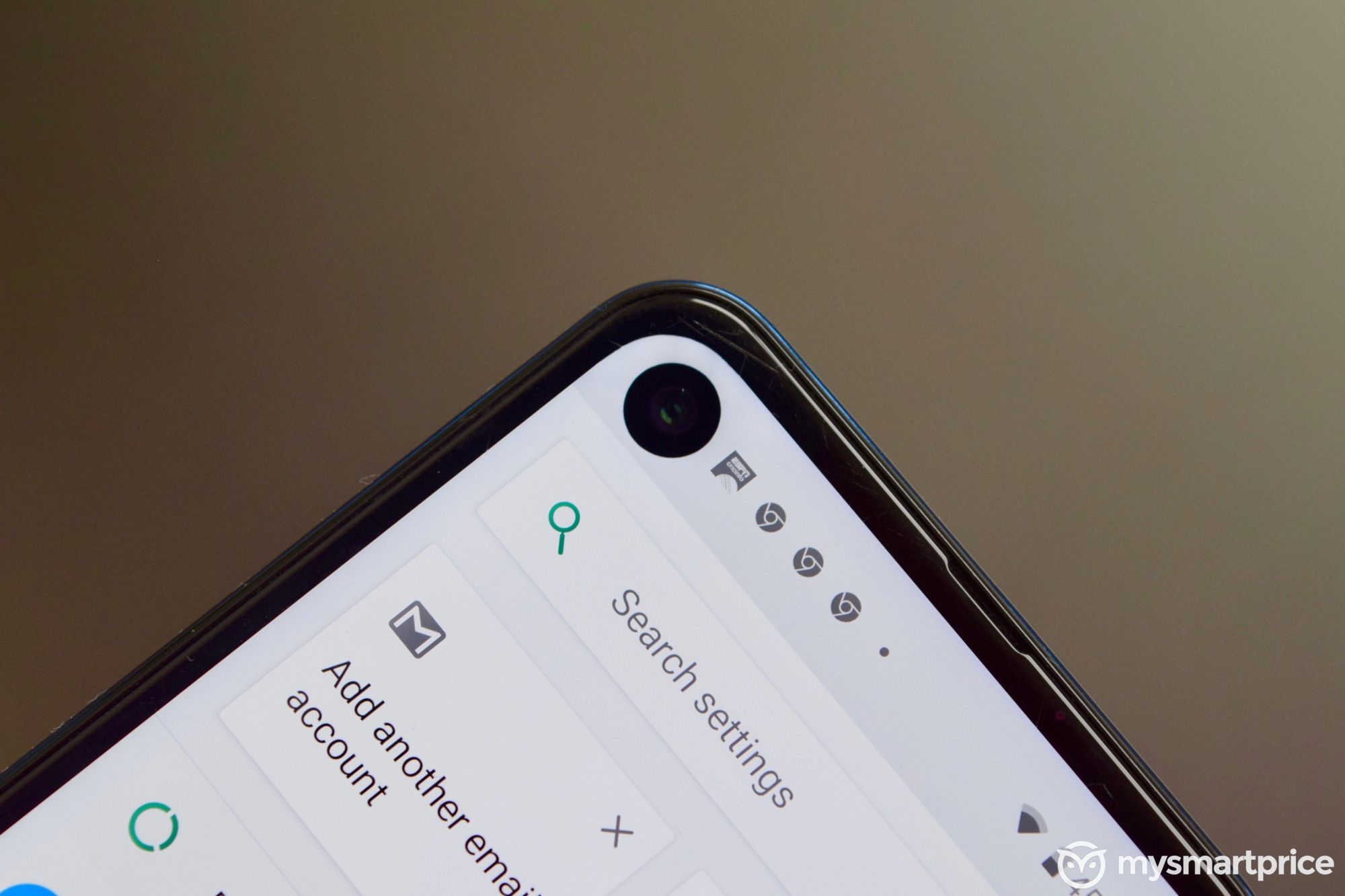 As mentioned earlier, the disappointing fact about the One Vision's display is the huge punch hole for the selfie camera. A big punch hole means a lot of software UI elements are cut off and the status bar appears too big in some situations. Motorola told us that the screen's only backlight source is placed at the bottom part of the phone (along the chin), which means that the light has to travel from one end of the screen to the other end, and since there's a camera sensor in between, the light can't disperse evenly around it. This leads to some blackening around the camera, something we've seen on most phones that have punch holes in LCD screens. On top of that, the color accuracy is far from perfect. Yes, there are a few color profiles to choose from but none of them is particularly accurate. Going by this phone's name and pricing, it should've had an OLED screen or at least a better LCD panel with HDR10.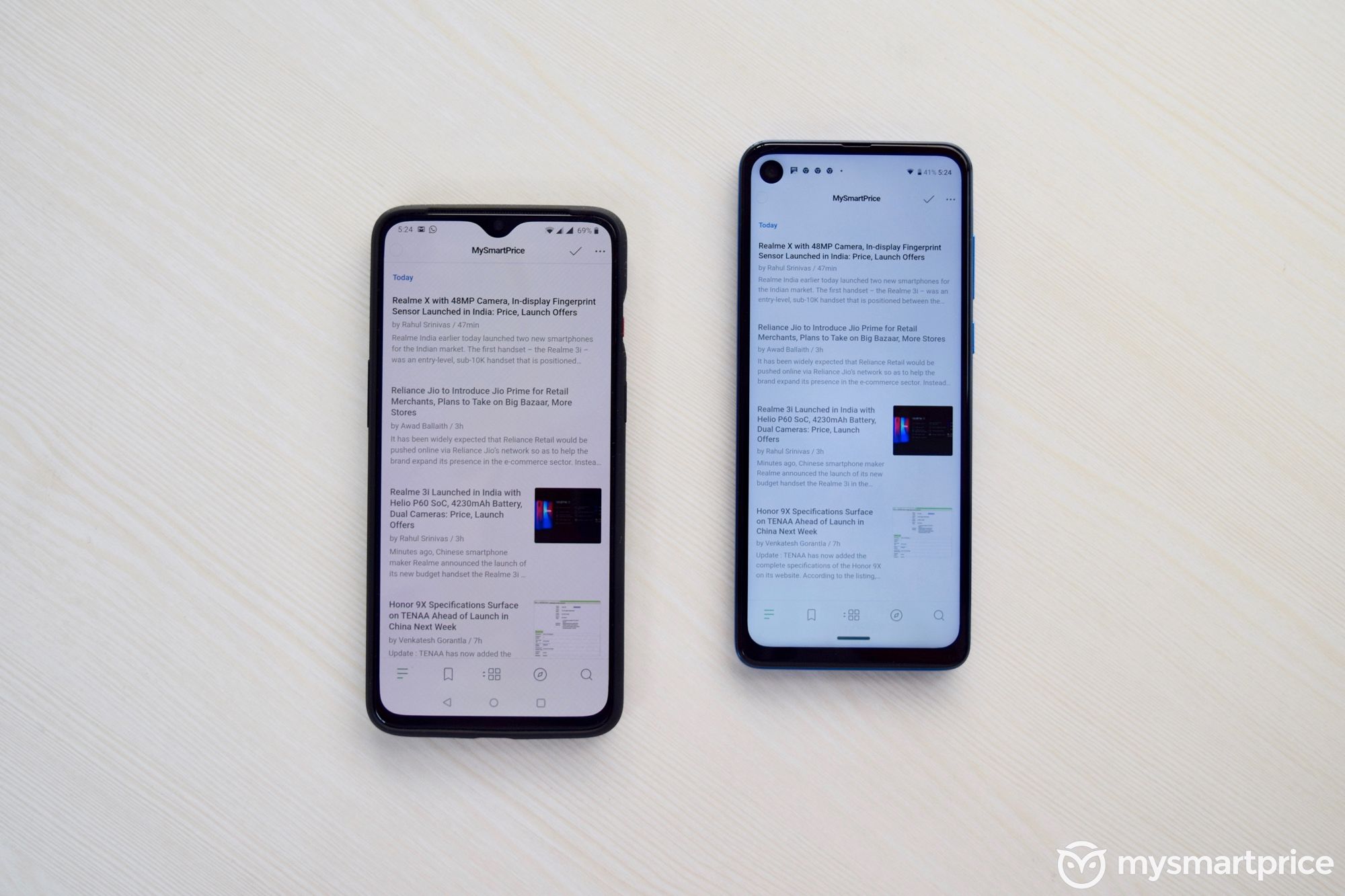 Motorola One Vision Camera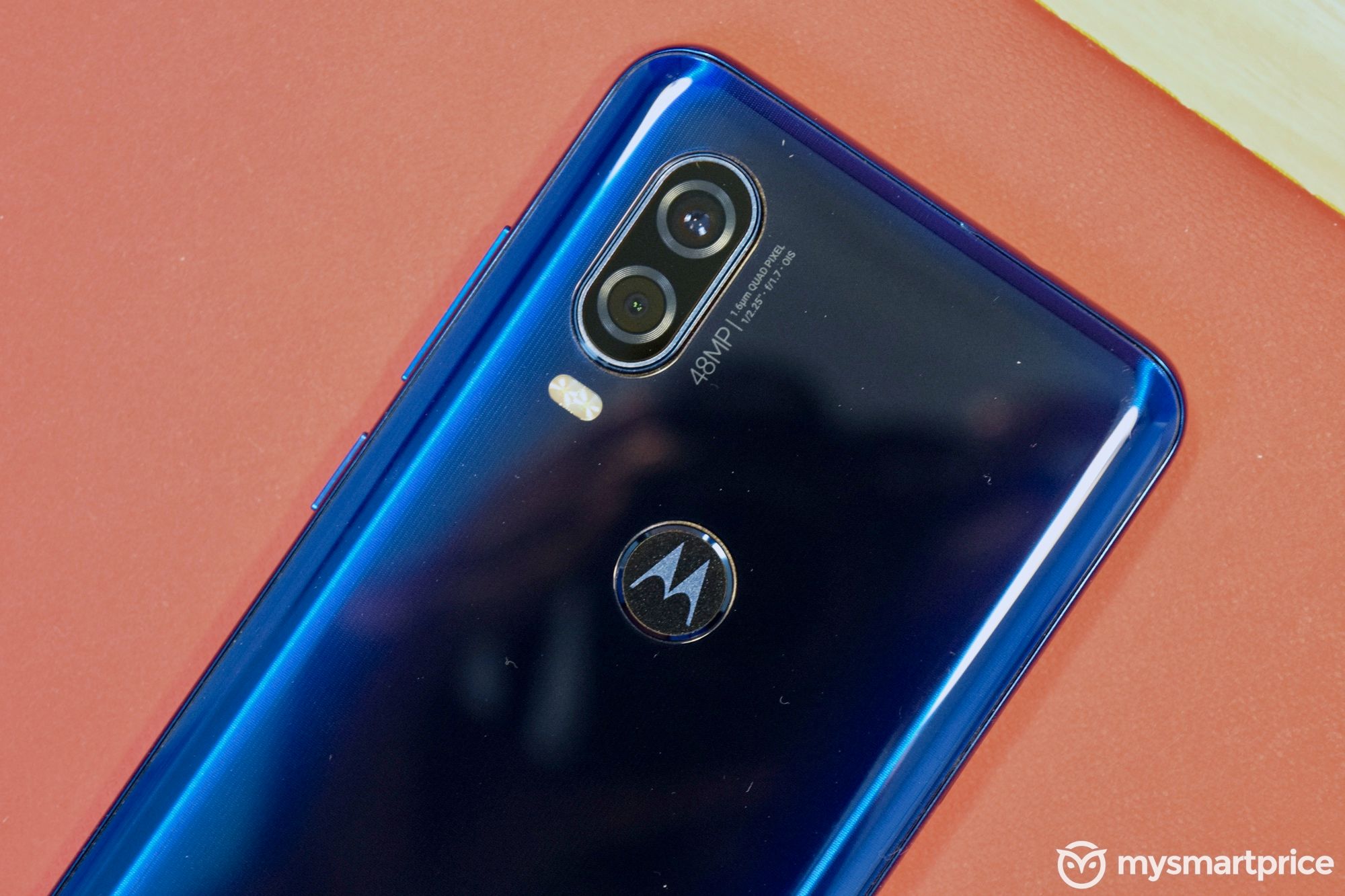 Now coming to the phone's cameras, the 48MP camera sensor on the rear is accompanied by a 5MP depth sensor. The 48MP sensor (½-inch) has F1.7 aperture, OIS (optical image stabilization), phase-detection autofocus, and dual-tone LED flash. Camera specs look impressive on paper for good low-light images and it is the only phone priced below Rs 20,000 which has OIS-equipped camera. The phone captures good images in daylight as well as low-light situations. The 48MP sensor can't spit out 48MP images, though, as it has a Quad-Bayer filter and pixel binning mechanism. This means that information from four adjacent pixels on the sensor is merged into one pixel, resulting in 12MP still images.
Motorola One Vision Camera Samples Daylight
Similar to most mid-range and high-end phones these days, the One Vision's camera app defaults to the Auto HDR mode and captures multiple frames of the same scene for better colors, wider dynamic range, and less noise. Images shot in situations when there's ample light have good colors, less noise, and wide dynamic range. Even in low-light conditions, the One Vision captures pretty good still images. If you're not satisfied with the Auto HDR mode, you can switch to the Night Vision mode, which captures multiple frames of the scene for a few seconds and then spits out an image that is brighter and has a better dynamic range as well as details. Overall, the still image quality is slightly better than what you get from the Redmi Note 7 Pro and the Realme 3 Pro.
The Motorola One Vision can also record 4K videos. Video samples recorded outdoors had a good amount of details. However, videos that were recording in low-light situations or indoor conditions exhibited autofocus and focus locking issues. OIS is available in all resolutions but EIS is only available in the 1080 30fps mode and it makes a huge difference. All videos recorded using the One Vision have good colors, good details, and stereo audio.
Motorola One Vision Camera Samples - Selfies
The 25MP selfie camera defaults to 6.2MP still images but unlike the rear camera, you can switch to native 25MP resolution. We would advise sticking to the 4-in-1 pixel binning mode (6.2MP), though, since the 25MP resolution mode requires you holding the phone still for around 5 seconds to capture just one image. The phone can capture images with background blur effect (also known as bokeh or portrait mode) with both front and rear-facing cameras. Such images have a good separation between the subject and the background. There's an option to adjust the blur strength and portrait lighting effects while shooting the image.
There's some sort of AI image optimization and smart composition. Other camera modes include Cinemagraph (keeps a chosen part of the image moving like a GIF), Cutout (the chosen area is in color while the remaining area is greyscaled), Spot Color (chosen color pops out in the whole frame while other areas are greyscaled), Live Filter, and Panorama. After a few days of fun experimenting, most people won't use those modes except maybe panorama. There are three other video shooting modes: slow-motion, time-lapse, and YouTube Live.
Motorola One Vision Software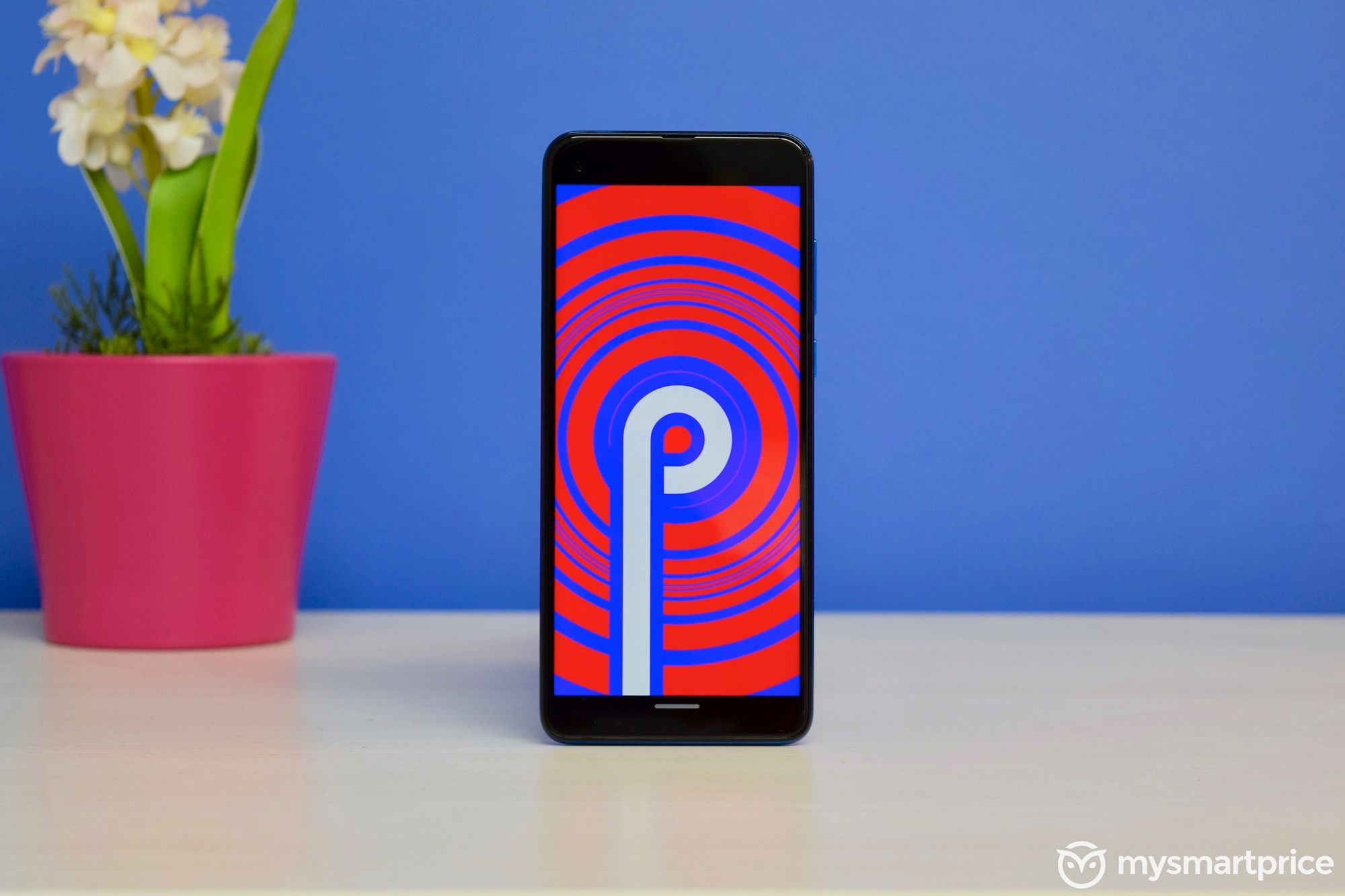 I really like the clean version of Android that Motorola uses on all its phones and the One Vision is no different. It runs Android 9 Pie and comes with the Android One badge. The UI is close to stock and there's no bloatware to be found. The circular clock widget, which also shows date, time, charging status, and weather, is particularly impressive. There are some additional features such as the well-thought-out on-screen navigation pill, gestures, face unlock, Peek Display and Dark Mode.
The app drawer makes all adaptive icons circular. For the apps which don't have adaptive icons, the One Vision's app launcher puts them into a circular outline. The launcher switches between light to dark themes, depending on the wallpaper. I think the way the multitasking gesture (swipe up from the bottom) works is really stupid, and it's Google's fault. It gets in the way almost every time the app drawer is being accessed. Motorola's One Button navigation system is cool, though. Press once to go to the home screen, swipe it to the left to go to the previous screen, swipe it to the right to go back to the previously used app, and press-and-hold it to summon Google Assistant.
Peek Display, when activated, lets users interact with notifications even when the phone is locked. The Attentive Display feature keeps the screen turned on when the user is looking at it, even if the screen time-out limit has passed. There's Digital Wellbeing, which shows you how much time you're spending using your phone on a daily and weekly basis. It gives you important stats like the number of screen unlocks, per app usage times, and more. You can set a limit for how long you can use the phone (or any particular app) in a day.
Motorola One Vision Performance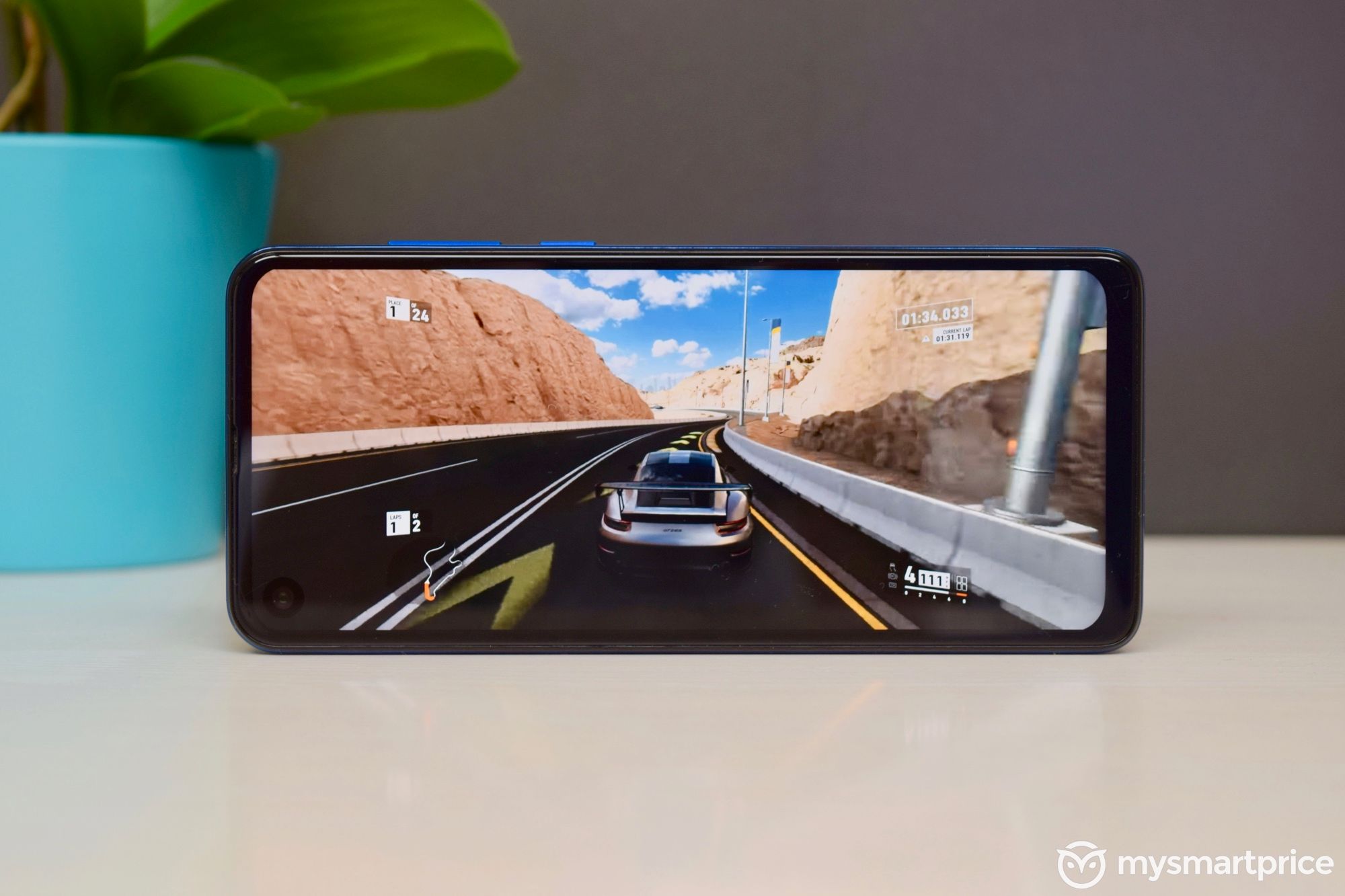 The 10nm Exynos 9609 chipset that's used in the Motorola One Vision is an underclocked variant of the Exynos 9610. It uses four Cortex-A73 CPU cores, four Cortex-A53 CPU cores, and Mali-G72 MP3 GPU. The chipset is paired with 4GB of RAM and 128GB of UFS 2.0 internal storage. For additional storage space, there's a microSD card slot. In spite of a clean version of Android and close-to-no UI customizations, the Motorola One Vision felt slower and sluggish compared to similarly priced phones like the POCO F1 and even the lower-priced devices like the Honor Play (Review), Redmi Note 7 Pro, and the Realme 3 Pro (Review).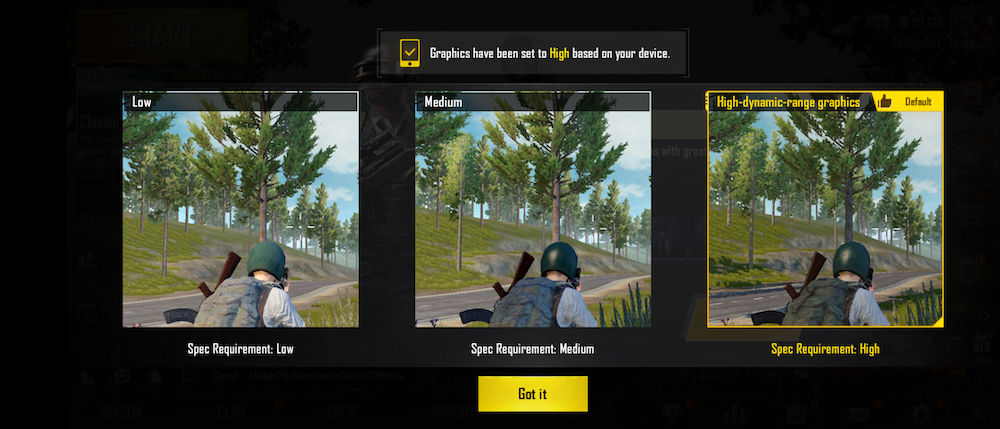 I could consistently see stutters and UI frame drops all over the place after using processing-heavy apps like the camera or the web browser. The phone certainly deserves a more potent processor such as the Snapdragon 675, Snapdragon 710, or the Snapdragon 730.
The phone's loudspeaker is pretty average but the earpiece sounded good. I didn't notice anything weird during voice calls. The capacitive fingerprint reader is fast and accurate, but facial recognition feels slower. Cellular and Wi-Fi reception was good throughout the review period. Dual 4G LTE and dual-VoLTE work without a hitch as well. Dolby Audio didn't sound particularly impressive to me while listening to music. There was some difference while watching videos, but that's it.
Motorola One Vision Battery Life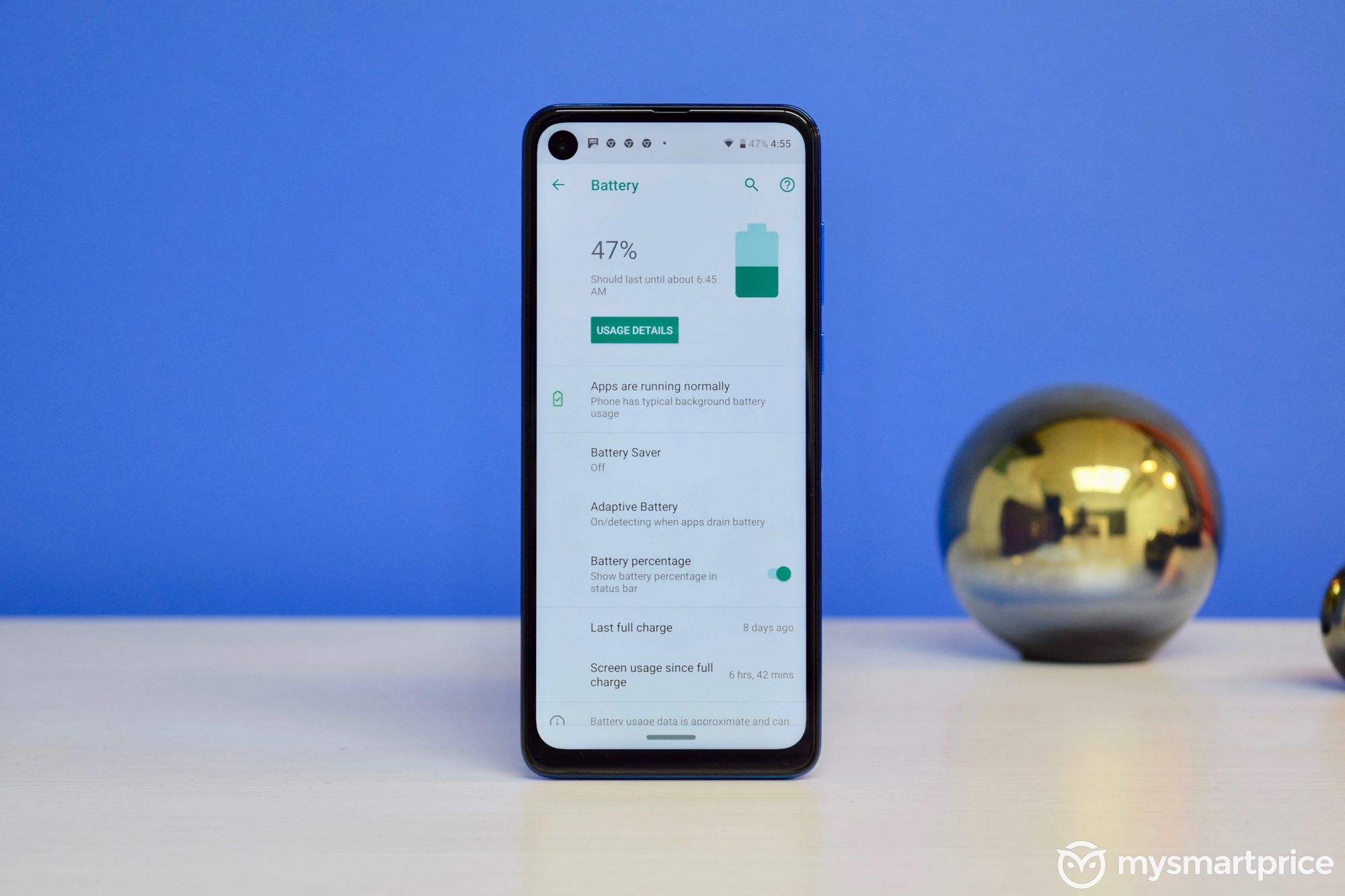 The Motorola One Vision is powered by a 3500mAh battery, which is smaller than batteries that power most other phones in the same price range. The phone can be fast-charged using the bundled Turbo Charger (a variation of Quick Charge 3.0 that's limited to 15W). The One Vision's empty battery reaches up to 40 percent in half an hour, but we've seen better implementations of fast battery charging.
With my usual workload, which includes three email accounts, social media, YouTube, music streaming via Spotify and Apple Music, Slack and instant messaging apps, the phone could last less than a day. I've seen screen-on times reaching 4 to 5 hours but nothing more than that. Competing phones like the Galaxy A50 (Review), POCO F1 (Review), and the Redmi Note 7 Pro (Review) last significantly longer.
Should You Buy The Motorola One Vision?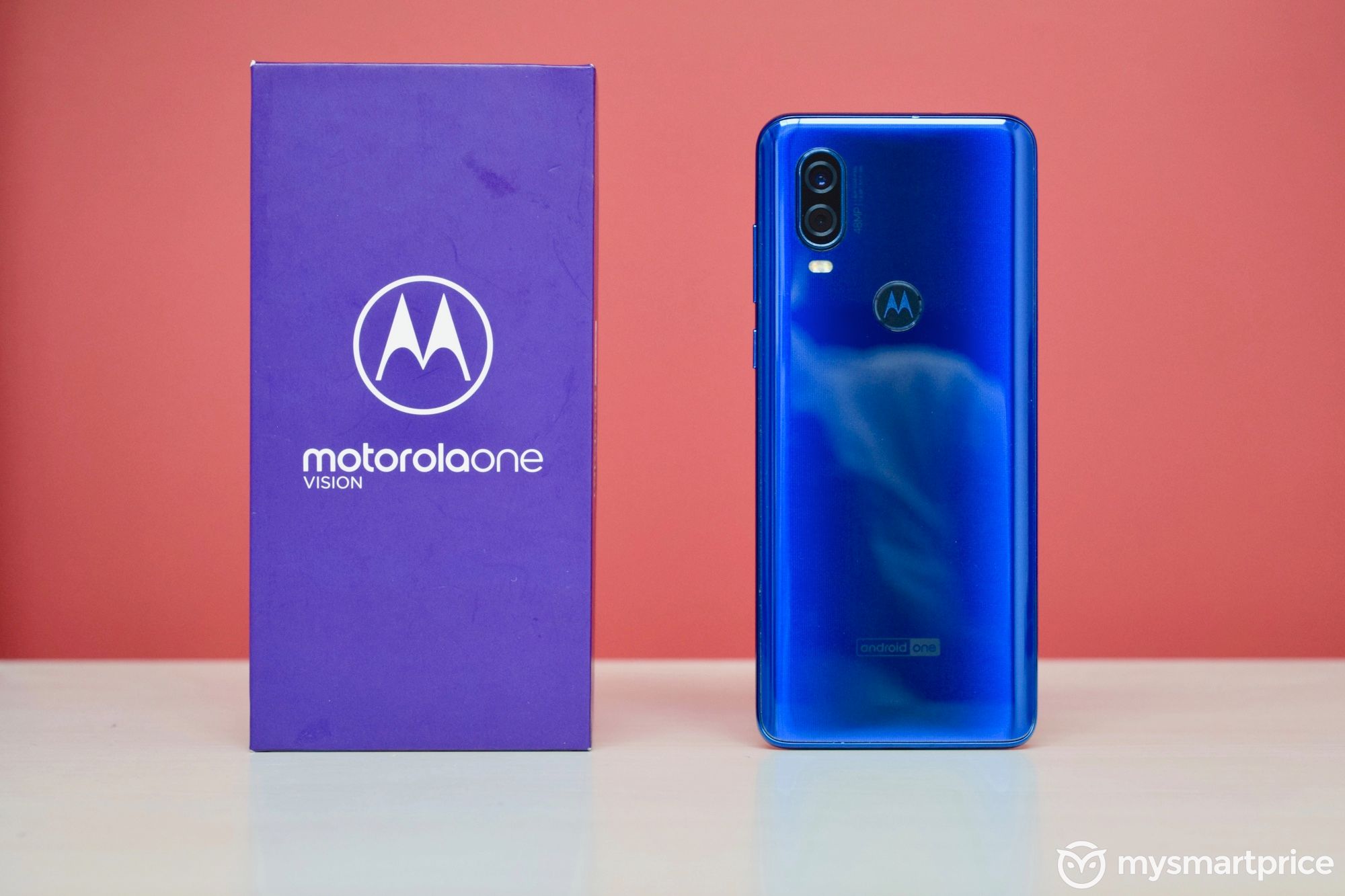 The Motorola One Vision could've been a really good phone if it had an OLED screen and a better processor. It looks good, features a handy design, has a decent set of cameras, and ultra-clean version of Android, but certainly doesn't help if the processor can't hop along and you see the UI stutter every now and then. Moreover, the battery life is nowhere close to the best-selling phones in its price range.
At INR 20,000, the Motorola One Vision won't be our top choice. You should first consider the likes of Redmi Note 7 Pro and the Realme 3 Pro, both of which offer brighter and more colorful screens, faster and smoother experience, much longer battery life, and faster battery charging. On top of that, you can also save some money to buy some quality wired or wireless earphones.
Motorola One Vision
₹19,999
Design & Ergonomics
8.0/10
What Is Good?
Good design that feels handy.
21:9 screen for immersive video watching experience.
Clean software.
Decent rear-facing camera.
What Is Bad?
Needs a faster processor.
Selfie camera punch hole is too big.
Battery life is not good enough.