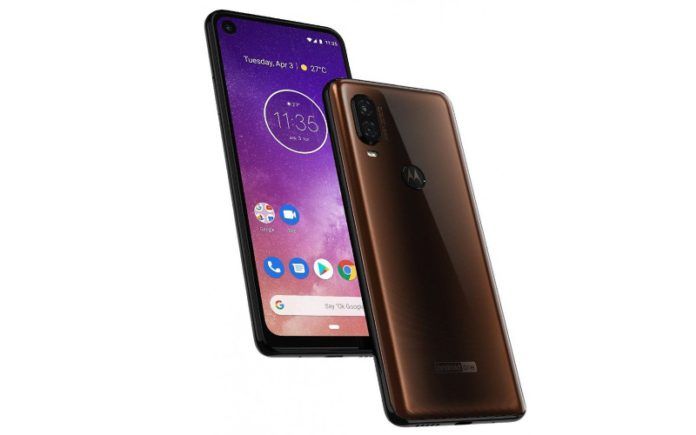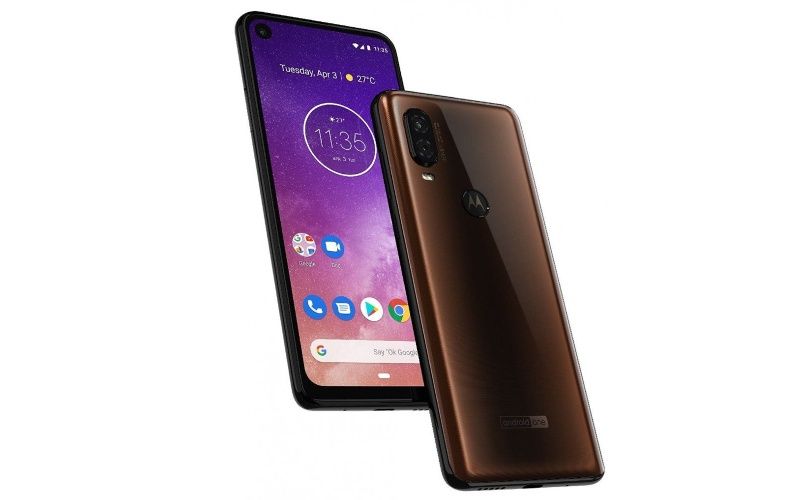 Motorola's upcoming smartphone, the Motorola One Vision has been in the news for several months now. This new device from the company is expected to be launched along with a bunch of other new devices in the next few weeks. Anyway, the reason why you are, once again, reading about the Motorola One Vision is that we have a new set of leaked renders of the device out in the wild. As you might be aware already, the Motorola One Vision is also known as the Motorola P40 and comes with a punch hole camera design at the front. Anyway, let us now take a closer look at this device as well as the recently leaked renders
Motorola One Vision Leaked Renders
As seen in the new images below, the fact that the handset will feature a punch hole design is confirmed Also seen in the image is the rear-mounted fingerprint scanner and the dual camera setup. A closer look also reveals the specifications if the main camera module which in this case happens to use a 48-megapixel sensor mated to an f/1.7 lens. The primary camera also supports Optical Image Stabilization. Another thing confirmed from these recent set of images is a new blue colored variant of the Motorola One Vision. Apart from this, there is no additional information about the phone.
Motorola One Vision: Expected Specifications, Features
From what is known so far, the Motorola One Vision is expected to be powered by a Samsung Exynos chipset. This is perhaps the first time that we would see a Motorola smartphone use a Samsung SoC. As for the chipset itself, from what we know so far, ths will be the Exynos 9610 SoC that is currently used by the Samsung Galaxy A50. The Motorola One Vision is likely to be offered in 32GB, 64GB and 128GB storage versions with 3GB or 4GB RAM options. These things apart, the handset will get a large 3,500 mAh battery with support for fast charging. The phone will also get a USB Type-C port.
The Motorola One Vision is likely to be offered in several versions with 3GB and 4GB RAM options and with three storage options 32GB, 64GB, and 128GB. The exact RAM/Storage combinations remain a mystery at this point. The handset is also confirmed to feature a USB Type-C port and a 3.5mm audio jack. As for the battery, from what is currently known, the Motorola One Vision will come with a 3,500 mAh battery with support for fast charging.
The display used on the handset is likely to be a large 6.2-inch panel with the aforementioned punch hole cutout for the camera. At this point, there is no confirmation about the display technology being used on the device. At launch, the Motorola One Vision will be positioned as a mid-range offering from the company. The primary 48-megapixel sensor used on the One Vision reportedly uses a  QCFA (Quad Color Filter Array) arrangement. Like other devices with such a high-resolution sensor, the device will default to a lower default resolution for normal imaging. You can, however, use the full resolution setting in case you need a really large, detailed shot.