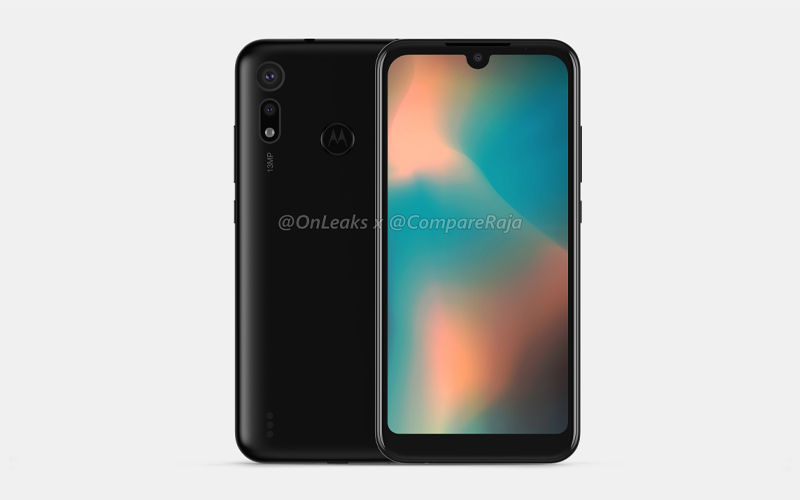 CompareRaja in collaboration with OnLeaks has revealed 3D render video of the allegedly upcoming Motorola P40 Play. According to the publication, the Motorola P40 Play will be an entry-level smartphone with average specifications. Let us have a look at what these renders reveal.
What Do Renders Reveal?
From the rendered video, we can see that the Motorola P40 Play has a display with a U-shaped notch. Bezels at top and sides are thin, but that on the bottom is quite thick. According to the report, it will be a 5.6-inch display. There is no information on the display type and display resolution, but expect it to be an IPS LCD with HD+ resolution.
As you can see in the video, the device has a dual-camera on the back. CompareRaja says it will have a 13MP resolution, but they didn't mention clearly, which of the two cameras will have a 13MP resolution. However, considering that it will be an affordable smartphone, one camera could have a 13MP resolution, and the other camera could have a 5MP resolution (depth-sensor). Below the camera, there is an indent, which is most probably the fingerprint scanner.
The 3D render video reveals that the device will have a microUSB port at the bottom. It is quite disappointing to see that Motorola hasn't opted for a USB Type-C port. The video also reveals that the device will have a power and volume buttons on the right side of the device, SIM card slot to the left of the device, and a 3.5mm audio jack at the top. According to CompareRaja, the device measures 147.7 x 71.5 x 9.2 mm.
P40 Play Is Third Leaked Device in P40 Lineup
For your information, recently, two other devices in the P40 series were leaked – the Motorola P40 (a.k.a Motorola One Vision) and the Motorola P40 Note (a.k.a Motorola P40 Power). The Motorola P40 Play is the latest leaked device in the series. It could be the most affordable smartphone in its lineup. The Motorola P40 is expected to be the successor to the Motorola P30 (a.k.a Motorola One), while the Motorola P40 Note is supposed to be the successor to the Motorola P30 Note (a.k.a Motorola One Power). The P40 Play, however, does not succeed any smartphone, as it does not have a predecessor.