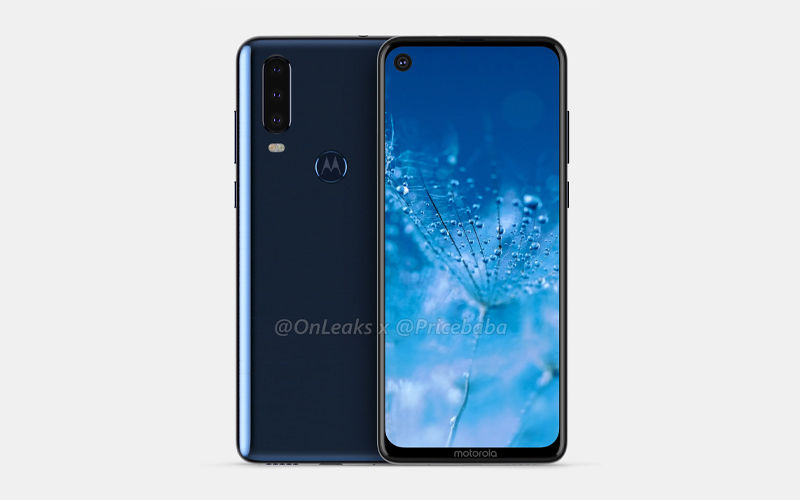 Pricebaba and OnLeaks have leaked 360-degree renders of an alleged upcoming smartphone from Motorola – the P40 Power. Going by the name, the Motorola P40 Power could come as the successor to the Motorola P30 Note (a.k.a Motorola One Power) that was launched last year. Additionally, the P40 Power might launch as the beefed-up variant of the recently leaked Motorola P40 (a.k.a Motorola One Vision). According to Pricebaba and OnLeaks, the P40 Power might also be called the Motorola P40 Note based on the region where it is being launched. Let us have a look at the renders and what do they reveal.
What Do the Renders Reveal?
First, we can observe from the renders that the Motorola P40 Power has a punch-hole display, just like the alleged sibling, the Motorola One Vision. According to the report, the display of the P40 Power measures 6.2-inches. The display resolution is unknown at the moment, but considering that the P30 Power had Full HD+ resolution, we expect the P40's display to carry the same resolution. Then there is a triple-camera setup on the back, which the publication says will have 12MP camera sensors. The report also mentions that the device measures 160.1 x 71.2 x 9.1mm.
Motorola P40 Power (Also Known As Motorola P40 Note)
Other minor things that the renders reveal is that the device will have a fingerprint scanner embedded in the Motorola logo, a USB Type-C port at the bottom, a 3.5mm jack at the top, a SIM card slot to the left side of the device, and power and volume buttons to the right side of the device. From the renders, the alleged Motorola P40 Power looks similar to the Motorola P30. So, the report from Pricebaba and OnLeaks could be true after all.
What About Its Other Specifications?
Currently, there is no information as to which processor will the P40 Power come with, or its RAM and storage capacities. Now, the P30 Power came with Snapdragon 636 processor, and the P40 Power's alleged trimmed-down variant, the P40 is expected to come with Snapdragon 675. So, it is very likely that the P40 Power will come with a more powerful processor than the P30 Power and the P40. In my opinion, the P40 Power could feature the recently launched Snapdragon 712. The device could come with 4GB RAM + 64GB storage, and 6GB RAM + 128GB storage variants.