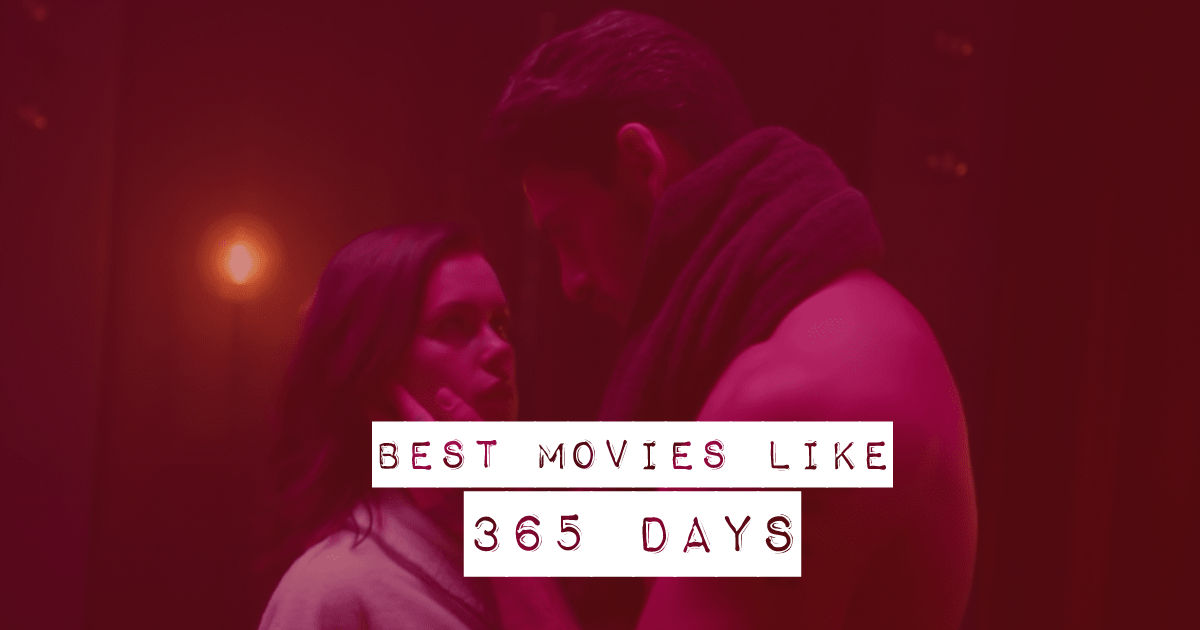 Romantic and dramatic films have always captivated audiences with their beautiful storylines, but what truly adds to their allure is the perfect blend of pleasure and undiscovered desire. Among the most trending movies, today is "365 Days," a Polish film that explores the romance and drama genres. This movie has become a worldwide phenomenon due to its sensual love scenes and the plot of a mafia boss falling in love with a Polish girl, as the couple uncovers the layers of sensual pleasures, romance, and drama.
If you are a passionate fan of romantic and dramatic films that have a touch of eroticism, then you have come to the right place. In this article, we will discuss several famous films that follow similar lines to "365 Days." We will also provide information on the cast members, plot, director's name, where to watch them, and more.
Best Movies like 365 Days to Watch Online
Here is a list of a few movies that happen to be as best as 365 Days:
| | | |
| --- | --- | --- |
| Movie Name | Where to watch | IMDB Rating |
| Call me by your name | Netflix | 7.8 |
| Lie with me | Hulu | 7.5 |
| Friends with benefits | Amazon Prime Video | 6.5 |
| Newness | Amazon Prime Video | 6.3 |
| Endings Beginnings | Netflix | 5.6 |
| Below her mouth | Amazon Prime Video | 5.5 |
| After | Netflix | 5.3 |
| Amar | Netflix | 5.1 |
| Addicted | Zee5 | 5 |
| Fifty Shades of Grey | Netflix | 4.2 |
Call Me By Your Name
Call Me by your name is a 2017 released romantic drama film featuring themes of pain, heartbreak, and regret. The story features Elio, a young teenager who happens to develop feelings for his father's assistant, Oliver. Although there are no concrete feelings towards the start, their relationship gets deeper as the story proceeds. It displays how a temporary love story can change a person's life inside and out. The movie won the audience's hearts with its incredibly emotional love plot.
Cast: Armie Hammer, Timothée Chalamet, Michael Stuhlbarg, Amira Casar, Esther Garrel, and Victoire Du Bois.
IMDB Rating: 7.8
Director: Luca Guadagnino
Where to watch: Netflix
Also Read: 9 Best Kantara-like Movies on OTT: Pushpa, Tumbbad, Asuran,and More
Lie With Me
Lie with Me, is a 2006 released Canadian erotic romance-drama film that features a young couple building the bond of their love based on their extremely hot sexual chemistry. Promiscuous Torontonians Leila has never been able to reach the point of satisfaction and develops a casual but extremely intense relationship with an artist named David. Being in the middle of a chaotic life with her parents heading towards divorce and her building rough sexual chemistry with a new man, Leia begins to question the pangs of true physical intimacy and emotions.
Cast: Lauren Lee Smith, Eric Balfour, Polly Shannon, Ron White, Kate Lynch, Don Francks, and Kristin Lehman.
IMDB Rating: 7.5
Director: Clement Virgo
Where to watch: Hulu
Friends With Benefits
Friends with Benefits is a romantic comedy directed by Will Gluck. The movie was released in 2011 and became one of the highest-grossing films of that time. The story revolves around Jamie, a New York based recruiter who unexpectedly crosses paths with Dylan and helps him take the job at GQ. The duo quickly established a good friendship, but things could not go as planned for long when they added sex to their relationship. Termed Friends with benefits Jamie and Dylan eventually discover their true feelings veiled behind the cloak of friendship and sex.
Cast: Justin Timberlake, Mila Kunis, Patricia Clarkson, Jenna Elfman, Bryan Greenberg, Richard Jenkins, and Woody Harrelson.
IMDB Rating: 6.5
Director: Will Gluck
Where to watch: Amazon Prime Video
Newness
Newness is a 2017 released film featuring the famous Hollywood celebrity Nicholas Hoult as one of the central characters. This erotic romance-drama film is about the new millennial love, which has no boundaries, yet it gets to the point where it plays with the mind, body, and soul of two lovers. In Los Angeles, two millennials primarily met for just a random hookup through social media, but they continued to take things to another level leading to a series of emotional and physical damage.
Cast: Nicholas Hoult, Laia Costa, Courtney Eaton, Danny Huston, Jessica Henwick, and Esther Perel.
IMDB Rating: 6.3
Director: Drake Doremus
Where to watch: Amazon Prime Video
Also Read: 10 Best Fifty Shades of Grey-like Movies on OTT: Pretty Woman, The Handmaiden, Basic Instinct, and More
Endings, Beginnings
Endings, Beginnings is a beautiful romance and drama film featuring a 30-year-old woman named Daphne, navigating through her life dealing with the aftermaths of love and heartbreak. During this time, Daphne discovers the secretive essence of her life unexpectedly when she moves into her sister's guesthouse and crosses paths with two charming and extremely handsome men named Frank and Jack. The movie perfectly blends romance, sensual pleasure, and drama.
Cast: Shailene Woodley, Jamie Dornan, Sebastian Stan, and Matthew Gray Gubler.
IMDB Rating: 5.6
Director: Drake Doremus
Where to watch: Netflix
Below Her Mouth
Below her mouth is a 2016 released Canadian Romance-drama film that is the perfect watch for many due to its interesting plot that features a love triangle. The budding steamy love affair between the two women leads to a point leaving them both to re-evaluate their life decision. Jasmine, a fashion editor, cheats on her fiancé with Dallas, but eventually, things get better for the trio. The movie was directed by April Mullen and garnered some positive reviews from critics and audiences.
Cast: Erika Linder, Natalie Krill, Sebastian Pigott, Mayko Nguyen, Tommie-Amber Pirie, Melanie Leishman, Andrea Stefancikova.
IMDB Rating: 5.5
Director: April Mullen
Where to watch: Amazon Prime Video
After
After is based on the best-selling romance novel series of the same name by Anna Todd. It is the story of two youngsters, Hardin and Tessa, who falls in love, being described as the opposite of each other, the two get driven by a steamy force of love and passion, but things are not rainbows and sunshine for the two when Tessa learns about Hardin's truth. Their love stands alone, being questioned by honesty and trust. The movie is as good as the novels, and due to the extreme love and success it gained from the fans, it still impresses the audience with its beautiful love story.
Cast: Josephine Langford, Hero Fiennes Tiffin, Selma Blair, Inanna Sarkis, Shane Paul McGhie, Pia Mia, Khadijha Red Thunder, Dylan Arnold, Samuel Larsen, Jennifer Beals, and Peter Gallagher.
IMDB Rating: 5.3
Director: Jenny Gage
Where to watch: Netflix
Amar
Amar, the story of a young couple driven by the passionate wind of love that falls head over heels in love with each other, but things do not remain the same for the two. Laura and Carlos' intense love comes face to face with the harsh realities of life, the same thing that brought them together becomes the subject of their separation.
Cast: María Pedraza, Pol Monen, and Natalia Tena.
IMDB Rating: 5.1
Director: Esteban Crespo
Where to watch: Netflix
Addicted
Addicted revolves around the story of a successful businesswoman Zoey Reynard who has it all, a perfect life with a charming husband and two beautiful babies but Zoey was not content with everything; being a nymphomaniac, she cheats on her husband with two other men. This is the story of scandal, love, hate, and sex but one that brought a huge tornado in Zoey's life. The movie was released in the year 2014.
Cast: Sharon Leal, Boris Kodjoe, Tasha Smith, Tyson Beckford, Emayatzy Corinealdi, and William Levy.
IMDB Rating: 5.0
Director: Bille Woodruff
Where to watch: Zee5
Fifty Shades of Grey
Fifty Shades of Grey is one of the best-selling romance novels and film series in the entertainment industry. Christian and Anastasia's are extremely sensual love story amazed the audience with its burning romance and love. Anastasia, a young beautiful girl, develops a sadomasochistic relationship with a business tycoon, Christian Grey. Not knowing Christian's tormented past, Anastasia becomes a part of his sexual life but soon discovers his pattern with the women of his past. It is one of the most talked about films in Hollywood. Fans enjoyed the performance of the lead characters and their on-screen chemistry.
Cast: Dakota Johnson, Jamie Dornan, Jennifer Ehle, and Marcia Gay Harden.
IMDB Rating: 4.2
Director: Sam Taylor-Johnson
Where to watch: Netflix
Above mentioned are 10 movies that will leave fans amazed by their erotic stories. These movies happen to have the perfect blend of themes of kinky pleasures, scandals, passion, and love affairs. They will surely leave the viewer challenging his/her most vivid fantasies. The entertainment industry does not stay behind when producing some amazingly raunchy and sublimely sensual stories.