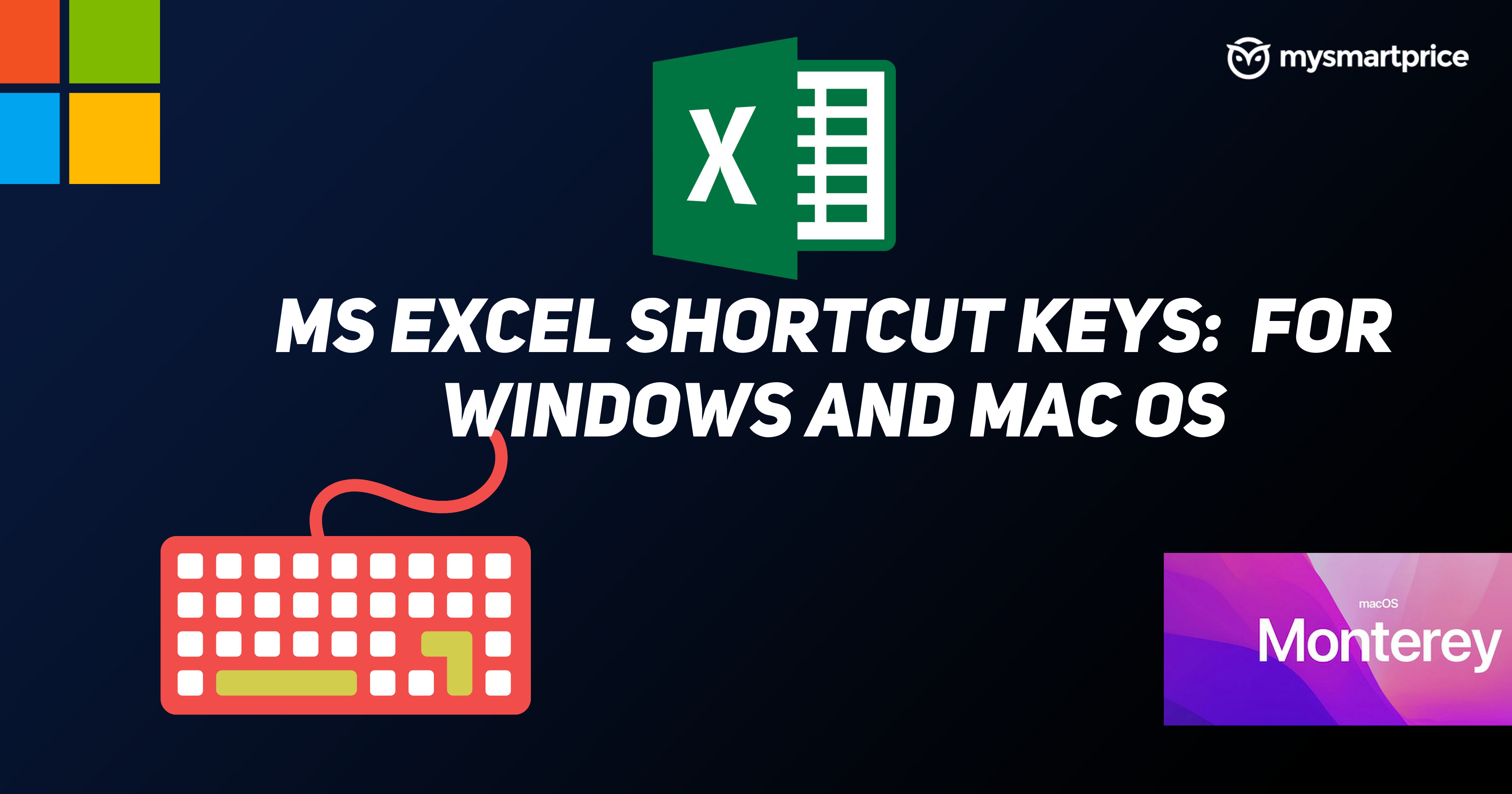 If your work involves dealing with Excel sheets on a daily basis, you might be aware of MS Excel shortcuts. Using keyboard shortcuts can boost your productivity and help you format and sort information quickly. Using a keyboard shortcut can save you precious time and effort, and make the entire process of creating an Excel sheet faster and easier.
Whether you're an Excel veteran or beginner, the predefined shortcuts in the spreadsheet software will always come in handy. Below, we have listed out a number of MS Excel shortcut keys. Due to the keyboard configuration, shortcuts for Windows and macOS involve pressing different keys. However, the end result is generally the same.
Also Read: MS Word Shortcut Keys: Full List of Keyboard Shortcuts for Windows and macOS Laptops or PCs
50+ MS Word Shortcut Keys for Windows and macOS Laptops
The MS Excel shortcut list includes shortcuts for simple as well as advanced functions. Of course, we don't expect you to remember up all the Excel shortcuts, so feel free to bookmark thispage for later use. You can also create an Excel shortcuts PDF by going to print settings and saving the page as a PDF. If you are using a Mac, you should be aware of the Mac keyboard symbols i.e modifier keys. These are Command (or Cmd) ⌘, Shift ⇧, Option (or Alt) ⌥, Control (or Ctrl) ⌃, and Fn.
| | | |
| --- | --- | --- |
| Shortcuts for MS Excel Functions | Windows | Mac |
| Create new workbook | Ctrl + N | ⌘ + N |
| Open workbook | Ctrl + O | ⌘ + O |
| Save workbook | Ctrl + S | ⌘ + S |
| Save as | F12 | ⌘ + ⇧ + S |
| Print file | Ctrl + P | ⌘ + P |
| Open print preview window | Ctrl + F2 | |
| Close current workbook | Ctrl + W | ⌘ + W |
| Close Excel | Alt + F4 | ⌘ + Q |
| Open options | Alt + F + T | ⌘ + , |
| Open help | F1 | ⌘ + / |
| Undo last action | Ctrl + Z | ⌘ + Z |
| Redo last action | Ctrl + Y | ⌘ + Y |
| Copy selected cells | Ctrl + C | ⌘ + C |
| Repeat last action | F4 | ⌘ + Y |
| Cut selected cells | Ctrl + X | ⌘ + X |
| Paste content from clipboard | Ctrl + V | ⌘ + V |
| Display the Paste Special dialog box | Ctrl + Alt + V | ⌘ + ⌃ + V |
| Display find and replace | Ctrl + F | ⌘ + F |
| Display find and replace and replace selected | Ctrl + H | ⌃ + H |
| Find next match | Shift + F4 | ⌘ + G |
| Find previous match | Ctrl + Shift + F4 | ⌘ + ⇧ + G |
| Create embedded chart | Alt + F1 | Fn + ⌥ + F1 |
| Create chart in new worksheet | F11 | Fn + F11 |
| Drag and cut | drag | drag |
| Drag and copy | Ctrl + drag | ⌥ + drag |
| Drag and insert | Shift + drag | ⇧ + drag |
| Drag and insert copy | Ctrl + Shift + drag | ⌥ + ⇧ + drag |
| Drag to worksheet | Alt + drag | ⌘ + drag |
| Drag to duplicate worksheet | Ctrl + drag | ⌥ + drag |
| Insert table | Ctrl + T | ⌃ + T |
| Toggle Autofilter | Ctrl + Shift + L | ⌘ + ⇧ + F  |
| Activate filter | Alt + ↓ | ⌥ + ↓ |
| Select table row | Shift + Space | ⇧ + Space |
| Select the table column | Ctrl + Space | ⌃ + Space |
| Select table | Ctrl + A | ⌘ + A |
| Clear slicer filter | Alt + C | ⌥ + C |
| Toggle table total row | Ctrl + Shift + T | ⌘ + ⇧ + T |
| Move one screen right | Alt + Pg + Dn | Fn + ⌥ + ↓ |
| Move one screen left | Alt + Pg + Up | Fn + ⌥ + ↑ |
| Move one screen up | Pg + Up | Fn + ↑ |
| Move one screen down | Pg + Dn | Fn + ↓ |
| Move to right edge of data region | Ctrl + → | ⌃ + → |
| Move to the left edge of the data region | Ctrl + ← | ⌃ + ← |
| Move to the top edge of the data region | Ctrl + ↑ | ⌃ + ↑ |
| Move to the bottom edge of the data region | Ctr + l↓ | ⌃ + ↓ |
| Move to the beginning of the row | Home | Fn + ← |
| Move to last cell in the worksheet | Ctrl + End | Fn + ⌃ + → |
| Move to the first cell in worksheet | Ctrl + Home | Fn + ⌃ + ← |
| Go back to hyperlink | Ctrl + G + Enter | ⌃ + G + Return |
| Move to the next tab | Ctrl + Tab | ⌃ + Tab |
| Move to the previous tab | Ctrl + Shift + Tab | ⌃ + ⇧ + Tab |
| Toggle full screen | Ctrl + Shift + F1 | ⌃ + ⌘ + F |
| Insert a new worksheet | Shift + F11 | fn + ⇧ + F11 |
| Go to the next worksheet | Ctrl + Pg + Dn | Fn + ⌃ + ↓ |
| Go to the previous worksheet | Ctrl + Pg + Up | Fn + ⌃ + ↑ |
| Move to the next pane | F6 | Fn + F6 |
| Move to the previous pane | Shift + F6 | Fn + ⇧ + F6 |
| Go to the next workbook | Ctrl + Tab | ⌃ + Tab |
| Go to the previous workbook | Ctrl + Shift + Tab | ⌃ + ⇧ + Tab |
| Minimize the current workbook window | Ctrl + F9 | ⌘ + M |
| Maximize the current workbook window | Ctrl + F10 | fn + ⌃ + F10 |
| Insert rows | Ctrl + Shift + + | ⌘ + ⇧ + + |
| Insert columns | Ctrl + Shift + + | ⌘ + ⇧ + + |
| Display Delete dialog box | Ctrl + – | ⌘ + – |
| Delete rows | Ctrl + – | ⌘ + – |
| Delete columns | Ctrl + – | ⌘ + – |
| Hide rows | Ctrl + 9 | ⌃ + 9 |
| Unhide rows | Ctrl + Shift + 9 | ⌃ + ⇧ + 9 |
| Hide columns | Ctrl + 0 | ⌃ + 0 |
| Unhide columns | Ctrl + Shift + 0 | ⌃ + ⇧ + 0 |
| Group rows or columns | Alt + Shift + → | ⌘ + ⇧ + K |
| Ungroup rows or columns | Alt + Shift + ← | ⌘ + ⇧ + J |
| Hide or show outline symbols | Ctrl + 8 | ⌃ + 8 |
| Zoom in | Ctrl + Alt + + | ⌥ + ⌘ + + |
| Zoom out | Ctrl + Alt + – | ⌥ + ⌘ + – |
| Align left | Alt + H + A + L | ⌘ + L |
| Align right | Alt + H + A + R | ⌘ + R |
| Add Indent | Alt + H + 6 | ⌃ + ⌥ + Tab |
| Remove indent | Alt + H + 5 | ⌃ + ⌥ + ⇧ + Tab |
| Increase font size one step | Alt + H + FG | ⌘ + ⇧ + > |
| Decrease font size one step | Alt + H + FK | ⌘ + ⇧ + < |
| Apply general format | Ctrl + Shift + ~ | ⌃ + ⇧ + ~ |
| Apply currency format | Ctrl + Shift + $ | ⌃ + ⇧ + $ |
| Apply percentage format | Ctrl + Shift + % | ⌃ + ⇧ + % |
| Apply scientific format | Ctrl + Shift + ^ | ⌃ + ⇧ + ^ |
| Apply date format | Ctrl + Shift + # | ⌃ + ⇧ + # |
| Apply time format | Ctrl + Shift + @ | ⌃ + ⇧ + @ |
| Apply number format | Ctrl + Shift + ! | ⌃ + ⇧ + ! |
Also Read: