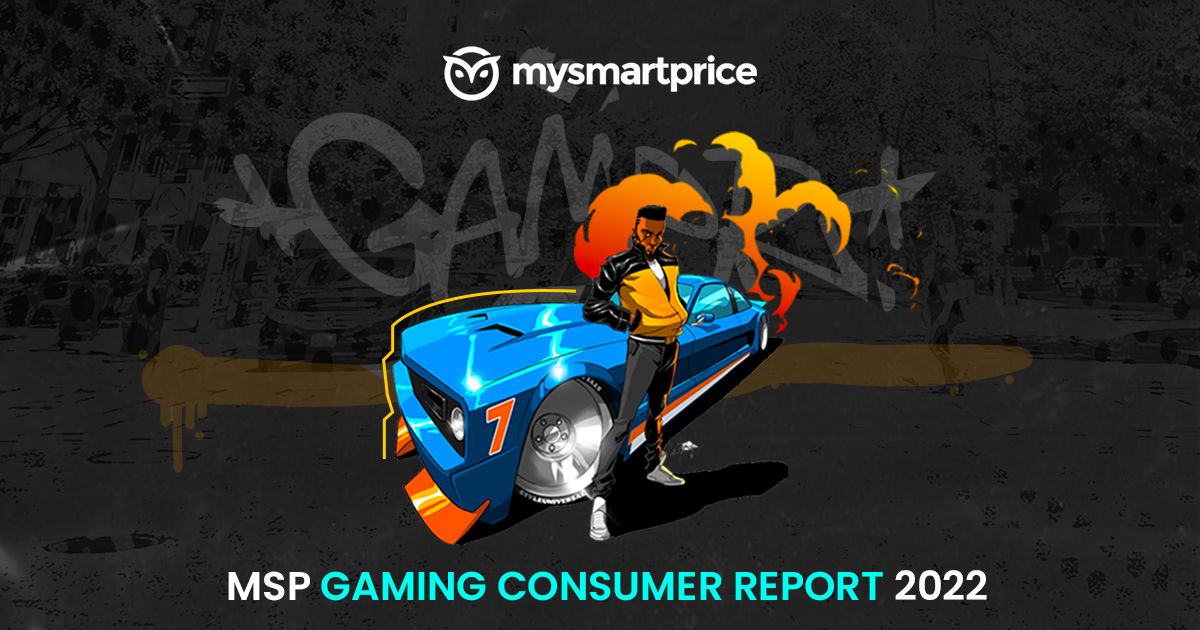 Gaming is one of the fastest-growing industries in India, as evidenced by the amount of innovation and investment in the space over the past few years. We recently conducted a survey to identify key trends and to gain some insight into who the Indian gamer is. The survey yielded some interesting results as to the behavior of gamers in the country and the most popular devices currently in the market.
India is one of the most exciting and unique markets for gaming in the world as the audience is skewed heavily toward mobile gaming. This leads to brands heavily catering to the mobile gaming crowd, offering powerful hardware at competitive prices to establish themselves as the go-to brand for gamers. Companies like Realme, Samsung, and Vivo have found great success with the mobile gaming crowd on the back of multiple quality offerings.
Mobile gaming is an especially exciting space globally, with a number of publishers rushing to bring their best IPs to the platform. But with cloud gaming making headway in the country, it will be extremely interesting to see if companies are able to capitalize on the tech and attract an even larger audience than now. Our report dives into the behaviors and usage patterns of the Indian gamer to offer some insight into the best gaming devices and games that are enjoyed by the masses today.
The 19-24 Age Group is the Key Demographic of Gamers in India
The data used in the study was based on 14,349 respondents, of which 94.4% were male. One of the key insights the data revealed was that 42.7% of the respondents were in the 19-24 years age group, identifying it as the key demographic of gamers in the country. Only 4.6% of respondents were in the 30+ age group.
The next big demographic is the 16-18 years age group, which makes up 32.2% of the respondents. This reflects that the gaming audience in the country is incredibly young, which bodes great signs for the growth of the industry in India. As this is likely an age group that can be catered to for years on end from this point on.
Realme: The Top Smartphone Brand for Gaming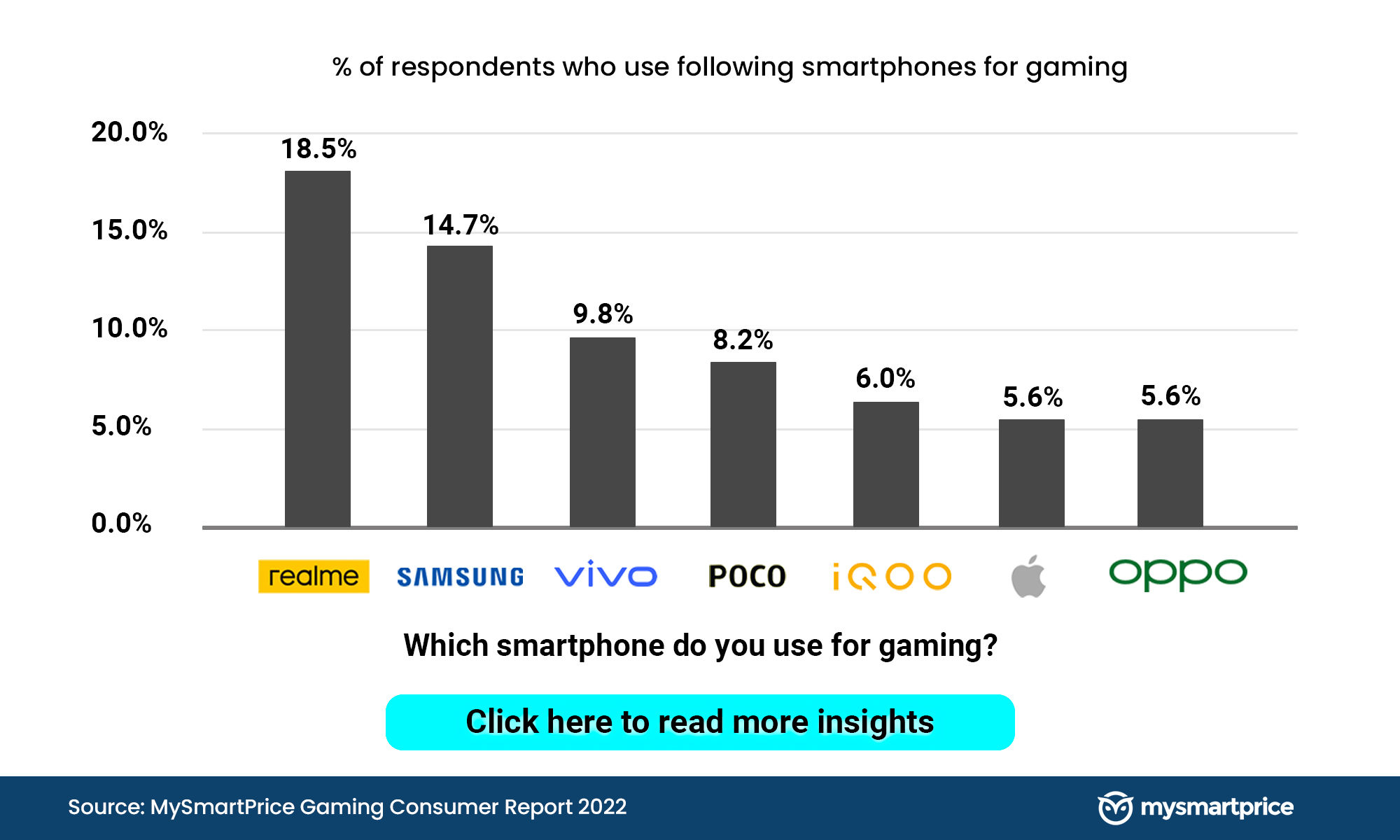 Both Realme and Samsung have carved themselves out a significant piece of the pie with 18.5% of respondents using the former while 14.7% use Samsung. It would appear Realme's smartphones have been able to hit a nice spot with their pricing without compromising on features gamers care about such as RAM and battery life.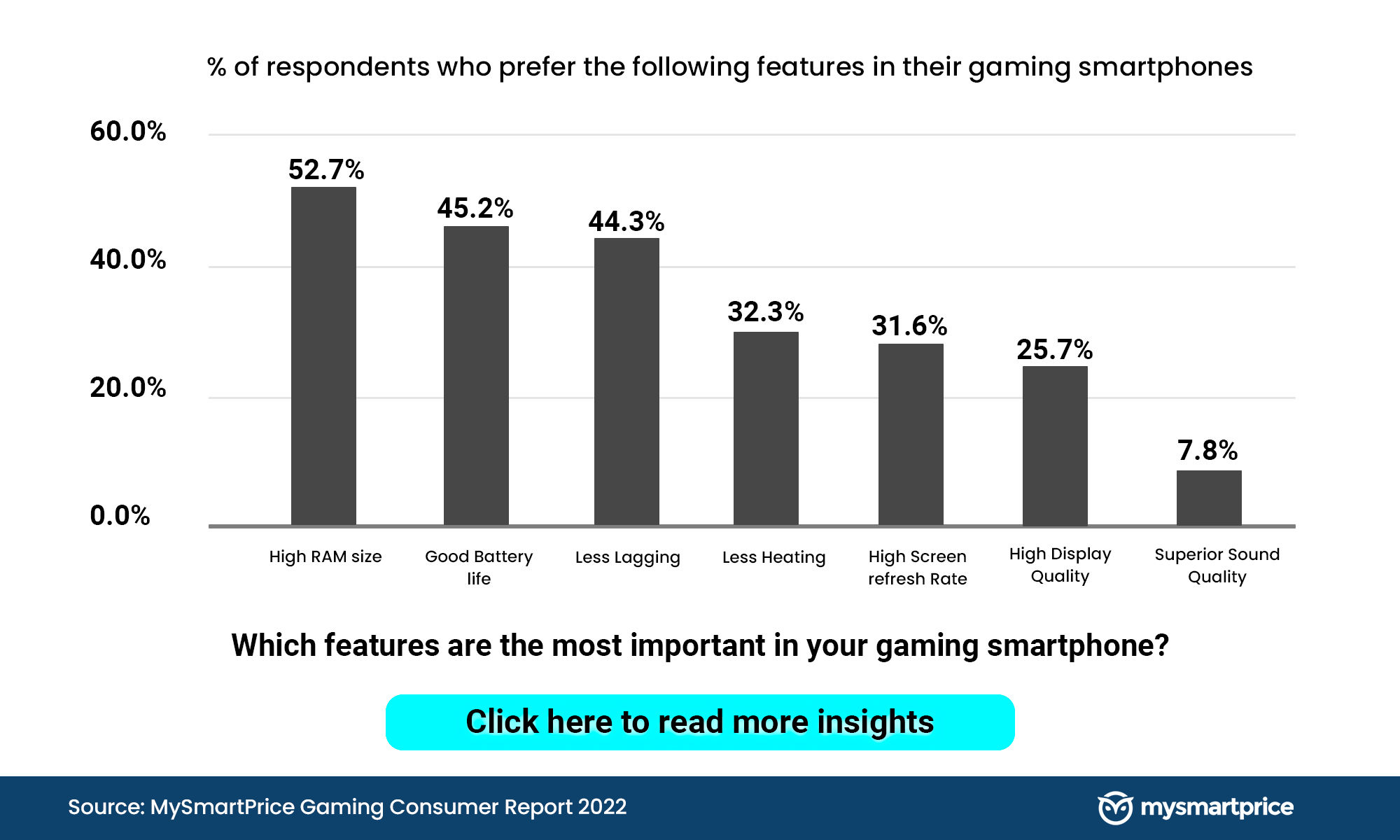 Apple makes up only 5.6% despite having typically good smartphones for gaming. There are several factors that inform gamers' choice of smartphones. These include a mixture of powerful hardware and pricing. 52.7% of respondents hold RAM size as one of the most important factors when considering one mobile over the other. Other major factors include good battery life and heating. Slightly lower on the list are high frame rate displays and sound quality.
Indian Gamers Tend to Largely Play Games Multiple Times a Day
One of the key characteristics of smartphone gaming is its inherently mobile nature which allows gamers to get into the game quickly without much setup. The data gathered from respondents reflects that a large portion of players tends to play games on their smartphones multiple times a day. 62.4% of respondents.
The number off dramatically after that as only 19.2% of respondents play games once a day. Only 11.0% of respondents play games occasionally throughout the week while only 3.3% of respondents play games once or twice a month.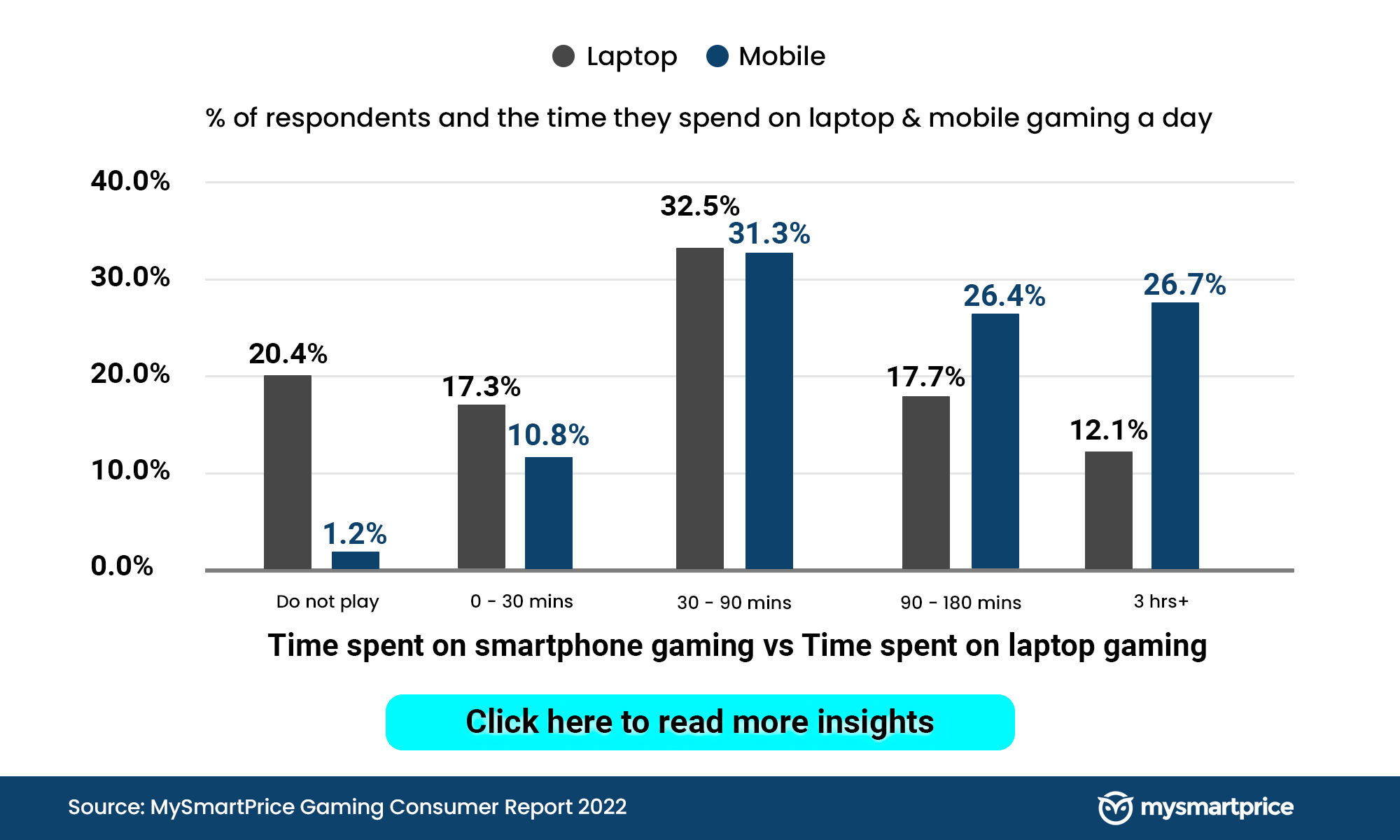 Gaming is also a major time commitment as large, expansive games like BGMI/PUBG Mobile and COD Mobile can often end up taking huge chunks of the player's time. This is indicative of 31.3% of respondents confirming they play more than 30-90 minutes on their smartphone gaming. The number of respondents that play games for only up to 30 minutes is incredibly small, at only 10.8%.
Curiously, while 26.4% of gamers tend to play for 90-180 minutes, the number shoots up significantly past this point. 26.7% of respondents play more than 3 hours of games on their smartphones, which is incredibly telling of how highly invested gamers are in the country.
Laptop/PC Gaming is Much More Uniform in India
While mobile gaming tends to have steep drop-offs after a certain point, laptop gaming is far more consistent and even. 23.7% of laptop gamers tend to play multiple times a day with 23.4% playing occasionally throughout the week. Most curiously, 22.6% of respondents do not own a laptop for gaming, which further illustrates the skew toward mobile gaming in the country.
Time investment on laptops is largely around the 30-90 minute mark, at 32.5%. Only 12.1% of laptop gamers tend to play for more than 3 hours.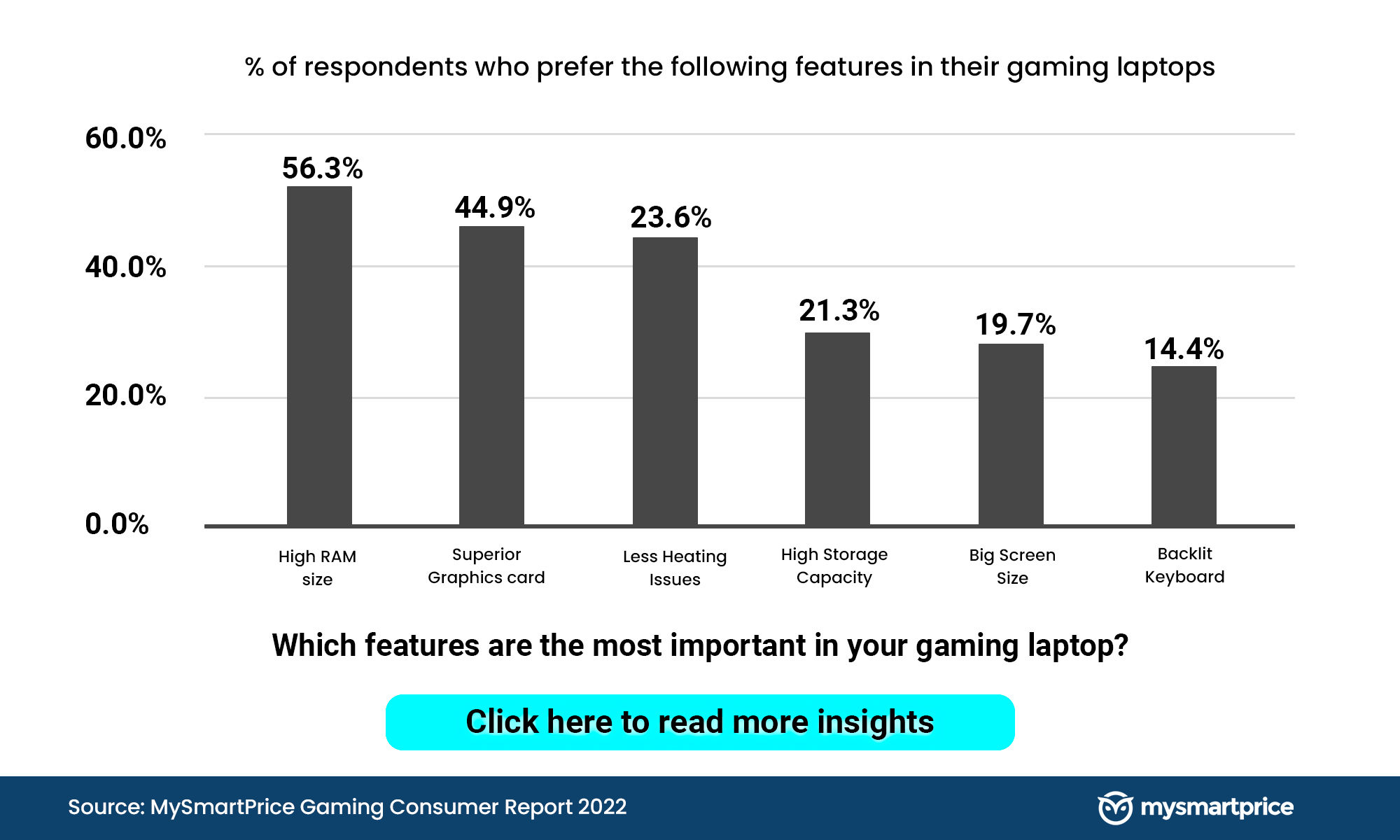 Desktop gaming is a whole other ball game with 23.7% of respondents playing multiple times a day while the second-larget largest share of 22.6% of respondents do not own a desktop for gaming. This paints the picture that desktop gaming may be one of the most niche forms of gaming, where once it was possibly the most popular.
Gaming consoles also appear to be a major niche as 41.2% of respondents do not own a console for gaming. Out of the ones that do, 22.1% play sometimes a week with only 15.6% playing multiple times a day.
HP is the Top Laptop Brand for Gaming
HP has managed to emerge as a leader in a highly competitive space as 17.8% of respondents use HP laptops with ASUS a close second at 16.0%. Curiously, Apple, despite not being geared toward gaming, stands ahead of both Xiaomi and Acer, at 7.1%.
Laptops are much higher-powered hardware for gaming and there are a lot of factors influencing their purchase, but much like mobile, decent RAM remains a priority for 56.3% of respondents. A close second is, of course, the graphics card (GPU), at 44.9%. The backlit keyboard, while also a factor, sits towards the end of the spectrum at 14.4%.
With only 2 major players in the processor game, Intel manages to edge out its counterpart, with 58.1% of respondents picking it over AMD. AMD has made major headway in the industry in the past few years, on the back of their Ryzen series of processors. Despite this, Intel has managed to hold its dominion.
Gaming also appears to be a major factor informing consumer choice in laptops as 63.9% of respondents factor in the laptop's gaming capabilities while purchasing. Despite being relative newcomers to the table, boAt has managed to carve out a decent chunk of the pie with 33.9% of respondents using boAt headphones for gaming.
The affordable price point seems to be a major factor working in the favor of the brand as Sony only makes up 14.5% despite being a well-established brand in the world of audio equipment.
When do Indian Gamers Play Most Often?
Clearly, the most common time for gaming in the day appears to be the evening, with 55.7% of respondents. A close second is an afternoon (47.6%), which perfectly illustrates that a large portion of Indian gamers is students that manage to fit in some hours of gaming post-school/classes. Mornings are typically an uncommon time for gaming with only 20.6% of respondents choosing to play right after waking up.
Home is where gaming also happens the most with 93.7% of respondents choosing to play games from the comfort of their home.
The Growth of the Gaming Content Creator Ecosystem
Right alongside the gaming boom in India is the rise of the content creator ecosystem that has provided gaming audiences with several great content creators over a number of platforms. Youtube appears to be the most popular way for gamers to get their gaming content (81.7%). Only 1.4% of gamers do not watch gaming content on the internet. This means that a large portion of gamers tends to look for content around their favorite games.
Esports is also on the come up with 80% of respondents responding affirmatively to following esports with 46.7% following occasionally. 33.3% of respondents rigorously keep up with esports while only 19.3% choose not to tune in to esports.
Youtube and other platforms are home to some of the biggest gaming content creators from India such as the likes of Ajay Nagar and Tecno Gamerz. Creators have amassed a huge following on several platforms.
Perhaps the most positive sign with regard to the content creator ecosystem is that 24.3% of respondents are currently actively creating gaming content and a massive 55.8% of respondents are eager to do so eventually. This perfectly illustrates the appeal of content creation in the gaming space and the massive goldmine it is right now.
COD and Need for Speed Rule Laptop Gaming while BGMI and Free Fire Hold Dominion on Mobile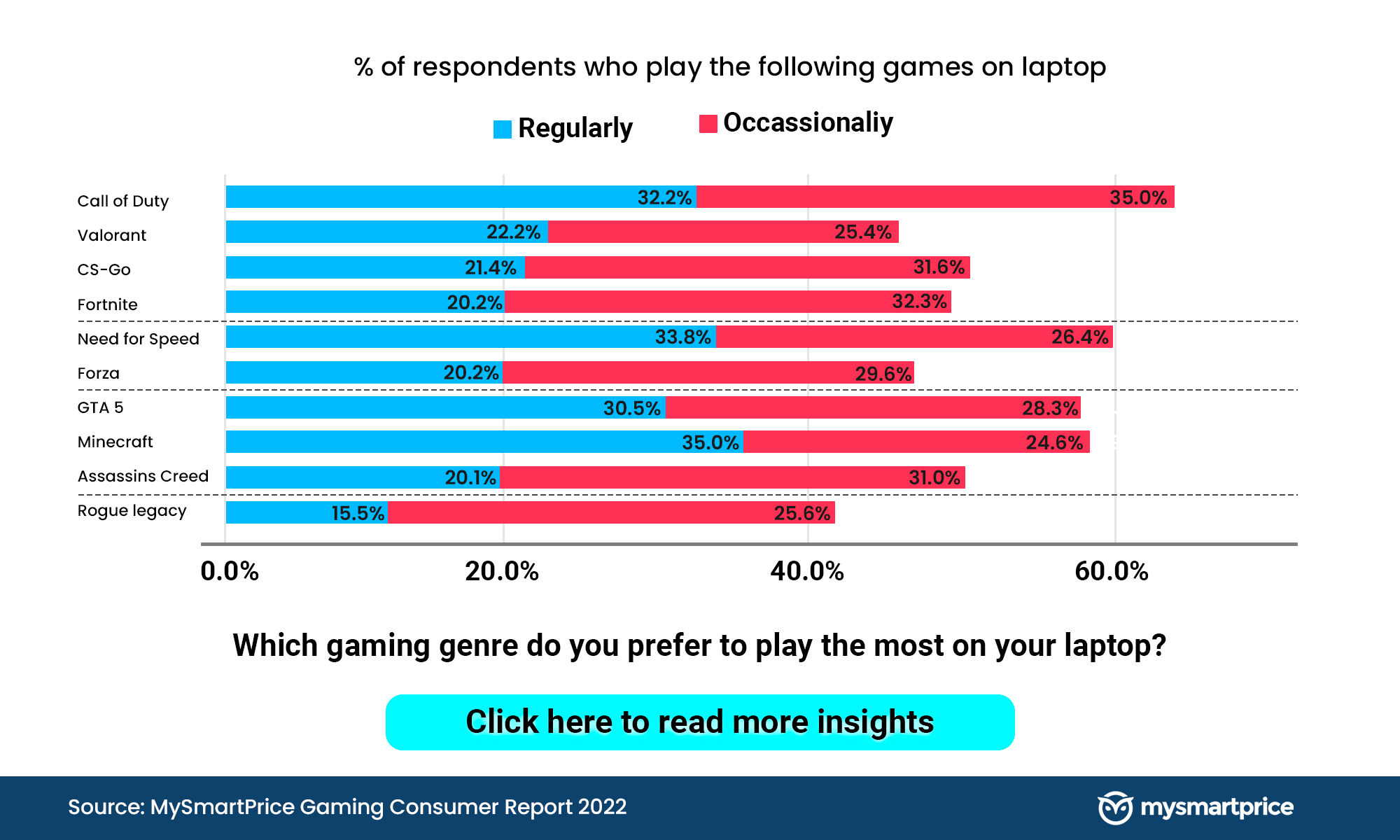 The Indian gaming community on laptops tends to enjoy a number of games, including the likes of Valorant, GTA V, Minecraft, Fortnite, CS: GO, and more. However, the top spot belongs to Call of Duty, which only goes to show the appeal of the franchise globally. However, the Need for Speed franchise is a close second, despite not being the best-selling franchise globally as compared to Forza or Gran Turismo.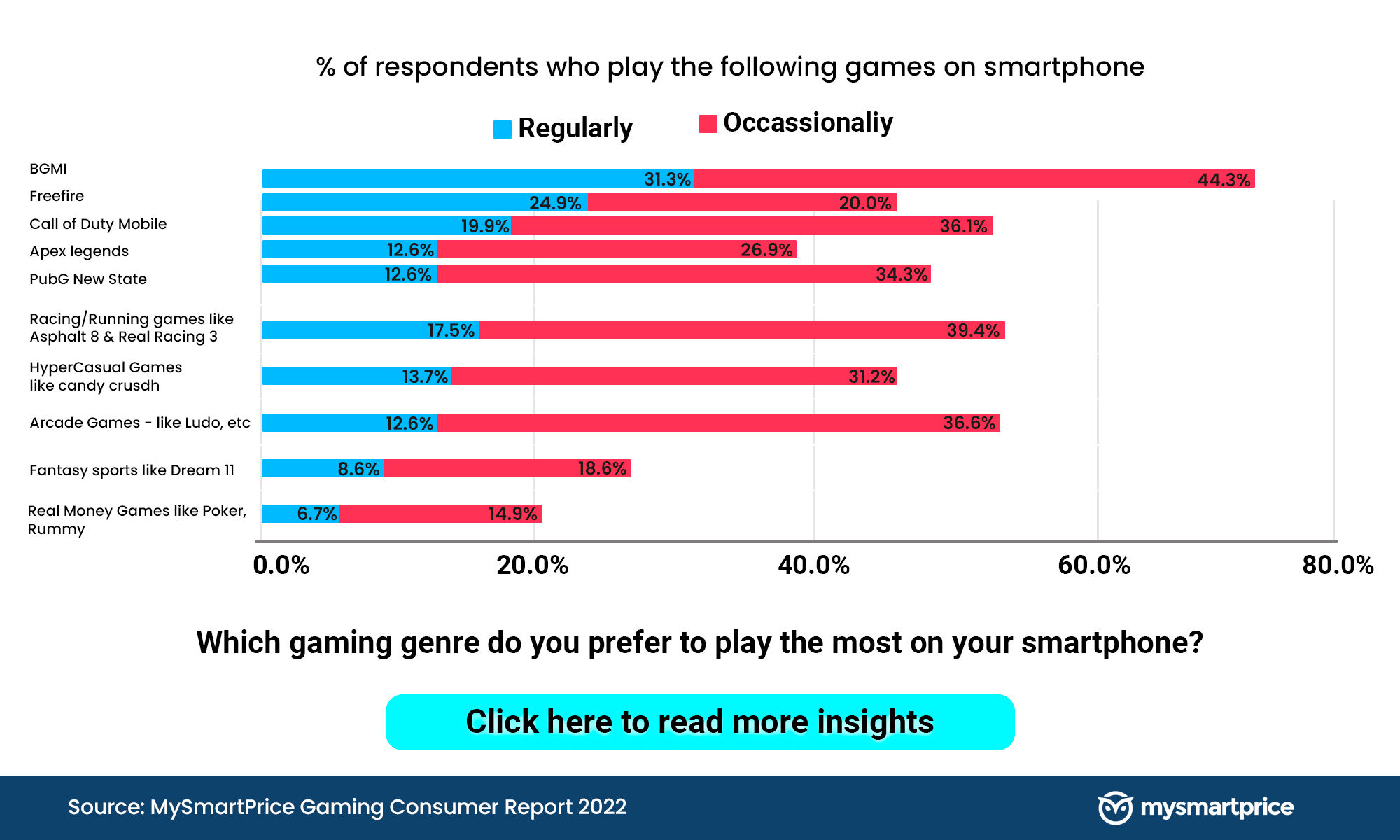 As has been the case for several years now, both BGMI and Free Fire continue to be the most popular games on mobile. Although games like Apex Legends Mobile and Call of Duty Mobile are beginning to creep up closer to the top spot.
Check out the full MSP Gaming Consumer Report here.