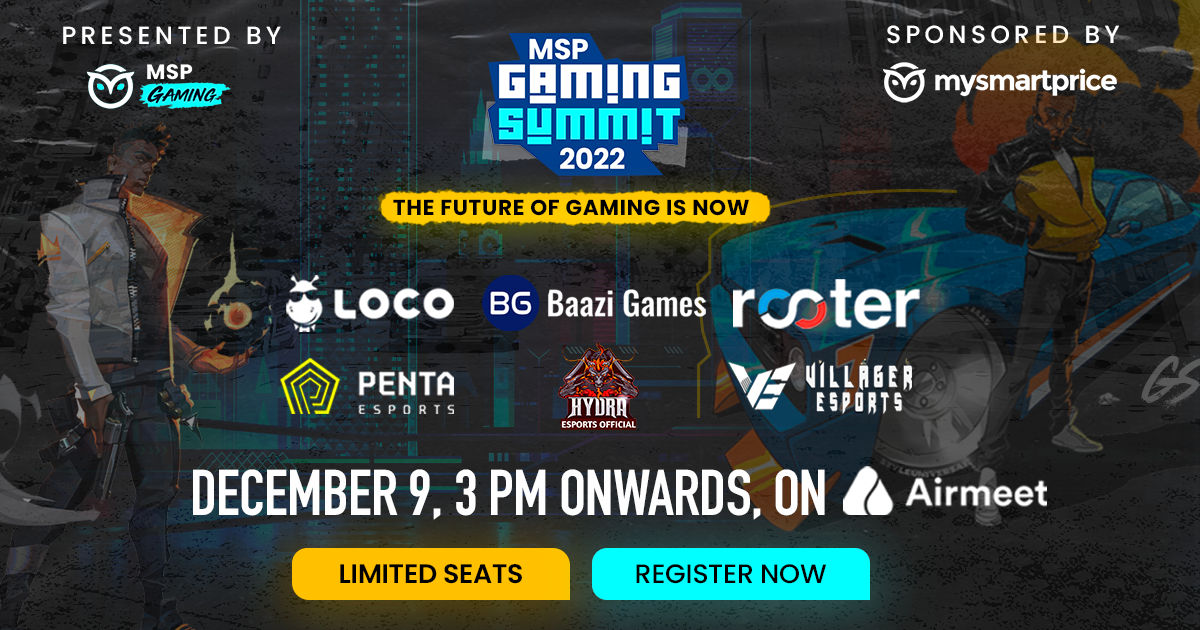 MSP Gaming, an IP of MySmartPrice, one of India's leading gaming communities is gearing up to host its first edition of 'MSP Gaming Summit 2022' with the industry's leading thought personalities. The all-virtual summit is set to bring together key leaders in the gaming ecosystem to discuss the big trends that are changing the video game industry and how it would get shaped in the future along with a panel discussion on the new gamer creator paradigm.
According to a recent study by Statista, the online gaming industry in India is anticipated to be worth Rs 150 billion in CY2024, up from Rs 120 billion in 2022. In India, the online gaming sector has risen by leaps and bounds in the previous two and a half years, and it is now regarded as a legitimate profession. For example, in 2021, India had over 390 million online gamers, representing an eight per cent increase over the previous year. According to the survey, the overall number of players is expected to exceed 450 million by 2023.
Also Read: Microsoft Take Over of Call of Duty and Diablo's Studio Activision Runs into Rocky Waters; Could be Challenged for $69 Billion
MySmartPrice to Host MSP Gaming Gaming Summit 2022
The event contains a couple of panel discussions with the Industry's leading personalities and the summit will represent the industry's evolving face. The first-panel discussion 'Gaming in 2025' also has an impressive line-up of speakers from the industry including Piyush Kumar, Co-Founder & CEO of India's leading game and esports streaming platform – Rooter, Kuldeep Kumar, Founder of Villager Esports, Varun Ganjoo, Co-Founder and Chief Marketing Officer, Baazi Game.
The second-panel discussion panel 'New Gamer Creator Paradigm' will feature a few of the major stakeholders in the Indian Gaming Community including Anurag Khurana, Founder of Penta Esports, Firasat Durrani, Vice President, Operations at Loco – an online live-streaming platform, Secrett, Professional Esports Athlete who is currently playing for Hydra Esports.
As mentioned above, the summit also aims to reveal a report of one of the biggest gaming surveys in India. It will represent insights from India's nationwide gaming survey, where the audience can witness user behaviour patterns and preferences of Indian Gamers in the community.
That's not all, the summit also holds an online award ceremony 'MSP Gaming Popular Choice Awards.' During the event, they will be giving out awards for various categories such as most popular smartphones, laptops, processors, gamers, content creators and esports players. The winners will be decided based on community voting. More details will be revealed soon.
The conference, scheduled for 9 December 2022 at 3 PM IST, aims to delve deep into the constantly expanding gaming industry by obtaining insights from top game streamers, creators, and marketers. The event is presented by MSP Gaming and MySmartPrice is powering the event. Interested viewers can catch the LIVE of MSP Gaming's Virtual summit event Live on Airmeet.
Do follow the official handles of MSP Gaming to know more about the upcoming Virtual Summit.