The COVID pandemic while being a dark time for human history was also the inadvertent cause of a digital revolution. Ever working from home doubled down on the importance of having a smartphone or a laptop. While smartphones have become essential for each house member, laptops are still limited to either 1 or 2 in each household in India. The work from home criteria has allowed users a reason to invest more in laptops. Besides office work, laptops are heavily used for gaming, video editing, content consumption, coding, and various other activities. It has now become an integral part of our work life.
To understand the consumer's needs, MySmartPrice recently conducted a Laptop Consumer Survey across various platforms. This indicates that Indian consumers prefer HP or Dell over any other brand of laptop.
Over 11,000 laptop owners participated in the MSP Laptop Consumer Survey and submitted various aspects about their preference and thought behind laptop purchases. Most of them were in the age group of below 18.
MSP Laptop Consumer Survey report indicates that most Indian consumers either own a HP laptop or a Dell laptop. HP is the most preferred brand for users having a budget of Rs 1 Lakh. However, preferences start changing when the budget of buyers crosses Rs 1 Lakh. Lenovo and Apple have also made it to the MSP Laptop Consumer Report.
HP: The Most Popular Laptop Brand in India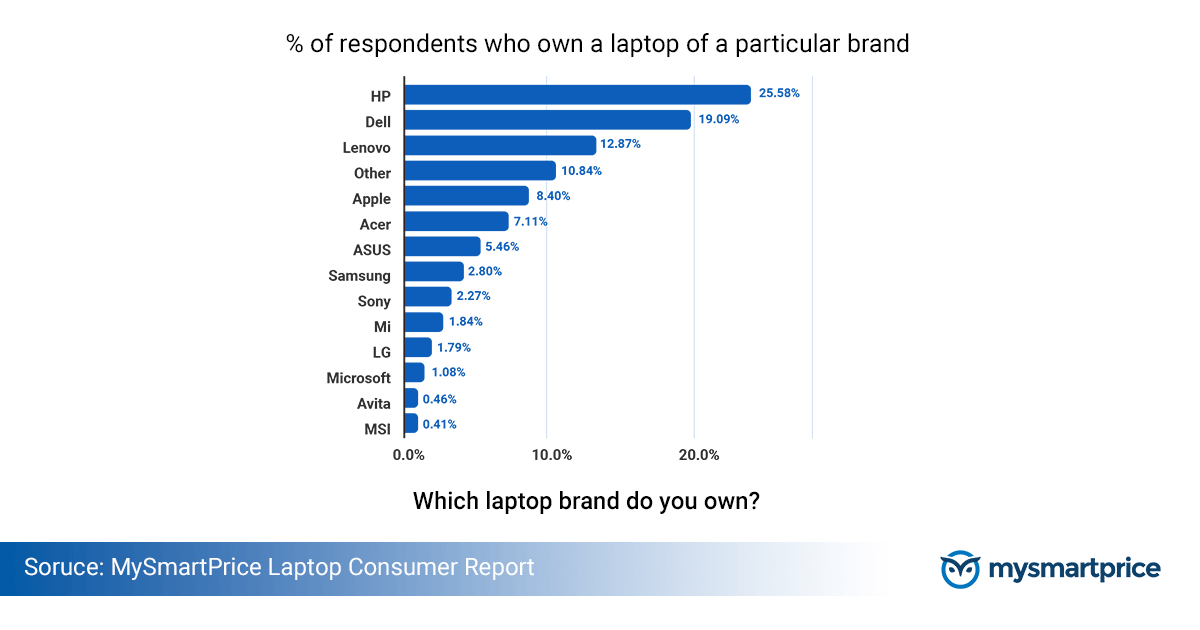 HP is the most popular brand in India, as revealed in MSP Laptop Consumer Report. 25% of the respondents said that they own a HP laptop followed by 19% of Dell. Lenovo came third with 12.87% of owners in the survey. Rest 10.84% of the respondents preferred laptops from other brands which are listed below in the graph.
The data clearly shows that despite not launching laptops so aggressively in India, HP owns a large share of the Indian laptop market.
India Prefers Buying Laptops Under Rs 25,000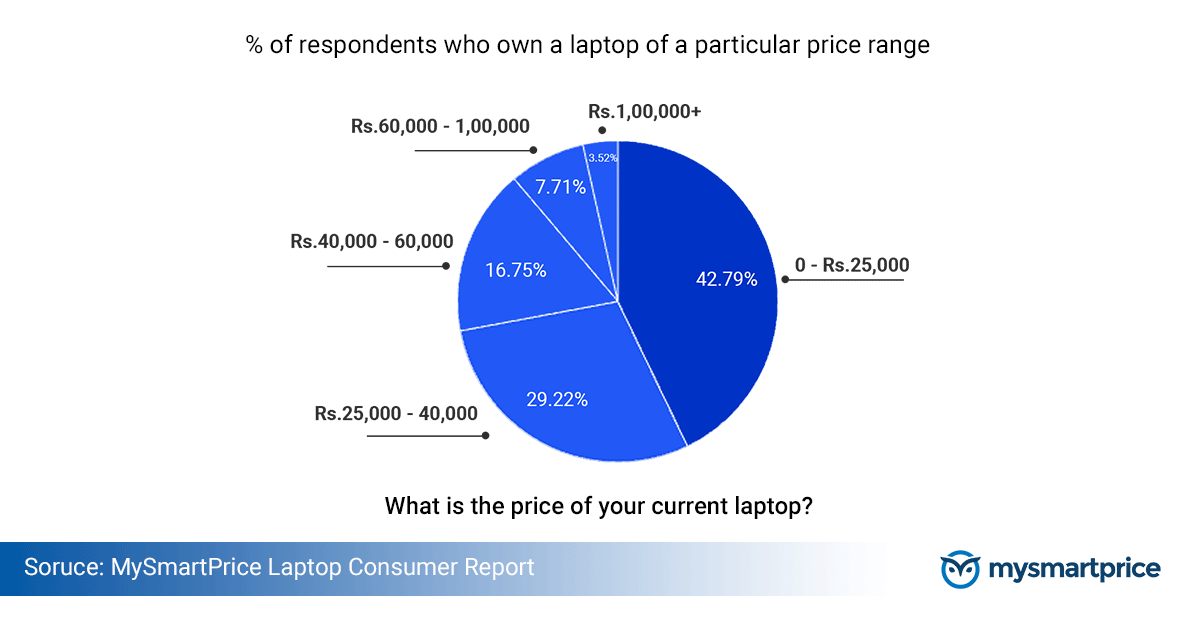 42.79% of respondents have said that their current laptop is priced under Rs 25,000. India is a price conscious market and brands like HP and Dell have multiple options available in this segment. This could be one of the major reasons for these companies to be on top of the preference list of buyers. 29.22% of the consumers have their laptops priced between Rs 25,000 to Rs 40,000. 16.75% of the respondents own a laptop priced between Rs 40,000 to Rs 60,000, whereas, 7.71% of the respondents own a laptop priced between Rs 60,000 to Rs 1,00,000. Only 3.52% of respondents own laptops priced above Rs 1 Lakh.
HP Dominates the Sub – Rs 1 Lakh Laptop Segment in India
Like we mentioned earlier the MSP Consumer Survey Report reveals that HP is dominating the Indian laptop market in under Rs 1 Lakh category, and here's a detailed breakdown of each price segment.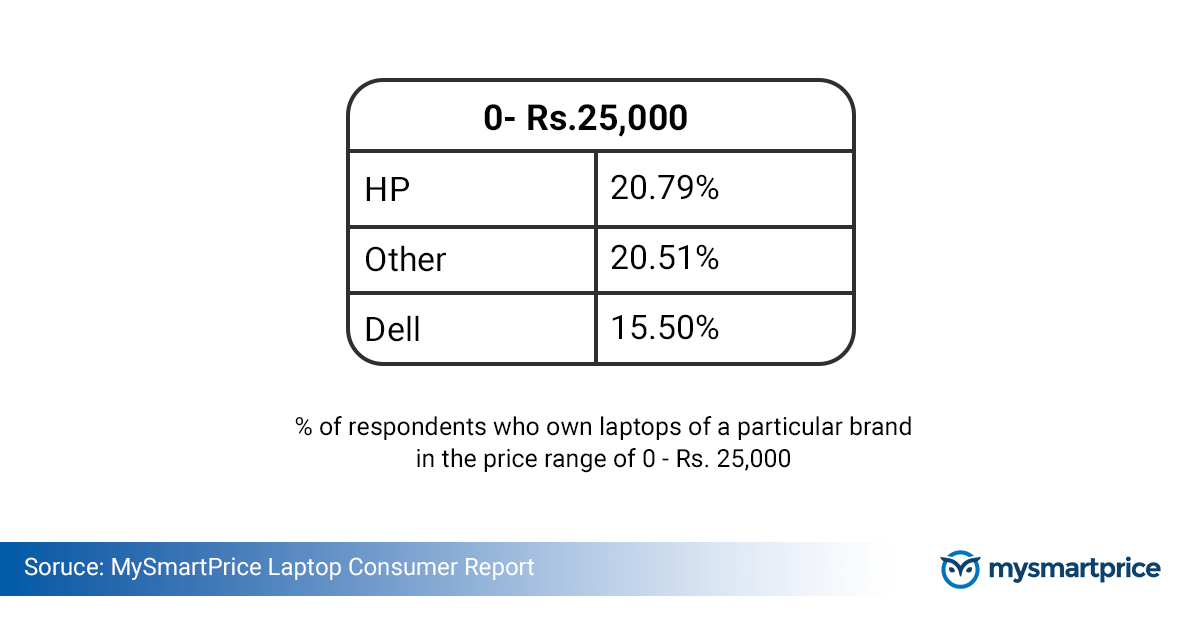 HP laptops are owned by 20.79% of the users who said that they have laptops priced under Rs 25,000. Whereas, 20.51% of respondents have said that they own a laptop from lesser known brands which are referred to as Others in the survey. Dell came third in this category with 15.50% of consumers. Not many brands launch their laptops in this price segment, hence HP and Dell get a major lead.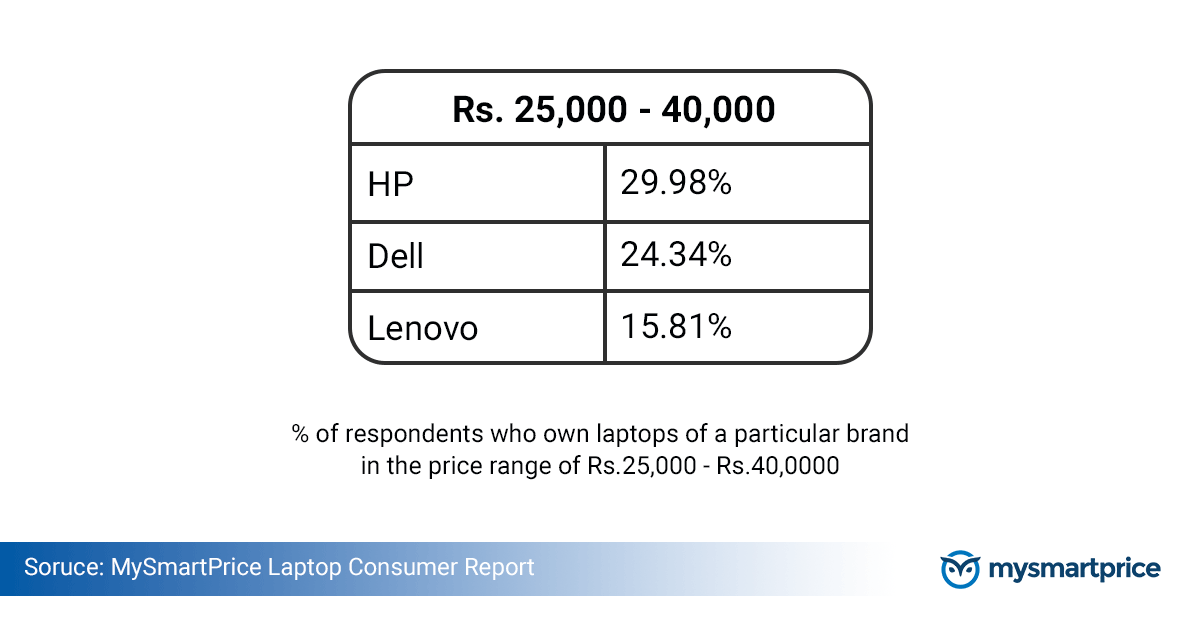 In the Rs 25,000 to Rs 40,000 segment, HP still tops the chart with 29.98% of laptop owners. While Dell and Lenovo came second and third respectively with 24.34% and 15.81% of laptop owners.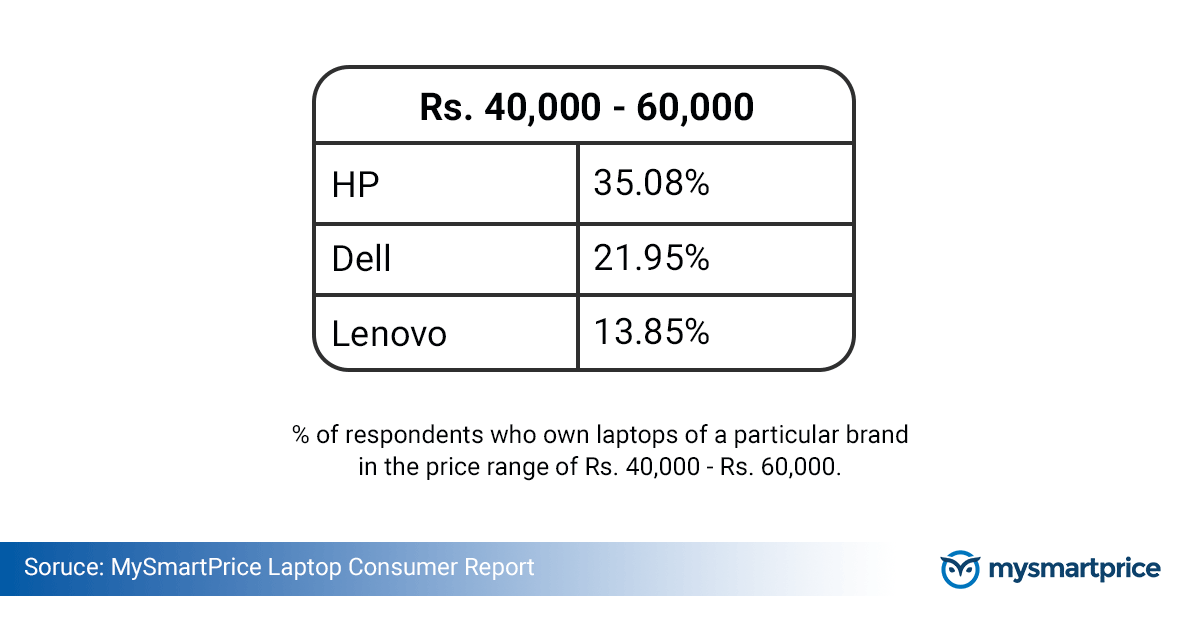 The Rs 40,000 to Rs 60,000 segment is no different and gets the same ranking with HP leading the chart with 35.08% of users. Dell has 21.95% of users whereas Lenovo has 13.85% of laptop users.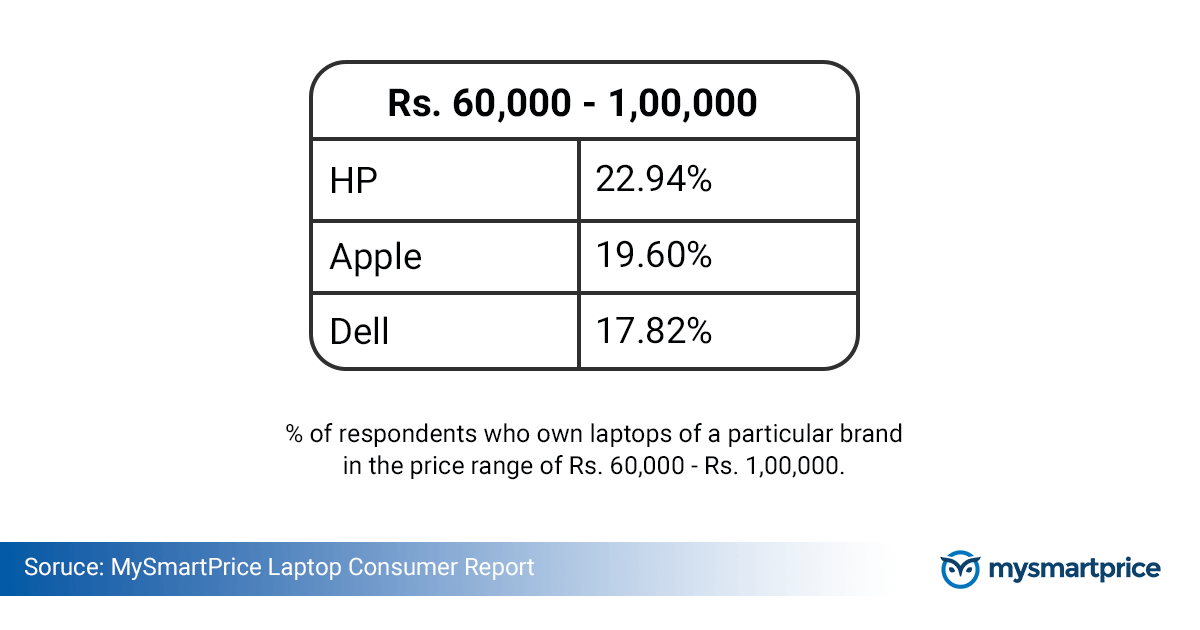 Apple starts making its way in the Rs 60,000 to Rs 1 Lakh segment. The popularity of old gen Macbooks and the brand reputation are two main reasons for the company to list here. HP comes first with 22.94% of laptop owners whereas Apple takes second place with 19.60% of buyers. Dell comes third with 17.82% of laptop owners.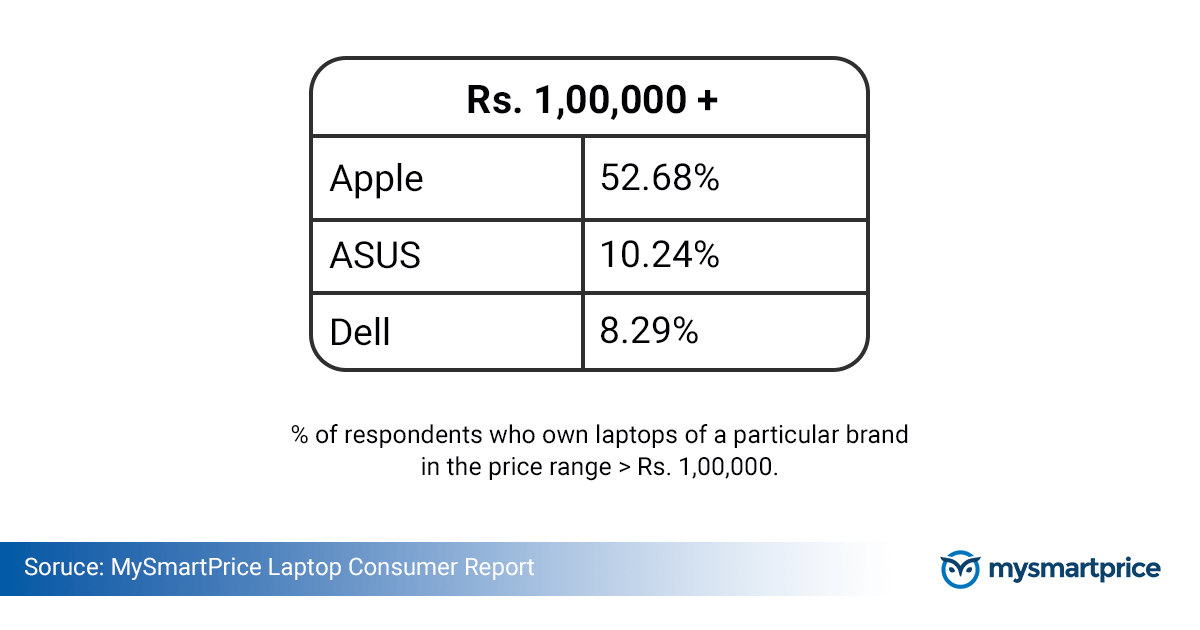 Things change completely in the above Rs 1 Lakh price segment. Apple takes a major 52.68% of share in this price segment because of the Macbooks. While Asus makes it to second place with 10.24% of the user base. Dell came third with 8.29% of users in this segment. Surprisingly, HP is nowhere to see in the premium segment in India.
When and Why do Users Change their Old Laptop?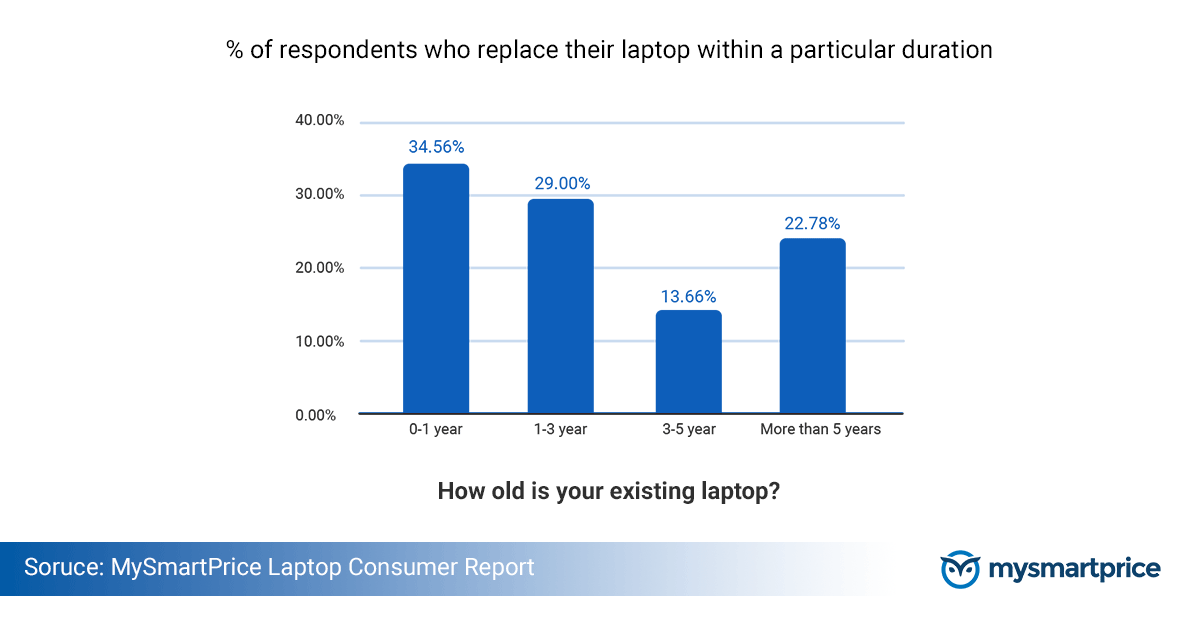 MSP asked users about how old their laptops are and a majority of them told that they bought a laptop within a year or so. 29% of users said that their laptop is 1 to 3 years old while 22.79% of them said they have been using their laptops for more than 5 years. Only 13.66% of users responded that their laptop was 3 to 5 years old.
When asked why they want to replace their laptops, 46.26% of them said they want to buy a laptop that packs the latest gen technology. 19.12% of the respondents said they want a laptop for their family.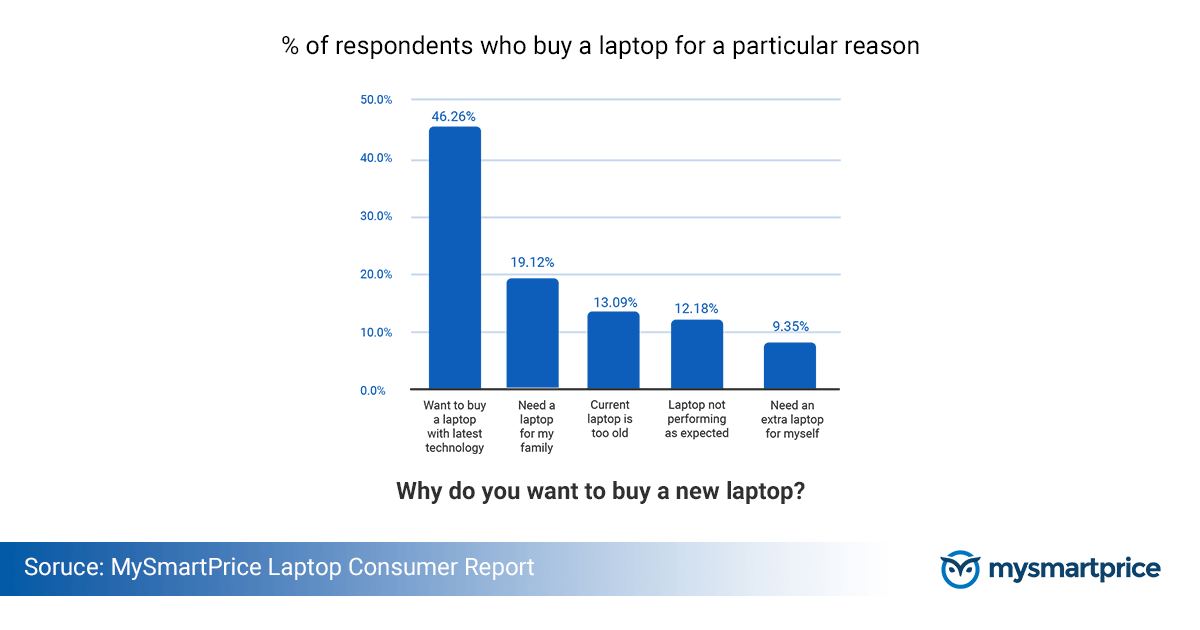 The data is proof that users are keen to try out the latest technology laptops that have better processors, rich displays, better battery life, and much more.
Factors Users Consider Before Buying a Laptop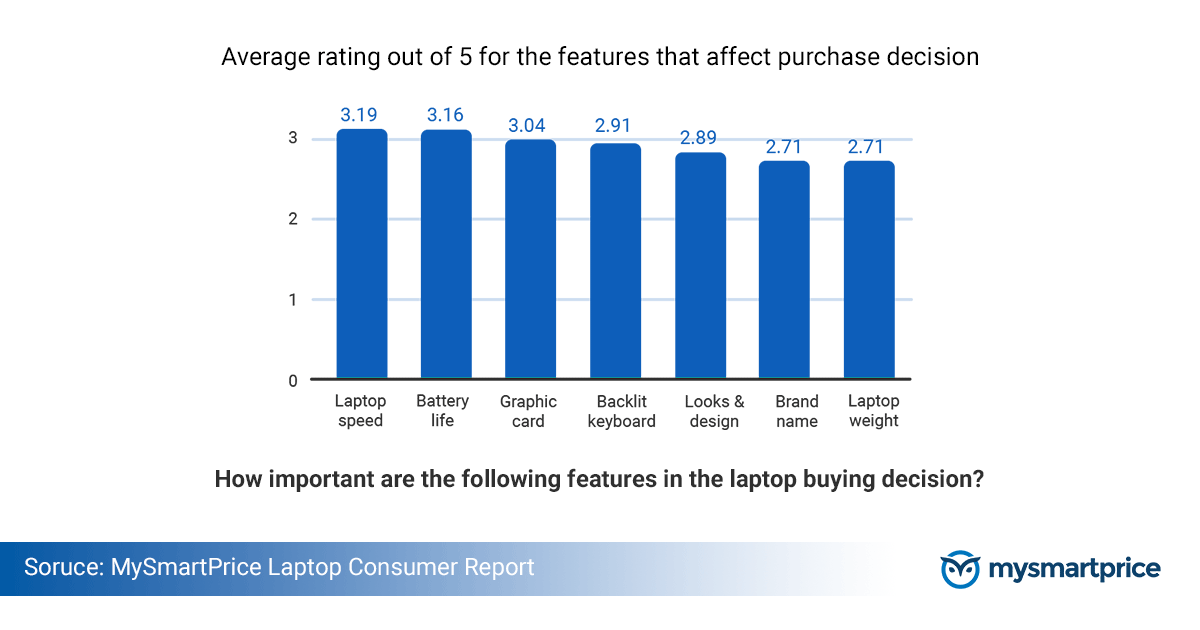 Laptop speed and battery life are the two major factors that users consider when buying a new laptop, the MSP Laptop Consumer Report revealed. Besides that, users also look for a graphic card, backlit keyboard, design, brand name, and laptop weight while buying a laptop.
Which Laptop Brand has the Most Loyal User Base?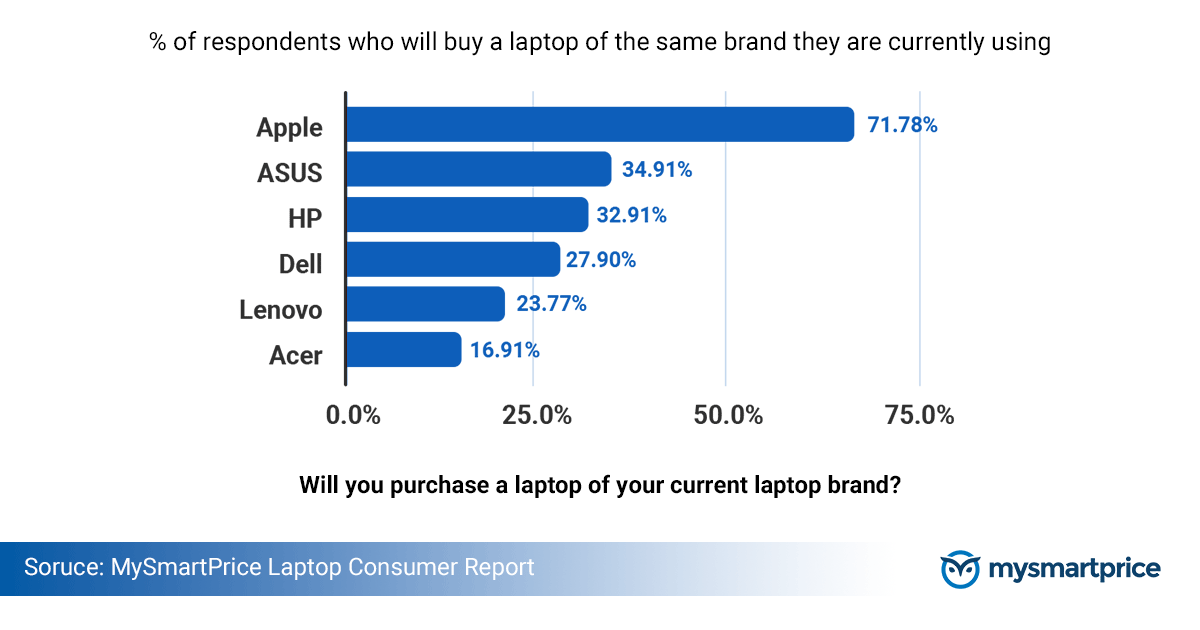 Apple users have shown that they are most loyal to the brand. 71.78% of Apple Macbook owners have said they will still look for an Apple Macbook as their next laptop. Asus has the second most loyal user base with a 34.91% retention rate. Other brands on the list include HP, Dell, Lenovo, and Acer.
Apple MacBook Users Most Satisfied with Laptop Choice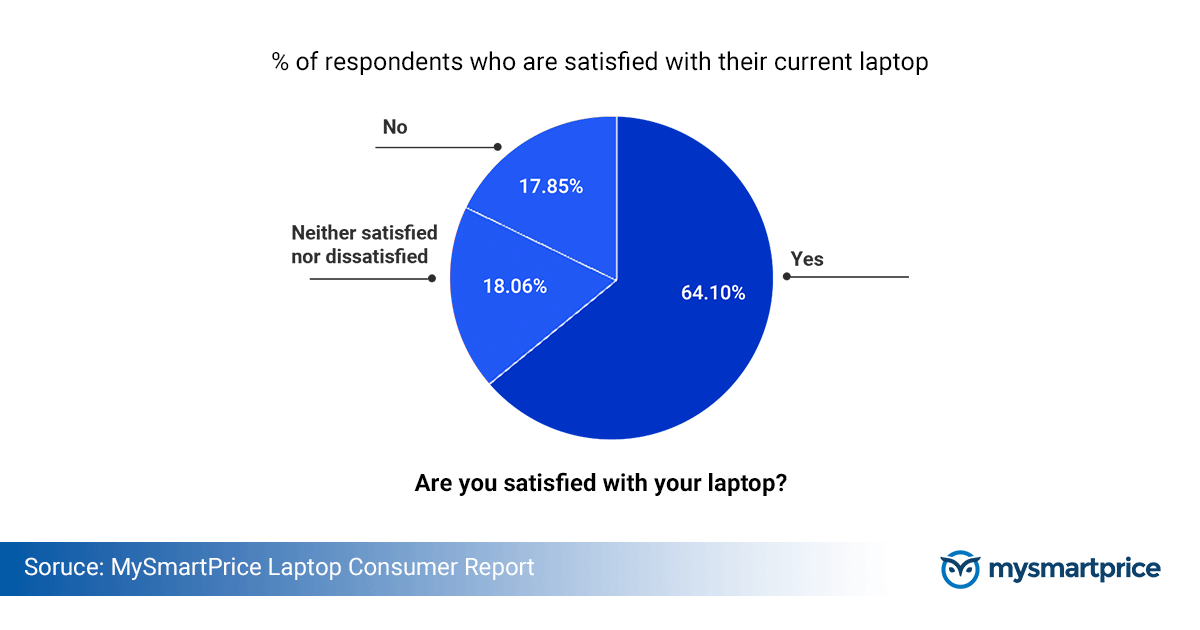 64.10% of users on the MSP Laptop survey said that they are satisfied with their current laptop. When asked about the brand with whom they are most satisfied, the answer was – no points for guessing – Apple. Laptop users owning an Apple Macbook are satisfied with its battery life, charging speed, storage capacity, graphic card, laptop speed, and heating. On the other hand, Asus also did a commendable job by satisfying users' needs with its laptop display and design.
Also Read: MSP Smartphone Consumer Report
Why Do People Use Laptops?
One of the major key findings from the MSP Laptop Consumer Report clarifies the laptop usage statistics from Indian users. 64.82% of respondents say that they use a laptop for less than two hours just for designing and editing. While more than 60% of users say that they use a laptop for browsing or research for two hours. 48.29% of respondents use their laptops for emails and documentation for between 1 to 4 hours each day. 36.94% of respondents say they do gaming on their laptops for 1 to 4 hours each day.
The MSP Laptop Consumer Survey indicates that the laptop market will continue to grow in India. Brands like HP and Apple have a strong presence in the country and are likely to expand further. Dell and Lenovo have also made big and continue to expand in India. Asus continues to be one of the most preferred choices in the premium segment with the ROG, TUF, Vivobook and Zenbook series.
You can download the report here.