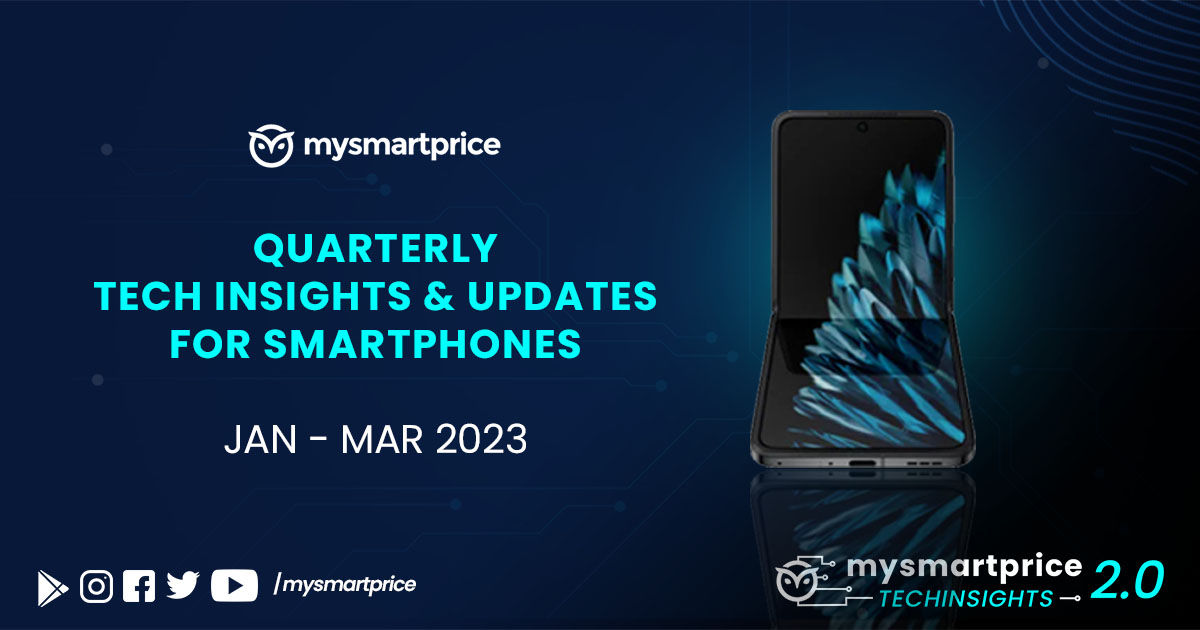 We have entered the fourth month of 2023 and the year up until now has been an action packed one for the tech world in general. In just three months, we witnessed the likes of Samsung Galaxy S23 Series (review), OnePlus 11 (review), Xiaomi 13 Pro (review), and much more. Whether it's about a flagship, mid-range or budget phone, we have seen all the segments getting refreshed in the first quarter of 2023. That's a good start.
MySmartPrice has come up with a smartphone review report that reveals interesting insights about the smartphone's popularity in the first quarter of 2023. The data has been collected from 15 million shoppers that visited our platform. Let's check out MySmartPrice Tech Insights report for the Q1 2023.
Most Popular Smartphone in Q1 2023 in India
These were the most popular 5 phones between January to February 2023 in India on MySmartPrice platform.
Smartphone Brands Performance in Q1 2023
Vivo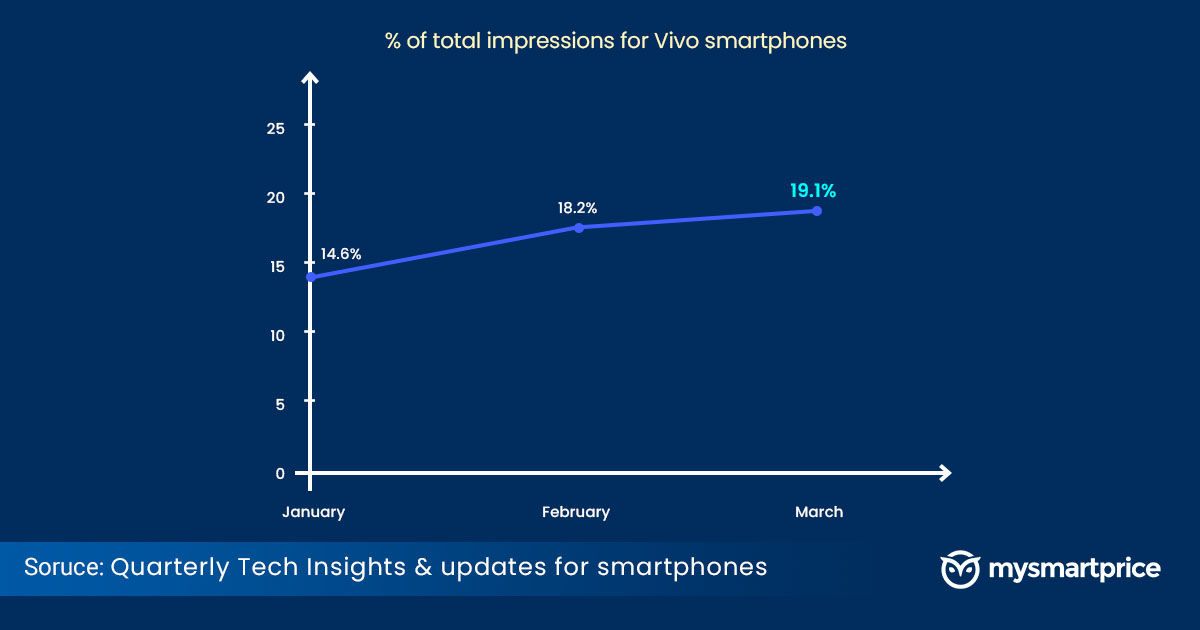 Vivo has been launching a Y-series device since the start of the year which gives it a slight boost every time. However, the V27 series launch in March gave it a major boost of 0.9% bringint it to the top of the charts as the most popular brand in this quarter. Its popularity increased from 14.6% in January to 19.1% in March. The brand will launch T2 series soon in India which may give it a major boost in next quarter.
Samsung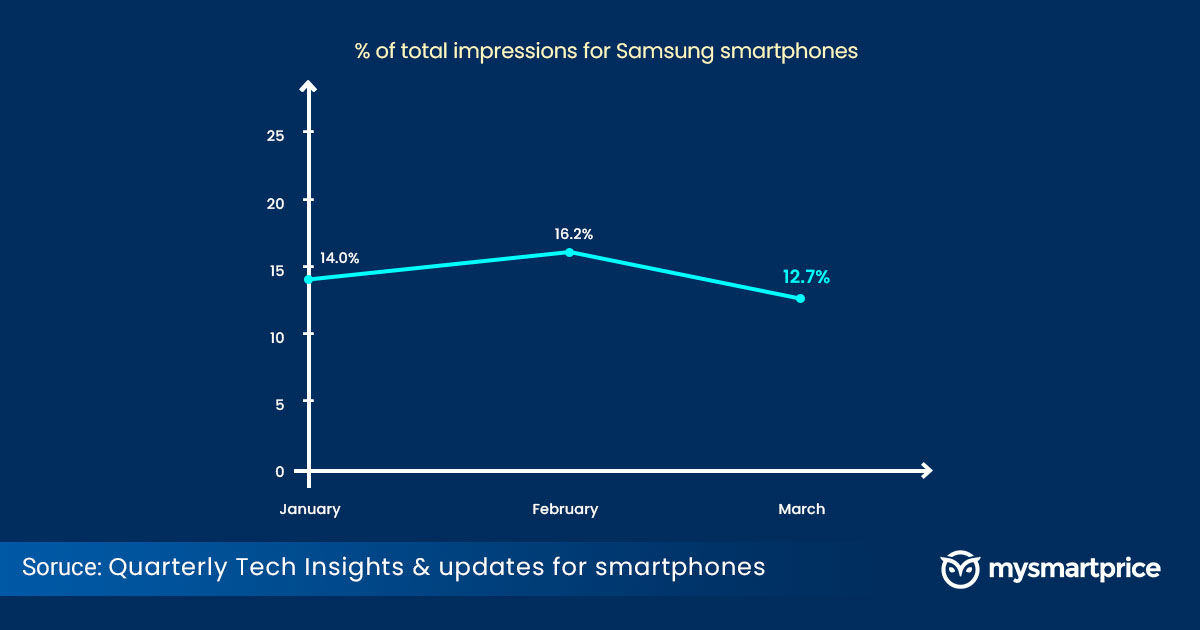 Samsung had a good start to 2023 as its popularity increased from 14% in January to 16.2% in February. All thanks to the Galaxy S23 series pre-buzz and launch event which took place in February. Galaxy S23 series competes with Apple's iPhone 14 series and other flagship devices which is why it is one of the most anticipated launches of the year. However, in March, it launched the Galaxy A34 and Galaxy A54 which eventually failed to attract the audience and its popularity decreased to 12.7% in March.
Realme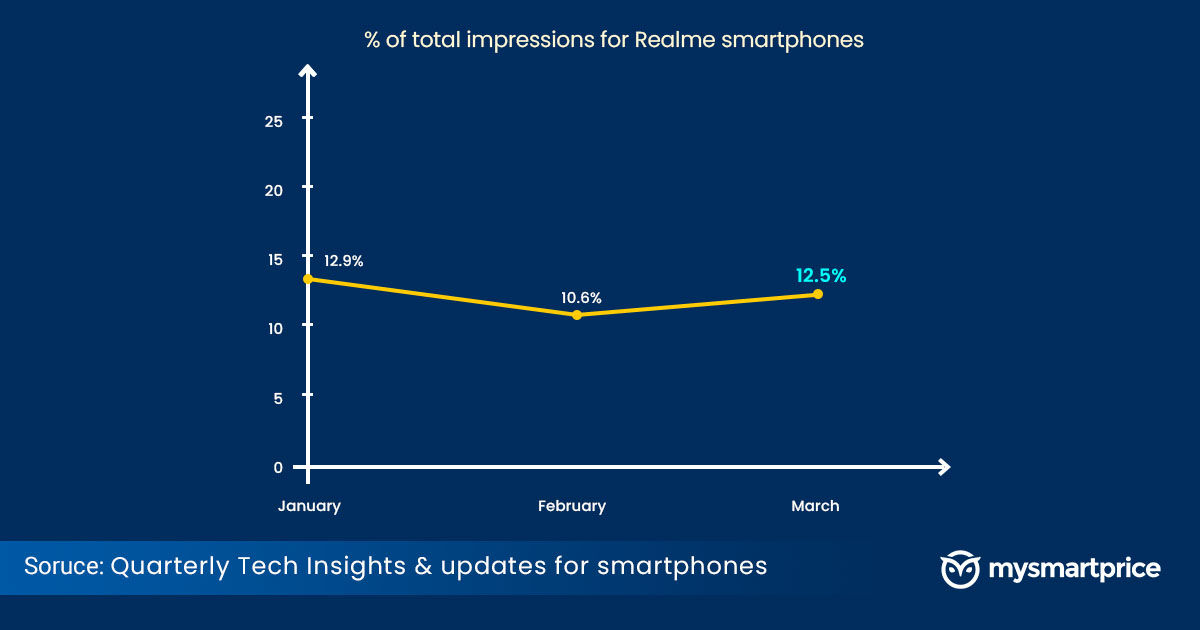 In January 2023, Realme launched the Realme 10 4G in India which didn't perform well on our platform. Similarly in February, it launched the Realme 10 Pro Coca Cola Edition which also failed to draw the attention of the audience. However, in March 2023, it launched the Realme C55 with a Mini Capsule feature just like the Apple iPhone 14 Pro Dynamic Island which attracted a lot of eyes. This resulted in a massive 1.9% increase in its popularity. In case you don't know, the Realme C35 has been one of the most popular smartphones on the MySmartPrice platform. We expect the newly launched Realme C55 to perform well.
OnePlus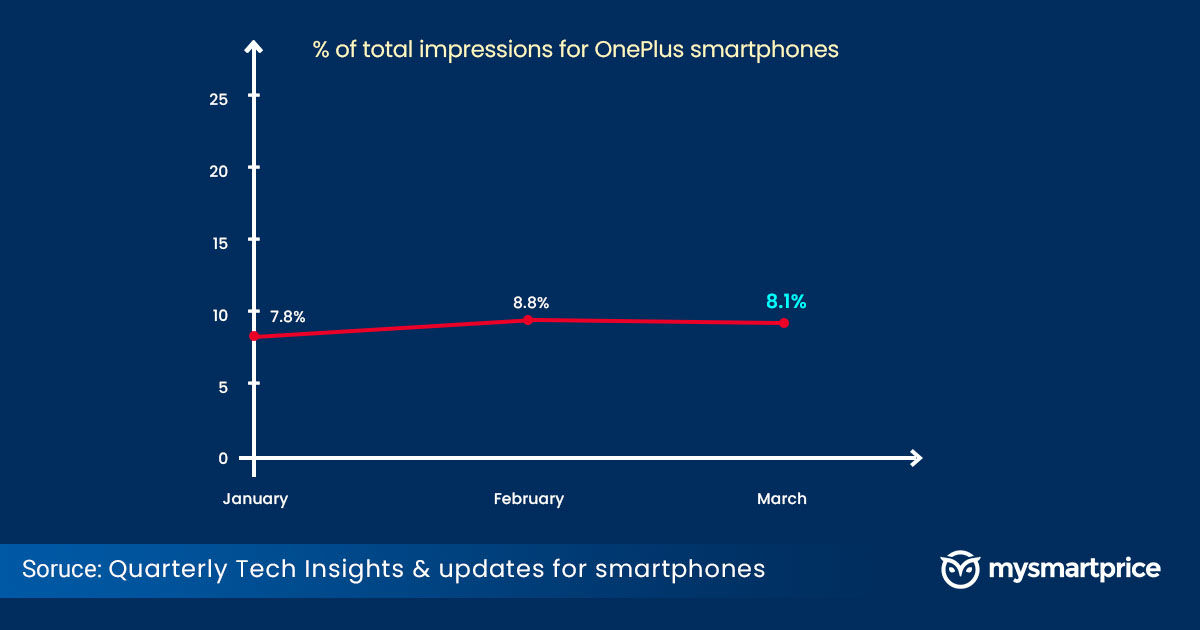 OnePlus has been performing consistently so far this year. The brand launched the 11 and 11R in India in February 2023 which were two of the most hyped devices of that time. All the pre-buzz helped OnePlus to get a major 1% boost on the MySmartPrice platform. Its popularity increased from 7.8% in January to 8.8% in February. However, it didn't launch any device in March which reduced its popularity to 8.1%. Now that it has launched the OnePlus Nord CE 3 Lite, we expect its popularity to get a major boost again in April. For that, stay tuned for our next report.
Nothing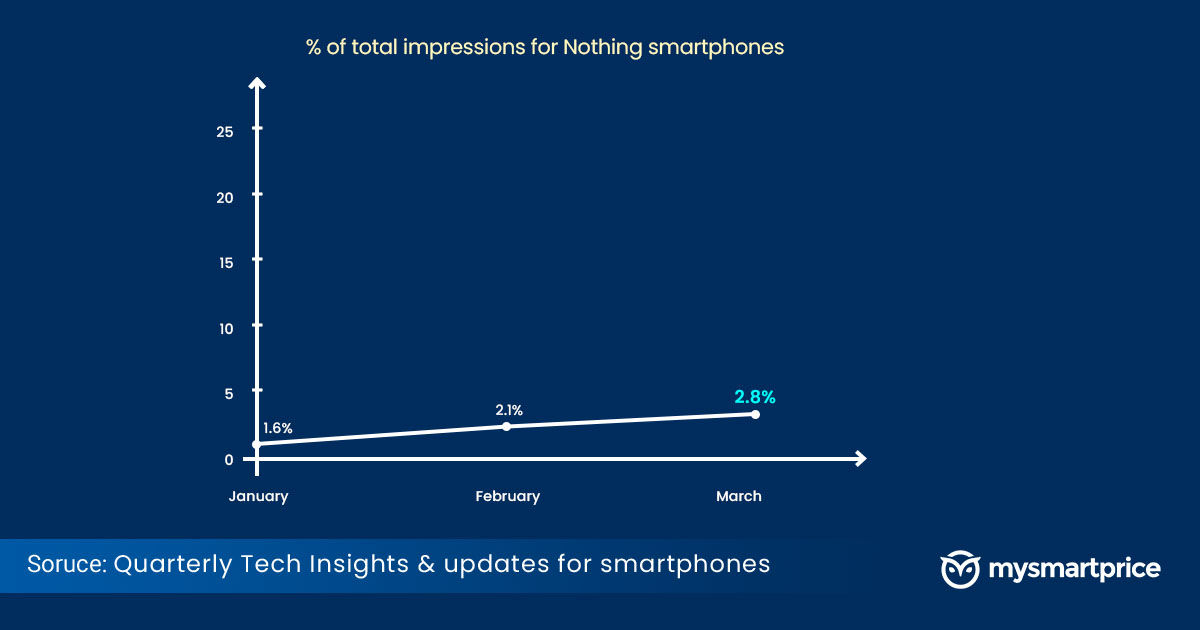 Nothing announced its first phone in 2022 and within a year it has become one of the most popular phones on our platform. The Carl Pei-led company announced the Ear (2) in March which became a major reason for its boost in popularity. Its popularity has increased from 1.6% in January 2023 to 2.8% in March 2023. That's a good number for a recently launched brand. Rest, the audience has been curious to know about the upcoming Nothing Phone (2) whose processor details were announced at MWC 2023.
Redmi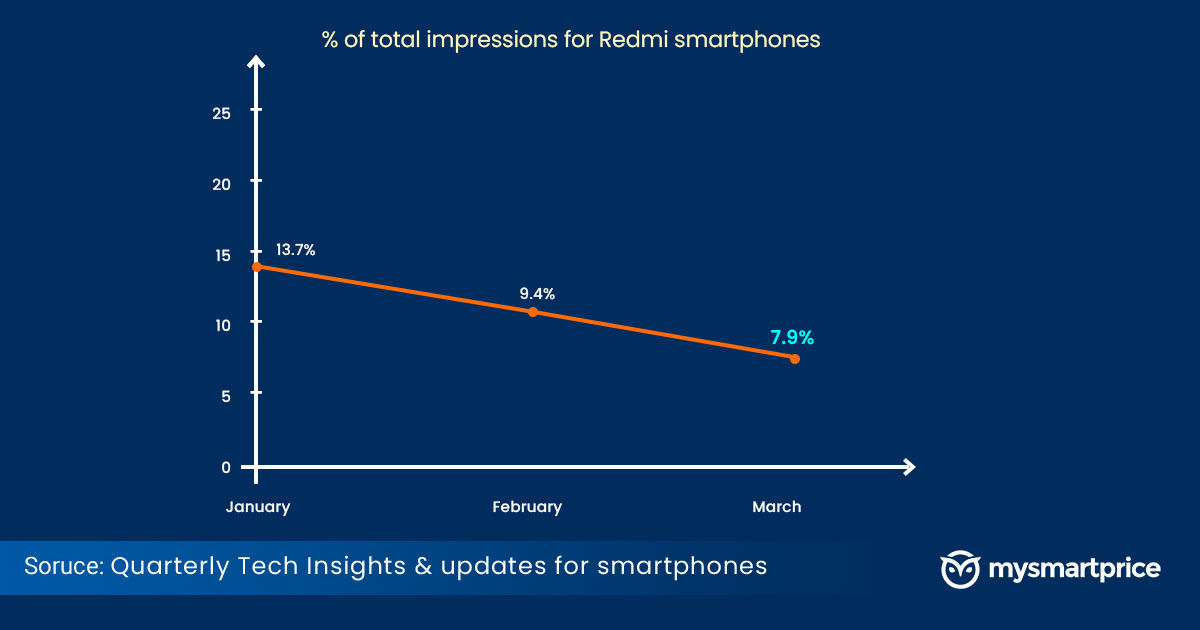 The year 2023 did not start well for Redmi in India as it fell massively on the graph. Its popularity reduced to 7.9% in March from 13.7% in January. That's a huge downfall. Its popularity was high in January because of the Redmi Note 12 Series launch but after that it has been launching nearly identical phones under the Redmi Note 12 branding which has failed to attract the audience. It would be interesting to see how Redmi would perform in the next quarter to get over this huge decline.
iQOO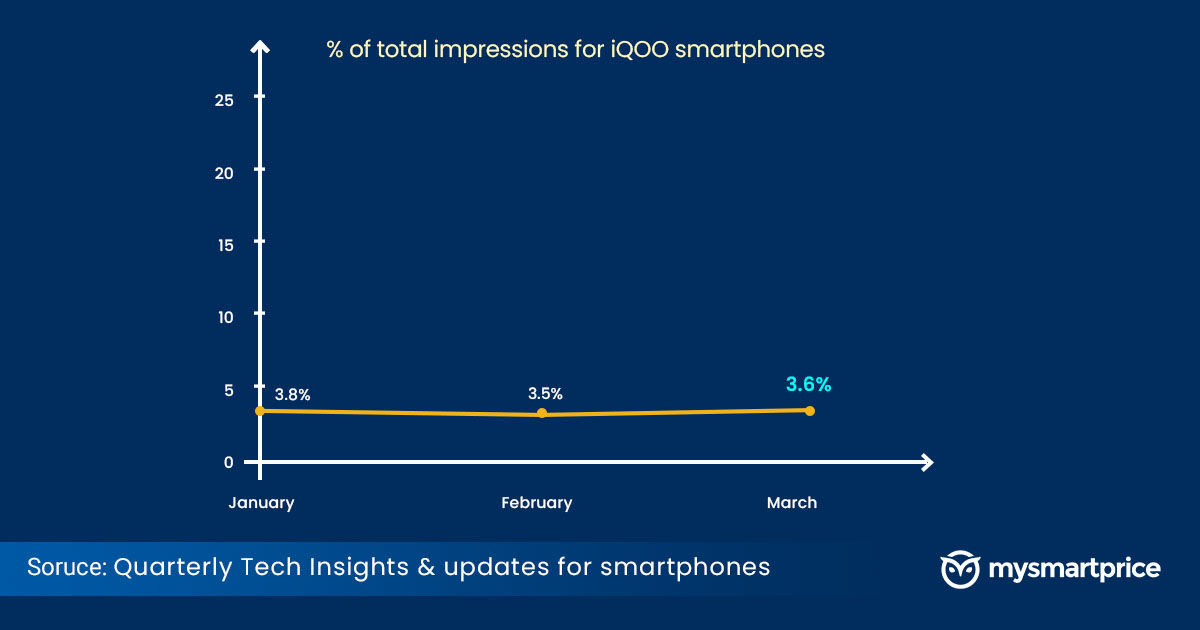 This year has been a busy year for iQOO in India. In January, the company launched its flagship iQOO 11, February witnessed the launch of its mid-budget range device, iQOO Neo 7. March saw the launch of iQOO Z7 series. All these launches helped iQOO to maintain a straight trajectory on our graph. In January, its popularity declined from 3.8% to 3.6% in March, not a major difference.
OPPO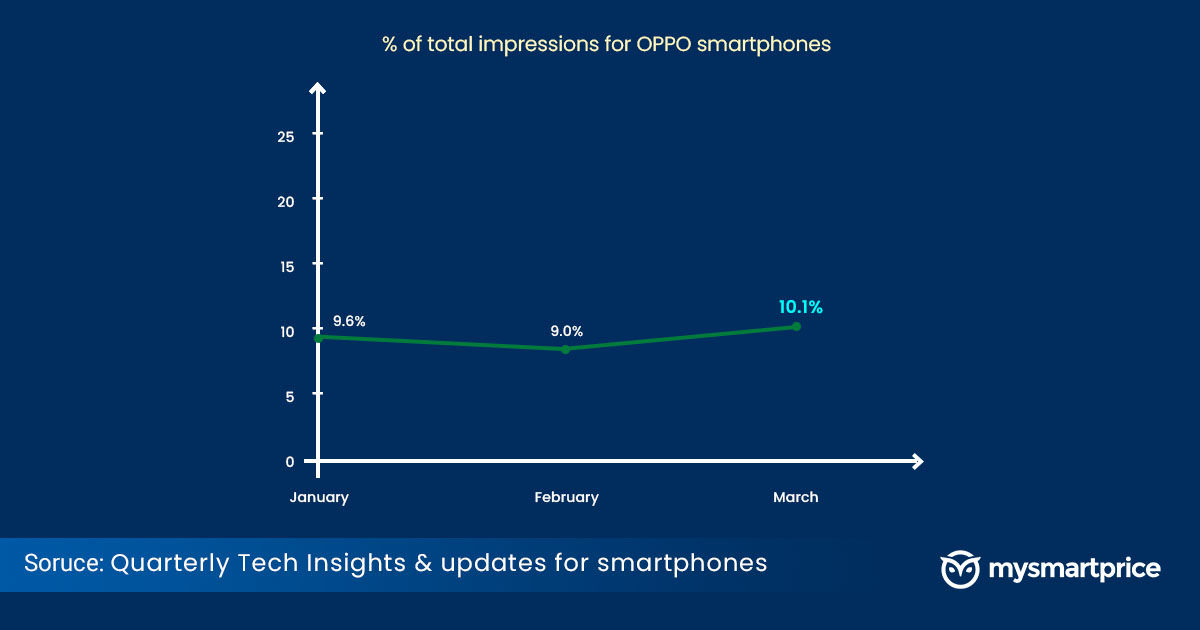 OPPO has had a special year so far as the brand launched its first clamshell foldable phone, the OPPO Find N2 Flip. The numbers on our platform are enough to prove that the phone has been attracting a lot of eyes. The phone became a major hit on our platform and has been included as one of the top five popular smartphones in March 2023. Talking about numbers, OPPO started its year with a 9.6% popularity rate which has grown to 10.1% in March, all thanks to the Find N2 Flip and recent launches like A78 5G and Reno 8T. All the pre-buzz around the launch turned out to be successful for OPPO.
Xiaomi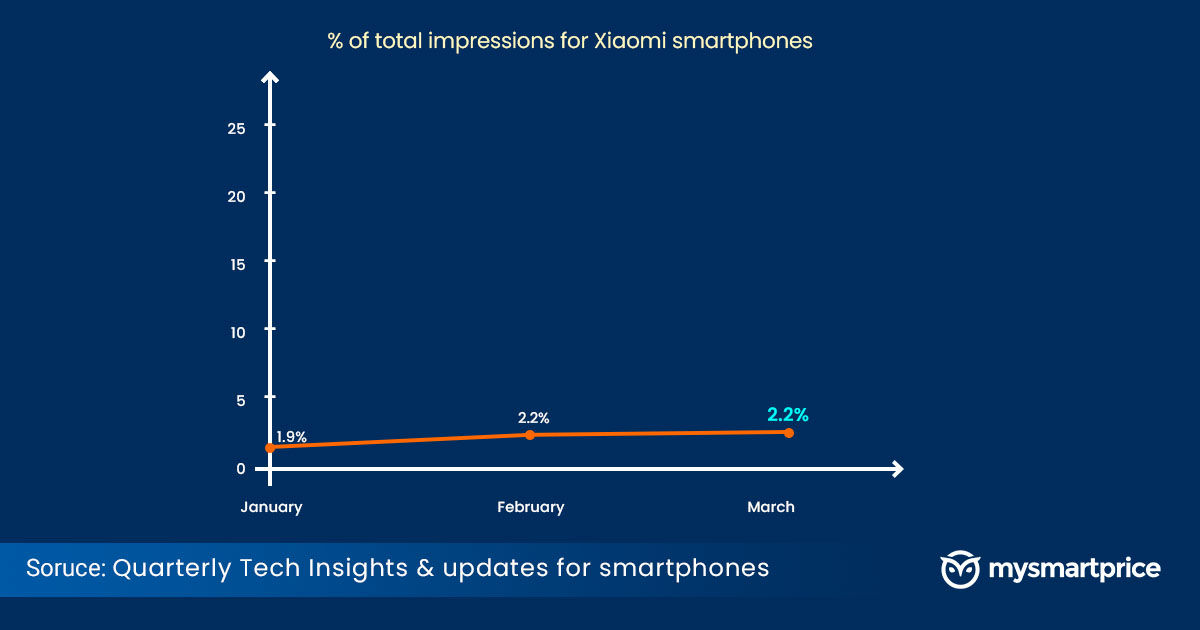 Xiaomi launched the 13 Pro, it's flagship phone at MWC 2023. It was released later in India in February which became a major reason behind the increase in 0.3% in February 2023. However, after that it didn't have any launch because of which the popularity rate remained constant at 2.2% in March.
Apple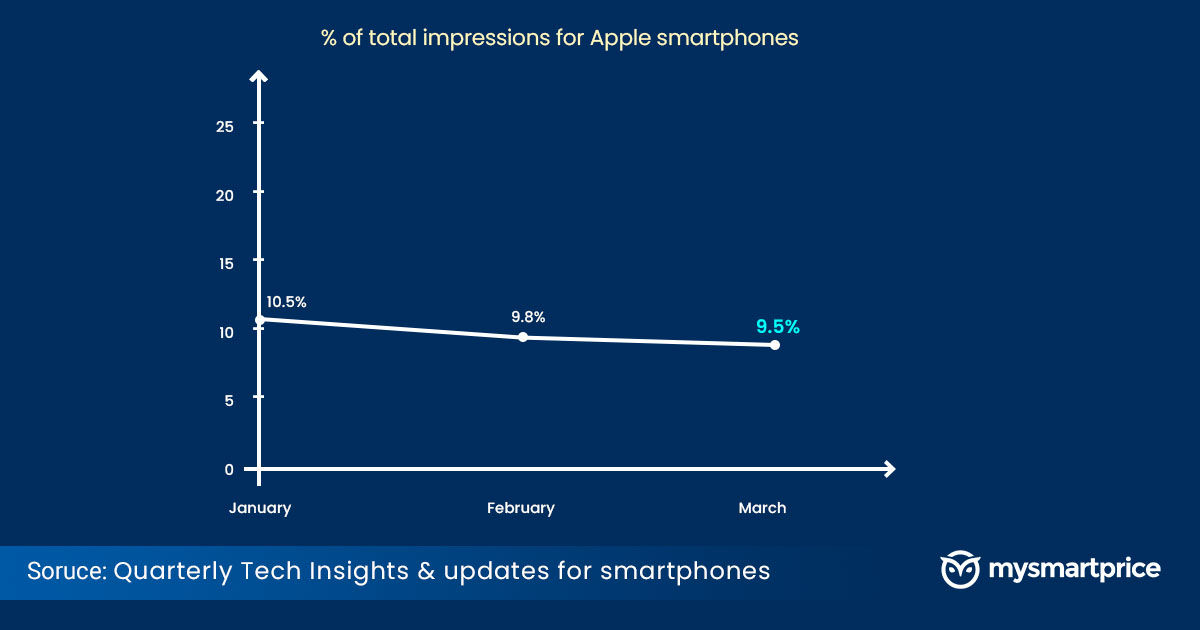 Apple's popularity rate has been declining constantly because of the lack of any launches this year. In January, it recorded a popularity rate of 10.5% which declined to 9.5% in March. Its popularity is expected to increase around WWDC 2023 where it will reveal details about its operating system. Consumers are excited to know about the upcoming iPhone 15 series on our platform.
POCO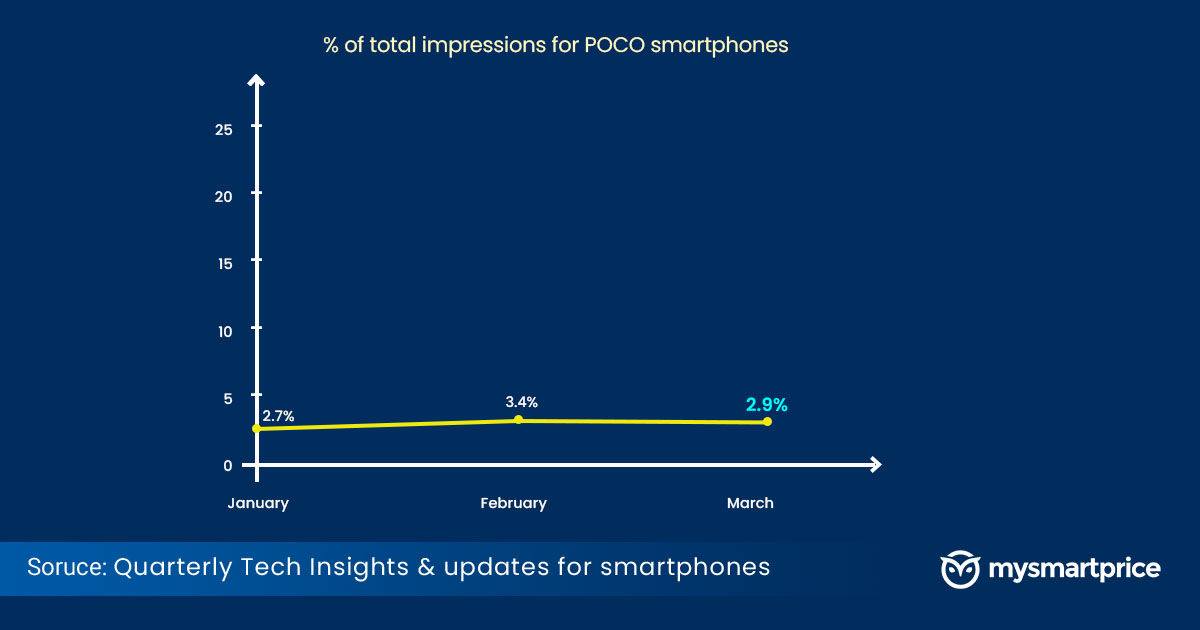 February was a packed month for POCO as it launched the X5 Pro 5G and C55 which is why its popularity went straight up to 3.4% however the launch of POCO X5 5G failed to maintain that pace. Its popularity went from 2.7% in January to 3.4% in February but that declined in March to 2.9%. Overall, Q1 2023 was constant for POCO. The company recently launched the C51 and is expected to launch F5 series soon which may give it a major boost in next quarter.