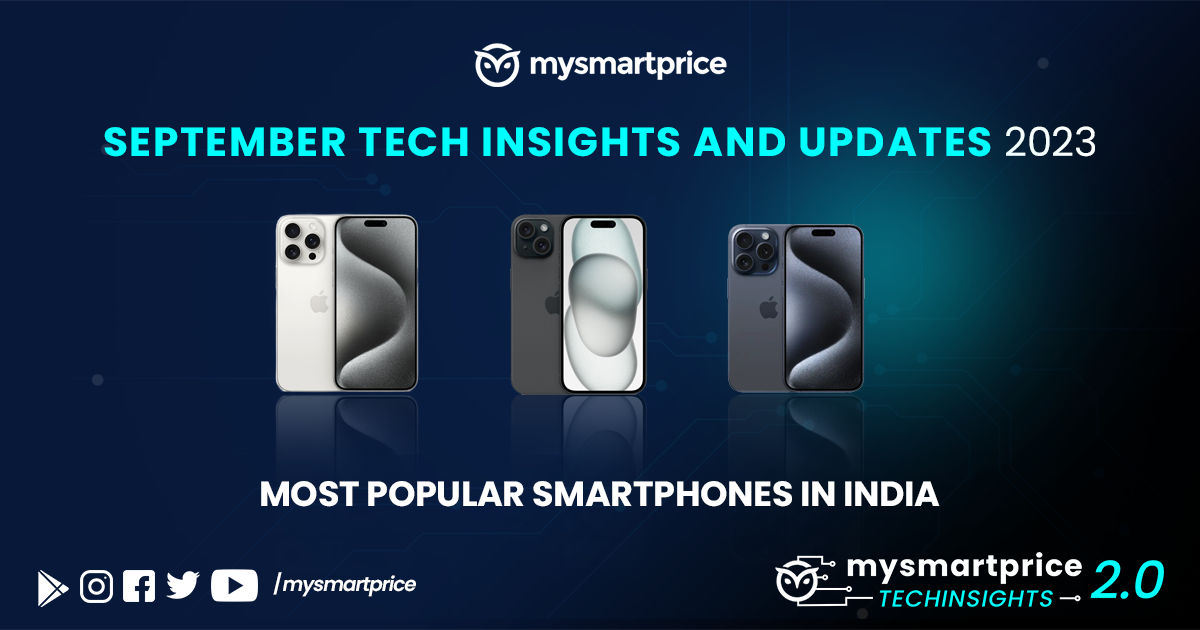 September, popularly known as TECHTEMBER in the tech industry, has finally passed. Unsurprisingly, the past month was packed with tons of smartphone launches, announcements of sale season and more. But, a special reason why this month was so special is because of the new iPhones launch.
Apple launched its iPhone 15 series on September 12 that made buzz all over the world. But how strong and long lasting was that noise? We talk about it in the September edition of MSP Tech Insights.
The data has been collected from 15 million shoppers that visited our platform last month to make their gadget purchase decisions. So without further ado, let's check out MySmartPrice Tech Insights report for September 2023.
Most Popular Mobile Phones in September 2023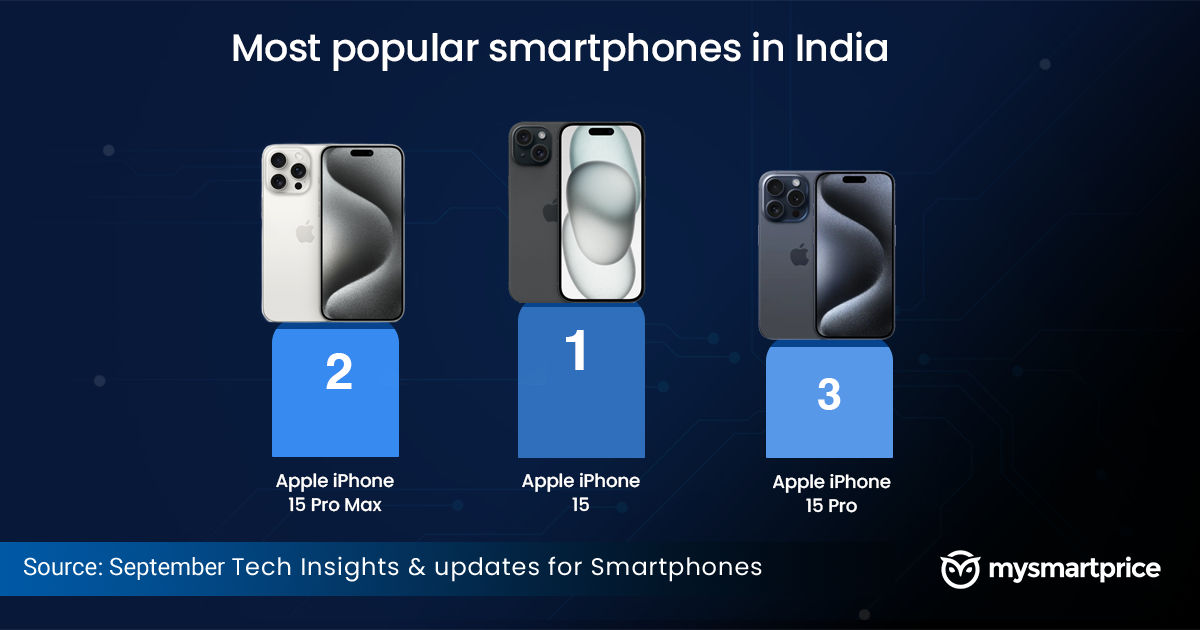 1. iPhone 15
Just like its predecessors, the latest iPhone 15 has already become the most popular smartphone in September 2023. The new iPhone 15 gets Dynamic Island display, A16 Bionic processor, USB-C port with fast charging, and much more. It starts from Rs 79,900, and one important differentiation is that it is Made in India too.
2. iPhone 15 Pro Max
The most expensive model in the iPhone 15 series, the iPhone 15 Pro Max is the second most popular smartphone in MSP Tech Insights September 2023 edition. The fact that it has received huge price bump compared to the previous model, and yet the Indian audience is ready to spend over Rs 1.5 lakh on their upcoming phone, is quite interesting. The Pro Max model features a large display and battery, A17 Pro chipset, 5x optical zoom and much more.
3. iPhone 15 Pro
The iPhone 15 series device taking all the top three spots in our list is not surprising as the popularity of new iPhones is beyond imagination. The iPhone 15 Pro model that costs Rs 1,34,900 in India is the third most popular smartphone in our list. It features a 6.1-inch OLED display, Apple's latest A17 Pro chipset, USB Type-C ports and much more.
4. OnePlus Nord CE 3 Lite 5G
Last month, OnePlus most affordable phone, the Nord CE 3 Lite 5G, lost its popularity and with the launch of new iPhones, it has come down to number 4. But still, it's the most popular device for under Rs 20,000 in the country. A Counterpoint report mentioned the Nord CE 3 Lite was the most selling device in the month of April this year.
5. Redmi 12 5G
Redmi 12 5G, Xiaomi's most affordable 5G device was on the top of the most popular smartphone list in August, however, the recent iPhone launches have brought it down to number 5. It is powered by the Qualcomm Snapdragon 4 Gen 2 processor and costs Rs 11,499 in India. It would be interesting to see where the device finds itself in the October edition of MSP Tech Insights.
6. Vivo V29e
The Vivo V29e was the first V29 series device from Vivo that launched in India. Within two months of its launch, the phone has found a spot for itself in our MSP Tech Insights most popular smartphone list. Priced at Rs 26,999, the V29e features an Artistic design, a 120Hz refresh rate screen with Full HD+ resolution, Snapdragon 695 SoC and much more.
7. iPhone 15 Plus
Last but not least, the iPhone 15 Plus is also featured on our most popular smartphones list. This completes the whole iPhone 15 family on the MSP Tech Insights which shows how influential Apple is in the Indian smartphone market. The iPhone 15 Plus features a Dynamic Island display, A16 Bionic processor, large display and battery compared to iPhone 15, USB-C port with fast charging, and much more.
8. Realme C53
The Realme C53 has lost its ranking by six digits in the MSP Tech Insights report compared to the previous month. Realme's C series devices have been in huge demand in the offline market. The C53 is another latest entrant on MySmartPrice most popular smartphones list. It features a 90Hz LCD display with a waterdrop notch. The smartphone is powered by the octa-core UNISoC T612 SoC that brings with it an integrated Mali G57 GPU. The USP of the device is its 108MP sensor with 3x digital zoom..
9. iQOO Z7 Pro
The iQOO Z7 Pro was launched in August as a mid-range device with a Curved AMOLED display. For under Rs 25,000, it boasts a 120Hz refresh rate display, MediaTek's octa-core Dimensity 7200 chipset, a 16MP selfie camera, an in-display fingerprint sensor and much more. It is the new entrant in the most popular smartphone list on MSP Tech Insights.
10. Vivo T2 Pro
Fun Fact: The Vivo T2 Pro and iQOO Z7 Pro are the same smartphones, just launched with different naming and colours in India. Both devices share a similar configuration including a 3D curved AMOLED display with a 120Hz refresh rate and 1300 nits peak brightness, a MediaTek Dimensity 7200 processor, 66W fast charging, etc.
Top 5 Upcoming Smartphones in India (September 2023)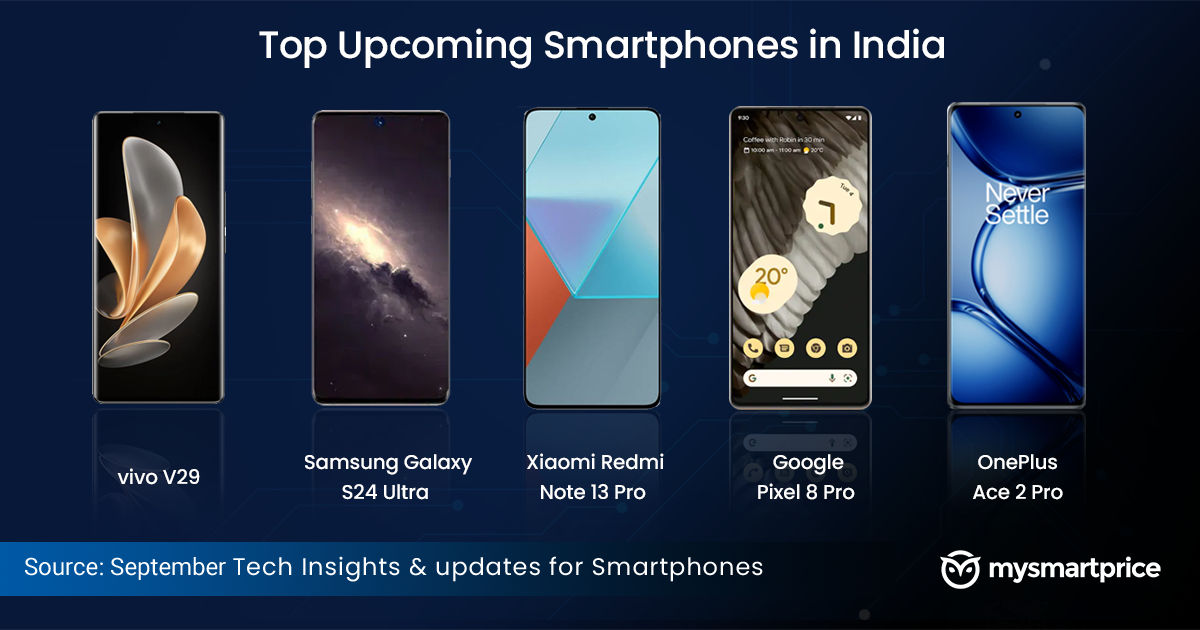 1. Vivo V29
The Vivo V29 created a lot of hype before its official launch in India. The device was the most anticipated smartphone to launch in September. The phone went official in India on October 4. It flaunts a 6.78-inch AMOLED display with 120Hz refresh rate support. The device gets powered by a Snapdragon 778G SoC. The main highlights of the device are its camera and its design.
2. Samsung Galaxy S24 Ultra
Now that Apple has launched the iPhone 15 series, people are more excited to see how Samsung responds with its next flagship, the Galaxy S24 Ultra. Compared to last month, the device has moved three positions in the list of most anticipated upcoming smartphones. As for now, the rumour mill claims that it will feature a Titanium build, flat display, OneUI 6.0, AI capabilities, and a new 200MP camera sensor.
3. Redmi Note 13 Pro
Xiaomi launched the Redmi Note 13 series in China on September 21, 2023. The series consists of three devices namely the Redmi Note 13 5G, Redmi Note 13 Pro 5G, and the Redmi Note 13 Pro+ 5G. Out of which, the middle child, Note 13 Pro is the one for which the Indian audience is waiting. It is the first device in the world to pack a Snapdragon 7s Gen 2 chipset. It also houses a 200MP rear camera sensor.
4. Google Pixel 8 Pro
Although launched now, the Google Pixel 8 Pro was one of the first anticipated devices launching in India. Google Pixel smartphones have always been known for their camera prowess, AI capabilities, design and clean software. The Pixel 8 series in India is official and along with the specs upgrade, they have got a big bump in pricing as well.
5. OnePlus Ace 2 Pro
The OnePlus Ace 2 Pro made its debut two months ago in China however, there's no update on its India launch. Given that it's a flagship device from OnePlus, the audience in India is excited for it. Along with its flagship specs, the device is first to feature 24GB of RAM and 1TB of internal storage.
No doubt that September was completely about Apple and its iPhone 15 series. The dominance of Apple shows how popular the brand is in India and across the world.