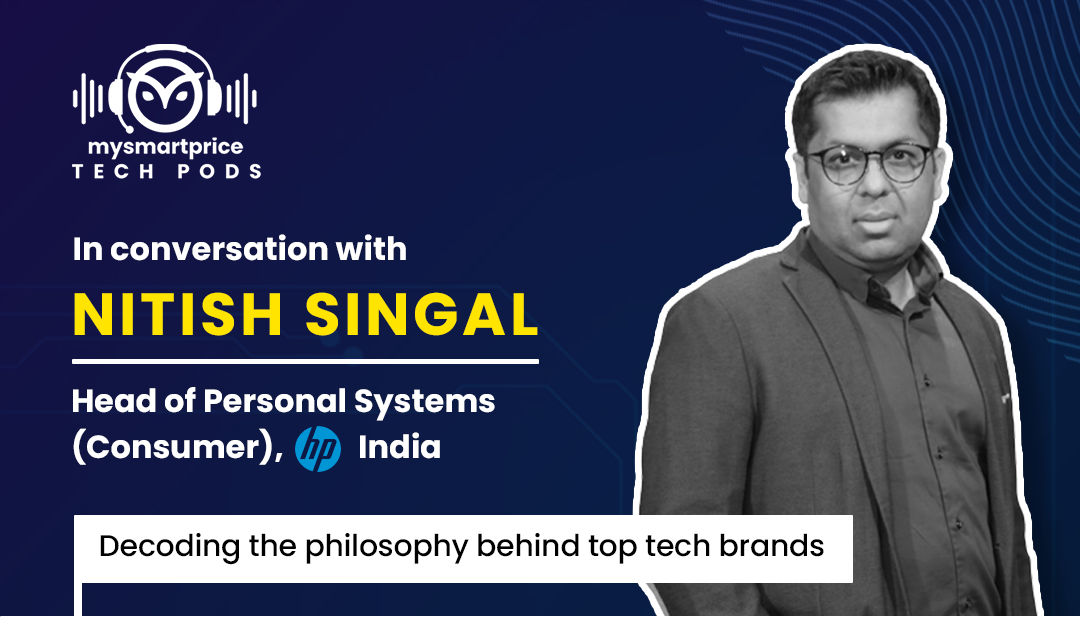 MySmartPrice has recently started a new initiative called Tech Pods which is a podcast where brand representatives connect with us and our readers to share details about their brand, philosophy, ideology, and what goes on behind the scenes to make a product successful.
For the inaugural season of MSP Tech Pods, we had Nitish Singal with us who leads the consumer product or the consumer PC business for HP in India. In conversation with us, Nitish revealed a lot about HP's vision, how things have changed pre and post-pandemic, as well as the preferences of consumers and much more. So, without any further ado, let's check out what he had to say in the first episode of the MSP Tech Pods. You can also listen to the full podcast audio by clicking the play button below.
How HP Approaches the Consumer Market?
Nitish revealed that HP as a brand is confidently set in the Indian market. This is because HP has always focused on its customers. He states that HP makes its product relevant for customers specifically in India. Nitish explained this with an example that during the pre-pandemic era, everyone had PCs that were always on and connected to the internet. So, his team started working on a mainstream product that houses a SIM slot.
He further revealed that to give what consumers want, HP asked users what configurations they would like to see via the social media handles such as Twitter and built a product accordingly. So, the customer is satisfied with his purchase.
How Things Have Changed for HP After Pandemic?
Due to work from home and online classes, PCs became a part of everyone's lives during the pandemic. Nitish states that PCs moved from being a single PC for each family to a PC per person. He further says that buyers now have specific requirements on what they want to buy now. Their requirements and wish lists are specific now.
"Meeting user expectations is a new challenge for HP", says Nitish on MSP Tech Pods. Each user is now spending more time on their PC or laptop compared to what they used to do before the pandemic.
What Gaming Ecosystem Means for HP?
Gaming has become a massive industry since 2018. Since then, smartphone and PC brands have taken this opportunity as a big opportunity to advertise their products. Nitish reveals that gaming is a big segment for HP as well.
Currently, India has around 400 million gamers and HP believes that these numbers are only going to go up. However, Nitish reveals that HP just doesn't want to focus on gaming-only devices but something that allows players to explore more and do multiple things. HP Omen is a popular laptop series from the company that is meant for gaming enthusiasts as well as for other users.
To improve gaming experience, HP has been focusing on the screen size of gaming devices as per preferences revealed from its recently conducted Gaming Landscape Study. It has been upscaling the refresh rate to provide a smooth experience as well.
Nitish states that while performance is one of the key factors in gaming, heat dissipation is crucial as well. The company uses a technology called content-based cooling that keeps the device always optimised.
What is Value for Money Product According to HP?
Compared to two or three years ago, the price of a gaming PC has crumbled down to what it used to be back then. When asked on how this affects HP, Nitish said that this is an important factor for them as well. As Indian consumers are value conscious, they are not looking for the cheapest or top of the line product, but something that offers a great value.