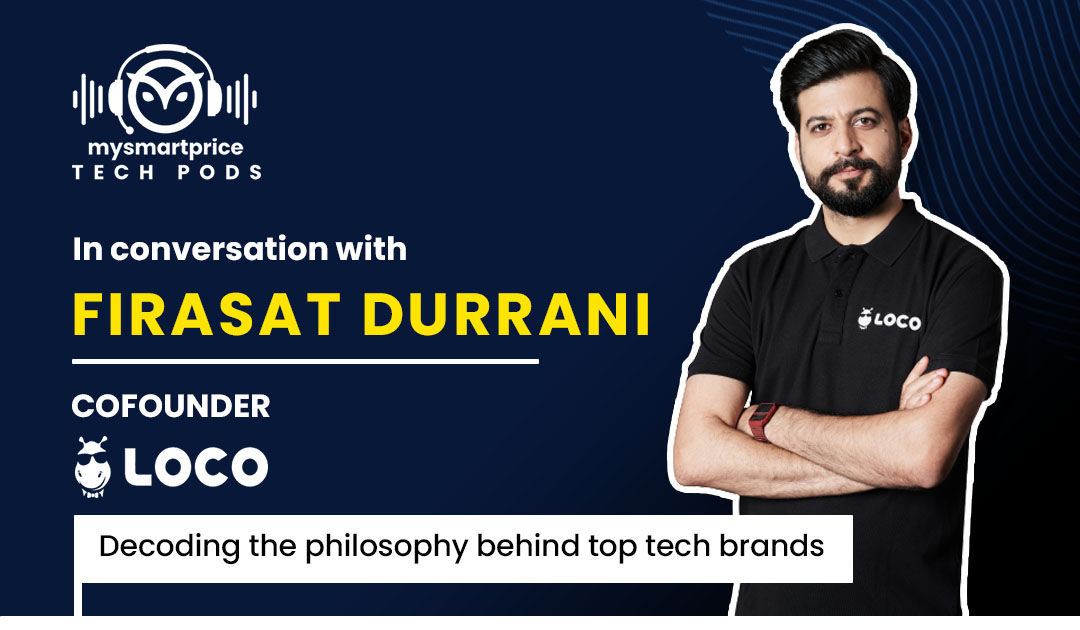 The Indian Gaming Community is on its full adrenaline as Battlegrounds Mobile India (BGMI) announces its return to India. While players are happy, this will give streamers a big chance to grow. It will be a big opportunity for streamers to monetise their content and show off their skills on gaming platforms. One such platform is LOCO that has been one of the popular gaming and entertainment platforms in India.
We are back with yet another episode of MSP Tech Pods and today we have Firasat Durrani, Co-founder of LOCO who takes us through the brand's philosophy, its journey, how it played a major role in growing the community, mobile vs PC gamers and much more. So gamers, without any further ado, let's get started.
How has LOCO Contributed to the Indian Gaming Community?
LOCO handles a big share of e-sports players in India but do you know it has a major impact on the Indian gaming community. Firasat told us that when gaming was at its peak in India and e-sports was born, there was a big gap due to which the whole thing was unorganised. He also noticed that there's a big gap between the relation of an e-sports player and its fan as Twitch did not exist in India. Many would argue that YouTube was there already but Firasat defended that by claiming that YouTube was not specific for gamers.
LOCO cracked the code with a formula that included three words – Paisa, Nasha and Pyar (Money, Drugs and Love). The app would then allow gamers to monetise their content by streaming their gameplay on the platform and in-exchange they would get the audience love as well.
One of the major pros of the gaming community about it was not being specific to any particular region or language. E-sports players could show their gameplay to any audience independently.
eSports Players and Their Gaming Nomenclature: A Funny Incident
If you have played PUBG Mobile/BGMI or any other competitive multiplayer game, you must have come across some unique names of clans or players. Firasat told us one of his experiences while building the community. So, we all know that gamers do not use their real names for gaming, they usually have a different name. For example: Naman Mathur uses Mortal as his gaming name whereas Tanmay Singh uses Scout.
Firasat told us that while dealing with a player from TeamIND, he had to call a player named Cartoon. He was surprised to know about the players gaming nomenclature to which he asked what he should call him exactly and the other person replied to call him Cartoon only. Firasat then had to deal with multiple players with their unique gaming names to get them onboard.
How did Loco Deal With PUBG Mobile/BGMI Ban in India?
PUBG Mobile contributed to a high numbers of viewers to LOCO however after its ban on September 2, 2020, a fall in numbers was expected. To deal with the situation, Firasat told us that he quickly started looking at other gaming titles. It was GTA (Grand Theft Auto) that he chose and it is now one of the most popular categories on the platform.
Apart from GTA, he also picked Valorant as another title on the platform to keep the numbers. Valorant became one of the most popular games during the pandemic period.
India is a Mobile Only Country For Gaming
We asked Firasat on what he thinks about the current mobile vs PC scenario in the Indian gaming industry to which his reply was there is no comparison of both. The mobile consoles currently present in the market are huge compared to PC or laptops. Going by LOCO's data, there're 800 million mobile gamers but only 20 million gamers on PC. The numbers have a huge margin.
He says that one of the reasons why Twitch couldn't upscale itself in India was because it focused much on PC gamers while India is a mobile 'only' country for gamers.
Firasat says that even though a large number of gamers don't have access to a PC. They can't experience the game directly but see other gamers stream to know about it. This is one of the reasons why titles like GTA and Valorant are in huge demand.