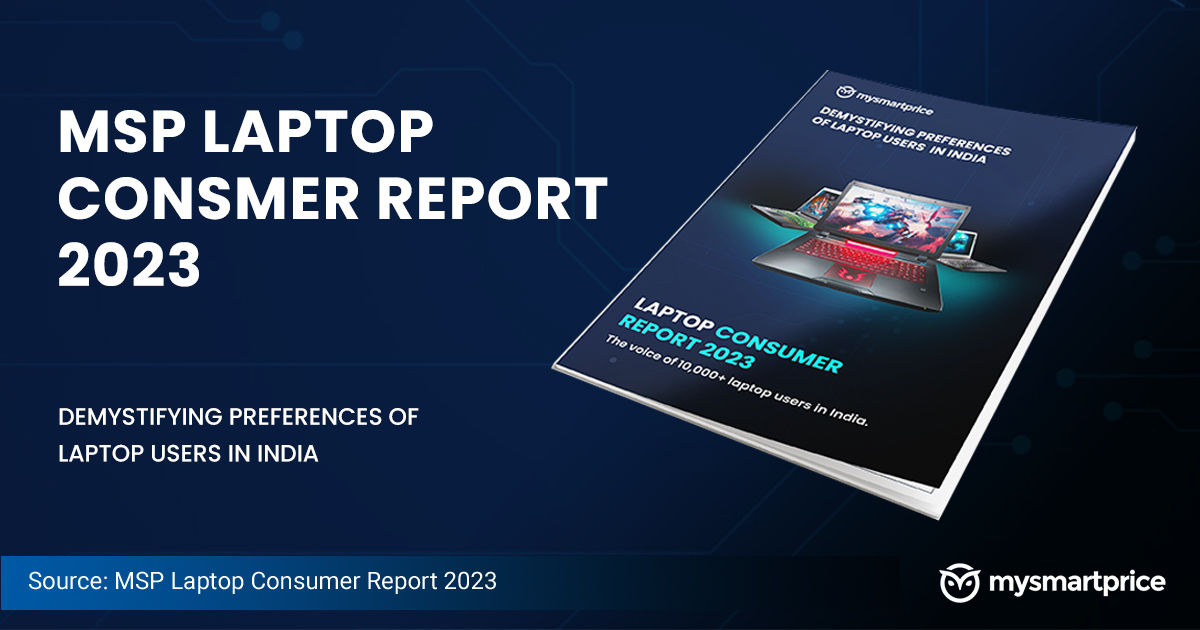 MySmartPrice is one of India's leading gadget research sites that help consumers make informed gadget purchase decisions across categories, including mobiles, laptops, Smart TVs, home appliances, audio products, and others.
To take a closer look at how the ecosystem is constantly evolving, MySmartPrice regularly conducts surveys. The latest survey is in the form of the Laptop Consumer Report 2023, which pertains to the laptop market in India. The report provides insights into the mindset of regular laptop consumers and their current preferences. It also gives a macro view of the laptop category, which brands are currently topping the consumer's mind space, how that might change in the future, and users' research behaviour, among other things.
The global PC and laptop market have been significantly changed in the last few years, with the most recent trend being the falling demand for these devices. According to reports from both IDC and Counterpoint, the market has been experiencing weak demand and excess inventory, and both claim that the global PC market fell YoY.
Even with the Covid-19 pandemic over, industries are yet to bounce back, and the global economies have been shunted for the past year or so due to multiple factors. And with the income of most people worldwide being affected by inflation, the financial bandwidth to purchase new PC hardware and laptops seem to have been impacted as well. It's surprising that the latest IDC report claims that despite the global trend, the Indian PC market saw a marginal 0.3% year-on-year growth in 2022.
But most big data firms predict that the PC and laptops segment is expected to recover globally in the upcoming quarter, even if this optimism is cautious at best at this point.
Top Takeaways from MySmartPrice Laptop Consumer Report 2023
The MySmartPrice Laptop Consumer Report 2023 tracks the evolution of the laptop ecosystem in India, how the top laptop brands are faring, and user preferences and patterns. The data collated from 12,573 respondents indicate the following significant trends.
HP continues to be the most popular laptop brand in India, with over 24% of people reporting that they own an HP laptop.

Most people own laptops that are priced between Rs 30,000 and Rs 70,000.

HP and ASUS are currently the most popular laptop brands, but this could change in the future, with a significant chunk of respondents aspiring to buy Apple.

People still prefer laptops with Intel processors over AMD processors.

And more people prefer buying their laptops from Amazon over its competition, Flipkart. And in fact, even offline stores like Croma and Reliance Digital seem preferable destinations for shoppers over Flipkart.
HP Tops the Laptop Popularity List in India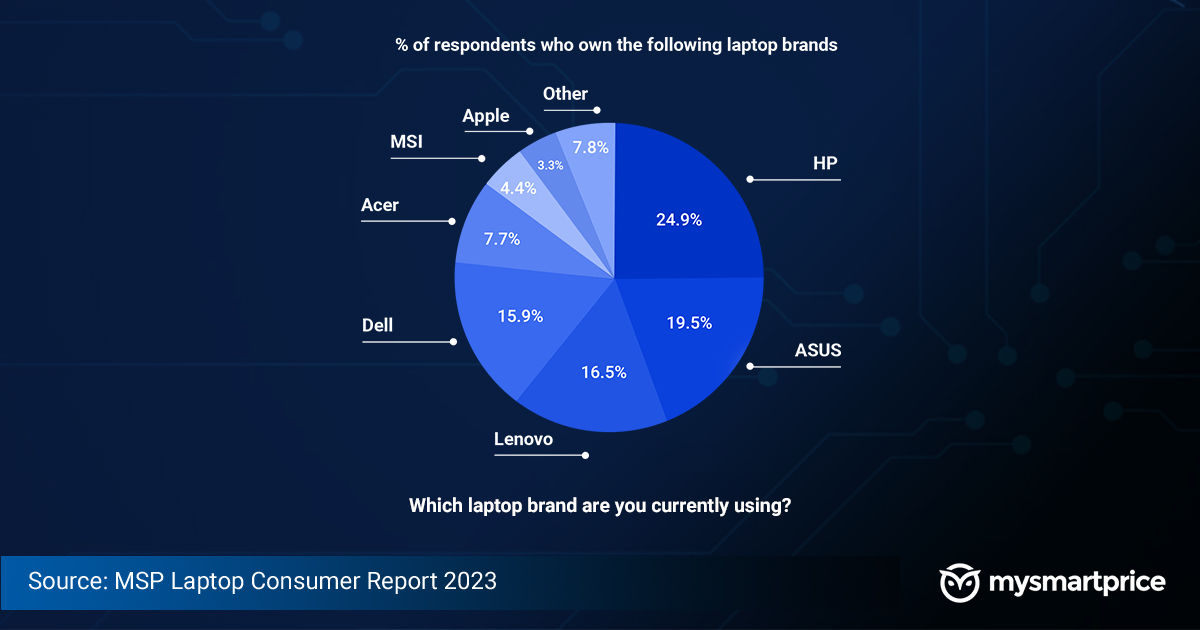 Our respondents for the survey were 93% male, with 68.6% between the ages of 18-24, and most of them seemed to own HP laptops. HP is currently the most popular laptop brand in terms of ownership, and surprisingly ASUS comes next with a 19.5% share, pipping legacy brands like Lenovo and Dell.
Although HP has seen a decline globally, what works for the brand in India is that it has built a reputation for manufacturing quality laptops that seem to outlive most of its competition. And the company has consistently made available its devices at reasonable prices that make them appealing buys. For example, the Pavilion series of laptops that range from price points in the 40,000s to Rs 1,00,000 provide a whole list of options for consumers.
ASUS, on its part, has marketed itself as a go-to brand for gaming laptops or those inclined towards performance-based laptops. Its multiple options in the ROG and the TUF series with the latest hardware seem to work in its favour.
But the most significant rise has been from MSI, which had only a meagre 0.4% of respondents as owners in 2022. This year, it saw a remarkable 966% in terms of ownership. This is due to the company consistently marketing and launching more devices in India in the past year, making it a viable option for consumers.
Mid-Segment Laptops Trump Other Price Segments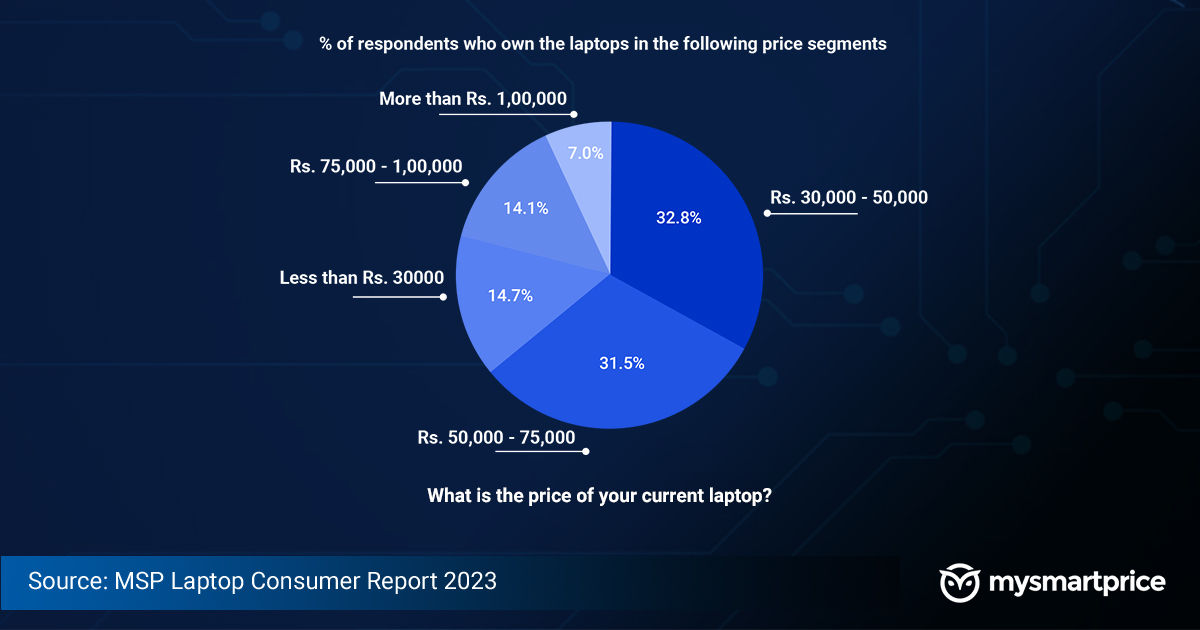 The key finding of the report was that mid-range laptops are favourites. Our survey indicates that over 60% of our respondents own laptops priced between Rs 30,000 and Rs 70,000. And in this divide, 32.8% of users own laptops priced between Rs 30,000 and Rs 50,000, while 31.5% own laptops priced between Rs 50,000 and Rs 75,000.
It's not surprising, considering companies like MSI, ASUS, and others have launched feature-rich laptops in this price range. Moreover, the increased buying power of the regular consumer as well as the need for an alternate device during the Covid-19 lockdown period, led people to purchase devices that would serve their work as well as gaming and entertainment needs.
Even more interesting is that people who own laptops from every segment want to buy laptops costlier than they currently own when they upgrade next.
HP and ASUS Most Popular Brands, But Winds of Change Predicted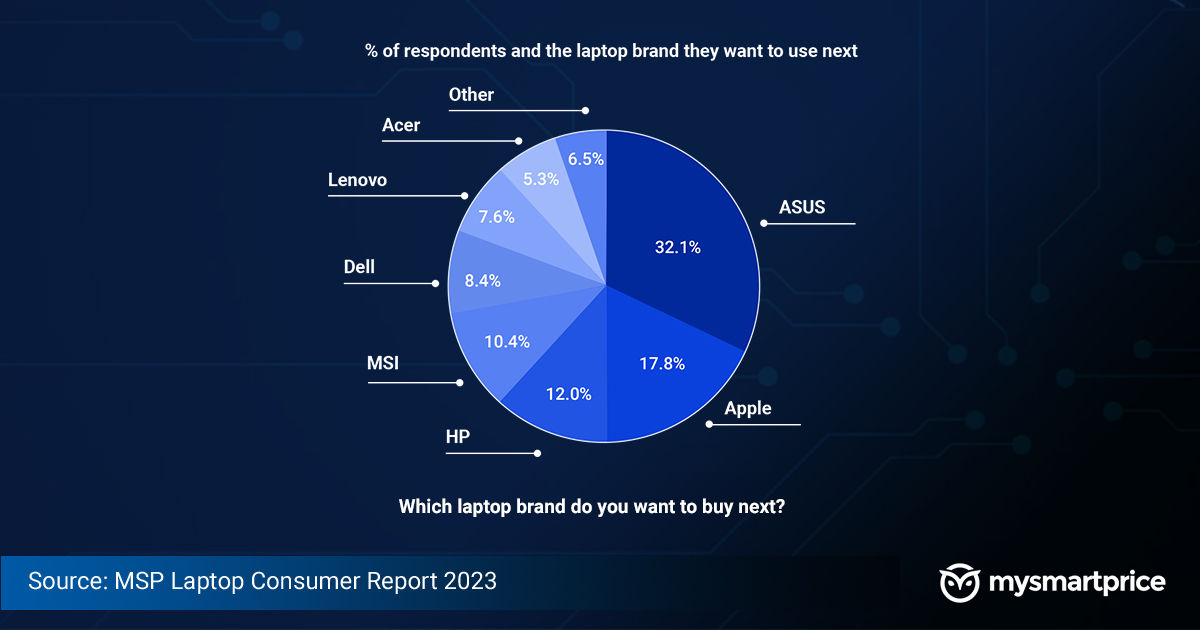 The most popular brand of laptop under the price point of Rs 50,000 is HP, with a 28.3% share, while that above Rs 50,000 is ASUS, with a 25% share of the pie.
But the responses to the brands preferred for future purchases from the survey respondents indicate that this could change. While HP offers excellent options under Rs 50,000, with people aspiring to buy better laptops in the future, its owners seem to have their eyes set on ASUS. Correspondingly, those owning ASUS laptops aspire to buy Lenovo and Apple laptops. This means India's laptop market may change significantly, with brands like ASUS, Apple, and MSI topping the popularity charts.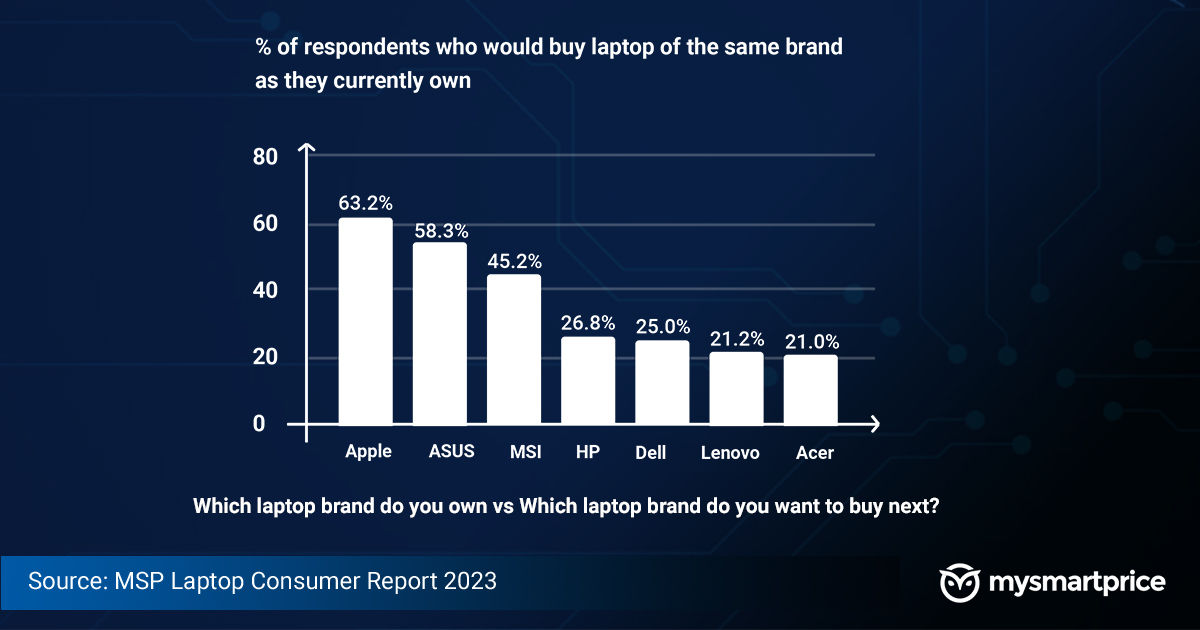 And when it comes to brand loyalty, Apple is leading the charge, with 6 in 10 respondents saying they will stick with the offerings from the Cupertino-based company. However, it is closely followed by ASUS, which has garnered 58.3% brand loyalty, having produced some impressive laptops for a while now.
Intel Continues to Reign over AMD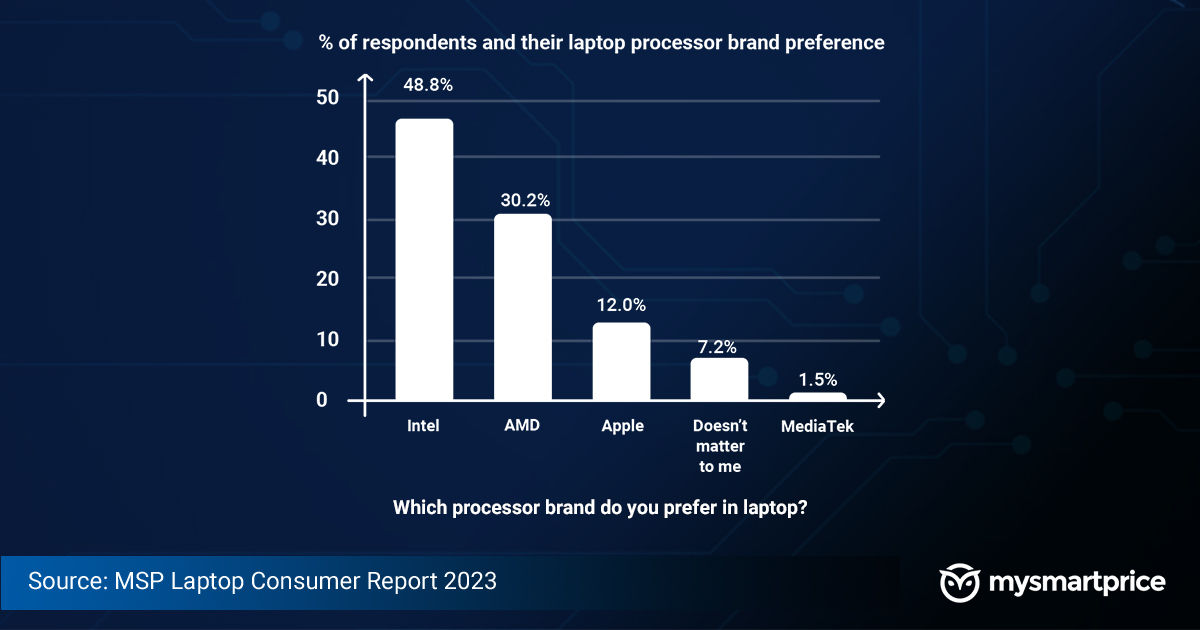 26.5% of the respondents to the survey said that GPU is the most important factor they consider in terms of performance when buying a laptop, closely followed by CPU clock speed and then CPU brand. So it's interesting that users still seem to have a strong preference when it comes to CPU branding. And Intel is continuing to win this battle even with AMD proving it for a while now their CPUs are just as good as Intel's, if not better in some cases. Intel's brand loyalty has been strong owing to the "Intel Inside" campaign of yesteryears, and it seems to be shining through even now.
It's Best Deals Over Amazon and Other Platforms
Indians have always been eagle-eyed about the best deals when it comes to their tech purchases. And that's evident with our survey too. Responses indicate that 44.87% of people don't have a singular platform preference when it comes to purchasing laptops and just browsing for the cheapest option. Following this, 25% responded by saying that they prefer buying from Amazon, and what came as a surprise is that 17.59% of people said they preferred buying from the multi-brand offline stores like Croma and Reliance Digital over 8.92% who buy from Flipkart.
For detailed insights, check out the full MySmartPrice Laptop Consumer Report 2023 HERE.