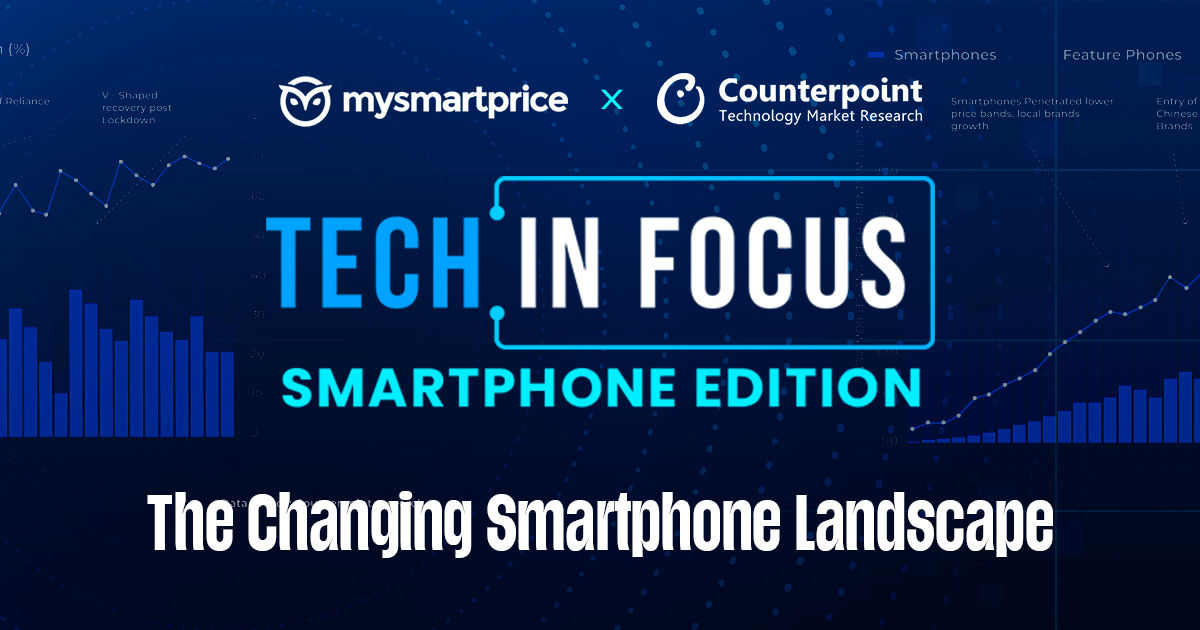 Apart from hosting big personalities like Muralikrishnan B from Xiaomi India and Sachin Kalantri from Qualcomm, MySmartPrice Tech in Focus also drew attention by giving a close insight into the smartphone industry. Our Marketing Head Sohail Khan and Counterpoint Research Director, Tarun Pathak discussed the major changes and challenges to the smartphone industry.
The 2-hour long event discussed the current trend of the smartphone landscape in India and how it is affecting consumers. In this article, we tell you the important highlights from the discussion.
Huge Demand for Smartphones Above Rs 30,000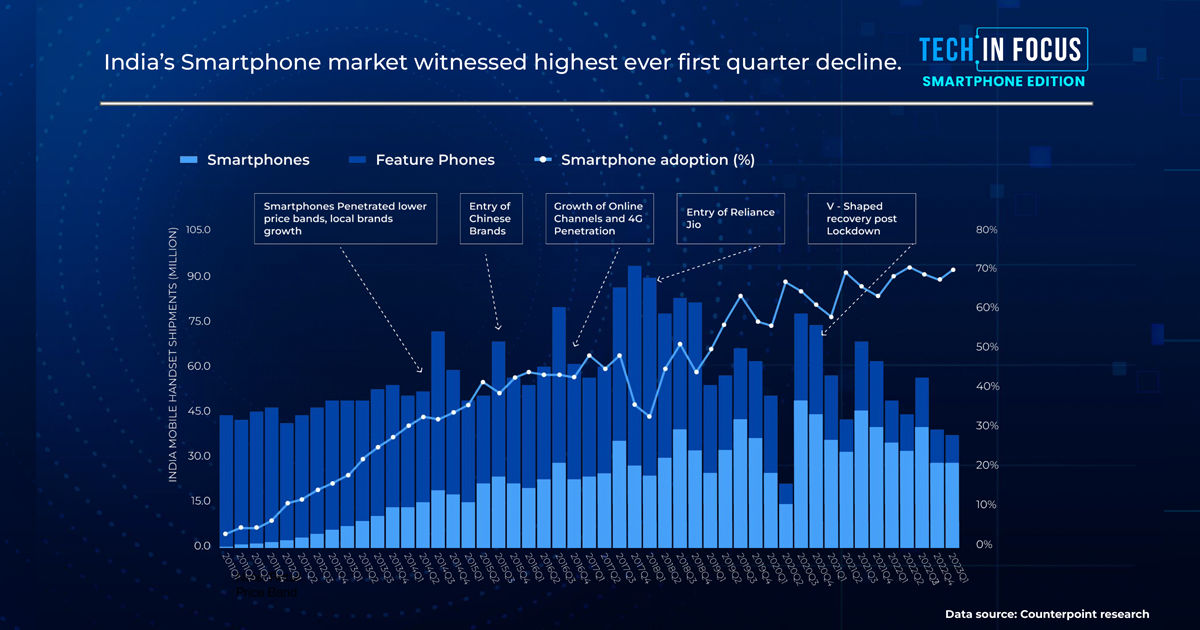 The Indian smartphone market has witnessed a big decline in the first quarter of 2023. The mobile phone shipment has reduced to less than 30 million in Q1 2023. Our insights show that consumers have started shifting to smartphones priced above Rs 30,000. Compared to the fourth quarter of 2022, a 4 per cent increase has been observed in the Rs 30,000 to Rs 45,000 segment. The shipments have also increased in the same segment by 2 per cent in the first quarter of 2023.
When asked in what price range the users will buy their next smartphone, there was a decline in the sub-Rs 20,000 segment. Although India is a price-conscious market, the average spend is now going above Rs 20,000. Users are now willing to spend between Rs 20,000 to Rs 30,000 for the next smartphone.
5G is Here to Stay for a Long Time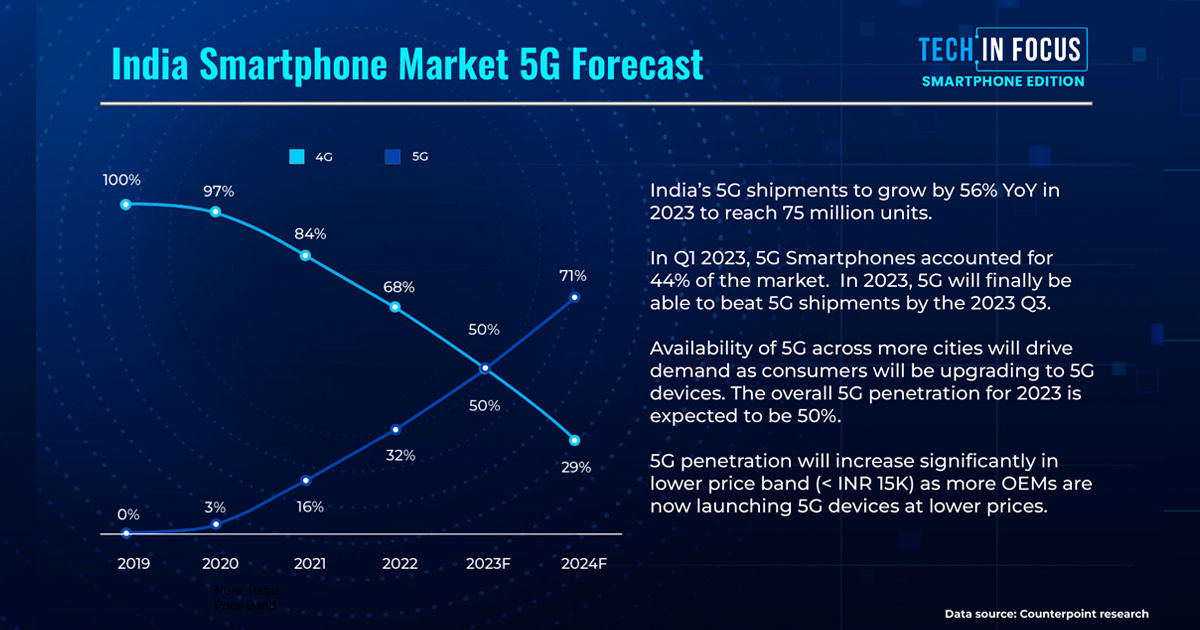 The 5G segment has witnessed a lot of changes after the 5G service launched in October 2022 in India. The number of 4G smartphone users in the market is coming down whereas 5G users are increasing in massive numbers.
Counterpoint Research predicts that India's 5G shipment will grow by 56 per cent YoY in 2023 to reach 75 million units. It's predicted that 5G smartphone shipments will beat 4G smartphone shipments by the third quarter of 2023. Currently, the former accounts for 44 per cent of the market share.
Brands have been launching smartphones at lower price segments, mostly between Rs 10,000 to Rs 15,000. The 5G penetration is expected to grow the most in this segment.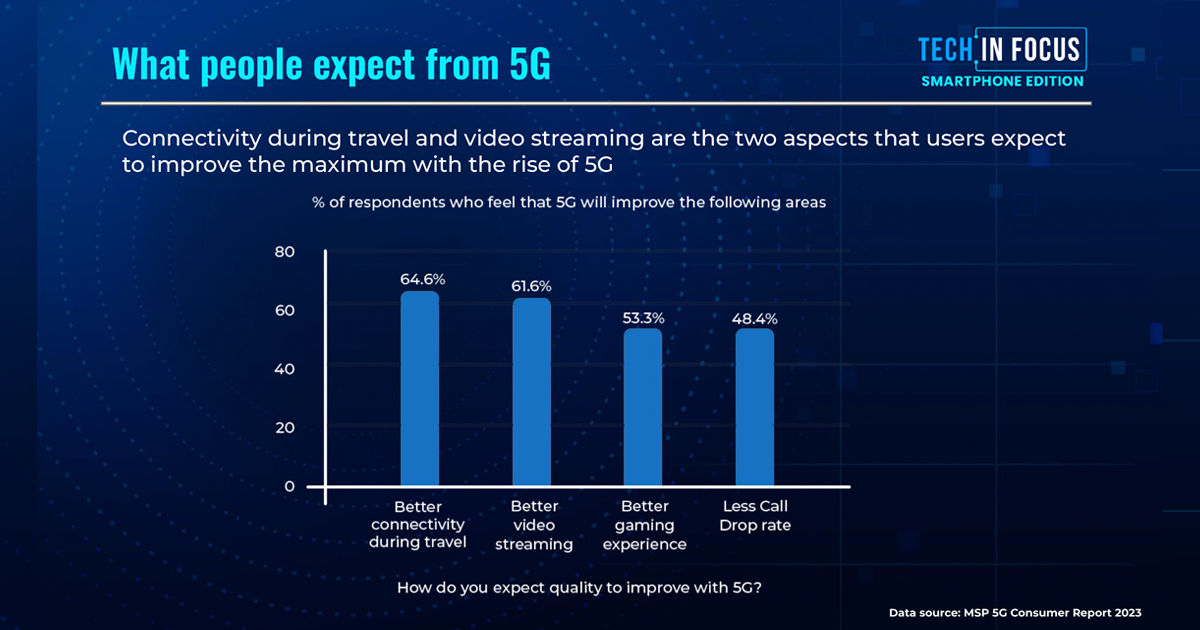 Out of 20,000 respondents, the majority of them expect 5G services to provide better connectivity during travel and better video streaming.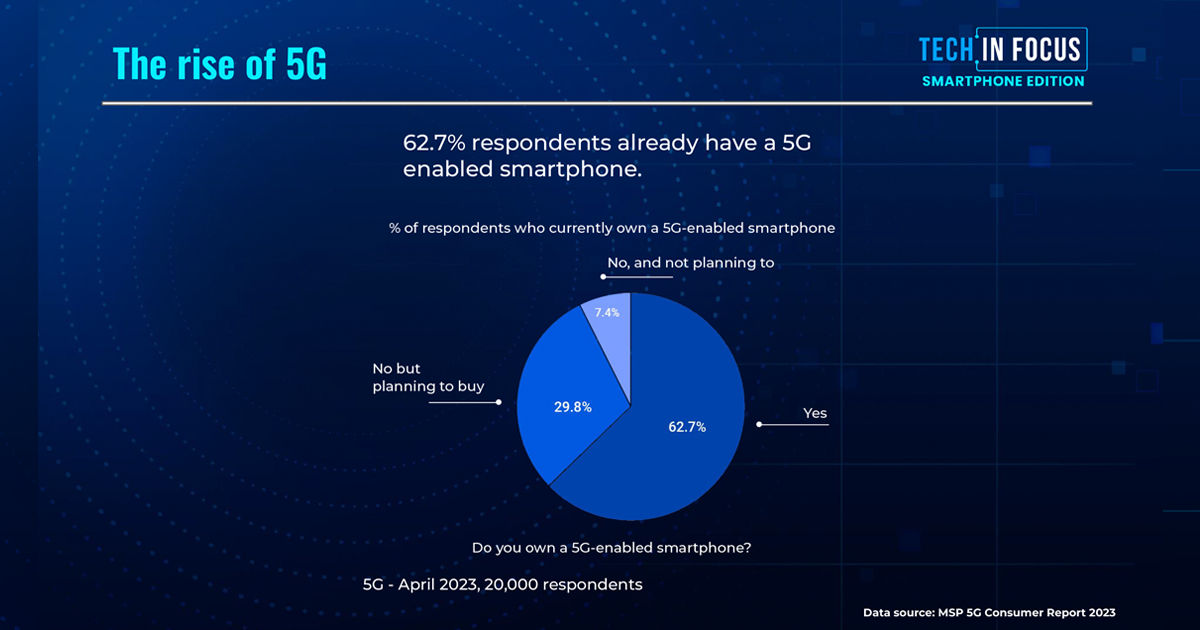 Around 62.7 per cent of respondents said they have a 5G-enabled smartphone whereas 29.8 per cent of respondents plan to upgrade to a 5G handset.
Offline Market Responsible for Major Sales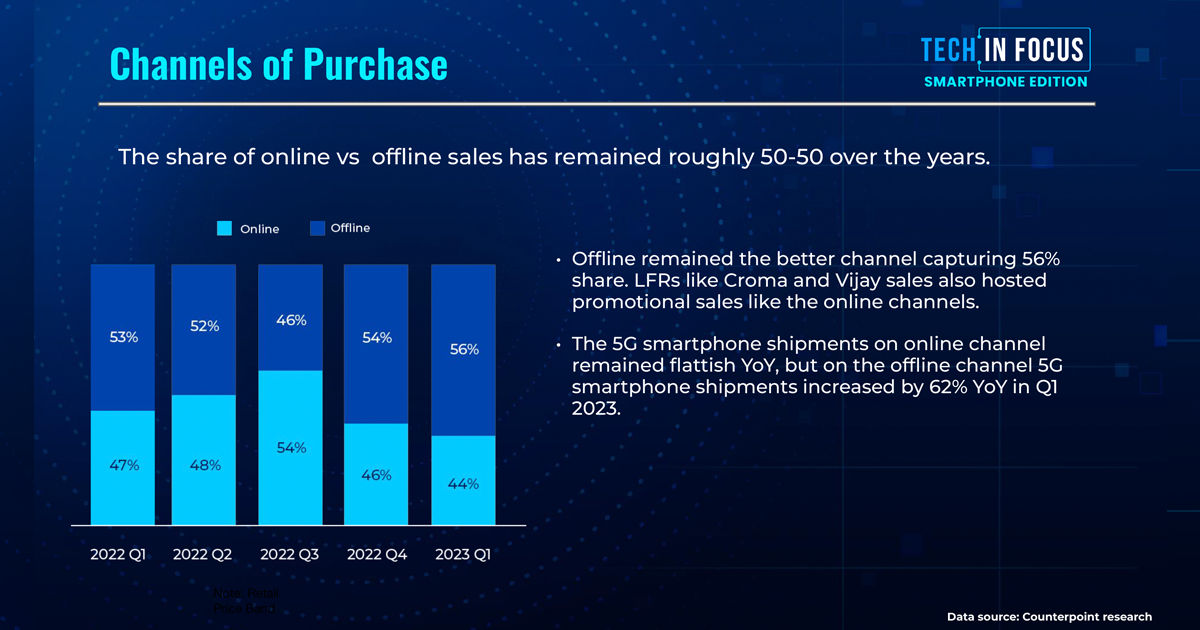 Although it's easy to find smartphones on online platforms, our data has shown that offline markets have grown massively over the past few quarters. In the first quarter of 2023, the offline market held 56 per cent market share whereas the online market had captured a 44 per cent share. The offline market grew by 62% YoY in Q1 2023.
In the MSP Smartphone Consumer Report survey, around 44 per cent of users responded that they purchased their smartphones from the offline market. In online markets, around 23.3 per cent of buyers bought smartphones from Flipkart whereas 19.7 per cent bought them from Amazon.
What is the Preferred Mode for Buyers for Purchasing Smartphones?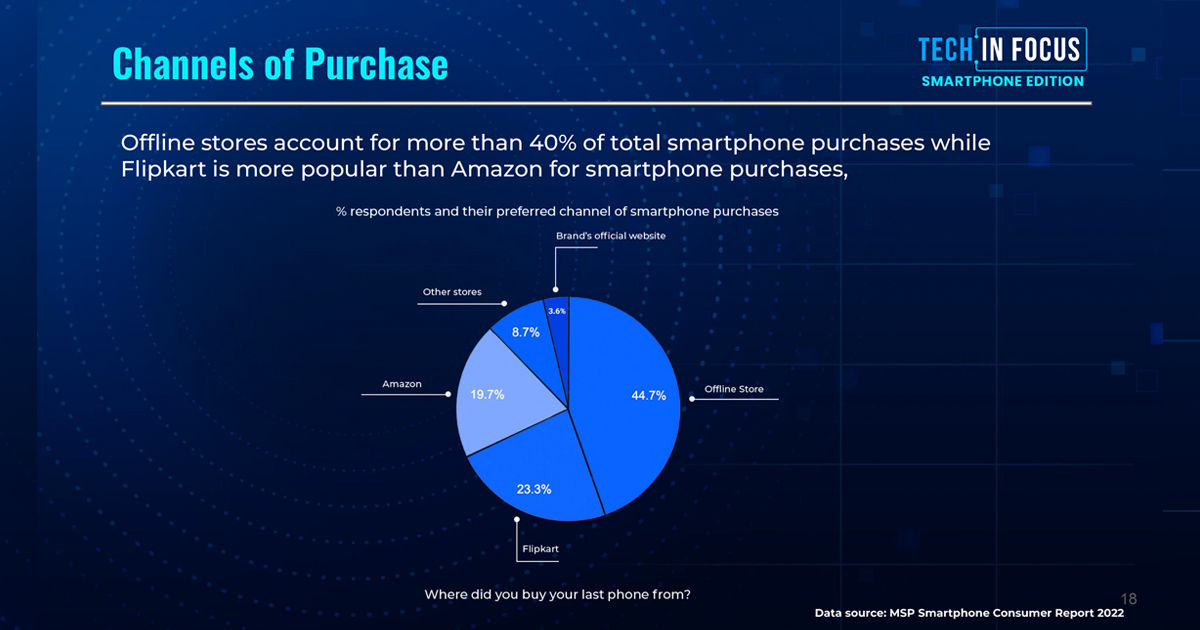 Cash on Delivery is still the most preferred method of payment for smartphone buyers, followed by EMIs and UPI/Wallet. Thanks to several digital platforms available, there's been a significant increase in the number of buyers who prefer to pay for their purchases online.
Data captured from over 1200 stores across India have shown that users purchasing the device offline prefer to pay the full amount in cash. Financing, EMI and UPI were other popular options that buyers prefer to purchase the phone.