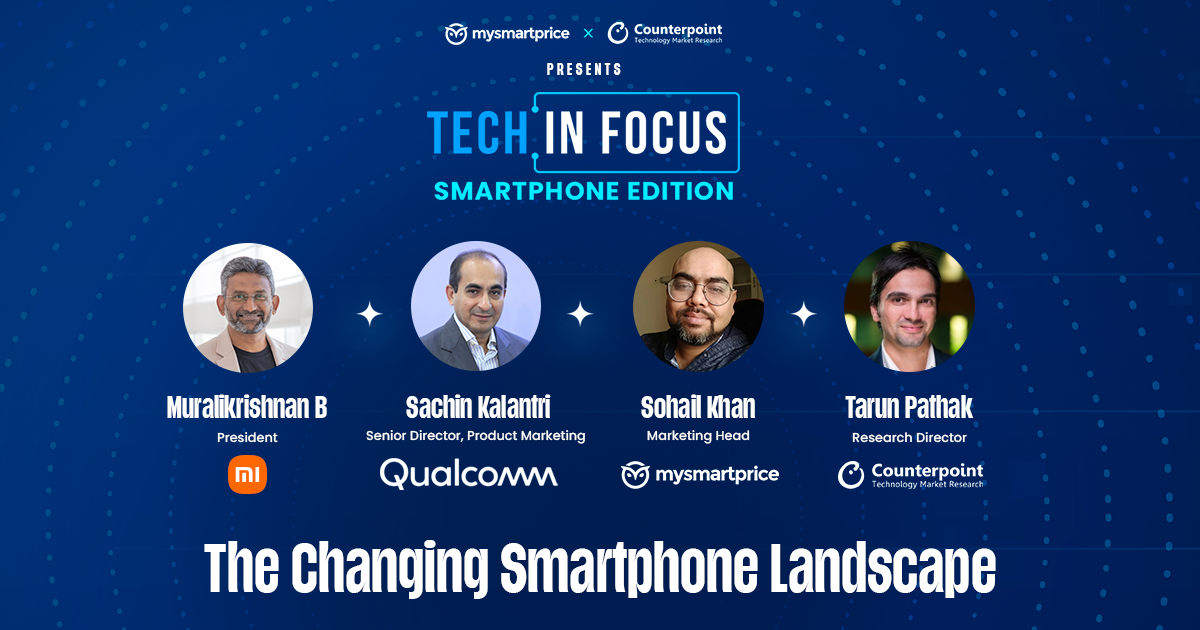 MySmartPrice Tech in Focus concluded on June 21 with a huge response from the audience and brand representatives. The event witnessed over 250 registrations and 150 concurrent viewers watching the insights.
The 2-hour long event Counterpoint Research Director, Tarun Pathak, Muralikrishnan B from Xiaomi India and Sachin Kalantri from Qualcomm discuss the current smartphone landscape in India.
Let's check out the important highlights from MySmartPrice Tech in Focus 2023.
The Rise of 5G in India
The 5G revolution started late last year and is now democratising the market. According to our MSP 5G Consumer Report 2023, around 62.7 per cent of respondents have a 5G-enabled smartphone whereas 29.8 per cent of respondents plan to upgrade to a 5G handset.
Xiaomi India's President Muralikrishnan B believes that India is still writing the first chapter of the 5G revolution but it's here to stay and dominate the market. He states that the true 5G revolution will happen in India when the Rs 10,000 – Rs 15,000 price segment adopts 5G technology as currently only 30 to 40 per cent devices support it.
Most of the devices between Rs 15,000 – Rs 20,000 are now filled with a bunch of 5G handsets and similarly, users now expect the device priced above Rs 20,000 are 5G compatible and futureproof.
How Qualcomm Makes Chipsets?
Sachin Kalantri from Qualcomm gives us and the audience an interesting insight on how the chipsets are made. He told the audience that the planning of the future chipset starts at least two years before the official announcement. The company works with various tech firms to understand the tech space is evolving in various factors. While the chipset making is under process, it adds more features and technologies depending on the current tech scenario.
Consumer's Perception While Buying a Smartphone
Xiaomi India's President Muralikrishnan B states that the consumer's perception has changed while buying a smartphone. Now, they have got more educated and more smart about making their buying decisions. Now, with so many reviews and videos available on the internet, it is easy for them to decide the value for money product.
On an average, a consumer is now willing to invest Rs 17,000 to Rs 18,000 while buying a smartphone. Users are now fine with spending a Rs 1,000 extra for a better experience.
Xiaomi's Future Plan For Late 2023
When asked what Xiaomi plans going ahead, Muralikrishnan said that they intend to diversify the portfolio in a better way. Xiaomi currently holds two brands – Xiaomi and Redmi. The features that we get to see in Xiaomi makes way to a Redmi device in 9 or 10 months at an affordable price.
All the phones that it will launch above Rs 15,000 will have 5G connectivity. The company plans to expand itself into the offline market as it accounts for 50 to 60 per cent of the sales. Xiaomi India's President claims that they have perhaps the lowest distribution width in the offline market compared to competitors.
Last, the company wants to double its focus on the 'Make in India' initiative.