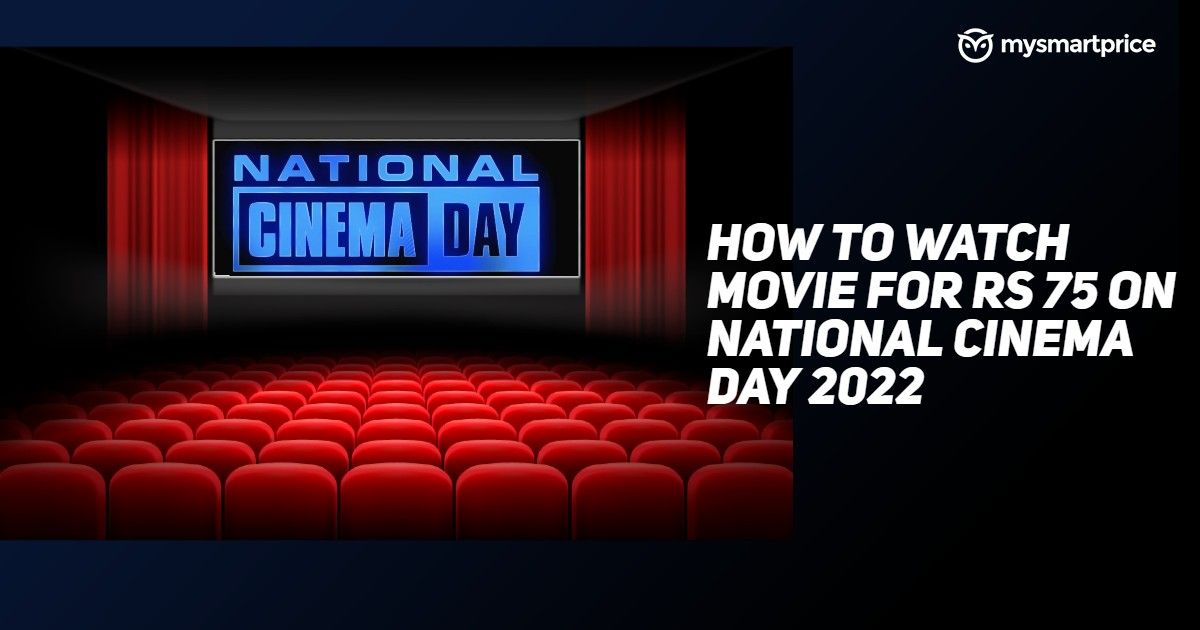 The Multiplex Association of India (MAI), an industry body under the Federation of Indian Chambers of Commerce and Industry (FICCI), has revealed that it is celebrating the re-opening of Indian cinema through National Cinema Day. The day will mark as a 'thank you' to the cinema lovers who have made it possible for the cinemas to re-open after the COVID-19 lockdown. The National Cinema Day was earlier scheduled to take place on September 16, however, it was postponed due to some reasons. As of now, the day will be celebrated this Friday, i.e. September 23rd.
So, if you are planning to watch your favourite movie during National Cinema Day, you can do it by purchasing the ticket for just Rs 75. Here's how you can buy the movie ticket for Rs 75, which all movies will be available, and more details.
What is National Cinema Day?
National Cinema Day is a one-day event where viewers will get to watch any movie at a participating theatre with the MAI, for Rs 75. Viewers will get access to the latest generation movies at the participating theatres, at subsidised pricing. The major reason behind this Day is to "bring together audiences of all ages to enjoy a day at the movies."
The National Cinema Day was previously announced to be held on 16th September, however, on request from various stake holders and in order to maximize participation, it would now be held on 23rd September #NationalCinemaDay2022 #Sep23 pic.twitter.com/c5DeDCYaMD

— Multiplex Association Of India (@MAofIndia) September 13, 2022
Explaining the rationale of the event, MAI says that the Indian market has seen "one of the sharpest" recoveries in terms of revenues and audience interest in the film business — which has seen a major transition away from the big screen movie theatre experience to an at-home, OTT experience. Buoyed by the pandemic, a number of major movies — both Bollywood and international — have either premiered on OTT platforms or featured on them soon after being released in theatres, often to lukewarm responses.
These platforms, such as Netflix, Amazon Prime Video and Disney+ Hotstar, have featured high-budget movies such as Gangubai Kathiawadi from Bollywood, and Thor: Love and Thunder from Hollywood.
When is the National Cinema Day 2022?
National Cinema Day 2022 will be celebrated in India on September 23rd. The full-day event will allow viewers to watch any latest movie at just Rs 75. The day was initially set for September 16th. However, MAI said that the day was postponed for one week "on request from various stakeholders and in order to maximise participation".
Which Movie Screens will Participate in National Cinema Day?
While the exact list of all screens will depend on local availability and should be detailed on the websites and theatre complexes of the multiplexes themselves, MAI has confirmed that over 4,000 movie screens will participate in the event across India, which include the big multiplex groups PVR, Inox and Cinepolis, as well as other groups that include Carnival Cinemas, Miraj, City-Pride, Asian Cinemas, Mukta A2, Movie Time, Wave Cinemas, M2K, Delite and others. Moreover, MAI President Kamal Gianchandani has revealed that nearly 16,000 seats shall participate in the National Cinema Day 2022. Apart from this, the multiplexes may also make their special offers for people of all age groups.
The list of participating theatres is spread across India, and you can confirm the list of participating theatres by accessing the social handles of multiplexes — or via the hashtag #NationalCinemaDay on Twitter and Instagram.
What will be the Price of a Ticket During National Cinema Day 2022 in India?
All ticket prices at participating theatres through the entirety of National Cinema Day will be pegged at Rs 75. The bodies have further clarified that any exclusions from the ticket pricing, as well as conditions imposed on the number of tickets that can be purchased for this special price, will only be revealed at the discretion of local movieplexes.
How to Book Tickets During National Cinema Day 2022?
Customers can easily book movie tickets online or by going to their nearest movie theatre. In order to book online, one can use different apps like BookMyShow, Paytm, or major cinema chain websites. In this article, we are going to show you the way through which you can book a movie ticket for Rs 75:
Download and Install the BookMyShow application on your Android or iOS smartphone. You can also visit major cinema chain websites like PVR, Inox, and more
Select the city and then select the movie, which you want to watch.
Select the time of the movie and simply book it.
With this, you will be able to book the movie of your choice and watch it for Rs 75 during National Cinema Day 2022.
List of Movies Available to View During National Cinema Day 2022
| | | |
| --- | --- | --- |
| Movie Name | Movie Language | Run Time |
| KGF: Chapter 2 | Hindi | 2h 48m |
| RRR | Hindi | 3h 2m |
| Vikram | Hindi | 2h 53m |
| Bhool Bhulaiya 2 | Hindi | 2h 25m |
| Doctor Strange in the Multiverse of Madness | English | 2h 6m |
| Top Gun: Maverick | English | 2h 11m |
| Brahmastra | Hindi | 2h 47m |
| Siya | Hindi | 1h 57min |
| Chup | Hindi | 2h 44m |
| Middle Class Love | Hindi | 2h 2m |
| Dhokha Round D Corner | Hindi | 2h 2m |
| Everything Everywhere All at Once | English | 2h 20m |
| Avatar | English | 2h 41m |
| Where the Crawdads Sing | English | 2h 5m |
| Minions: The Rise of Gru | English | 1h 30m |
| Vendhu Thanindhathu Kaadu | Tamil | 2h 45min |
| Oke Oka Jeevitham | Telugu | 2h 37min |
| Aa Ammayi Gurinchi Meeku Cheppali | Telugu | 2h 22min |
| Saakini Daakini | Telugu | 2h |