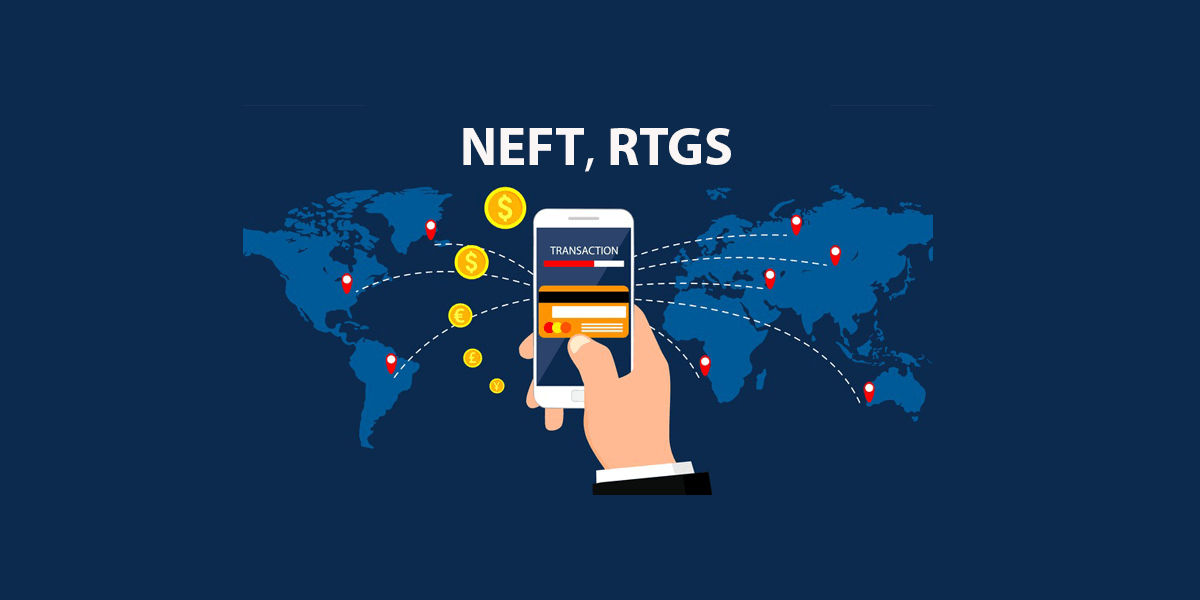 NEFT is National Electronics Funds Transfer and is an electronic fund transfer system maintained by the Government of India and the RBI.
Real-time gross settlement (RTGS) refers to a funds transfer system allowing instantaneous money and/or securities transfer. It is the continuous process of settling payments on an individual order basis without netting debits with credits across the books of a central bank.
The big difference between

NEFT and RTGS is that payment made through the latter is made immediately, while NEFT payments follow specific processing instructions.
In today's digital age, the traditional methods of transferring money such as cheques and demand drafts are becoming less common. Instead, electronic fund transfer (EFT) methods have gained popularity, such as National Electronic Fund Transfer (NEFT) and Real-Time Gross Settlement (RTGS). While both methods allow for electronic transfer of money, there are some key differences between NEFT and RTGS that are important to understand.
What are NEFT and RTGS?
NEFT and RTGS are two electronic fund transfer (EFT) methods used in India for transferring money from one bank account to another. NEFT stands for National Electronic Fund Transfer and RTGS stands for Real-Time Gross Settlement.
NEFT allows for electronic transfer of funds between bank accounts and is settled in batches throughout the day, with a total of 23 settlement cycles. NEFT transactions are not settled in real-time and can take up to 2 hours to be processed. NEFT is generally cheaper and has a lower transaction limit compared to RTGS.

RTGS, on the other hand, is a real-time fund transfer method where the transaction is processed immediately and the money is transferred instantly. RTGS is used for high-value transactions and has no maximum limit on the amount that can be transferred. RTGS transactions can only be initiated during banking hours and are settled in real-time
Also Read: Transferred Money to Wrong Bank Account or UPI ID using G Pay, PhonePe or Paytm UPI apps? Here is How to Retrieve Your Lost Money
How are NEFT and RTGS different?
Criteria
NEFT
RTGS (Retail)

Settlement

Done in batches (Slower)

Real time (Faster)

Full Form

National Electronic Fund Transfer

Real Time Gross Settlement

Timings on Mon – Fri

8:00 am – 6:30 pm

9:00 am – 4:30 pm

Timings on Saturday

8:00 am – 12:30 pm

9:00 am – 1:30 pm

Minimum amount of money transfer limit

No Minimum

2 lacs

Maximum amount of money transfer limit

No Limit

No Limit

When does the Credit Happen in beneficiary account

Happens in the hourly batch Between Banks

Real time between Banks

Maximum Charges as per RBI

Upto 10,000 – Rs. 2.5

from 10,001 – 1 lac – Rs. 5

from 1 – 2 lacs – Rs. 15

Above 2 lacs – Rs. 25

Rs. 25-30 (Upto 2 – 5 lacs)

Rs. 50-55 (Above 5 lacs)

(Lower charges for first half of day)

Suitable for

Small Money Transfer

Large Money Transfer
Advantages and Disadvantages of NEFT
Advantages
Availability: NEFT is available 24/7, 365 days a year.
No charges: Online NEFT transactions from your savings bank account are free of charge.
No RBI charges: The Reserve Bank of India (RBI) does not levy any charges on NEFT transactions.
Penalty for delay: In case of delay in credit or return of transaction, penal interest is charged.
Instant notification: Remitters receive positive confirmation of credit to the beneficiary account through SMS or email.
Real-time transfer: NEFT enables secure and swift funds transfer to the beneficiary account.
No bank visits: Beneficiaries do not need to visit the bank to deposit a cheque or demand a draft for payment receipt.
Disadvantages
While banks take proper steps to secure NEFT transactions, using an unsecured network can make your information vulnerable to hackers. Additionally, individuals who lack computer literacy may find this method of fund transfer challenging to use.
Also Read: SBI: How to Activate New SBI ATM or Debit Card for Online Transactions
Advantages and Disadvantages of RTGS
Advantages
RTGS happens to be one of the safest and fastest interbank transfer modes.

There are paperless fund transfers.

No additional charges are applied for RTGS transactions.

Beneficiary doesn't have to go to the bank physically to deposit money.

Funds may be transferred using net banking.

RTGS is available on all business days, timing to vary from bank to bank.

It transfers funds immediately.

RTGS is available 24X7 from Monday to Sunday.

You can avail of the RTGS facility either through mobile and internet banking or through the bank branch.

There's no credit and settlement risk for the recipients, as every transaction gets settled immediately.

Customers can predict the cash flow by knowing when their account would be debited or credited.
Disadvantages
With RTGS you don't get the facility to track the transaction as a customer. Only the provided confirmation is implemented by the central bank, and the remitting bank gets a fund transfer message to the beneficiary bank from the central bank.

The minimum amount that you can remit through RTGS is Rs 2 lac, with no upper limit.

RBI has only implemented the positive conformation in which remitting bank gets a message of fund transfer to the beneficiary bank from the RBI.
NEFT vs RTGS: Charges on Transactions, Transaction Timings, and Transaction Limit
Minimum limit – The minimum limit for RTGS is Rs 2 lac, while for NEFT it is Rs 1000.

Maximum limit – The maximum limit for RTGS is Rs 2000000 while the same for NEFT is Rs 2 lacs
Settlement time – NEFT settlement time is 12 hours, for RTGS it is immediate.

Additional charges – NEFT transactions don't have any additional charges, however, in case of RTGS, they charge Rs 30 for every transaction.

Transfer timing-NEFT operates from Monday to Friday and timings are half-hourly slots between 09:00 – 20:00. On Saturday, NEFT operates between 09:00 – 13:30 GMT. RTGS, on the other hand, operates round-the-clock on weekdays.
Service availability – NEFT is available on all days except Sundays, whereas RTGS is available 24*seven.
Suitable for – NEFT is great for small transactions while RTGS is used for larger money transactions.
Also Read: UPI Lite: What is It, How to Setup and Use UPI Lite, Features, and More
NEFT vs RTGS: Which is Better?
In conclusion, both NEFT and RTGS are safe modes of making a payment. Both are governed by RBI rules and are equally reliable. While NEFT is cheaper and has a lower transaction limit, it takes longer to settle and is not processed in real time. RTGS, on the other hand, is more expensive but is settled in real-time, making it a better option for urgent and high-value transactions. It is essential to consider these differences before choosing between NEFT and RTGS for your fund transfer needs.