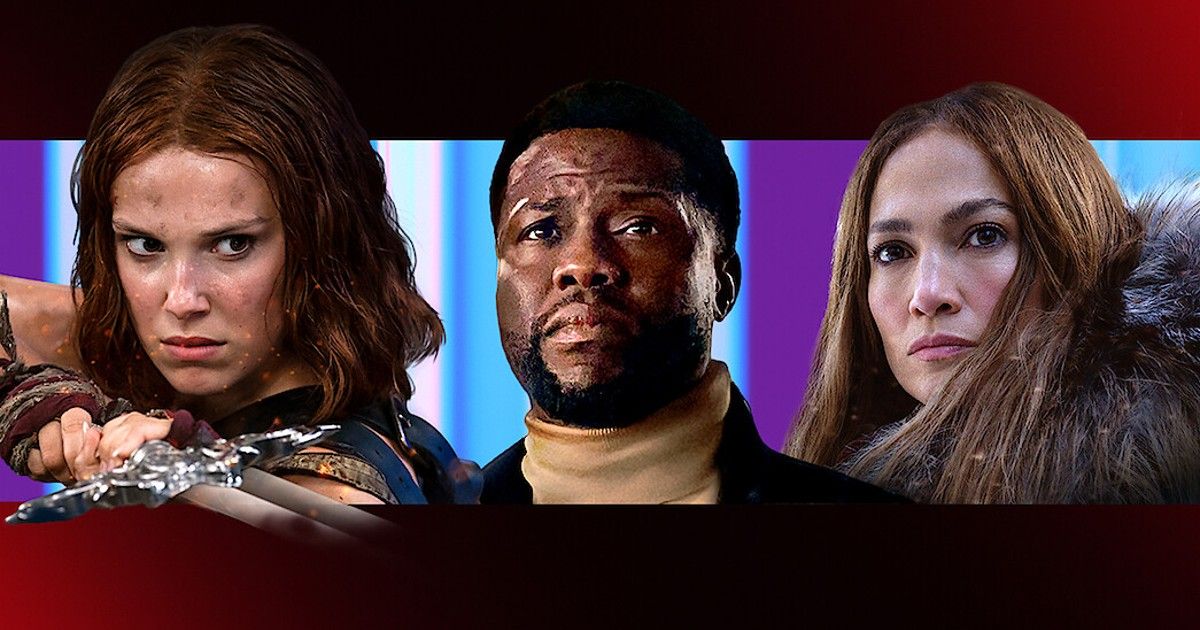 With OTT becoming so popular in recent years, several apps are exploding onto the scene. Out of all the apps in the market, Netflix is very popular among viewers because of the large volume of content and the sheer variety of shows and movies on the platform. Making 2023 a year for movie buffs, many superb movies are releasing on Netflix to give your movie craving a respite. This blog is your go-to movie guide for everything on Netflix!
There's something for everyone, from action blockbusters to comedies, rom-coms to sci-fi, fantasy to crime thrillers, and new installments of much-loved franchises. Here are the most exciting movies coming to Netflix in 2023. Save the dates!
Top New Movies Releasing on Netflix in 2023
| | |
| --- | --- |
| Movie Name | Release Date |
| Dog Gone | 13 January 2023 |
| Jung_e | 20 January 2023 |
| You People | 27 January 2023 |
| Pamela, A Love Story | 31 January 2023 |
| True Spirit | 3 February 2023 |
| Bill Russell -Legend | 8 February 2023 |
| Your Place or Mine | 10 February 2023 |
| We Have a Ghost | 24 February 2023 |
| Luther The Fallen Sun | 10 March 2023 |
| The Magician's Elephant | 17 March 2023 |
| Murder Mystery 2 | 31 March 2023 |
| A Tourist's Guide to Love | 27 April 2023 |
| The Mother | 12 May 2023 |
| Extraction 2 | 16 June 2023 |
| They Cloned Tyrone | 21 July 2023 |
| Heart of Stone | 11 August 2023. |
| Lift | 25 August 2023 |
| Love at First Sight | September 2023 |
| Damsel | 13 October 2023 |
| Pain hustlers | 27 October 2023. |
| The Killer | 10 November 2023. |
| A Family Affair | 17 November 2023. |
| Leo | 22 November 2023. |
| Leave the World Behind | 8 December 2023. |
| Rebel Moon | 22 December 2023 |
Dog Gone
This family drama is about a man and his beloved dog who get separated on the Appalachian Trail. The story progresses with the protagonist and his father having to start a desperate search to find his best friend before it's too late. This movie is an incredible true story of humanity and everyday heroism, a heartwarming tale of a man and his best friend and how the former is prepared to brave anything to save the latter. Watch this movie if you love animals and movies or both. Or just watch it for some fulfilling drama.
Cast: Rob Lowe, Johnny Berchtold, Kimberly Williams-Paisley, Nick Peine
Director: Stephen Herek
Release Date: 13 January 2023
Also Read: Best Hindi Movies on Netflix Right Now [January 2023]: 3 idiots, Rang De Basanti, Taare Zameen Par and More
Jung_e
This story transports us way into the future – 2194, to be exact, when a civil war breaks out among those who survived the Earth's catastrophe. Major June_e, a war heroine, suffers a serious injury and goes into a coma. Her family is forced to donate her brain data to the Next Generation Lab, which uses Jung-e's data to create an AI robot, and puts that robot to use, conducting war simulation. Seo-hyun, the daughter of Jung_e too, participates as the robot research team leader. She learns some of her mother's secrets via repeated experiments.
Cast: Kim Hyun-joo
Director: Yeon Sang-ho
Release Date: 20 January 2023
You People
This is a love story with a twist. Ezra Cohen and Amira Mohammed come together thanks to a rideshare mix-up. They connect over a shared love of streetwear and music. They fall in love but their relationship faces a number of tests courtesy their respective families. Ezra's progressive and semi-woke parents and Amira's unyielding yet concerned parents who become a major part of their lives. This movie has been directed by Kenya Barris and is a modern love story set with clashing cultures and interfaith relationships as the backdrop.
Cast: Jonah Hill, Lauren London, David Duchovny, Nia Long, Sam Jay, Elliott Gould, Travis Bennett, Molly Gordon, Rhea Perlman, Deon Cole, Andrea Savage, Mike Epps, Emily Arlook, Alani La La Anthony, Bryan Greenberg with Julia Louis-Dreyfus and Eddie Murphy
Director: Kenya Barris
Release Date: 27 January 2023
Pamela, A Love Story
Pamela Anderson was more than an icon during the 1990's. Catapulted to fame thanks to her role in Baywatch, Anderson quickly went on to become an international sex symbol, starring in different movies and making multiple magazine covers. This intimate and humorous portrait of Pamela Anderson follows her life and career from small-town girl to international sex symbol, actress and activist as well as a doting mother. Watch how she juggles multiple roles with ease and how she lives her life today.
Cast: Pamela Anderson
Director: Ryan White
Release Date: 31 January 2023
Also Read: Best Comedy Movies on Netflix Right Now
True Spirit
This story introduces us to Jessica Watson, a tenacious young sailor who wants to be the youngest person to sail nonstop, solo, and unassisted around the world. However, she has many detractors. Ben Bryant is her sailing coach and mentor, and she has her parent's support as well. She is hell-bent on accomplishing the impossible, sailing through some of the world's most difficult oceans over 210 days. This is a story of glory and spirit, one that you should definitely watch when it releases on Netflix.
Cast: Teagan Croft, Cliff Curtis, Bridget Webb, Vivien Turner, Stacy Clausen, Todd Lasance, with Josh Lawson and Anna Paquin
Director: Sarah Spillane
Release Date: 3 February 2023
Bill Russell – Legend
This documentary takes us through the life and legacy of NBA legend and civil rights icon Bill Russell. See exclusive interviews with Russell before he passed away in 2022 to view his sprawling personal archives. Rising from humble beginnings, Russel led each and every one of his basketball teams to championships – two back-to-back NCAA titles, 11 championship titles in his 13-year tenure with the Boston Celtics, and a gold medal at the 1956 Melbourne Summer Olympics. This documentary features interviews with family as well as current and former NBA icons.
Cast: Steph Curry, Chris Paul, Magic Johnson, Larry Bird, Kareem Abdul-Jabbar
Director: Sam Pollard
Release Date: 8 February 2023
Your Place or Mine
This story introduces us to Debbie and Peter, who are polar opposites but best friends. Debbie loves spending time with her son in LA, and craves routine, while Peter lives in New York and thrives on change. They decide to swap houses and lives for a week. This makes them realise that what they think they want might not really be what they think they need. This is a lighthearted story that is sure to have you hooked. Watch it when it releases on Netflix this February.
Cast: Reese Witherspoon, Ashton Kutcher, Jesse Williams, Zoë Chao, Wesley Kimmel, Griffin Matthews, Rachel Bloom, Shiri Appleby, Vella Lovell, with Tig Notaro and Steve Zahn
Director: Aline Brosh McKenna
Release Date: 10 February 2023
We Have a Ghost
This is an unconventional ghost story, one that is sure to leave an impression. A ghost named Ernest haunts a home that belongs to new homeowner Kevin. This ghost turns Kevin's family into overnight social media sensations. However, things don't remain smooth for too long. Kevin and Ernest go rogue to look into the mystery of Ernest's past. This brings them to the attention of the CIA. What happens next is anyone's guess. Watch the movie and find out.
Cast: David Harbour, Jahi Di'Allo Winston, Tig Notaro, Erica Ash, Jennifer Coolidge, and Anthony Mackie
Director: Christopher Landon
Release Date: 24 February 2023
Luther The Fallen Sun
This movie is an epic continuation of the award-winning television saga reimagined for the film. In this story, London is in the grip of a ruthless serial killer. Brilliant but disgraced detective John Luther sits behind bars. He did not manage to capture the cyber psychopath who now taunts him, Luther makes up his mind to break out of prison to complete the job by any means necessary. This is a fast-paced movie with lots of action, and looks promising. Watch it when it releases on Netflix.
Cast: Idris Elba, Cynthia Erivo, Andy Serkis, Dermot Crowley
Director: Jamie Payne
Release Date: 10 March 2023
Also Read: Best Romantic Movies on Netflix
The Magician's Elephant
The story introduces us to Peter, who is looking for Adele, his long-lost sister. In the market square, Peter crosses paths with a fortune teller – and wonders if his sister is still alive. He gets an answer that he has to find a mysterious elephant and the magician who will conjure it. Peter thus sets off on a perilous journey to finish three impossible tasks that will alter the face of his town forever, taking him on the adventure of a lifetime.
Cast: Sian Clifford, Pixie Davies, Natasia Demetriou, Dawn French, Brian Tyree Henry, Noah Jupe, Aasif Mandvi, Mandy Patinkin, Miranda Richardson, Cree Summer, Lorraine Toussaint, Benedict Wong
Director: Wendy Rogers
Release Date: 17 March 2023
Murder Mystery 2
The story introduces us to two full-time detectives who are trying to get their private eye agency off the ground. However, fate has other plans for Nick and Audrey Spitz, as they find themselves in the vortex of an international abduction when their friend, the Mahraja gets kidnapped at his own lavish wedding.
Cast: Adam Sandler, Jennifer Aniston, Adeel Akhtar, John Kani, Mark Strong, Mélanie Laurent, Jodie Turner-Smith, Kuhoo Verma, Enrique Arce, Tony Goldwyn, Annie Mumolo, Zurin Villanueva
Director: Jeremy Garelick
Release Date: 31 March 2023
A Tourist's Guide to Love
Post a breakup, a travel executive takes up an assignment to go undercover to learn about the tourist industry in Vietnam. Cupid strikes along the way and she finds adventure and romance with her Vietnamese expat tour guide, when they take a decision to reroute the tour bus to explore life and love off the beaten path.
Cast: Rachael Leigh Cook, Scott Ly, Missi Pyle, Ben Feldman, Glynn Sweet, Alexa Povah, Jacqueline Correa, Nondumiso Tembe, Andrew Barth Feldman, Morgan Dudley, Quinn Trúc Trần and Nsưt Lê Thiện
Director: Steven K. Tsuchida
Release Date: 27 April 2023
The Mother
The story introduces us to an assassin who comes out of exile to protect the daughter she had given up years ago. All this while being on the run from dangerous men. This action movie will have a fair bit of drama and lots of suspense. Watch it when it releases on Netflix.
Cast: Jennifer Lopez, Joseph Fiennes, Omari Hardwick, Gael García Bernal, Paul Raci and Lucy Paez
Director: Niki Caro
Release Date: 12 May 2023
Extraction 2
After being presumed dead post the first movie, the character played by Chris Hemsworth returns for another high-stakes mission. Rake, the protagonist is back as the Australian black ops mercenary who has been bestowed with another deadly mission – rescuing the battered family of an evil Georgian gangster from the prison they've been held captive in.
Cast: Chris Hemsworth, Golshifteh Farahani, Adam Bessa, Daniel Bernhardt and Tinatin Dalakishvili
Director: Sam Hargrave
Release Date: 16 June 2023
They Cloned Tyrone
The story introduces us to a series of eerie events which thrusts an unlikely trio into the trail of a dubious government conspiracy. This movie is a pulpy mystery caper, and is sure to have your attention.
Cast: John Boyega, Jamie Foxx and Teyonah Parris
Director: Juel Taylor
Release Date: 21 July 2023
Heart of Stone
The story introduces us to Rachel Stone, an intelligence officer, and the only woman who is the barrier between her powerful, global peacekeeping company and the loss of its most priceless and dangerous asset.
Cast: Gal Gadot, Jamie Dornan, Alia Bhatt, Sophie Okonedo, Matthias Schweighöfer, Jing Lusi and Paul Ready
Director: Tom Harper
Release Date: 11 August 2023.
Lift
The story introduces us to an international heist crew that is recruited to halt a terrorist attack and has to pull off the heist mid-flight on a plane. This action-packed thriller is sure to have you hanging off the edge of your seat.
Cast: Kevin Hart, Gugu Mbatha-Raw, Vincent D'Onofrio, Úrsula Corberó, Billy Magnussen, Jacob Batalon, Jean Reno and Sam Worthington
Director: F. Gary Gray
Release Date: 25 August 2023
Also Read: Best Thriller Movies on Netflix in 2023: The Town, The Bourne Ultimatum, Non-Stop, and more
Love at First Sight
Hadley misses her flight from New York to London, and meets Oliver in a fluke encounter at the airport and has an instant connection. A long night spent on the plane together goes by in the blink of an eye, but after landing at Heathrow, the pair get separated and can't find each other in the chaos. Will these seatmates become soulmates? Watch the movie and find out.
Cast: Haley Lu Richardson, Ben Hardy, Jameela Jamil, Rob Delaney, Sally Phillips and Dexter Fletcher
Director: Vanessa Caswill
Release Date: September 2023
Damsel
An obedient damsel agrees to wed a good looking prince, only to find that the royal family has picked her as a sacrifice to pay back an ancient debt. She is thrown into a cave with a fire-breathing dragon and must rely on her will and wits to survive.
Cast: Millie Bobby Brown, Angela Bassett, Robin Wright, Ray Winstone, Nick Robinson, Brooke Carter and Shohreh Aghdashloo
Director: Juan Carlos Fresnadillo
Release Date: 13 October 2023
Pain Hustlers
After losing her job, a blue-collar woman raising her daughter with much trouble takes up a job at a failing pharmaceutical startup, only to get entangled in a dicey racketeering scheme. Does she find her way out? Or will the scheme spell her doom? Watch the movie and find out.
Cast: Emily Blunt, Chris Evans, Andy Garcia, Catherine O'Hara, Jay Duplass, Brian d'Arcy James and Chloe Coleman
Director: David Yates
Release Date: 27 October 2023
The Killer
Post an attempt on his life that was almost successful, an assassin battles his employers and himself starting an international manhunt that he claims is not personal. Expect high-octane action and lots of drama.
Cast: Michael Fassbender, Charles Parnell, Arliss Howard, Sophie Charlotte and Tilda Swinton
Director: David Fincher
Release Date: 10 November 2023
A Family Affair
An unusual romance starts off comic consequences for a young lady, her mother and her film-star boss, as they navigate the complexities of love, sex and identity. Expect a fair bit of drama with this flick.
Cast: Nicole Kidman, Zac Efron, Joey King, Liza Koshy and Kathy Bates
Director: Richard LaGravenese
Release Date: 17 November 2023.
Leo
This animated musical comedy is about the last year of elementary school-seen through the eyes of a class pet. Leo is a jaded 74-year old lizard, who has been stuck in the same Florida classroom for years with his friend, a turtle. They share the same terrarium. Upon learning that he has just a year to live, he wants to escape and experience life on the outside but unfortunately gets trapped in the problems of anxious students.
Cast: Adam Sandler, Bill Burr, Cecily Strong, Jason Alexander, Rob Schneider, Sadie Sandler, Sunny Sandler, Jackie Sandler, Heidi Gardner, Nick Swardson, Nicholas Turturro and Robert Smigel
Directors: Robert Smigel, Robert Marianetti, David Wachtenheim
Release date: 22 November 2023
Leave the World behind
Two strangers with news of a mysterious blackout interrupt a family vacation on Long Island. The threat grows worse, and both families must decide how to survive this crisis while struggling with their own place in this crumbling world.
Cast: Julia Roberts, Mahershala Ali, Ethan Hawke, Myha'la, Farrah Mackenzie, Charlie Evans and Kevin Bacon
Director: Sam Esmail
Release Date: 8 December 2023
Rebel Moon
A peace-loving colony on the edge of the galaxy is under threat by the armies of the turant Regent Balisarius. Enter Kora, a young woman with a mysterious past, to find warriors from neighbouring planets to assist them in taking a stand.
Cast: Sofia Boutella, Djimon Hounsou, Ed Skrein, Michiel Huisman, Bae Doona, Ray Fisher, Charlie Hunnam, Anthony Hopkins, Cary Elwes, Corey Stoll, Jena Malone, Fra Fee, Cleopatra Coleman, Alfonso Herrera, Stuart Martin, Staz Nair, Sky Yang, Rhian Rees, E. Duffy and Charlotte Maggi
Director: Zack Snyder
Release Date: 22 December 2023
Also Read: 15 Best Hindi Movies on Netflix Right Now
That rounds off the movies due on Netflix in the coming year. So which one will you watch first?